Spotify is more than just a music service available globally in many markets. It is an example of a brand that has gained massive success as a business. Nowadays, it is an ideal condition for a brand to do everything right in digital marketing.
Spotify Stats that Everyone Should know
Many key Spotify stats show the progress of a business and how different platforms can learn from it. Here are some of the most impressive facts that everyone should know:
Monthly Active Users in 2022
As Spotify contains music and podcasts, it has gained more followers because of its services. It is not a miracle to know that the platform has a vast 422 million active users globally in the first quarter of 2022. As compared past year, there was an increase of 60 million users.
Ad-Supported Monthly Active Users in 2022
The platform allows you to use the services of a free account or a premium account. Free users get ads often and need access to all the application features. In the first quarter of 2022, Spotify stats show 236 million active users were using the free accounts monthly.
Premium Subscribers Monthly Active Users n 2022
Those who do not want to see the ads when using the Spotify platform prefer to invest in Spotify's premium plan. In the first quarter of 2022, Spotify stats show 182 million premium monthly subscribers globally. These numbers have doubled since 2017, which shows the growth of the services of the platform.
Spotify's 2021 Revenue
Spotify's revenue comes from ads-supported and premium accounts, but most comes from premium subscribers. In 2021, the platform generated more than 9.67 billion euros in revenue in the past year, more than the 7.88 billion generated in 2020.
Stats for Spotify on Social Media: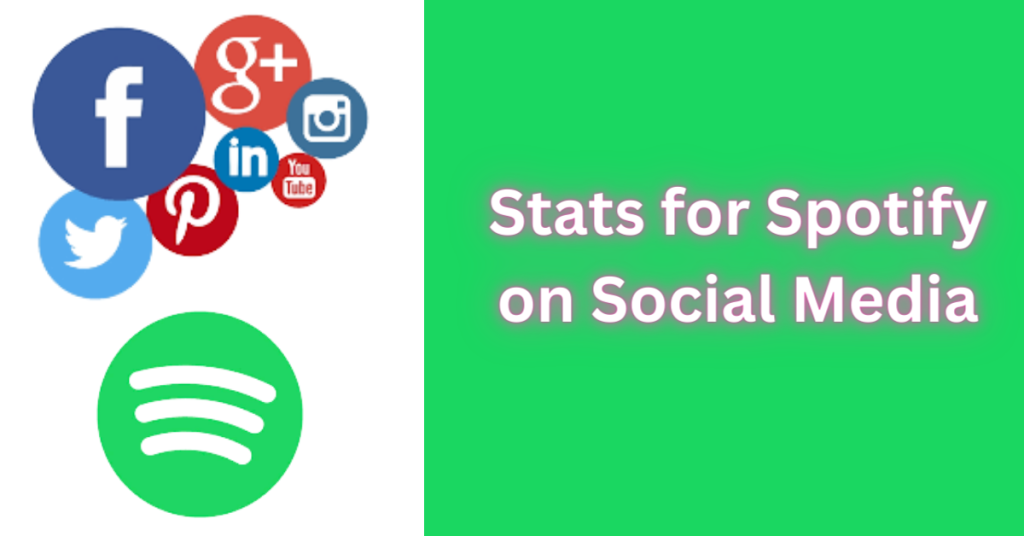 The company also has a strong presence on social media platforms and it is continuing to grow day by day. As of 2021, Spotify had more than 8.9 million followers on Instagram, 8.1 million followers on Twitter, and 23 million followers on Facebook.
These stats show the success of the platform and how digital marketing and good strategies can benefit the growth of a business. It also shows that any brand or business can gain massive success in its respective fields with the right actions.
Spotify Listening Stats
Spotify's platform gives your listening statistics but also provides listening-related statistics.
Tracks on Spotify
No matter what your mood is, you got covered by Spotify. More than 80 million tracks on the application provide plenty of artists and genres to browse. North America users give most of their time on Spotify, which is almost 140 minutes daily.
Most Streamed Artists in 2021
Bad Bunny came out on top with the most streams compared to any artist in the year 2021. The platform released the list of the top five artists that got more steams in 2021 to show the people are listening the most:
Bad Bunny
Taylor Swift
BTS
Drake
Justin Bieber
Great Ways to Analyze Your Spotify Stats
As mainstream or niche specifies music taste, you can glorify your listening habits by creating playlists. If you are in the mood to listen to the songs in a podcast, then Spotify should be your first and foremost priority. You can check Spotify stats anytime or view top artists and tracks using different web and third-party apps. It is optional to check your Spotify stats at the end of the year. The existence of these ways promises you a more comprehensive review. It helps you to get more attracted to the platform, but you will also get exceptional services that other competitive platforms cannot give.
There are multiple ways everyone should know to comprehensively view your Spotify stats and improve your experience with Spotify.
Checking Spotify Stats on PC
1.     To check your top artists, you must go to Spotify.com on your PC and sign into your account.
2.     Click on your username from the top right corner of the web page.
3.     Now click on Profile from the dropdown list.
4.     Your Profile will show you the Top tracks this month and the Top artists this month.
5.     You can click on See All button to see all your 50 top ways from that month. It helps you to let you know about the songs you are obsessed with the most.
Checking Spotify Stats on Mobile
If you check Spotify stats on a mobile application, it will not show you the top artists and tracks. But you can still check the recently played songs of the artists using the application.
1.     Open the Spotify app and tap the Settings gear icon in the top right corner of the app.
2.     You need to scroll down to see the Recently played artists. By enabling it, you can now tell the application to show my recently played artists on my public Profile.
3.     You need to scroll up in the same Settings menu and tap on your username, which will show you your Profile.
4.     Now you can see the artists that you played recently.
5.     You can tap on See All button to see all the artists' songs you played recently. It helps you to let you know about the songs you are obsessed with the most.
Using Spotify Wrapped to check your Stats
Spotify Wrapped is the company's annual tradition of listening habits. It looks back at your top songs and Spotify's music trends of the year globally. As you know, Spotify analyzes gathered data and makes the liked playlist a personalized slideshow.
By visiting Spotify.com, you can click on Your Top Songs 2021; that slideshow will have your most listened songs and podcasts, the time spent on the application, the top artists you hear most of the time and genres from the past year. It also includes some great features like Audio Aura, Playing Cards, etc.
Third-Party Apps to check Spotify Stats
The official website is one of many solutions to check Spotify stats. You can use multiple third-party applications to get a detailed ranking or a whimsical analysis.
Stats for Spotify
Stats for Spotify is one of the more basic websites that presents exciting statistics about your listening habits. It comes up with "quick facts" that include the average length and tempo of your favorite tracks and release dates of the upcoming and old tracks. There is a Timeline section to check how many tracks you have added to a playlist per day, while the Mood section lets you know how satisfying your preferred tracks are.
You can check your Spotify stats in three different periods. These periods are four weeks, six months and all-time. It is a classic data analyzer that includes an intuitive distributive chart with top artists, genres, tracks, and recently played songs. You can create your charts according to your taste.
Stats.fm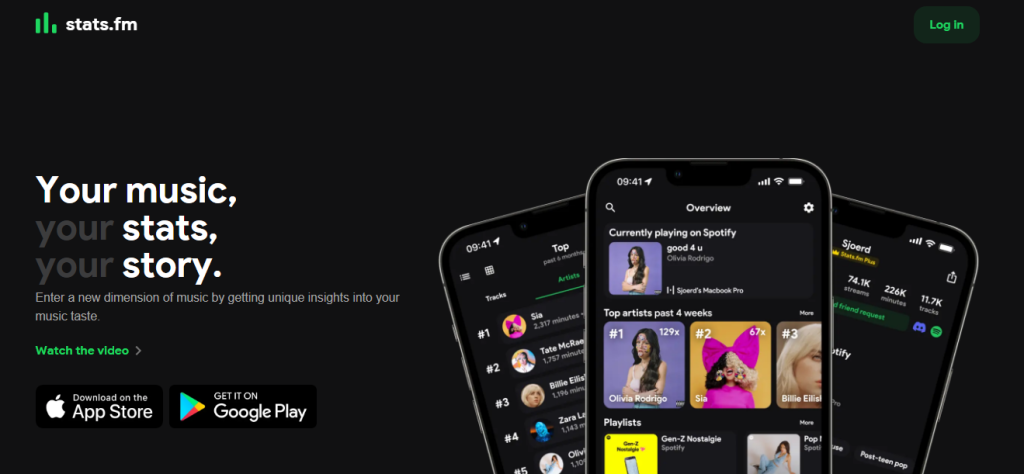 Stats.fm is also known as Spotistats which dives deeper into your Spotify stats using any smartphone device. It has an intuitive UI that is easy to use and helps you understand your music taste by giving you your mostly played songs on the platform. You can also get the lists of your top artists, genres, tracks and albums using Stats.fm. On top of that, like other applications, it tells you how much time you have given to your favorite tunes.
1.     To get started, sign into your account and give permission.
2.     Scrolling down on the home page will give you information about your recently played apps, and you can see the last played song and top artists from the past four weeks.
3.     There is a Top tab that gives you the top artists, tracks, and albums from the past four weeks, six months or lifetime.
4.     The Stats tab highlights the tracks and mood of the songs in the library. Using the premium account, you can see the tracks and streamed minutes.
Obscurity Music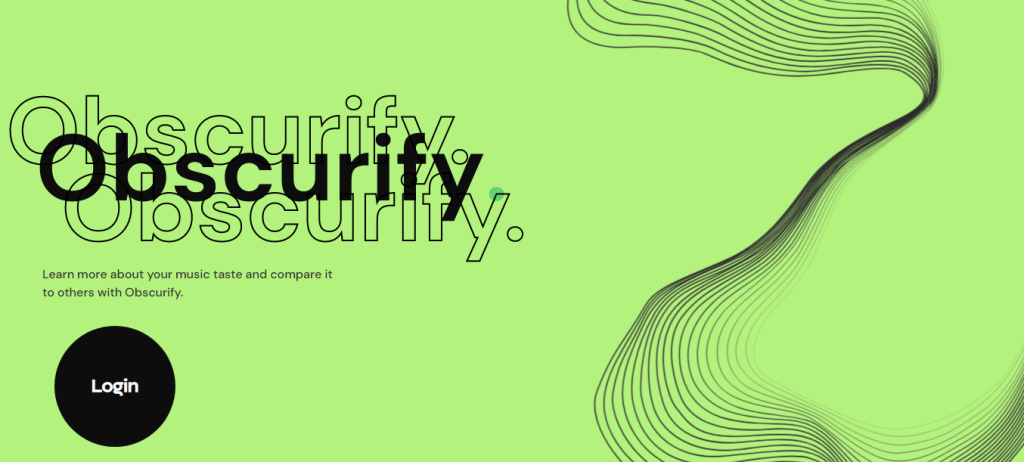 Obscurity is an application that offers some unique features that everybody can get access to it. It also tells you how unique and refined your music taste is. The application takes your quirky listening data on Spotify and compares it with others to check how unique, offbeat and obscure your tastes are. It also gives you insights into musical tastes.
If you are using a free application like Obscurity, you will be able to see your Spotify genres, impressive tracks, top artists, top albums and music moods. It also gives you recommendations depending on your listening activities as you listen to the songs daily. The platform gives users a window into the strange side of music taste. It also includes an Obscurity rating that tells you how unique your library is by comparing the others in the selected country.
Volt.fm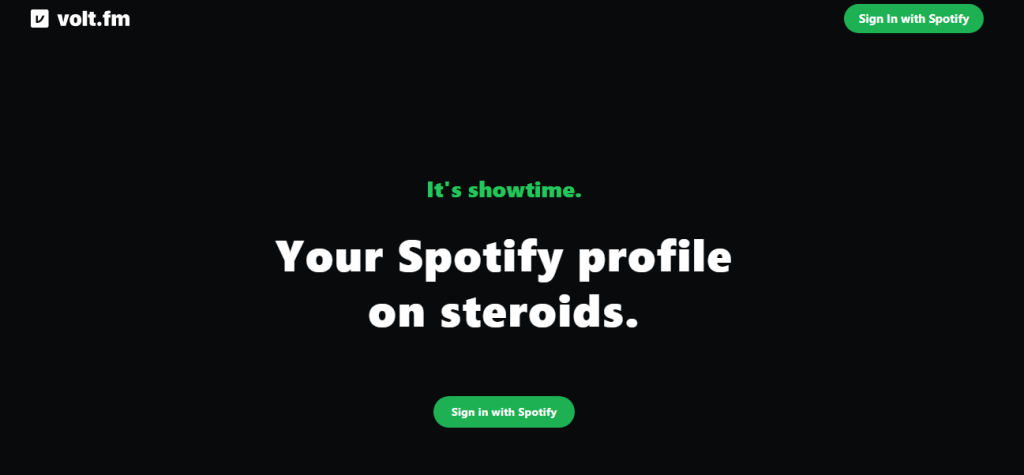 Volt.fm is the website that gives you more flexibility and detailed insights. First, you must visit the site and click on Sign in With Spotify.
Click on Agree to get going and access your account to gain insights are no longer needed.
After some moments, the platform will show you that your Profile is ready. You will click on See Your Profile and check your Spotify stats.
The home screen will show the song you have been playing recently and Top Genres. You can check more details by scrolling down the screen.
There is also a section of a top song where you can see the top songs from the past four weeks, six months or lifetime. It also helps you to save your top songs in the playlist by clicking on Save as Playlist button that automatically adds the playlist to the library.