In this highly competitive landscape, an effective pricing strategy can make a huge difference between the success and failure of an online business. Every single pricing decision can immediately affect the profits and bottom-line of your eCommerce store. This is the reason, having the right pricing strategy for your online store or eCommerce business in place is important to scape your business, get more sales and grow your profits efficiently. Sniffie can make product pricing simpler and easier for both eCommerce and retail.
What is Sniffie?
Sniffie is an online price monitoring, automation, and optimization software solution for eCommerce and retail businesses. Since the price of a product may vary on several online stores and websites, Sniffie can help you monitor the prices of a product to end up with an effective pricing strategy for your product. The price monitoring and automation software use an AI-based system that collects pricing data of different stores for different products available in the market. With data provided by sniffie, online businesses can develop profitable pricing strategies for different products and change marketing policies accordingly to generate more profits.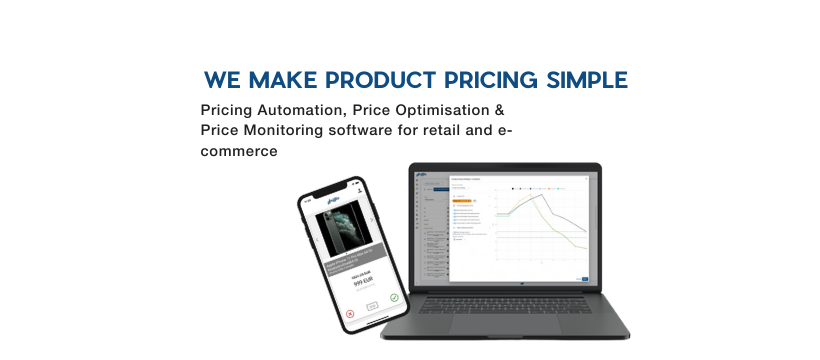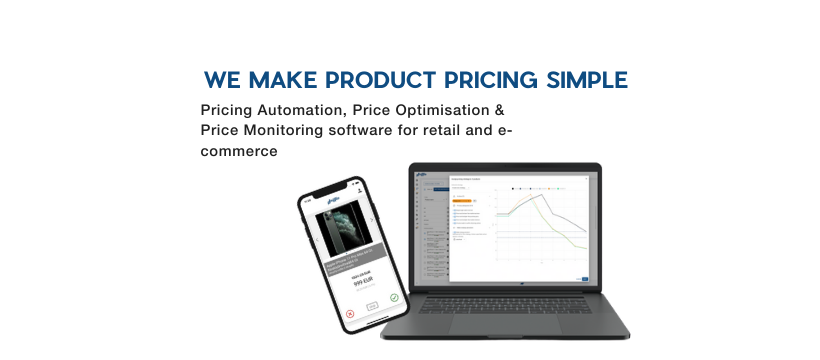 Sniffle is a Finland based Software Company and can do wonders for eCommerce and retail companies by helping them create profitable pricing plans. Along with monitoring and optimizing pricing structures, sniffie also helps eCommerce businesses for automating their product pricing procedures. By using Google shopping feed, the pricing software enables businesses in repricing products to increase their profit margins.
Useful features of Sniffie
Sniffie has several useful features that eCommerce business owners cannot ignore. Have a look:
The software is designed to track and monitor prices for different products on different ecommerce websites and online stores. As a result, companies can easily track and monitor competitors' prices with help of its AI based price monitoring system.
This is a modern price tracking platform with an easier to use dashboard and features.
Sniffie also helps with market research, market data analysis and dynamic pricing etc.
The software helps you set competitive pricing for your products based on competitors' pricing.
Profitability analysis and direct marketing strategy is some useful feature of this pricing software.
Advantages of Sniffie for eCommerce businesses and online retail
Ecommerce businesses and retail organizations can increase their overall growth by using following advantages of the software.
The software comes with sleek user interface that is very easy to use. Everyone can use this pricing solution with no technical expertise required.
Sniffie helps businesses of all types understand the price elasticity and reprising methods easily to set competitive prices for their products.
The software is designed to help businesses with automated price reports and updates on a regular basis.
Sniffie provides with pricing data from several websites and stores with greater accuracy.
Support team is always there to respond to customer queries and problems.
Disadvantages of using Sniffie
The software also comes with some cons that are given below:
When gathering product pricing from different websites, some product codes don't match with competitors' websites or store. In this situation, the software may not be able to track accurate pricing details.
An organization or retail company may need to upgrade some parts of its systems as new integrations are required for successful data tracking in some cases.
Since Sniffie comes with premium plans, startups may not be able to use this pricing monitoring and optimization software due to a lack of budget.
Sniffie Pricing Plans
Sniffie price monitoring and automation software come with different pricing plans that businesses can sign up for as per their individual needs.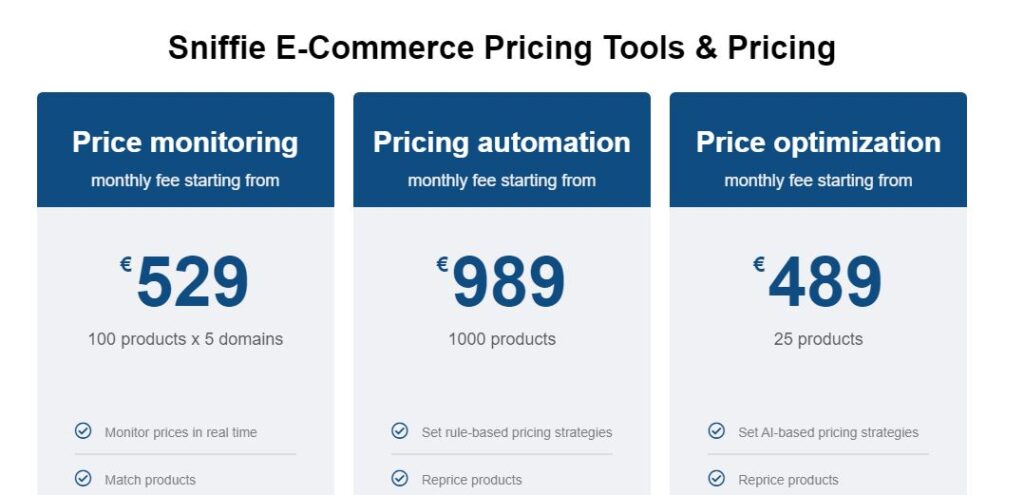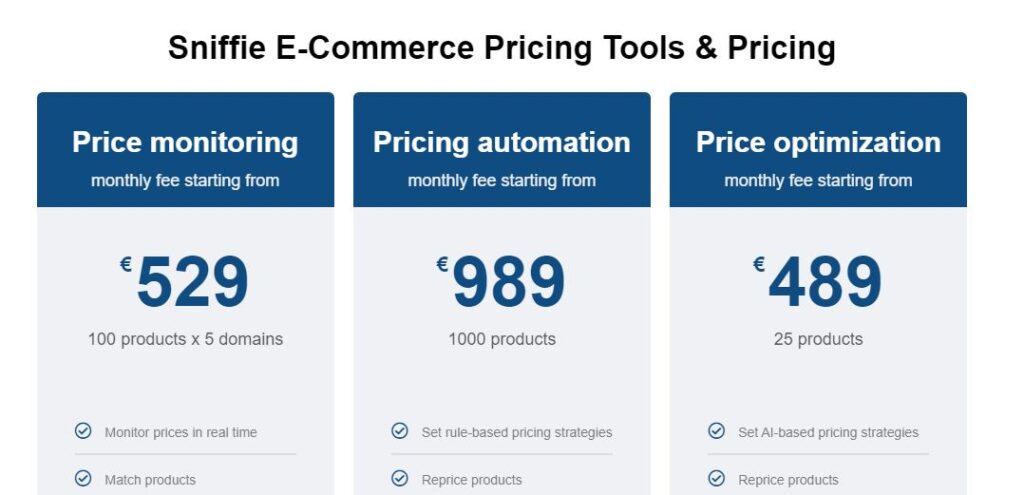 Price Monitoring
In this plan of Sniffie, users can enjoy features like real-time price monitoring, product matching, and price comparison on different domains. The plan allows them to check prices for up to a hundred products on 5 different stores or websites. The plan can be subscribed for €489 per month.
Pricing Automation
The pricing automation plan costs €989 per month. This plan allows a company to automate pricing for 1000 products. Furthermore, the company can also create and share a dashboard with its team. The plan is suitable for large eCommerce stores and companies.
Price Optimization
This plan is for beginners. This Sniffie plan costs €489 per month and allows a user to add 25 products for price optimization and repricing.
Conclusion
Above mentioned features, advantages and disadvantages can help you decide whether to use Sniffie for your eCommerce business or not. There are some drawbacks in this pricing monitoring and optimization software, it can help you improve overall business growth and revenues by developing better pricing strategies for your different products.