NVIDIA's come up with its most advanced addition in the GPU lineup, the Ada Lovelace RTX 6000. The product has generated unimaginable excitement among technology enthusiasts and gaming lovers. This graphic card can significantly enhance its performance and graphics processing power when configured with a high-end PC. Consequently, you will be able to have a great experience and visual enhancement when watching movies and playing games. In this article, we have deeply focused on explaining the key features and benefits of this high-end card to help you understand the overall value proposition of the Ada Lovelace RTX 6000.
Understanding the NVIDIA Ada Lovelace RTX 6000 GPU
The NVIDIA Ada Lovelace RTX 6000 GPU is NVIDIA's latest graphics processing unit, built on cutting-edge architecture. It boasts increased CUDA, Tensor cores, and advanced Ray Tracing and AI capabilities. A 5nm manufacturing process offers improved power efficiency and thermal performance. By accelerating different tasks, this GPU delivers an exceptional experience to gaming enthusiasts, businessmen, and developers. Above all, the RTX 6000 GPU delivers real-time ray tracing and enhanced visuals to promote an unparalleled gaming experience. Additionally, you can enjoy videos and movies in ultra-HD quality. This is why this product is so highly rated in this modern competitive world.
NVIDIA Ada Lovelace RTX 6000 GPU Features
Following are the important NVIDIA Ada Lovelace RTX 6000 GPU features, making it one of the best graphic processing units in the market. Delve into this guide or review to learn everything about this system, from its functioning to its benefits.
1 – Architecture
The NVIDIA Ada Lovelace RTX 6000 GPU features a sturdy architecture that is completely suitable for its performance and functioning. Incorporating several innovative technologies, this system ensures high efficiency and outstanding performance of your computing gadget. Possessing a cutting-edge Streaming Multiprocessor (SM) layout, the RTX 6000 also contains a Tensor Core design to improve Ray Tracing cores. This architecture makes it capable of bearing the most demanding workload, ranging from gaming to developing and deep learning tasks.
2 – Performance Metrics
We have tested this high-end Graphics Processing Unit to have a deep knowledge of its every attribute and characteristic. In the performance test, it has surpassed all the expectations to carry out different tasks smoothly. The Ada Lovelace GPU shows impressive parallel processing capabilities to provide better frame rates in graphically demanding applications. Furthermore, increasing CUDA and Tensor cores enables faster rendering times to ensure photorealistic visuals alongside Ray Tracing and AI-based technologies.
3 – Processing Nodes
The Ada Lovelace RTX 6000 GPU possesses different processing and working nodes constructed with semiconductor materials. They range between 5nm to 9nm, thus meeting the requirements of the different games. By using these nodes, you can assemble more processing technologies within a smaller area, enhancing the efficiency and performance of the particular gadget. All these results are less heat production, taking your system's computing ability to another level of glory.
4 – Tensor Cores
Beyond gaming, many other operations and applications also need the presence of a sturdy GPU system in your computer. A versatile graphic processing unit, like RTX 6000, incorporates advanced tensor cores that are highly suitable for running AI inference applications. These cores are designed specifically to optimize the PC for AI and deep learning workloads whether you want to play games or run machine-learning applications, tensor cores of this exclusive ease the running procedure.
5 – High Bandwidth Memory
A complete GPU system not only consists of a graphics card but also accommodates a VRAM. This component is the main factor that decides the speed of the whole system in the same manner as RAM decides the computer's speed. The Ada Lovelace RTX 6000 GPU possesses the VRAM of high bandwidth memory (HBM) modules with more functional abilities than the others. This high-speed HBM memory makes the data-accessing process faster, which is beneficial for graphics-intensive applications.
6 – Cooling and Power Efficiency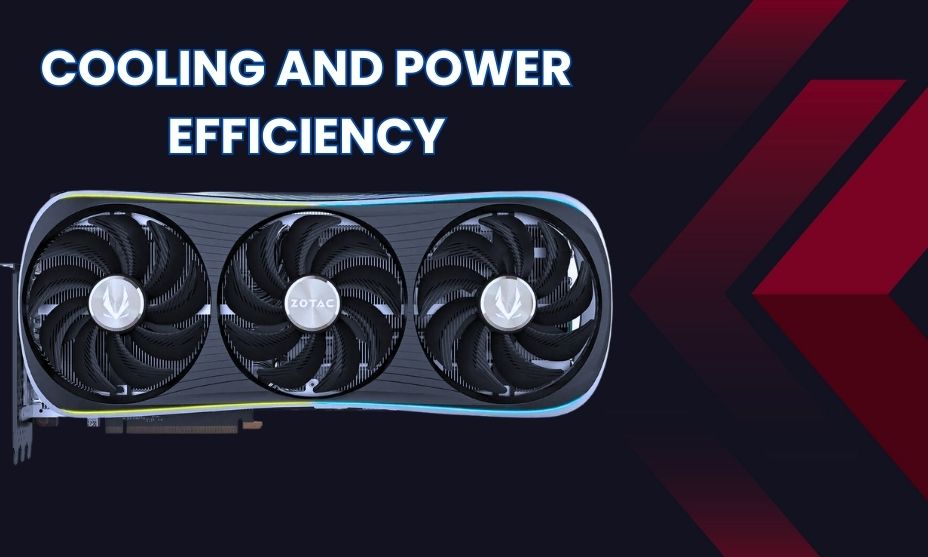 Cooling and power efficiency become crucial aspects when you are running high-end software on your system. Moreover, the concern reaches sky-high in gaming as it uses multiple components, including the whole graphics processing unit. A customized cooling system may prove costly and cause an unimaginable expense rise. However, with Ada Lovelace RTX 6000 GPU, you need not worry about this problem.
This new GPU system has a built-in cooling mechanism to prevent your PC from overheating. Technologies, like vapor chambers and redesigned heatsinks, maintain optimal temperatures during heavy workloads. In addition, the architecture and advanced process technology also contribute to the power-efficient working of your system, maintaining its power-to-performance ratio.
7 – Connectivity
To ensure that the graphic processing unit work in synchronization with the whole system to utilize the relevant parts, it must be well-connected with the motherboard. Otherwise, you may face lag in the overall performance. Similarly, the computer may crash when running certain heavy software. Above all, compatibility issues are the biggest concerns, preventing motherboards from accepting graphics cards.
Nevertheless, you may not face such issues with the RTX 6000 as it is built on the latest criteria and follows the essential connectivity standards. Including PCIe 5.0, this system supports faster data transfer rates between the GPU and motherboard. Also, it contains DisplayPort 2.0 and HDMI 2.1 outputs, allowing higher resolution, refresh rates, and audio features.
NVIDIA Ada Lovelace RTX 6000 GPU Pricing
Although NVIDIA Ada Lovelace RTX 6000 GPU has many more features than the previous versions, you can own it for $6,800 to optimize your computer's performance.
Final Verdicts
The NVIDIA Ada Lovelace RTX 6000 GPU represents a significant advancement in GPU technology, featuring the Lovelace architecture, high-performance CUDA Cores, AI-enhanced Tensor Cores, and improved Ray Tracing Cores. With its impressive performance, power efficiency, and groundbreaking features, the Ada Lovelace RTX 6000 GPU is poised to redefine the gaming and professional graphics landscape. Gamers, content creators, AI researchers, and professionals in various fields eagerly anticipate its release, as it promises to push the boundaries of what's possible in visual computing.