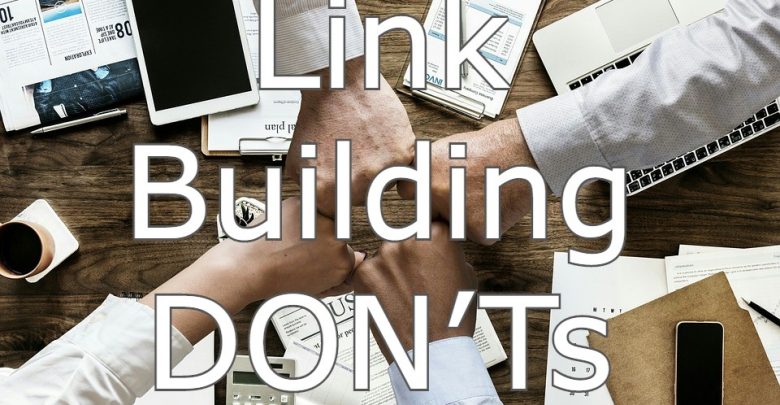 Link building is possibly one of the most well-known strategies in digital marketing and an essential aspect in search engine optimization to secure higher ranks in SERPs. Basically, it is the practice of getting external high authority pages to link to the pages of your site. Links obtained from external pages are not the be-all of SEO, they are one of the vital ranking factors. Most of the publishers, marketers and business owners are aware of the basic link building tactics but many of them really don't know the things to avoid in an effective link building strategy.
In this article, I will discuss some link building DON'Ts, tactics that you should not be using in your link building strategy to make it more effective.
1- Don't Link Only To Your Homepage
When working on link building strategies to power up your SEO ranking, make sure you are getting links for different pages on your site and not only to the homepage. Getting links only for the homepage will look spammy, which later can harm your SEO efforts. You can reach out to the bloggers and authors to write about your products or services and then link to the individual product or service pages to make your SEO efforts natural. It is the ideal way of building strong and natural links for your site to increase the website's visibility in search engines with different keywords.
Link building for different web pages not only keeps you away from penalties but also helps you improve conversions on your website. If you have a blog for your website and uploading useful and informative content regularly, you should also build some links for your valuable blog posts to appear in more and more searches. In results, you will a trustworthy link profile for your site while increasing conversions at the same time.
2- Don't Pay for Links
Buying links is one of the link building Don'ts you should avoid at any cost. Getting bulk paid links from companies and freelancers might help you rank higher quickly in search engines, but it is something that experts really don't recommend. Instead, try to reach out to the business owners, bloggers, and authors in your niche and ask them to link to your pages with target keywords in a natural way. Most of the people think that buying a few links from SEO companies is not a bad thing, but the point to be noted is that if they are selling one of a few links to you, they would be selling more links to other people. In results, the risk of getting hit by Google Penguin or other penalties are higher.
3- Don't Recycle Your Content On Different Sites
Writing about your business or products and getting those articles published on different sites in your niche is the best way to building links for your website. The process is known as guest posting and it is one of the common and effective link building techniques in digital marketing. But, when creating content for guest posting purposes, be sure to create unique and fresh content for each site you will be posting on, as the use of the same content on different sites could be harmful to your online presence.
Recycling the old content is one of the things you should avoid in your link building strategy. Always create unique, informative and problem-solving content when working on linkbuilding for SEO.
4- Don't Forget The Social Media
Don't leave out social media when working on a link building strategy. Whether links build for your site on social media can actually help in ranking higher or not, social media should be included in your link building strategy. Getting lots of external links for your site would be weird if there are not links from social media and it can make your link building efforts look spammy. Moreover, content published on social media sites now appears in search engine result pages and it could be a great opportunity to steer more organic traffic towards your site for better SEO rankings.
5- Don't Make it Fake
A link building strategy shouldn't look natural, it must be natural and organic. Make sure you are not using black hat SEO techniques for link building. Websites link to external pages with an intention for improving the experience of users, so you should place a link on other sites strategically in a natural way. Your links should be the best match for the page on which it is added and a relevant keyword should be used to link.