eCommerce
How to Effectively Write Content for E-Commerce Sites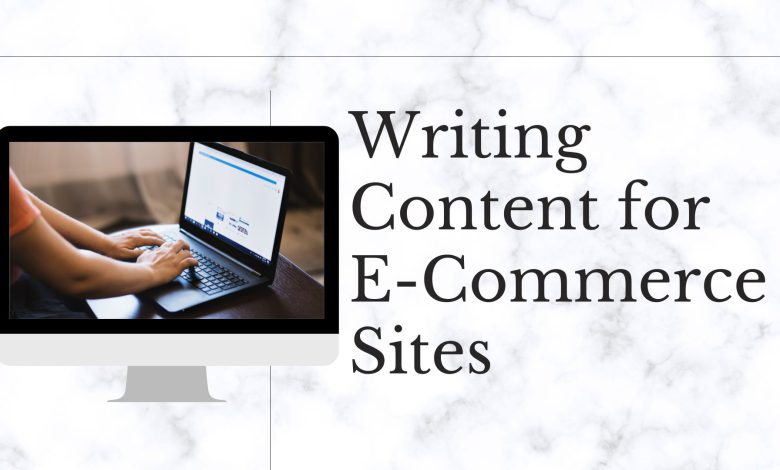 The days of stuffing your website with "filler" information and getting away with it are long gone. The importance of content authoring for e-commerce sites has increased. Now Google penalizes poor content. Some of the best tips to help you write content for E-commerce sites are:
9 Tips on How to Effectively Write Content for E-Commerce Sites
1. Utilize Your Landing Page Wisely
The landing page should be the first step in your sales plan. It helps to maximize the effectiveness of your content writing. You can advertise active discounts on your landing page through calls to action. A global e-commerce storefront devoted to books is a fantastic illustration of this.
By following their lead, you may advertise deals to visitors right away. You can do it without cluttering the landing page with welcoming remarks. To increase your conversion rates immediately, consider how you may create compelling sales offers. Post them on your landing page.
2. Prioritize Advantages Over Features
You might wish to keep the technical aspects of your items at the back end, depending on your target market. 30% of clients prefer to shop from stores they have already frequented. Be careful who you write for because it can be challenging to persuade a lead to convert. For B2C customers, advantages are more important than features. The reverse is true for B2B customers.
Your product descriptions should be written in an engaging, essay-like style. Before getting into the nitty-gritty details like dimensions, and weight, provide bullet points. Go for real-world applications. Also, tell the advantages of using your product.
3. Encourage Skimming of Written Content
People don't like to read vast amounts of text regarding digital content. Mobile users with small screens should be especially aware of this. By allowing readers to scan written information on your e-commerce site, you can make up for that. You can underline essential phrases and write concise paragraphs.
You can also incorporate images to change the content. Similar to how numbers and bullet points can make reading easier and more manageable. Allowing readers to skim content writing may seem paradoxical. But the reverse is true.
4. Advertise Services Through Influencers
Influencers can significantly improve your content writing strategy. You will undoubtedly find influencers willing to work. Read more about such prominent figures to fulfill your goals. These people will promote your venue and products among their following. They will do so in return for payment, visibility, or free goods. Influencers can test your goods and make demonstration videos.
They can even blog about their experiences using them. It will significantly increase your e-commerce platform's reputation. It will also give it a pro-consumer vibe. Yahoo will analyze whether or not your products are relevant to particular users' search queries. Using Google AdWords to research the keywords in your content is a fantastic idea.
5. Perform SEO Regularly
The total rating of your products online is greatly influenced by the keywords you use. Search engines use trending keywords like Google published content with new keywords will be simple. It will help you keep your rating.
While not directly related to the content, broken links and inadequate or optimized multimedia might hurt your SEO ranking. Do your best and routinely check your e-commerce platform. Your website will soon see healthy levels of interaction.
6. Beware of Word Count
Make sure you evaluate the word count in addition to the testimonials. Longer product descriptions accomplish two things:
To fully educate readers on your product's characteristics
To demonstrate to Google that you are committed to serving the needs of your audience
Google wants your audience to be happy with the outcome and is aware that they should be your top focus. However, one line of text will not adequately describe your services to the reader.
It's simple to fall into the trap of merely offering the bare minimum of substance. However, Google's Panda algorithm change penalizes flimsy online content and rewards web pages with deeper depth. A reasonable word count for a product description is 300 words.
7. Avoid Repetition of Content
Duplicate content should be avoided. In the same way, low-quality content should be avoided. You have identical material when you use text from another source in your product description. Utilizing previously published content is far easier than coming up with original content, yet Google penalizes these websites severely.
Google eventually indexes the original content rather than yours, negating whatever advantages the duplicated work may have had. E-commerce businesses frequently use the official product description from the manufacturer. Many other companies in your industry will do the same. They will make it duplicate material and subject to punishment. Another issue arises when your company's tagline or biographical information.
8. Lead with Content That Sells
Regarding e-commerce, having high-quality content is essential to boosting your search engine ranks. It ultimately increases your sales. Please don't skimp on your product descriptions. They can be the only thing that can persuade customers to buy from you. You can use E-commerce software to improve your content quality.
Customers need to understand why your product is superior to your competitors, therefore influencing their research in your favor by offering the necessary details to close the deal. By attracting more readers, you will raise your rankings and conversion rates.
9. Quality Content Will Attract Your Target Audience
The tone you use with your material should appeal to your target audience. It should go without saying. You can't expect your target audience to shop with you if your content doesn't appeal to them. If you're unsure about your target market, consider the people who would purchase your goods. Those who are interested in fitness? Cooks at home? Recent graduates from college?
You may start creating material that will appeal to your target audience. Once you know who would buy your goods, go for it. Understanding your target market can also help you determine the keywords. You can then employ them to appear in search engine results.
Conclusion
The tips and methods above should play a significant role in your content strategy. Feel free to use them, but remember to monitor your progress so you can concentrate on what works best.