Internet
What is Discord Unblocked and How Does it Work
We all want Discord Unblocked to access its complete features, even residing in restricted areas. The platform is one of the most popular chatting options millions of gamers use to interact with each other. Thus, they can take their experience to an advanced level by sharing their thoughts and ideas. Although it is available worldwide, some users need help using this application due to certain limitations. They must bypass these barriers to access its complete interface. We have developed this guide to help you learn about this unblocked platform, highlighting its potential risks and ethical considerations.
What is Discord Unblocked?
Discord Unblocked is the process of bypassing the access restrictions and limitations imposed on the Discord communication platform. With its help, you can collaborate, communicate, and socially interact with other individuals, especially those interested in games and similar interests. In some areas, the Disccord is not available to utilize its features fully. Therefore, you should follow some effective tactics, like using VPNs, web proxies, and browser extensions. Consequently, you can engage with others even though imposed restrictions. Still, many risks and threats are present in using this application. You must be very cautious regarding ethical considerations and security regulations.
Why Do You Need Discord Unblocked?
You must possess Discord Unblocked due to the multiple restrictions imposed on the basic application. You must be well aware of these limitations before having your hand on this platform. We have listed some of them in the under-section.
1 – Filters
Filters are the primary methods of imposing limitations on certain apps. Some schools and workplaces have implemented content filters to maintain productivity and prevent access to content other than education and work-related sites. Discord is also one of them, which comes under such filters to limit its uses.
2 – Regional Restrictions
You may also need Discord Unblocked, as some countries have posed restrictions and censorship acts on the use of this app. As a result, people living in particular areas cannot have direct access to this platform.
3 – Network Limitations
To manage bandwidth and control users' activities, some Internet Services Providers have limited access to numerous sites and applications, including Discord, preventing you from utilizing its attributes and interface. Discord Unblocked can give you full access and help you enjoy the benefits of this chatting platform.
Read More: Mimu Bot – A Discord Bot And Complete Guide To Use
How to Get Discord Unblocked?
It is not much challenging to have Discord Unblocked. You only need to follow some effective strategies to access this platform directly. Some of them are present in the under-section.
1 – Virtual Private Network
A virtual Private Network, often known as VPN, is one of the best ways to have Disord Unblocked. You only need access to a good option available on the web to connect it to the Internet through a secure server to bypass the location restrictions. A VPN network allows you to connect with numerous servers of listed countries and regions where Discord is available for free.
Connecting with it will mask your Internet Provider Address and make you look like you are sitting in the connected area. Now, when you open the app, it will take you to the interface without any restrictions. The only thing to consider is that you must have a strong network that helps you avoid buffering and other restrictions. Hence, you can enjoy seamless connectivity and entertainment.
2 – Utilize Proxy Servers
Discord Unblocked requirement is compulsory when you face Internet connectivity restrictions and geo-locations. Bypassing them will give you direct access to this platform. However, you can utilise the proxy discord servers if your Internet provider doesn't provide permission. Generally, these intermediate websites allow you to reach the platform by utilizing their internet addresses and have complete access to them.
Consequently, you can overcome Internet proxy service provider restrictions and get Discord Unblocked through a different IP address. The only requirement is finding safe proxy servers with ultimate HTTPs and SSL security to keep your data safe and sound.
3 – Browser Extensions
Chrome is one of the most famous browsers, and millions of users are utilizing its benefits across the globe. Certain extensions and add-ons enable you to get Discord Unblocked by rerouting the traffic through proxy servers and VPNs directly from it. You can install them by completely analyzing their features and seeing which will deliver the best results for you.
4 – Mobile Hotspots
Mobile hotspots are similar to those of WiFi connections and allow you to browse things over the Internet. You can perform all the desired operations without any restrictions. The same you can implement to get Discord Unblocked. For example, if you are residing in a restricted area and have Internet connectivity with a device which can access this application, you will also be able to utilize its complete features.
Limitations of Discord Unblocked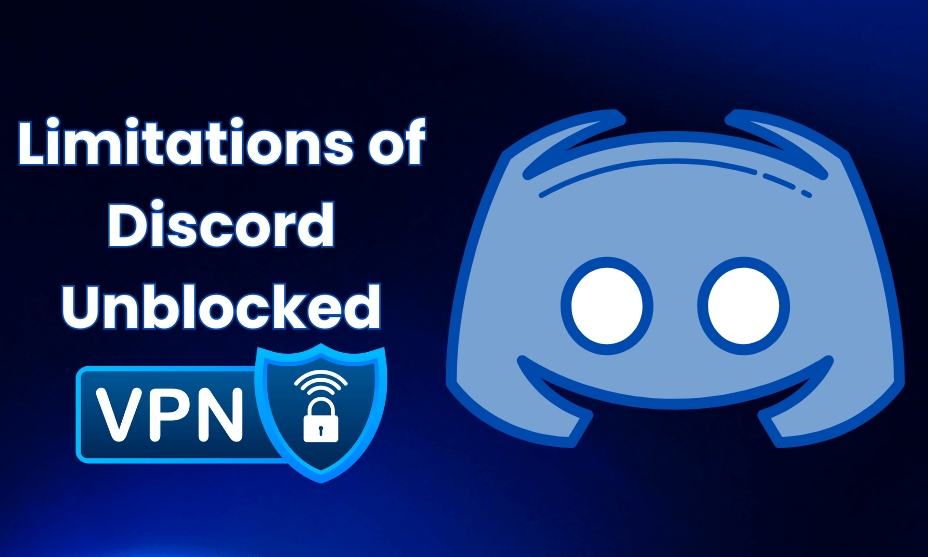 Although you can get Discord Unblocked by following some of the most convenient strategies, certain factors limit the use of this platform. We have listed some of them in the under-section.
1 – Security Concerns
VPNs and proxy servers are the most convenient ways of getting Discord Unblocked. Nevertheless, they will significantly put you on top of the risks of data stealing and other hacker activities. Further, data breaches cause you to lose all the essential information.
2 – Policy Violation
We described previously that certain countries and workplaces have posed a restriction on the use of this app. So, if you run Discord Unblocked, it may result in policy violation of these apps, causing negative impacts on your reputation and credibility.
Final Verdicts
This is all about Discord Unblocked and how it works. The chatting platform is one of the most exclusive ways of contacting and communicating with other individuals, specifically gamers, to share their thoughts and experiences. However, some areas and regions follow geo-restriction policies, preventing you from enjoying its full features. Similarly, some Internet service providers have banned Discord. Still, you can use VPNs, web proxies, browser extensions, and mobile hotspots to discover its features for free and seamlessly, with some security concerns and policy violation issues.