ASUS 2-in-1 Q535 is a high-quality computing gadget that functions as a laptop and tablet. Technological advancement has enabled industries to design sturdy and unique products that captivate users and increase revenue for the company. With so many options available in the market, some are the top choices for gaming lovers. On the other hand, a few laptops are highly efficient in graphics and video editing for their enhanced screen ratios. Among them, this ASUS Q535 masterpiece works on hybrid technology to carry out everyday activities. We have detailed the specifications and features of this top-quality gadget in this guide.
ASUS 2-in-1 Q535 Specifications
With the rise in competition, several industries have designed epic computers and laptops to stand on the top. Brands like Dell, HP, Acer, and Apple have dominated the market by targeting every niche, from gaming to freelancing. However, there is nothing more productive for routine activities than ASUS 2-in-1 Q535 laptop. This unique gadget allows you to use it as a laptop and can be eventually converted to a tablet for a more hassle-free experience with touchscreen. In the under-section, we have described its unique specifications that boost its performance.
| | |
| --- | --- |
| | |
| Processor | Intel Core i7-8565U (8th Generation) |
| Graphic Card | NVIDIA GeForce GTX 1050 |
| Battery | Li-Battery |
| Memory | DDR4 16 GB (Minimum) |
| Storage | 2 TB (HDD), 256 GB (SDD) |
1 – Processor
ASUS 2-in-1 Q535 laptop is not built for gaming. Still, it contains an Intel Core i7-8565U processor that performs respective operations efficiently. As a result, you can handle numerous activities simultaneously. Further, this quad-core processor comprises 8 threads and has a base clock of a minimum of 1.8 GHz, and the maximum speed can reach up to 4.6 GHz.
This 8th-generation processor allows you to carry out the required operations swiftly as it processes the data at a lightning-fast speed. Moreover, you can carry out numerous functions simultaneously that will save time and improve work efficiency.
2 – Graphic Card
The presence of high-quality and the latest NVIDIA GeForce GTX 1050 graphic card has enabled the ASUS 2-in-1 Q535 laptop to be one of the best choices to enjoy maximum pixels in ultra-HD quality. In addition, the 128-bit memory interface width is enough to run all the advanced and digital applications without lagging.
Besides, with the help of supported technologies, like 3D Vision, ShadowWorks, PhysX, and CUDA, you use it for office, home, and other routine work. Beyond all, the memory bandwidth speed of 112 GB per second displays all the images, videos, and games in their maximum resolution for an enhanced visual experience.
3 – Battery
ASUS 2-in-1 Q535 laptop features a rechargeable lithium battery that can run prolonged after a complete charge. You can continuously utilize the product for around 12 to 14 hours in case of online activity. However, the time will ultimately be extended for the offline experience. Thus, it diminishes the need for frequent charging, and you can run it longer.
Another key benefit of the lithium battery is that it can survive for years without damage. In this way, you can get extended benefits despite considering a replacement every few months.
4 – Memory
Memory directly influences the performance and efficiency of computing gadgets. Therefore, the company has considered this factor and installed 16 GB DDR4 RAM in this product. As a result, the ASUS 2-in-1 Q535 laptop has become one of the top-selling brands for office and home professionals. This latest RAM technology quickly loads the data by extracting the desired information from the storage drive. Next, it makes it accessible to the processor for speedy performance. The memory chips are divided into two portions, each with 8 GB capacity for improved functionality.
5 – Storage
We previously mentioned that ASUS 2-in-1 Q535 laptop is meant for everyday activities, including movies, dramas, shows, songs, assignments, online browsing, and casual gaming. Thus, the developers have marketed this laptop with a built-in Hard Disk Drive (HDD) of 2 TB capacities. Such a huge space is enough to store a large data collection and eliminate the frequent need to delete the old ones. Furthermore, an SSD drive of 256 GB also comes pre-installed, which works more efficiently than HDD. You can save the most important and heavy files in this drive for improved performance.
ASUS 2-in-1 Q535 Laptop Features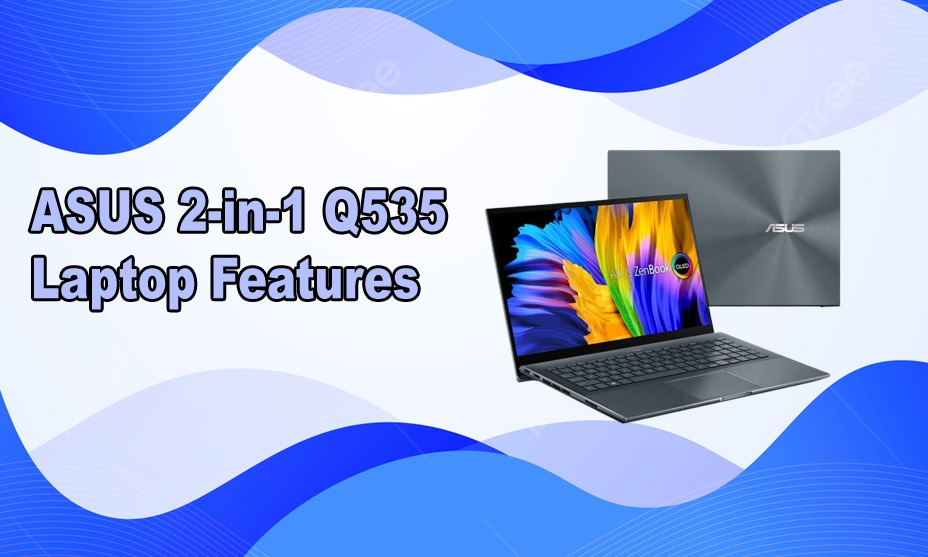 Based on the specifications mentioned above, the ASUS 2-in-1 Q535 laptop possesses exclusive features. Some of them are described below.
1 – Ergonomic Design
The ASUS 2-in-1 Q535 features a slim and smart design that gives it an elegant look. Furthermore, the Aluminum finish gives it a shiny look that reflects the light and improves the visual appearance. The thin body is extremely easy to store, leaving enough room for other gadgets.
2 – Durable Body
Unlike other laptops and computing gadgets, this laptop is constructed with metal alloys that make it sturdy. Thus, the improved durability allows you to take advantage of this special product for years without needing to replace it.
3 – Highly Portable
The thin body and lightweight components significantly reduced weight and made it extremely easy to carry anywhere. Furthermore, high portability helps you get maximum benefits by working effectively at the desired place.
4 – Operating System
The ASUS 2-in-1 Q535 laptop possesses the latest technological components. Therefore, it works only on the latest operating systems, like Windows 10 and Windows 11. When you buy this gadget, it comes with a pre-installed Windows 10 Home (64-bit) version. You can upgrade it to the Professional or Windows 11 for more epic working and outcomes. These operating systems are highly compatible with almost all the applications and software needed for the office and routine work.
5 – Display Quality
In the specifications, we have detailed that the ASUS 2-in-1 Q535 laptop comes with the advanced NVIDIA GeForce GTX 1050 graphic card. Thus, it can show ultra-HD quality images, videos, and other multimedia files. Besides, the screen size of 15.3 inches is enough to deliver the complete files instead of undesirable cropping and formatting.
In addition, the IPS LED Backlit display allows you to perform the activities from multiple angles without blurring. Beyond all, the maximum pixels of 1920 × 1080 comfort the eye by signifying the picture resolution. The anti-glare coating on the screen prevents light reflection, saving you from distraction.
6 – Mouse Pad And Touch Screen
The mouse pad is extremely smooth to touch and ensures comprehensive functioning. Moreover, the customizable sensitivity helps you set it according to the requirement to ease operational efficiency and cruising across the applications. Above all, the touch screen enables you to perform the desired activities swiftly. You can navigate to any option conveniently while sitting in any position.
7 – Keyboard
The keyboard features a full button set with a numerical pad. The curved shape also grips your fingers well, improving your typing speed. The controls are extremely smooth to touch and follow the commands quickly.
8 – Connectivity Options And Ports
ASUS 2-in-1 Q535 laptop features the latest connectivity options with pre-installed Wi-Fi and Bluetooth drivers. Thus, you can easily connect it with the Internet or with your mobile for data transfer. Additionally, it comes up with an SD card reader slot to exchange files between the DSLR and other cameras. Further, one HDMI, two USB, and one Ethernet port also deliver enhanced connectivity options.
9 – Audio Speakers
Most of the laptops available on the market do not exhibit a quality sound system. As a result, you have to purchase additional buffers and speakers for the ultimate experience. However, there is no such issue with ASUS 2-in-1 Q535 laptop, as it contains two high-quality integrated speakers certified by Harmon Kardon. Thus, you can enjoy better audio quality with a theatrical base and pitch.
10 – 360 Degree Rotational Body
At the junction of the screen and keyboard, there is a hinge that allows the 360-degree rotation of the screen. In this way, you can operate the system as a laptop and tablet according to the requirements. Furthermore, the 360-degree rotational body allows you to use this gadget in 3 different positions, such as a tablet, tent, and straight. The sturdy joint won't displace easily, giving it a tight shape for seamless functioning and storage.
ASUS 2-in-1 Q535 Pricing
The high-quality and durable ASUS 2-in-1 Q535 laptop is available on Amazon and costs $1,499. One important and notable point is that this pricing is only for the genuine product. In the case of personalized customizations, your cost may increase according to the additional features and components.
Buy Now: https://amzn.to/3CdBXpW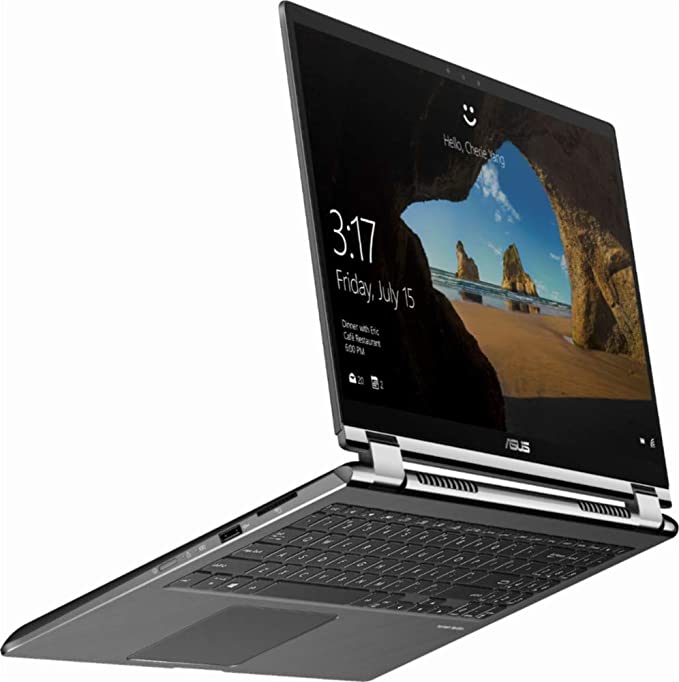 Final Verdicts
All these are the details about the ASUS 2-in-1 Q535 laptop and a complete review of its features and specifications. In conclusion, this cutting-edge product is capable of performing multiple operations simultaneously. Further, you can use it for home and office work as the large storage capacity can save enormous amounts of data, eliminating the need for frequent deletion. Besides, the high-speed processor, ergonomic graphic card, and the latest RAM integration make it a versatile gadget for gaming and everyday functions. That's all about this guide. Stay tuned for more information!