Software
Best Task Management Software Tools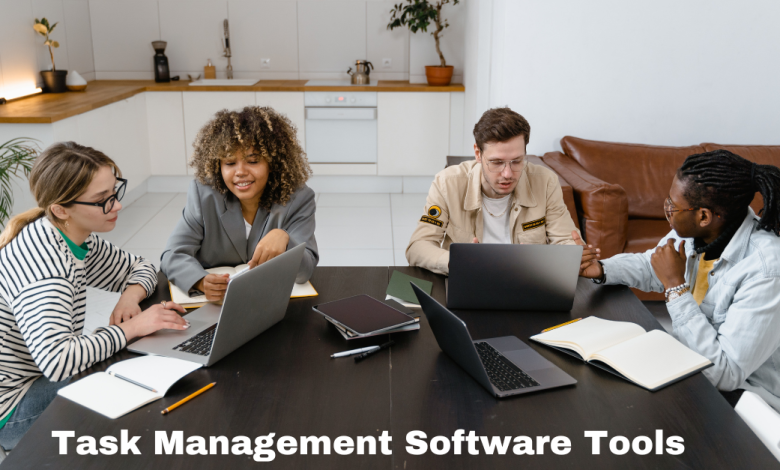 Task management software tools are becoming very popular in the software industry. They are necessary for any business because they help map out any project's scope. In any business, individuals and teams can prioritize any specific task or approach any goal using the best task management software. But picking the suitable tool can be trickier for task management than completing any usual task.
What is Task Management Software Tools?
Task management software tools help you to manage your tasks effectively and efficiently. The digital platforms allow individuals and teams to plan, organize and prioritize tasks using to-do lists. They are specially designed to prepare resources, project estimation, etc. At the same time, you can also use them for problem identification and prioritize the tasks per the circumstances, as the name Task Management suggests that they are mainly designed to address the requirements of task managers.
Task Management Software Tools:
There are many significant task management tools, but the following list shows the top devices on the market today to assist you narrow down your search.
monday.com
ClickUp
Airtable
Infinity
ProofHub
Paymo
Asana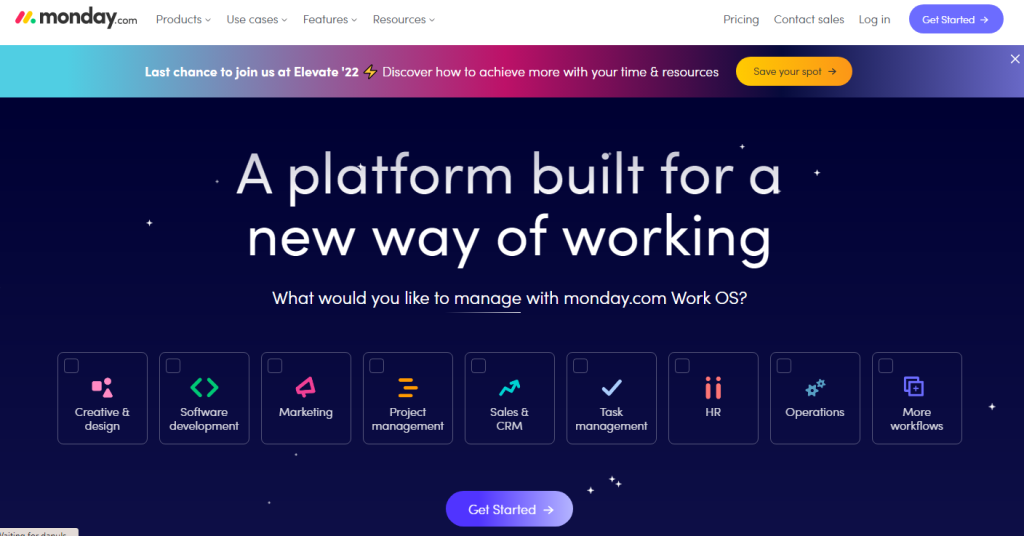 monday.com is one of the best task management software tools that helps you to map out individual and team tasks. It is among the tools that can handle workflow management for any project. The platform is most attractive because of its high scalability and customizable spreadsheet.
It is a team collaboration tool that allows users to collaborate on tasks. To track your tasks, you must upload and attach files, tag some members on functions, and fix the deadlines depending on your chosen plan. It incorporates all your workflows and records by creating teamwork instant and ensured.
Pricing
Individual: $0 free forever
Basic: $8 seat/month or a Total of $24 /month Billed annually
Standard: $10 seat/month or a Total of $30 /month Billed annually
Pro: $16 seat/month or a Total of $48 /month Billed annually
Enterprise: Contact us
Features
Customizable templates
Real-time Dashboards
Matchless integration with other apps
Pros
Free-forever plan
Easy-to-use
Intuitive interface
Unlimited docs on all plans
Highly scalable
Custom dashboards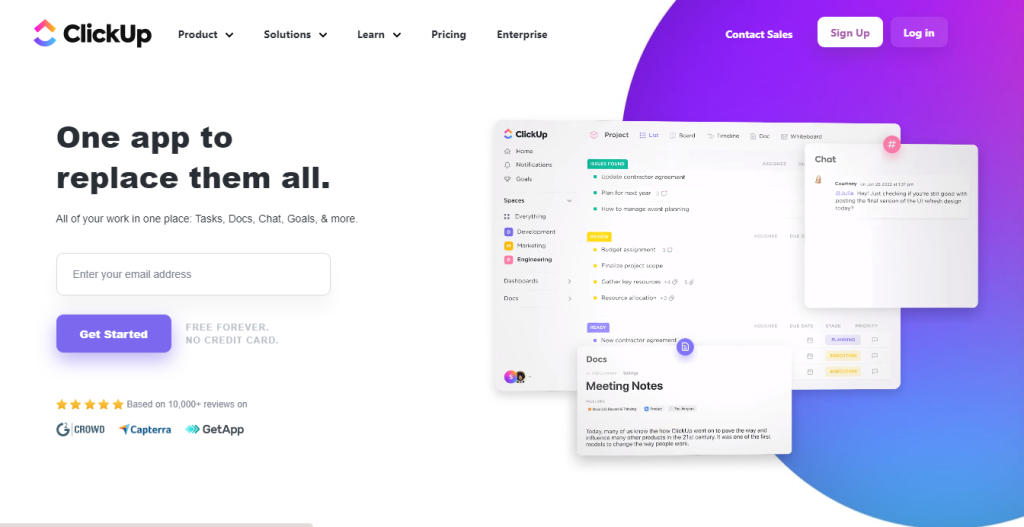 ClickUp is an all-in-one task management tool that offers a great workplace with enormous capabilities. It contains multiple features and functionalities that help you to tackle any task, from simple to-dos to complex projects. The tool boost productivity of any industry using numerous ways like Gantt, List, Kanban-like Board view, and its Calendar.
It can customize anything using a robust set of features. Some well-known companies, including Uber, Nike, Google, and Airbnb, use this tool. This tool can approach your organization and globally sort the tasks.
Pricing
Free Forever: Best for personal use
Unlimited: $9 per member/month or $5 per member/month
Business: $19 per member/month or $12 per member/month
Business Plus: $29 per member/month or $19 per member/month
Enterprise: Contact Sales
Features
Time Management
Time Tracking
Custom Statuses templates and Custom Fields
Customizable tasks and Subtasks
Assigned Comments
Dashboards
Goals, Reminders, Tags, and Inbox
Apps Integration
Checklists within tasks
Pros
Free-forever plan available
Multi-task toolbar for subtasks
Internal chat messaging
Time tracking on all plans
Feature-rich platform
Highly customizable dashboards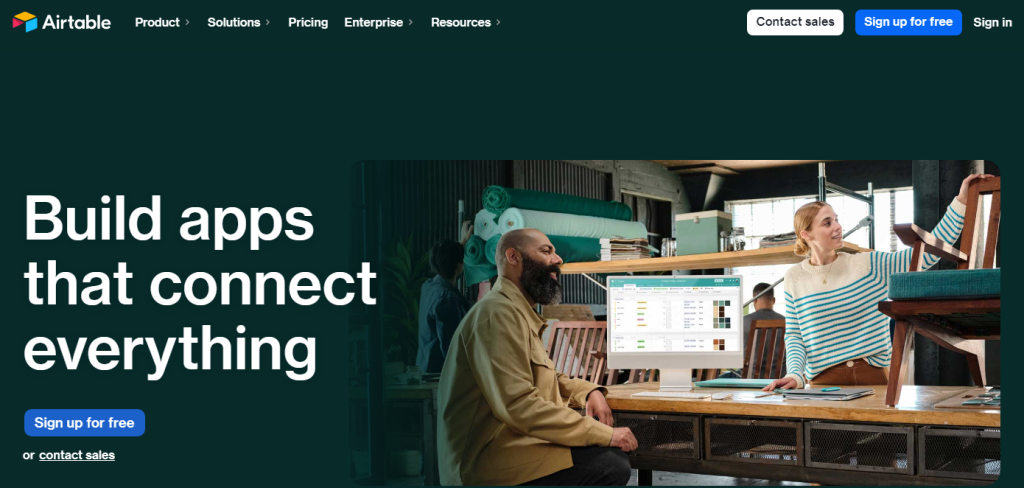 Airtable is the best task management platform that helps to build collaborative applications. It is similar to spreadsheets like Google Sheets or Microsoft Excel. The platform has scalability and flexibility that map out your projects and tasks to handle your work. You will be offered an intuitive interface that creates a better visual representation of tasks.
It helps to use multiple features such as a content calendar, roadmap, customizing views, etc. Airtable architecture provides tremendous support that handles big teams, multimedia, and multiple-step tasks. The tool also permits you to incorporate it with other platforms, including Salesforce, Outlook, and Hootsuite.
Pricing
Free: free forever
Plus: $10 seat/month billed annually
Pro: $20 seat/month billed annually
Enterprise: Contact sales
Features
Grid Interface
Task Tracker
3D Model Explorer
Functional, Nix, and Match Blocks
Map and Geocode Integrations
Page Design
SMS Integration
50 Airtable Apps
Data Import/Export
Pros
Forever free plan
Drag and drop tools
Milestones and due dates visible in the calendar view
App integrations
User-created templates available
Easy to use
Forms for data collection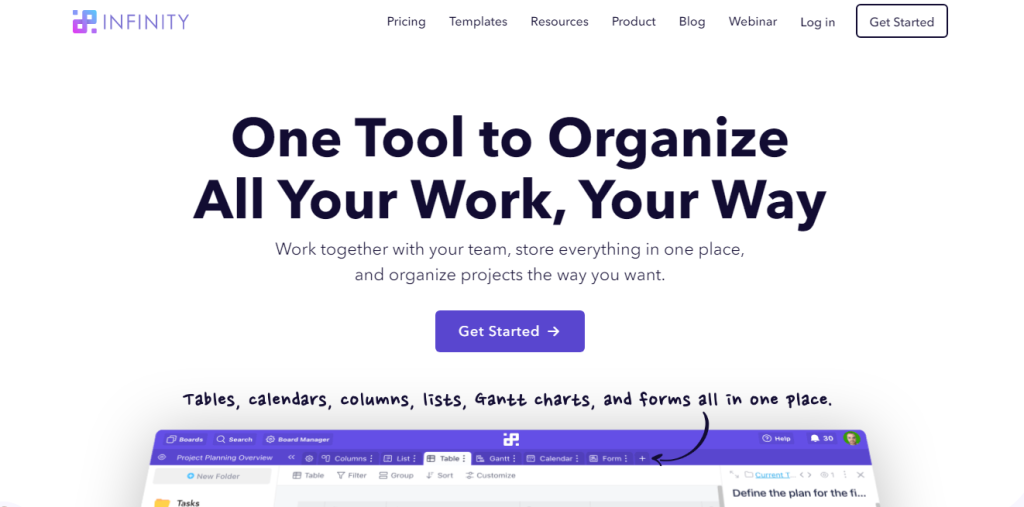 Infinity is an all-in-one task management platform that helps to create the most flexible, adaptable, and intuitive software. You can utilize this tool to organize your tasks and projects in the same place. It can coordinate with any organization or any freelancer to track its tasks. You can manage multiple customers, but the structure and powerful customization make it more unique. It can also assist you in being aware of clutter at any cost. It provides an intuitive UI that effectively customizes all your work however you prefer.
Pricing
Basic: $5 user/month or $3.75 user/month billed annually
Pro: $8 user/month or $6 user/month billed annually
Enterprise: Contact Sales
Features
Multiple Views
Folders and Subfolders
Custom Attributes
Attachments and Links
Custom Boards
Assigned Tasks and Comments
Notifications
Zapier and Clockify Integrations
CSV Import
Automatic Backups
Activity Log
Data Recovery
Pros
Easy to copy
Copy pastes
Project Management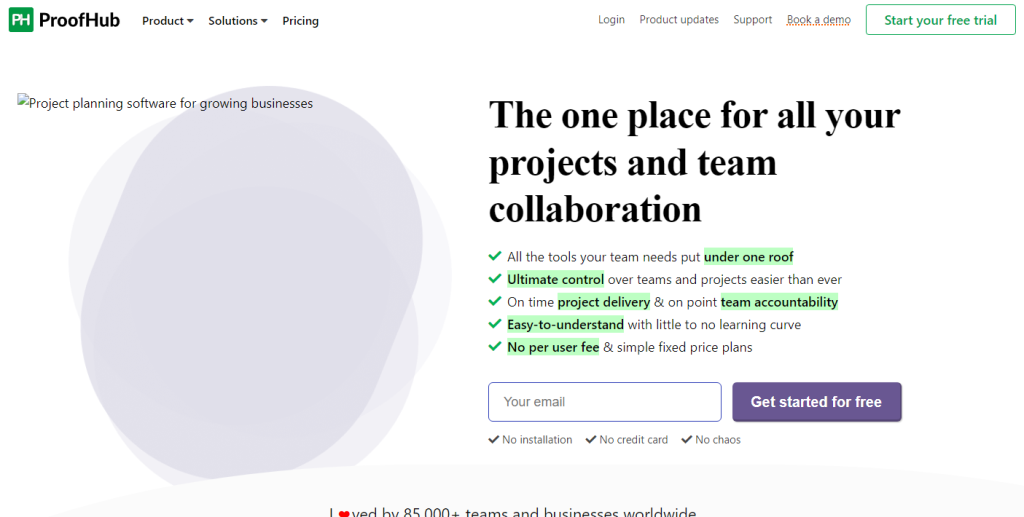 ProofHub is the best task management tool trusted by over 85,000 companies and teams globally. It is meant for everyone that is used to any business and industry. The platform offers splendid features in the same place and streamlines workflows. It can meet the team requirements and manage project tasks. The platform provides an intuitive interface that attracts people to interact smoothly.
Regarding task planning, it allows you to switch between table view, Kanban boards, and Gantt charts. By using these ways, you can schedule your timeframe. You can use Kanban Boards to visualize tasks and adjust the Gantt chart to adjust workflows. ProofHub is excellent for reporting purposes that assist you in managing tasks using Manage tasks, Calendar, and support queries.
Pricing
Free: Start your Free trial
Ultimate Control: $99/month or $89/month billed annually
Essential: $50/month or $45/month billed annually
Features
Task Management
Schedule Tasks Using Gantt Charts
Custom Task Fields
Accurate Timesheets
Table View
Custom Roles
Stickies
File Proofing
Pros
Minimal learning curve
Scalable and flexible
Visualize tasks in multiple views
Intuitive User Interface
Announcements for sharing info
Real-time notifications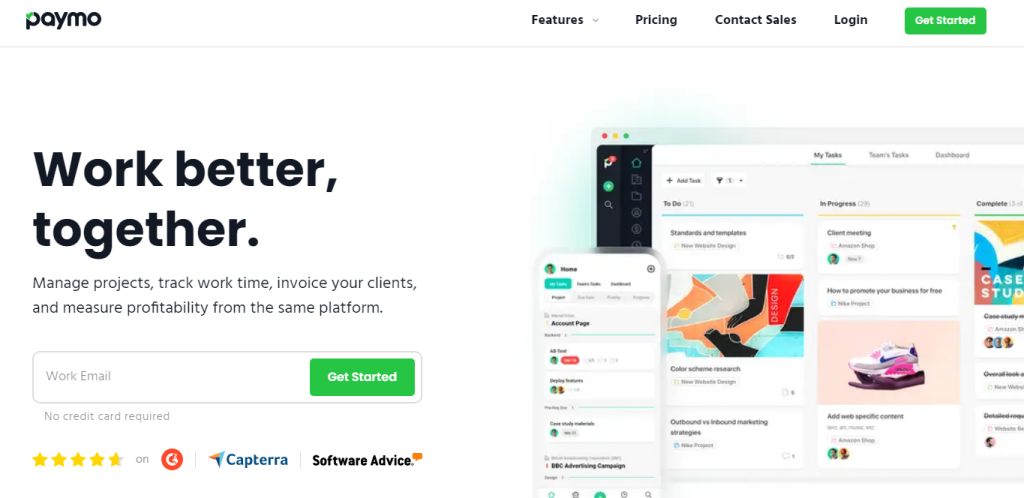 Paymo is a modern task management software tool for small businesses, Web Design, Creative Agencies, and remote teams. It helps teams manage tasks, estimate costs, and billing clients under the same roof. It empowers clients to oversee resources on the same platform that tracks time, progress, and productivity.
After you send the project to your client for endorsement, you can rapidly transform it into a receipt in the application. It keeps you updated with the payment as the task progresses. As a freelancer, you can use it freely. Using Kanban and Gantt charts, task managers stay on top because of integration with an efficient app. It has robust features that can prove to be a long-term investment.
Pricing
Free: $0 per month
Starter: $4.95 per month
Small Office: $9.95 per month
Business: $20.79 per month
Features
Task prioritize levels
Ability to attach files
Planning and Scheduling
Third-party integrations
Resource Management
Time Management
Team Collaboration
Customization
Kanban and Gantt project views
Pros
Comprehensive Project Management Tools
Extensive Time Tracking
Actionable Insights and Reports
Accounting module
Free community support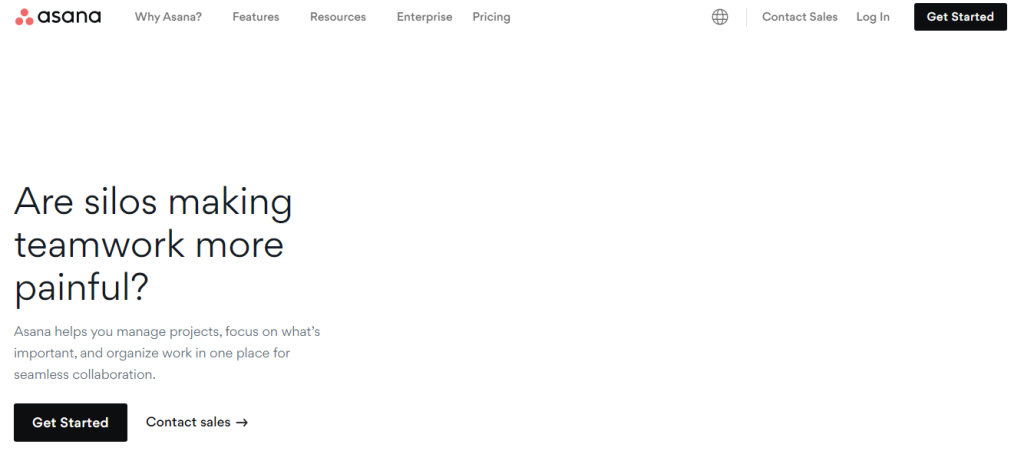 Asana is undoubtedly one of the best task management tools for creating or keeping track of records. It is famous for enterprises, but small teams can use it because it organizes tasks and meets deadlines. You need to focus on your task as it makes team activities simple, like sharing files, progress tracking, updates, and reviews.
The platform provides an intuitive, user-friendly interface with an offline feature to update you on a particular task. It has been there for a long time in the task management tools industry that helps you to see your tasks in different views such as ListView, Boards view, and Timeline view. Asana frequently requires combinations with other tools, as Infinity provides project templates to accommodate your tasks particular industry.
Pricing
Asana Basic: Free
Asana Premium: $10.99 user/month billed annually
Asana Business: $24.99.99 user/month billed annually
Asana Enterprise: Contact sales
Features
Team Collaboration and Conversation
Task Tracking and Management
Drag and Drop Interface
Process Automation
List, Kanban, Gantt and Calendar Views
Subtask Checklists
Data Export
Task Analytics and Forms
Third-Party Integrations
Shared/Private Access
Pros
Free plan available
Limitless resources
Integrations on all plans
Unlimited free guests
No user minimum