Software
The 8 Best Open-Source Software for Creatives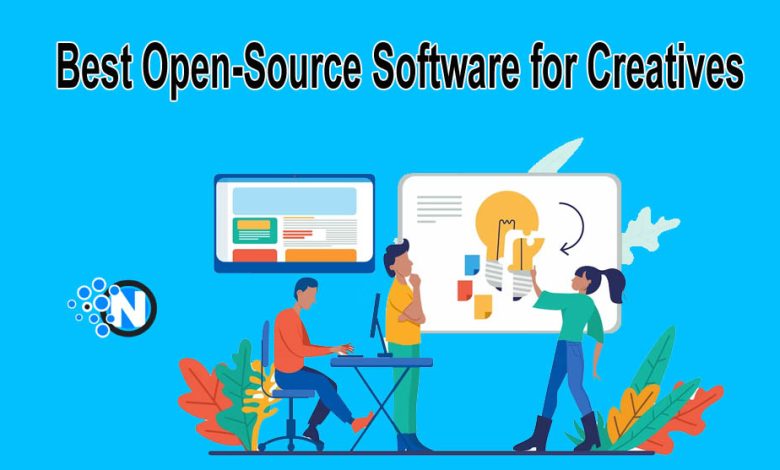 Open-source software are now becoming an indispensable tool for creatives and businesses to polish their skills and grab the desired results. Although different high-quality options, such as Adobe Creative Cloud, play a crucial role in turning your imagination into reality, they can put a greater load on your bank, causing you to spend a more significant chunk on subscriptions. However, there is no need to spend money on these free tools. Thus, you will pocket maximum perks with minimal costs. In this guide, we will provide you with details on the top 8 best options available on the web for creatives.
Best Open-Source Software for Creatives
Following are the details on the 8 best open-source software you must leverage to enhance your creativity and skills.
Firstly, we have placed Blender in this rundown because of its exceptional 3D creation suite. With the help of this high-end gadget, you can create everything from 3D models to animation and rendering. Thus, creatives can easily use this tool to improve their skills. Moreover, it is regularly updated to keep users engaged and in a continuous environment to learn new things. Other known features are the following:
It features advanced 3D modeling tools.
Additionally, you can generate top-quality animation videos.
It can also help developers add visual effects to the games.
Pixlr X is one of the most efficient and open-source online software for graphic designers and image editors. Generally, it converts the images into different formats and reduces their size. It also possesses built-in editing tools. As a result, you can add the necessary elements to your website's feature image. Further, the customizable sizes are significant in giving dimensions. Additionally, it showcases the following attributes:
Pixlr X has a straightforward interface and can be accessed over the web.
Moreover, it requires no account creation or signup.
Also, you can download the edited images in multiple formats.
Audacity is also a high-end open-source software for recording and editing audio. Embedded with many exclusive features, it has become popular for creators and podcasters to edit their sounds. Similarly, musicians and sound engineers can leverage the potential of this brilliant development. Another mighty attractive component of Audacity is its cross-platform compatibility, allowing music enthusiasts to customize their favorite songs or audio according to their preferences.
You can edit multiple audio tracks simultaneously.
Also, Audacity helps reduce noise and sound effects.
Above all, high-end audio editing and analysis tools are present.
GIMP stands for GNU Image Manipulation Program and is the best alternative to Adobe Photoshop. This brilliant free-source software has taken the world by storm for its high-end features and wide range of editing options. Thus, editors can change the whole aspects of their images, taking their experience to an advanced level of success. If you are a freelancer and want to get ahead of the competitors in this highly competitive landscape, you must leverage its potential. We have detailed some more features below.
GIMP offers extensive plugin support for improved functionality as well as performance.
Moreover, it showcases a customizable interface.
Above all, you can edit different file formats without converting them first.
Inkspace is in this rundown on the best open-source software because of its exceptionally easy-to-use interface and editing tools. Furthermore, it is a versatile tool for creating scalable graphics, illustrations, logos, etc. Besides, the robust vector editing system makes it a priority for associated artists and designers. Above all, Inkspace has an active community that directs you to build stronger relations with people of the same interests. Hence, it plays a sustainable role in continual development. Other aspects are:
Node editing is present for fine-tuning different shapes and structures.
Additionally, Inkspace has text and typography tools.
Lastly, it allows you to export your project in broader formats.
For so many years, Windows painting has continued to overhaul people. Now, Krita has developed its exciting interface and characteristics to allow color enthusiasts to polish their creativity skills with new designs. It showcases natural media brushes as well as customizable workspaces. In this way, you can handle the projects more swiftly than ever. The extensive brush library provides a natural and more responsive painting experience to help you excel in your work. Following are some other attributes.
One exclusive benefit of Krita is that it is compatible with PSD files.
Also, it showcases animation and frame-by-frame drawing.
Further, Krita showcases brush stabilizers for smooth strokes.
Shotcut is another interesting open-source video editing software that competes with numerous high-end tools to perform the necessary operations. Whether you are a beginner or an experienced editor, you can use this brilliant development to edit your compositions for free. Shotcut is now becoming the top choice for filmmakers, video content creators, YouTubers, and vloggers because of its simple interface and easy accessibility options. 
Shortcut provides you with advanced transition effects.
Moreover, the audio editing and mixing capabilities generate high-quality videos.
This software also supports a broader range of video formats and ensures their editing.
Lastly, we have placed Lightshot in this rundown on the best open-source software for creatives in 2023. This top-quality tool is generally designed to capture screenshots of computer screens in an ultra-HD quality. However, the size of the images is very high. But you can reach specific platforms to convert the file format. Besides capturing the screen, you can mark the necessary elements to gain the public's attention.
Lightshot is very simple in its functioning.
In addition, you can share screenshots with others online with the help of links.
Powerful editors are present to customize the image presence.
Final Verdicts
Open-source software is the best option in this modern competitive landscape to polish your creativity skills. Numerous options are available in the market that resonate with your preferences, whether you are a photographer, animator, filmmaker, or audio engineer. You must embrace them, which not only reduces software costs but also promotes collaboration, innovation, and accessibility within the creative community. As these open-source projects continue to evolve, they will play an increasingly significant role in shaping the future of creative work.