Business
Some Tips for Helping a Graphic Designer Grow His Business
Graphic designers are forever keen on finding novel ways of sharing their work innovatively and creatively. They always focus their attention on promoting their services and providing great value and engaging other graphic designers or potential clients. Social media platforms have become great marketing tools over the years. Instagram particularly, has been providing a robust platform for growing and boosting graphic designing for freshers in the graphic industry.
Graphic Design Tips for Promising Graphic Designers
There are some fundamental graphic design principles and rules that will help budding graphic designers in creating designs that appear professional. Here are some graphic design tips for creating fabulous social media posts, blog graphics, and marketing materials all in a jiffy.
Use the Power of Contrast for Creating Stunning Designs that Stand Out
The best graphic designs are supposed to stand out from the rest. As per HuffPost, one of the best ways of generating eye-catching graphics is to use contrast in a big way. Choose contrasting colors for creating a spectacular effect. If the background is in lighter tones then you may use fonts in dark colors.
Opt for Your Font Palette
Is your organization or brand having a specific or standard brand font? Opt for a consistent and steady font palette as that is a great way of making sure that there is consistency. You could consider building familiarity with all your customers. Choose an apt heading font body text font and even a subtitle font. Opt for a bold font for your heading to draw attention.
Choose a Color Scheme
The color scheme is of pivotal importance in terms of graphic design. Does your brand look fresh and fun? Or is it trustworthy and well-established? You need to choose the perfect colors as per brand personality. You may begin with two to three colors and then go on to build from there. You may focus on using these main colors consistently.
Use Frames & Grids & Avoid Naked Pictures
Photos or visuals are an integral part of good graphic design. You could achieve a professional appearance quite easily by using frames or grids wherever possible. By adding a semblance of order, your graphic designs will look much better. This is regarded as a smart trick for helping your graphic design win a professional edge. Canva offers hundreds of grids for you to choose your favorite ones.
Keep Things Nice & Simple
It is quite easy for you to overdo things or go overboard while choosing from so many fabulous photos, graphics, and even fonts. Graphic design is all about simplicity. Try to reduce clutter to convey your underlying message loud and clear to your audience. Ensure that you are using each and every element provided there is a valid reason to use it. Restrict the number of colors, fonts, frames, and shapes to a bare minimum for the greatest impact.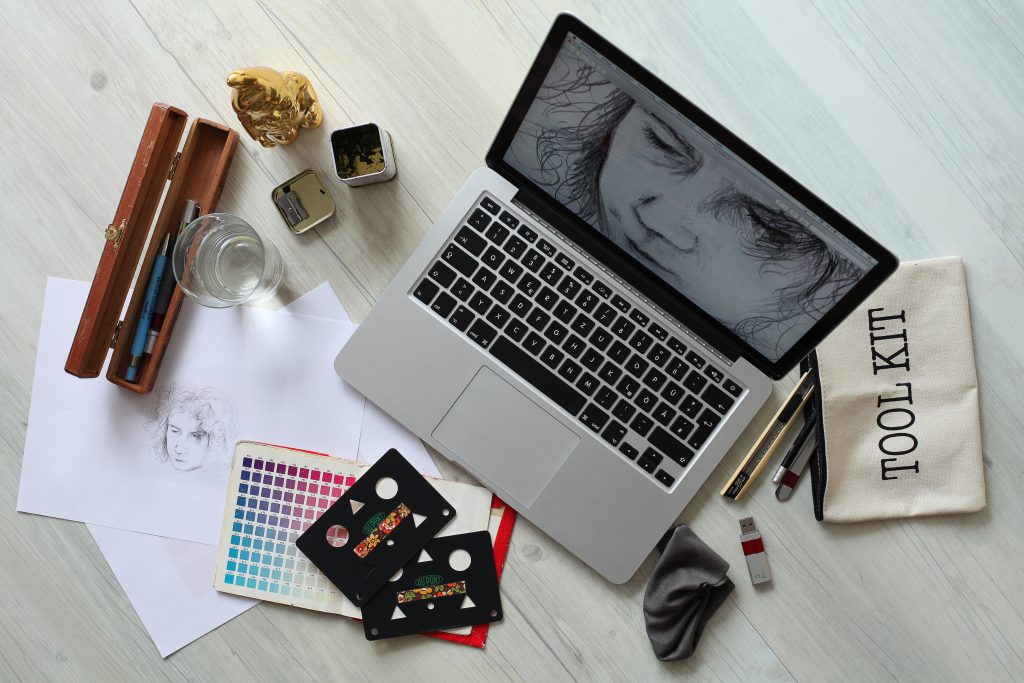 Instagram Tips for Graphic Designers to Boost Their Business
Come Up With a Bio That Reverberates With Your Instagram Audience and Incorporate a Link
It is important to have a perfect bio for the Instagram account of a graphic designer. You need to restrict yourself to writing a clear bio within strictly 150 characters. Remember to insert a link within your Instagram bio. You must include and highlight your name, and the unique products or services provided by you as a professional graphic designer. Tell your audience precisely the way you go about doing your graphic designing projects. Add a personal touch for the ultimate success. You should link to your portfolio on your official website. Your bio should incorporate the name of the city you are from. Instagrammers are interested to know about the place or city you reside in. 
Making Your Instagram Gallery a Portfolio
It is a great idea to showcase your best graphic design projects simply like a portfolio. You may also display pictures and relevant videos of the web designing process involved. Posting other things between your masterpieces could be effective. Some of the things to consider are:
· Work in progress
· Before & after pictures
· Behind-the-scenes unique videos
· Happy clients for leveraging your unique designs.
Focus on Sharing Your Development Process
Do not forget to make your pictures crisp and nice at 1080x1080px. You may focus on interacting with graphic designers who inspire and motivate. You could connect seamlessly with the graphic design industry by getting on their radar by just responding to and commenting on Instagram Stories. You may buy followers on Instagram to boost engagement.
Follow a Predictable Schedule by Posting Regularly
People wish to know what to expect and precisely when to expect it. If you are coming up with Instagram posts every day, opt for a consistent time every day. Stick to posting the same days in a week to maintain consistency and boost engagement. Keep spacing out all your posts on Instagram so that it appears that you are in the habit of posting regularly. Refrain from the idea of dumping your Instagram posts and then missing from the scene for a few weeks. Stick to your schedules. 
Conclusion
Boost your graphic design knowledge by doing meticulous research and identifying regular graphic designer meet-ups, taking place in your city. You may remember to set reminders for one-off events or annual creative conferences. Always keep in mind that there is an entire design universe out there for you to explore to come up with flawless graphic designs, boost overall brand awareness, and enhance brand image.