Gaming laptops are slightly different and more processed technology than ordinary devices. Additionally, these are designed to operate the latest games in ultra HD quality graphics without lagging. With technological innovation, many products are available in the market, making it challenging to pick the best one. Therefore, we have tested several products and listed the best gaming laptops for gamers to buy in 2023 in this guide. Check out the crucial factors and grab one of your own choices.
Factors To Consider Before Making A Purchase
We have listed some essential points below that you must keep in mind when deciding on a laptop.
Screen Size
You must consider laptop screen size before making a purchase. A large display will enhance your gaming experience by providing complete game dimensions and prioritizing high resolutions for ultra HD view.
Processor
Look forward to the best and latest processor so that you can play your favorite games without lagging. An old or worn-out processor may disturb your gaming experience by crashing frequently.
Hard Drive
Consider buying a laptop that features a RAM-based solid-state drive (SSD) instead of an ordinary hard disk drive (HDD). The SSD works faster and retrieves the stored data more efficiently to process it for seamless enjoyment.
Budget
Considering the budget is a primary factor before making a purchase. If you are a gaming geek and have set good figures for buying a laptop, then pick the expensive one, as it will provide you with ultimate enjoyment.
Necessary Ports
If you are looking forward to attaching multiple gaming gadgets, you must monitor the number of essential ports and input panels because it will enhance your gaming experience.
Portability
Try to have your hand on the lightest gadget because it is easy to take away to any place conveniently.
Gaming Laptops For Gamers To Buy In 2023
We have researched extensively after considering the following points and have extracted top 5 best gaming laptops for gamers to buy in 2023.
1 – EXCaliberPC MSI Titan GT77HX Laptop
One of the well-renowned tech brands, EXCaliberPC, comes up with an excellent product, the MSI Titan GT77HX laptop. With 17.3 inches ultra HD display, this laptop promises to deliver realistic pictures. Featuring 13th Gen Intel Raptor Lake Core i9, the GT77HX does not lag while operating any game, including GTA 5, Forza Horizon series and many others.
The 64GB RAM is divided into 2 portions of 32 GB each, while the hard drive has a storage capacity of 2 TB and is SSD. Thus, this laptop saves a big collection of your favorite games. The keyboard is very silky to touch, enhancing your gaming experience.
What We Like The Most?
Excellent Customer Support
64GB RAM
Windows 11 Supported
Large Ultra HD Display
Smart Processor
What Are The Cons?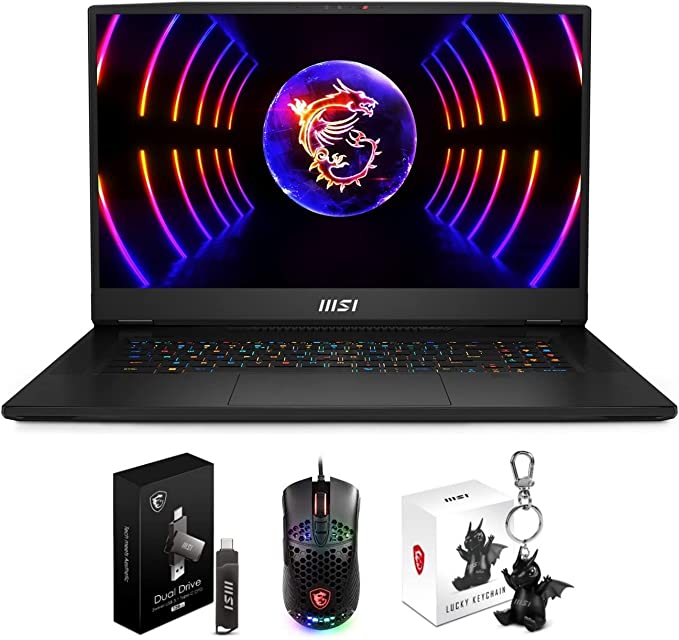 2 – ASUS ROG Strix G16 Laptop
The ASUS ROG Strix G16 laptop is the best choice if you like extended gaming sessions. It features a thermal Grizzly's Conductonaut Extreme liquid metal on the CPU and a third intake fan that keeps it cool during long-running. Moreover, the Core i9 processor is exceptionally efficient in processing data and accompanies 16GB RAM and 1TB storage. The GPU is excellent and helps to optimize the battery life. In addition, the FHD 165Hz panel allows you to enjoy the complete experience in full display.
What We Like The Most?
Extended Vision
Efficient GPU
Optimized Battery Performance
Latest Processor
Adaptive-Sync support
What Are The Cons?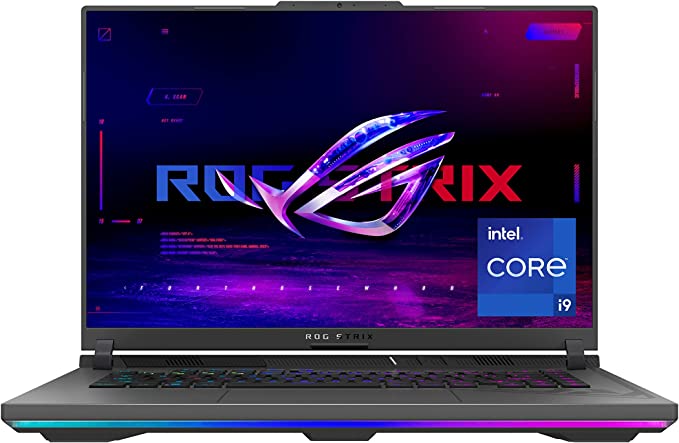 3 – Acer Nitro 5 Gaming Laptop
If you have not allocated a huge amount of money for making a purchase, Acer Nitro 5 gaming laptop serves as the top pick as it is budget-friendly. Moreover, this laptop features Acer CoolBoost technology that lowers the system temperature and can be sped up to 10% extra, depending on temperature. The backlit keyboard provides smooth functioning. Additionally, the 15.6 inches widescreen LED with 1920 x 1080 resolutions gives a whole display gaming experience. This laptop also provides enhanced gameplay due to the simultaneous use of DoubleShot Pro internet routers, including WiFi and Ethernet.
What We Like The Most?
Improved Processor
DirectX 12 Supported
Excellent Refresh Rate
Effective Cooling Technology
NitroSense UI
What Are The Cons?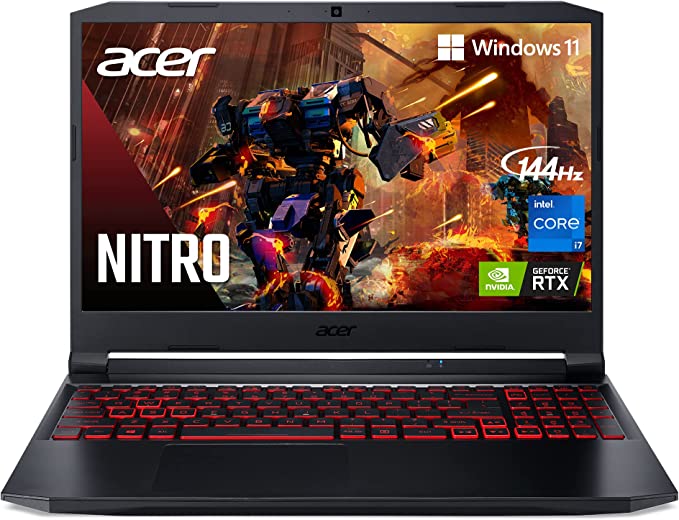 4 – ASUS TUF Dash 15 Laptop
With AI features like NVIDIA DLSS and Ray-Tracing, the ASUS Dash gaming laptop provides amazing graphics without lagging. The Intel Core i7-12650H processor supports the last attribute of giving a smooth gameplay experience by effectively retrieving the data. RAM is 16GB storage and efficiently runs Windows 11. Thus, you will be able to enjoy the latest games conveniently. Besides, the Arc Flow fans show self-cleaning characteristics and keep the dust away from the internal circuit.
What We Like The Most?
Large IPS Gaming Display
Extremely Durable
Self Cleaning
MUX Switches
AI Features
What Are The Cons?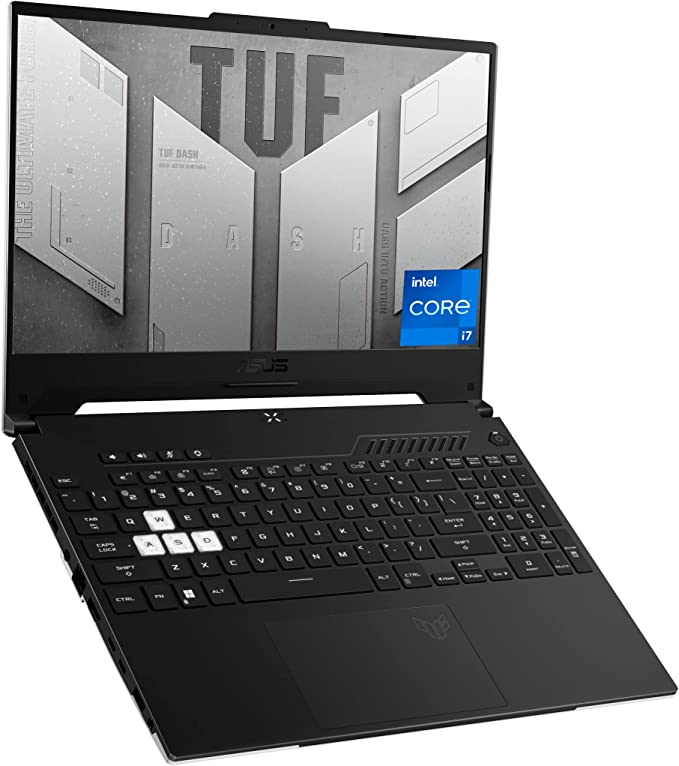 5 – Acer Predator Helios Laptop
With a blistering design, Acer Predator Helios Laptop will not only give you a smooth gaming experience but also adds beauty to your gaming room. Besides containing Intel Core i5, it also features GeForce RTX 3060, allowing you to enjoy your favorite games at 1080p. Having a storage of 1TB can accommodate heavy games easily. While the additional ports provide you free access to attach any gadget for a brilliant time in gaming.
What We Like The Most?
Additional Ports
17.3″ HD Display
3ms Overdrive Response Time
Ergonomic Design
Replaceable Storage
What Are The Cons?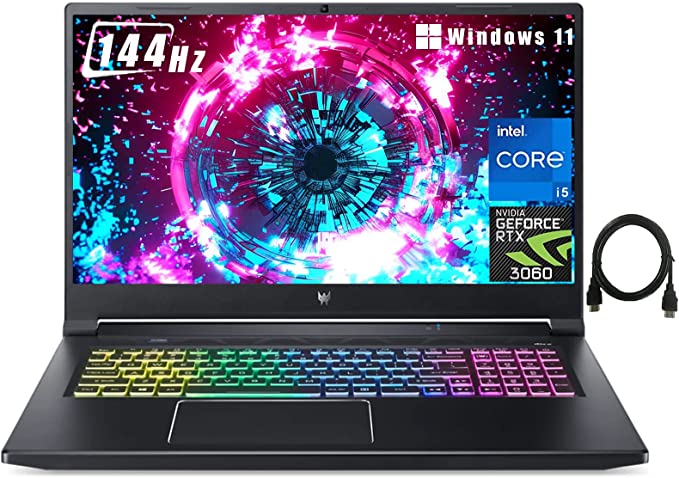 Read More:
Clevo nh70 Laptop Review and Specs, Features, and Pricing
Final Verdicts
In conclusion, an extensive collection of gaming laptops is available in the market, promising to deliver the desired outcomes in the best possible way. However, to pick the best one, you must look for essential points like laptop size, portability, charging ability, display and processor. Also, don't forget to consider your budget so that you can enjoy your favorite games on an affordable gadget. That's all about the top 5 best gaming laptops for gamers to buy in 2023. I hope this will benefit your purchase plan. Stay tuned for more information!