Gaming
Alienware Area51 Thread Ripper Review
Alienware area51 thread ripper is a gaming desktop edition. Technically this machine was in a pre-production state. But we call this edition a well-appointed full-featured machine. It's for creators, gamers, and mega-tasking streamers. It is the most expensive. There must have many reviews, some are in favor or against but I find some really awesome features, let's begin with them.
The Alienware area51 is one of the first machines ever in history that we want. It's the automatic PC platform that allows you to do, whatever you want to do, whenever you want to do. You don't need to get worried about your technology. It has more figuration options that going to meet the needs of all kinds of different power users. Although it has triple graphics, as well as 64 gigs RAM and a powerful 16 cores processor. It is the monster system and it's easily the fastest system ever build with these great features as editing audio, wondering, 5k or 4k video editing, etc. This system is really fast for this type of work. It has a flashy desktop. It has excellent multithreaded performance, efficient and quiet cooling. This device design is changed instead of the classic rectangular box of most desktop PCs. This system shape is an irregular hexagon, with three short sides and three long sides.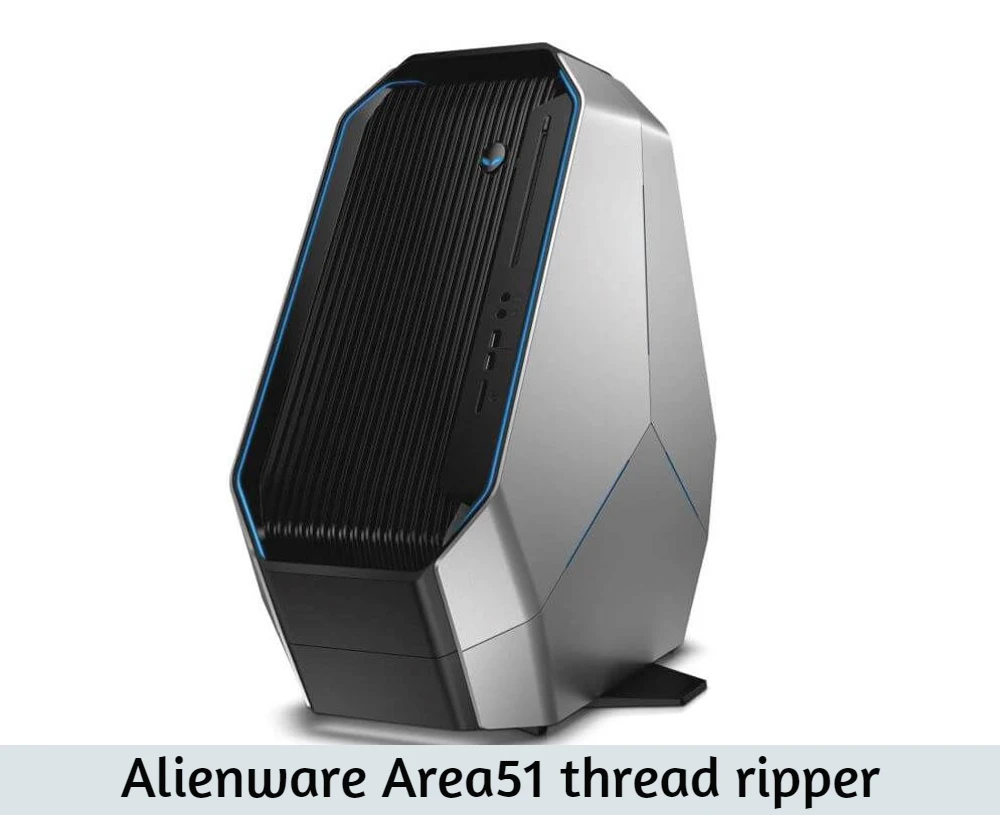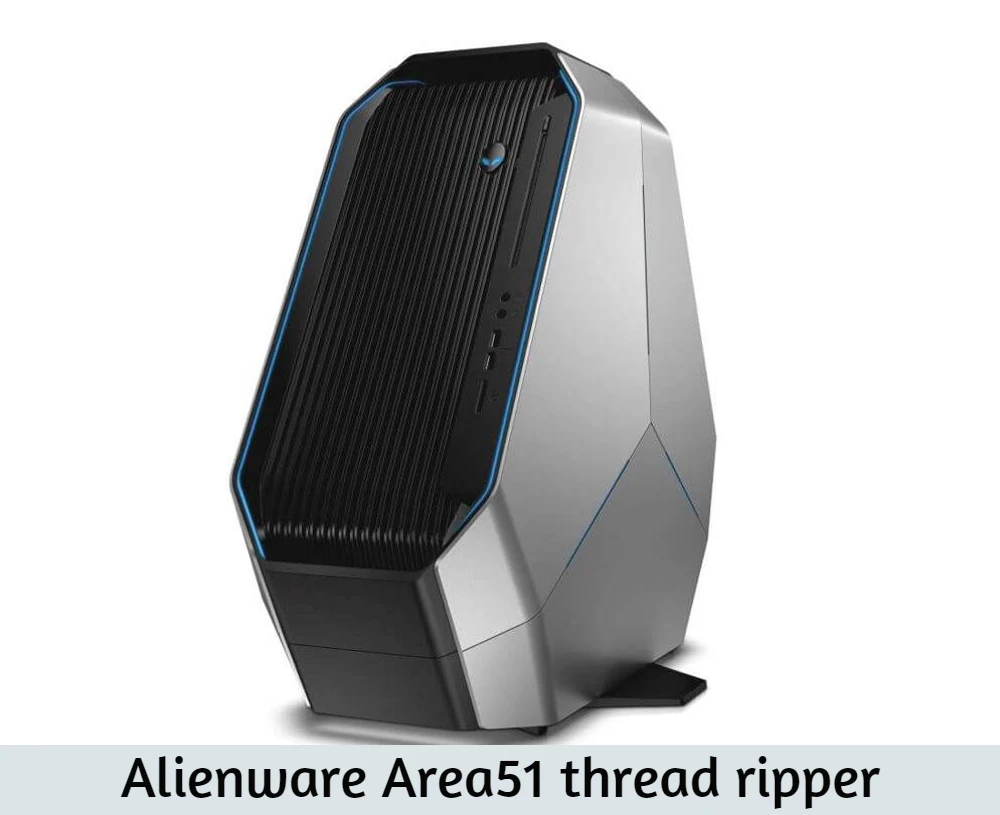 Specifications and features of Alienware area15 thread ripper:-
Operating system window 10 home 64-Bit
Processor AMD Ryzen thread ripper 1950X 16-Core, overlocked on all cores.
Graphics NVIDIA Geforce GTX 1080 Ti w/ 11GB
Memory 32 GB dual-channel DDR4 at 2667 MHz, up to 64 GB
Optical device dual-layer DVD burner
Storage 256 GB M.2 PCle SSD
Cooling Alienware premium
Connectivity dual killerTM E2500 Intelligent Networking
Front panel super speed USB 3.1
Ports gen 1 type A. headphone and microphone 1/8 port
Power supply Alienware TM 1500 watts multi-GPU approved power supply.
Dimensions volume; 59L, height; 22.411, depth; 25.156. Width; 10.736.
Weight starting at 28Kg
Warranty 1-year hardware service.
OperatingsystemIt's available in Windows 10. Windows 10 is even better for gaming, gameplay streaming, and games in 4K.
Memory: It has 64 GB of memory with 4DIMM slots. In which you can create games, edit photography, 3D models, edit video/sound, and whatever you want to do. It has a huge memory.
Powerhouse performance: It has unbelievable performance with an intel core processor with the turbo boost Max 3.0 technology.
Gaming breakthrough: It breaks the world by bending graphic options. It also includes the latest NVIDIA technology like ray tracing, DLSS, and 16k high-fidelity gaming.
Second-gen triad chassis: It has triad chassis new second generation with a new retooled swinging cage. With the structural panel, internal components always stay secure.
Superior materials: this triad design with internal carbon powder-coated metal skeleton.
Access your entire ecosystem: It has 14 USB ports of which 4 slots are on the front panel.
Structure of Area51
It has a triangular design as well as the first edition. The front and back edge is a slop down. It has a DVD player, audio slots, USB, SD card reader, and lighting boarders. And lots of USB slots at the back. You can control the lighting at nine different zones. If you put off the right panel of area51, It has a custom motherboard. With 1500 volts margin power supply. And GeForce GTX is the first graphic slot. We also fin 3/2 inch hard drive and a companion dual through a half-inch amount for save the SSDs. It's not perfect about the case is under consideration. It's generally made up of steel. It has a strong shell and is also super heavy. It has a single hard drive and a single cooler there. And there are not any handholds to carry it and it's quite difficult to get a grip on it.
All of this system comes with an AMD riser thread ripper in the 1950X variant. There are 16 core and 32 MB aches. It has more cash than the 286 in the hard drive. It also has 64 PCIe 3.0 lines with 3 graphic cards with 4pci express 16X g3 speeds. For 3 ways cross wires or workstation. It controls Wi-Fi and hard drives and M.2 slots that house a 250 gig scan disk for A400 and SSD.
Intel X299 Test bench is core i9 7900X CPU. It's the most obese analog from the blue team given its similar price. We rise of the tomb Raiders is looking pretty similar but gives slightly verse performance overall. We are planning for more gaming benchmarks. Now moving to productivity we see pretty much that we expected to see the major wins in most workloads. The biggest victory stock comes in blander. It's time to wonder the core i9 testbench by 37 seconds in the BMW test by over 2 minutes in the classroom sample.
The area51 thread ripper has $4399,99 aspects. There is actually lots of exception to the conventional wisdom that would be cheaper to build their own gaming pc. Like Dell, it is also an AMD-based gaming desktop. But the area51 costs like a boutique system with some significant drawbacks. And unexceptional motherboard with only 4 dim slots either less than limited overclocking options. Those s on the RAM and exposed pair steel with1500 volt power supply. The area51 runs almost as hard and loud as a laptop under synthetic load.
Bottom line, if you really want the area51 as a static symbol. The Alienware is the first thing that you get your hands on a pre-built system. But to understand the area adopt to tax you will be paying is more than money. I am fully expecting a boutique system built around this platform at this price with better cooling and cable management in the coming months. I am quite hopeful to find the best!