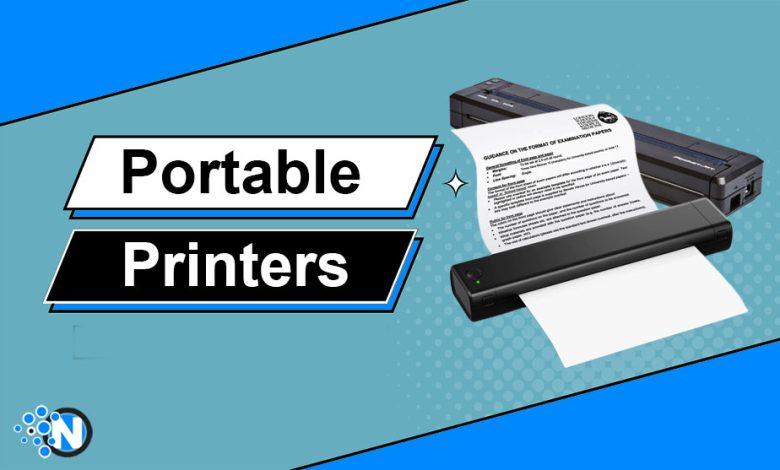 In this highly competitive landscape, saving enough time to go to a shop to print essential documents is difficult. Further, the problem will arise more when you are on a business tour and suddenly remember forgetting the hard copies on your table. Under such circumstances, portable printers are the best assets for printing instant snapshots. As a result, they bring peace of mind, convenience, and versatility. However, the increased demand has caused a solid boom in the production of these gadgets, making it challenging to pick the right one. That's why we have listed the top 8 portable printers in the under-section.
Best Portable Printers:
We have explored the web completely and analyzed the features and prices of hundreds of products. Consequently, we reached the end of creating a list of the top 8 best portable printers you can consider buying in 2023.
1 – Canon® PIXMA™ TR150 Wireless Mobile Color Printer
Firstly, we have enlisted the Canon TR150 wireless mobile printer in this rundown for its exceptional design and quality. The device features standard dimensions so that you can take it anywhere easily. Further, the maximum color printing speed of 5.5 ppm makes it a tremendous gadget for lawyers or business owners who have extensive paper workloads.
What We Like the Most?
Highly compact design
Brilliant dimensions
Extremely lightweight
1 Year Warranty
Alexa Supported
What are the Cons?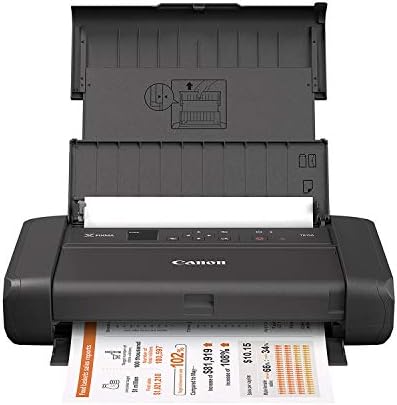 2 – Epson Workforce WF-110 Wireless Color Mobile Printer
Secondly, we have added Epson Workforce to our list as it introduces a flexible charging option, allowing you to charge it with the help of a USB and AC adapter. Thus, you can take it anywhere without worrying about its power. In addition, the WF-110 color mobile printer has Wi-Fi 5 connectivity. As a result, you can connect different types of devices with it.
What We Like the Most?
Built-in battery
Wi-Fi connectivity
Flexible battery charging
Long working time
Bear extensive load volume
What are the Cons?
Only compatible with Epson Genuine Cartridges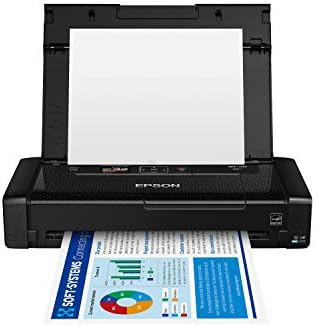 3 – HP OfficeJet 250 All-in-One Portable Printer
Thirdly, if you are looking for a high-end portable printer for your business, the HP OfficeJet 250 is the best option. It is because of its extensive power to print numerous documents readily. Therefore, if you are going to a conference, you must leverage the power of this item. Also, it is extremely lightweight, making it the perfect pick to be ported with you.
What We Like the Most?
Works with Alexa
Multiple connectivity options
Mono display
Long-lasting battery
1-Year Technical phone support
What are the Cons?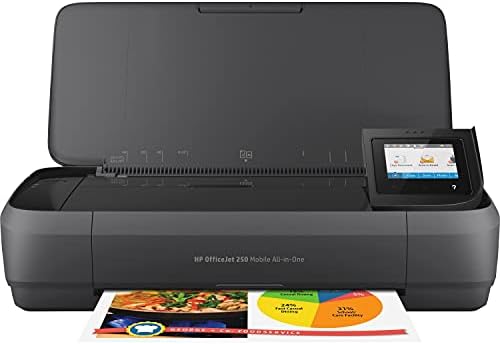 4 – Aixiqee Portable Wireless Printer
Some portable printers have compatibility issues with iOS devices, so we came up with this gadget to allow you to print your documents or images from your iPhone. Additionally, this Aixiqee printer supports different paper sizes, making it the most versatile gadget in its field. Moreover, the minimal weight enables you to take it anywhere.
What We Like the Most?
Bluetooth connectivity available
iOS compatible
Lightweight
Compelling Design
Inkless functioning
What are the Cons?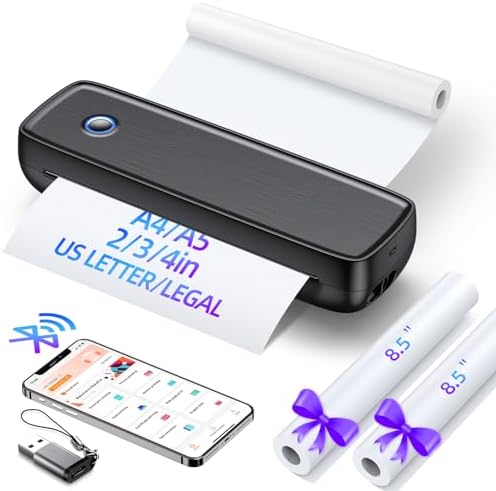 5 – MUNBYN Portable Printer ITP01
MUNBYN is also present in this rundown on the best portable printers for its thrilling ITP01 gadget. This device has a more comprehensive and compact body along with the features mentioned in the previous product. Consequently, you can grab the most of your money by using it for a longer duration. Besides, Bluetooth connectivity guarantees file transfer in the absence of a mobile hotspot or Wi-Fi.
What We Like the Most?
Highly Efficient
Budget-Friendly
More than one printing options
Exceptional customer support
Environmental-friendly
What are the Cons?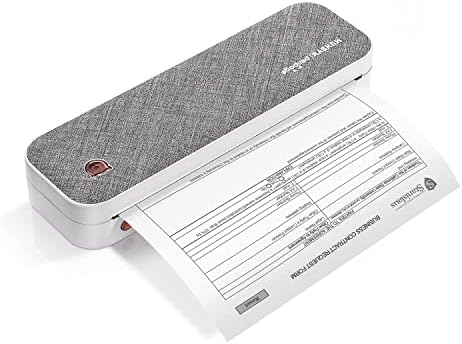 6 – Betife M08F Portable Printer
With brilliant dimensions of 12.2″ D x 2.66″ W x 1.6″ H, the Betife M08F is another outstanding portable printer available on the market currently for frequent travelers. Thus, you can purchase this product to take your experience to an exciting level. Above all, the beautiful design adds more beauty to your office or home.
What We Like the Most?
Easy to operate
Brilliant compatibility
Large battery capacity
Easy cleaning
Inkless operations
What are the Cons?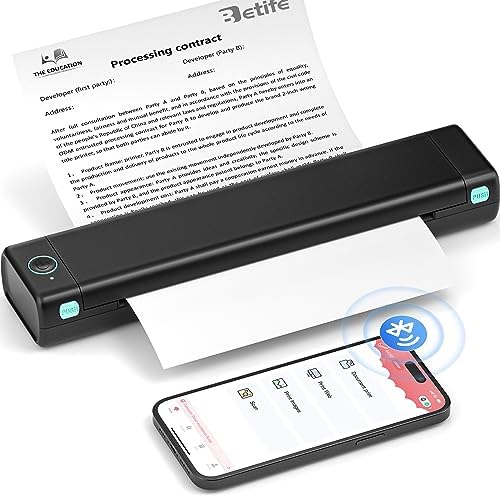 7 – Itari Portable Thermal Printer
Itari is entering the online market because of its tremendous approach to creating and manufacturing highly compatible products. Featuring a compact body, it is easy to store as well as ported to work with iOS, Android, and laptops. Additionally, you can get the print of 8.5″ X 11″ letter paper with the help of this gadget.
What We Like the Most?
80 PPM Speed
Easy to set up
Impressive print quality
Good battery timing
Sturdy composition
What are the Cons?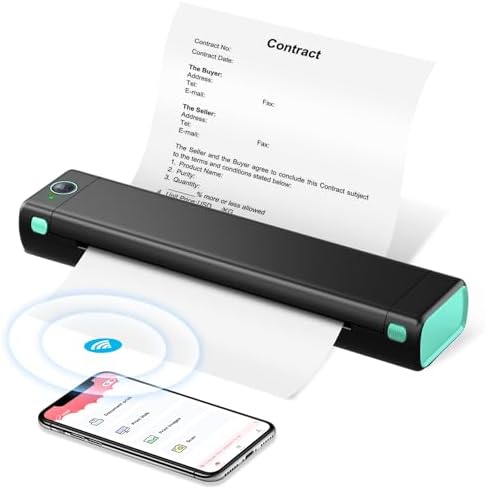 8 – SWHIKE Wireless Portable Printer
Lastly, we placed a SWHIKE wireless printer because of its brilliant design and manufacturing. Thus, you can use it for work as well as a decoration piece in your home or office. Furthermore, it is highly compatible with all devices.
What We Like the Most?
Very cost-effective
Thermal printing
203 DPI resolution
2600mAh battery
Multiple connectivity options
What are the Cons?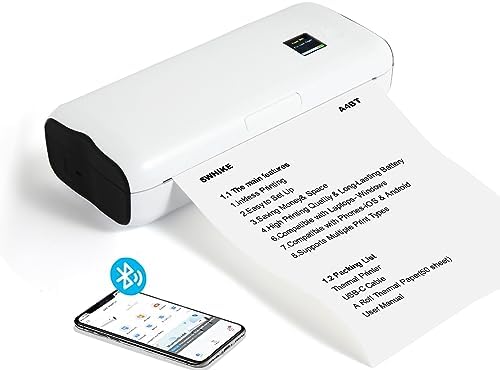 Final Verdicts
In 2023, finding the best portable printer for your home or business is extensively challenging. Their exceptional benefits have stormed the market, resulting in a more significant production. Consequently, it becomes difficult for the general public to make the right purchase decision. However, specific critical considerations are there, based on which we have created the list of the top 8 options available on the web. Just consider your budget because it will help you avoid breaking the bank and make the most of your money by ensuring long-term usage.