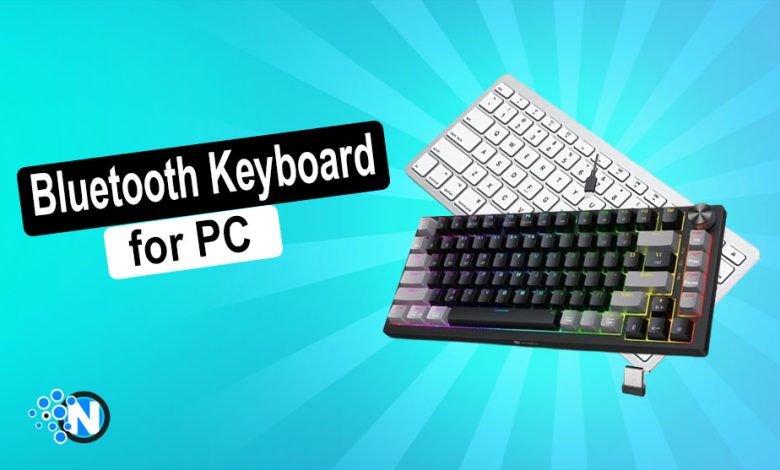 Bluetooth keyboards have gained enormous fame in the past 2 years because of their higher compatibility and usability. Just connect them to your device and enjoy smooth typing. This popularity has given rise to many companies that are currently dominating the market due to these high-end gadgets. However, not everyone is capable of providing you with the same experience and advantage. Therefore, you must consider certain factors to assess the top one from such an extensive collection available on the web. We have developed this guide on the top considerations for finding the best keyboard for your PC.
Best Bluetooth Keyboard for PC
After researching the market properly, we have found the following Bluetooth keyboard that can work with almost every PC and operating system. As a result, you can get the most of your money.
1 – Arteck HB192 Universal Bluetooth Keyboard
Firstly, we have placed a top-end gadget from Arteck in this rundown due to its wide range of compatibility with different devices and operating systems. You can get enormous benefits in the form of comfort while working with the soft buttons of the HB192 Universal Bluetooth keyboard. Additionally, full-size buttons allow you to use them in your finance sector. The Bluetooth 5.0 version does not cause any glitches while connecting it to the Android or iOS mobiles, as well.
What We Like the Most?
Long battery timing
Full-size keyboard
Can connect 3 devices simultaneously
Quality design
Good customer support
What are the Cons?
Sometimes, print double characters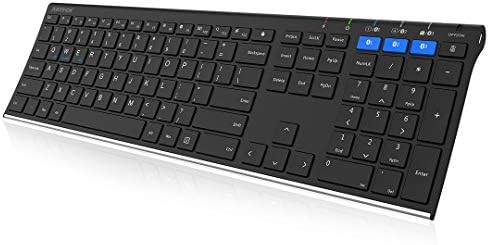 2 – Logitech K380 Multi-Device Bluetooth Keyboard
Secondly, we have enlisted the Logitech K380 Bluetooth keyboard in this list as it features a highly classy design and manufacturing to be served as a gift for your office colleague or other friends. Its round keys look stunning and also offer a smooth typing experience. Furthermore, the product is highly lightweight. Thus, you can take it anywhere to perform the necessary functions. It can connect up to 3 devices simultaneously, allowing you to switch in between them conveniently.
What We Like the Most?
Brilliant compatibility with all OS
1 Year hardware warranty
Compact body
Very lightweight
Shortcut presents
What are the Cons?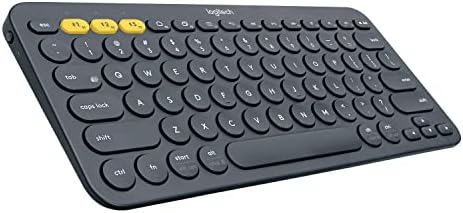 3 – Arteck 2.4G Wireless Bluetooth Keyboard
Owing to its brilliant battery timing, another product from Arteck has made its entry in this guide. With a single charge, the Arteck 2.4G Bluetooth keyboard can run up to 6 months with 2 hours of continuous use daily. As a result, you can prevent the hectic task of frequent charging. In addition, the nano adapter allows easy setup with your PC, and you can start working immediately. The numeric pad is present that can further deliver accessibility and improved working efficiency.
What We Like the Most?
24 months warranty
Ultra-thin body
Ergonomic design
Easy setup
2.4G wireless connectivity
What are the Cons?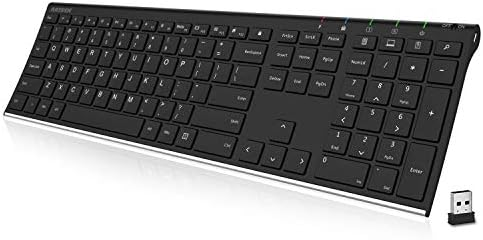 4 – OMOTON Bluetooth Keyboard
OMOTON Bluetooth keyboard is one of the best business keyboards if you are looking forward to purchasing these gadgets for your office. It can connect with almost every computer, laptop, and Mac. Above all, there is no connectivity issue with any operating system. Consequently, you can provide your workers with the best hardware tools to work more productively and efficiently. OMOTON is best known for its exceptional customer support to resolve the queries of customers.
What We Like the Most?
Seamless compatibility
Ergonomic design
Exclusive shortcut keys
Long-lasting AAA battery
Slim design
What are the Cons?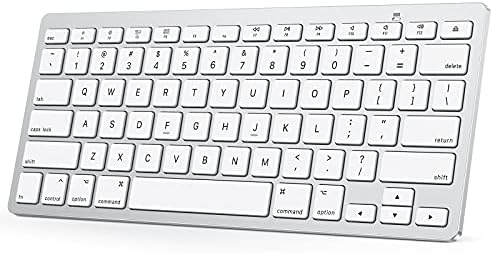 5 – KOORUI Gaming Bluetooth Keyboard
Since the pandemic, the gaming industry has flourished gracefully, and now, people are more biased toward the trend of remote online gaming with each other. Furthermore, YouTubers are making a lot of money from their gaming channels. If you are also one of those gamers or YouTubers, the KOORUI Gaming Bluetooth keyboard is the perfect choice for you. The long battery timing helps you use it during longe gaming sessions without the need for frequent charging. Besides, the lighting is fully compatible with your gaming environment to enhance the quality and consistency of your videos.
What We Like the Most?
Anti-ghosting switches present
Fast control technology
Multifunctionality
4000 mAh battery
Long warranty
What are the Cons?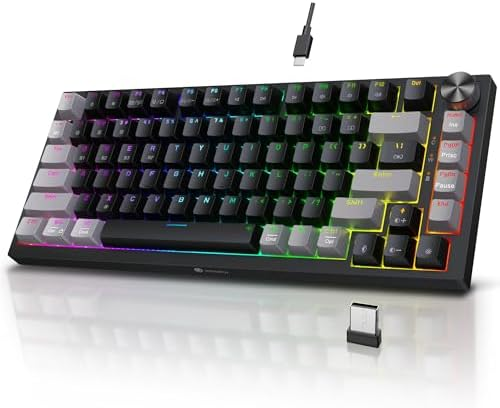 Factors to Consider to Find the Best Bluetooth Keyboard
We described previously that a large number of products are available on the web, which makes it really difficult for the general public to sort them all and find the best one. However, there are certain factors that can help you find the Bluetooth keyboard for your PC. You must be precise while assessing them to get the most out of your money.
1 – Compatibility
The foremost point to look for in a Bluetooth keyboard is its compatibility with different devices and operating systems. Not every user has a Windows operating system on his PC. Similarly, all Mac users are not comfortable with working on other OS. Under such a situation, if you purchase incompatible products, you won't be able to draw any benefit from it. Therefore, you must determine whether the product can be connected to your PC first.
2 – Keyboard Layout and Design
Next, you should determine the layout of the Bluetooth keyboard according to your preferences. The most preferable layouts are QWERTY and AZERTY, which can deliver the right experience to you. Thus, you must look in them to find the desired one. Also, you need to assess if you ant the numeric pad. If you are looking for a keyboard to use in your office, you must be biased toward the one with a numeric pad because it can make it tremendously easy to input the figures.
3 – Battery Life
Thirdly, battery life is the primary determining factor in finding the best Bluetooth keyboard. The longer the battery life, the lesser the need for frequent charging. Thus, you can easily use it for an extended period on your PC. Some products feature not rechargeable batteries. Although they provide a long functional time and may be up to years, you should look for products with rechargeable batteries as they can even run longer.
4 – Connectivity
Another considerable factor is the connectivity options provided by the Bluetooth keyboard. Technological advancements have brought great improvements in Bluetooth technology by upgrading its versions. The new upgrades ensure better connectivity and long functional range. That's why you must find a keyboard that features advanced connectivity. Also, check if they offer a wired connection for seamless functioning.
5 – Budget
Lastly, it is highly essential to remain under the budgeting requirements. As a result, you can avoid breaking the bank. Among so many options available on the web, some products are too expensive to be purchased. On the other hand, some are available at incredibly low prices but are not worthy of performing well. Therefore, you should make the purchase decision based on performance at moderate prices.
Final Verdicts
It is necessary to choose the best Bluetooth keyboard for your PC to find the best typing experience while working in the office or at home with great comfort and convenience. Also, these products are highly compatible with almost every device, giving you a seamless experience. Nevertheless, you must look for certain factors before making a purchase decision, like compatibility, connectivity, battery life, and layout, to find the one that resonates with your preference. Additionally, check your budgeting requirements to pick the most suitable item without breaking the bank.