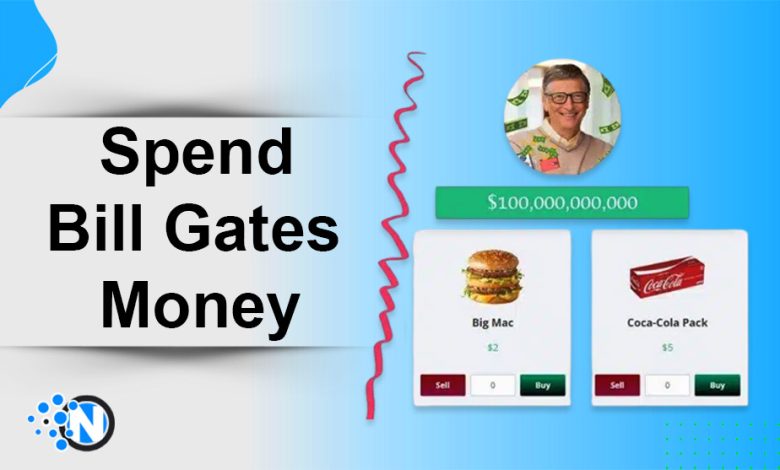 Spend Bill Gates Money is an online engaging game that allows you to spend an incredible wealth of Microsoft's co-founder in a virtual world. The platform has gained enormous popularity because of its attractive interface and simple access. Thus, everyone can have access to it, and they can pocket the fun and entertainment that can't be possible in the real world. If you are also looking for a continuous source of joy and amusement over the web after spending the whole day accomplishing tiring tasks, this site will be of incredible outcomes. We have created this detailed guide to explore different aspects of this platform.
What is Spend Bill Gates Money?
Spend Bill Gates Money is a fictional game you can access with your browser over an Internet connection. It allows users to imagine how they can spend a larger sum if they are provided with it. Bill Gates, the co-founder of Microsoft, is one of the richest individuals in the world, and the concept of this platform's working revolves around it. As not every person can acquire his level of wealth, this site enables you to buy or sell different products, which could be impossible otherwise in the real world. The items you can trade on range from a Big Mac or a book to a skyscraper and yacht. Hence, you can have a wide range of choices that can resonate with your interests and preferences.
Features of Spend Bill Gates Money
We already mentioned that Spend Bill Gates Money is an online platform that allows you to spend money on different items fictionally. In the under-section, we have enlisted all of them to help you learn about this site more precisely and accurately.
1 – Wide Range of Options
Spend Bill Gates Money is one of the most entertaining platforms for people who are fond of spending their time on something thoughtful and engaging. The best part of this platform is that it provides you with a larger collection of items to buy and sell. You can purchase the Big Mac, Mona Lisa painting, house, Ferrari, F1 Car, and passenger jet. Also, the McDonald's franchise is available for purchase to add more flavor to the existing entertainment.
2 – Fun and Humor
The core feature of the Spend Bill Gates Money lies in fun and humor. It enables you to explore a whole new world of wealth and possibilities to use it. Hence, you can spend money on your favorite items. You can purchase cars, yachts, helicopters, jets, mansions, food franchises, and others. Nevertheless, it is essential to note that all the items are available in the fictional world, and purchasing them doesn't mean that you have acquired them in reality.
3 – Creativeness
We already mentioned that the platform enables you to spend the considerable wealth of Bill Gates in a completely different environment. Hence, it challenges your mind to become more creative and pocket useful items that can impact lives positively if purchased in real life. Also, this platform can be a valuable source to teach students who are studying finance and organizational management. In this way, they can enhance their skills and become a productive source for their companies as well as organizations.
4 – Can Waste All Money
Spending the whole sum of $100 billion on this platform is not an easy task because of the number of items and their prices present on this platform. However, you can still waste the entire for additional entertainment and amusement. One brilliant strategy to perform this activity is by buying the following items.
Cruise Ship x 107
Boeing 747 x 3
Apache Helicopter x 1
Formula 1 Car x 1
5 – Simple Interface
Another tremendous feature of the Spend Bill Gates Money is its simple interface. You will not face any difficulty while operating it. Thus, people of every age level can easily pocket quality entertainment and amusement from this site. Additionally, all the elements are organized completely and prevent a cluttered appearance. Above all, the ad-free experience helps you engage more effectively.
6 – No Account Needed
Unlike the other online gaming platforms which require you to create accounts, you can access the Spend Bill Gates Money anonymously. Hence, you can have a new experience and enjoyment every time you visit this site. Besides, no account requirements lead to more safety, privacy, and online security that can help you to entertain yourself in a more sound environment.
How to Access and Play Spend Bill Gates Money?
After researching the platform and understanding its functioning, we have compiled complete step-by-step details on how to access and play Spend Bill Gates Money. You must follow the under-mentioned steps precisely to have your hands on the sturdy experience.
1 – Fulfill the Requirement
Spend Bill Gates Money is an online platform. Thus, it can be accessed only over the Internet with the help of a browser. Therefore, you must look forward to owning a compatible computing gadget like a mobile, laptop or PC. Then, use a high-speed router for robust Internet connectivity to avoid buffering. Lastly, you must update your browser to make sure that all cookies are enabled and the browser is caching the details readily to deliver a smooth user experience.
2 – Access the Platform
Connect your laptop or PC to the Internet and open the updated browser. In the search bar, type the Spend Bill Gates Money and hit enter. On the results page, you will see numerous results. Click on the official site, as shown in the image above, and reach the homepage. Here, you can find the complete interface showing different products and items along with their prices.
Mobile users only have to access the application store to download this application. iOS users can find the official application on the App Store, while Android users have to visit the Google Play Store.
3 – Buy or Sell the Items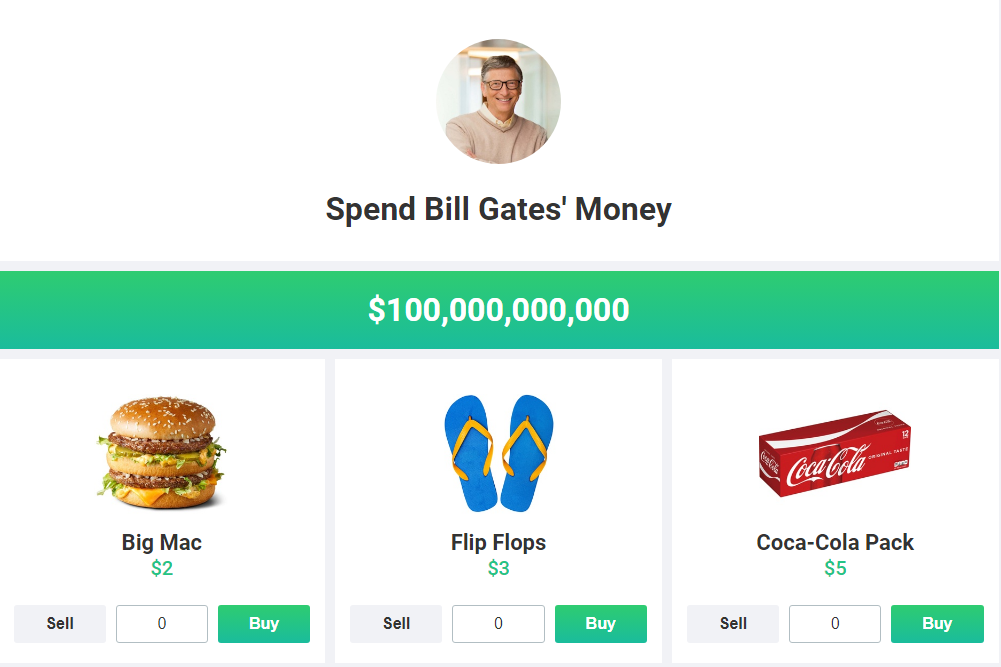 On the main page, several products are listed with price ranges ranging from $2 to a maximum of $1 Billion. The top bar will represent the total number of assets you own. By clicking on the buy button, you can acquire the products. In addition, you can change the number to the maximum possible to waste money. In the bottom section, you can have your hands on the receipt.
Final Verdicts
The Spend Bill Gates Money is an outstanding thought for people who seek something productive and entertaining to spend their free time effectively. This game enables you to learn about different items and their price. Also, you can have insights into the impact of Bill Gates's money. The simple and ad-free interface ensures easy accessibility and operability for people of every age. Moreover, the developers are continuously upgrading the interface of this site to make it more charming and interesting to scale the concept of money and its value in society.