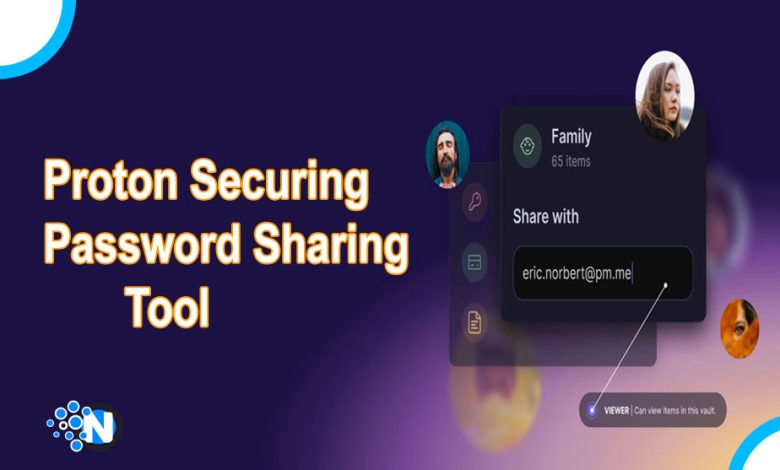 In this fast-paced environment, password sharing with the designated individuals of your company is becoming challenging. Companies are now generating solid passwords that aren't easy to decrypt. Thu, they are facing multiple difficulties to remember and share them. Under such circumstances, Proton securing password sharing tool emerges as one of the top solutions for companies of all sizes. With the help of this software, you can securely generate and share passwords with necessary personnel of your brand. We have developed this guide on the features of this tool.
What is the Proton Securing Password Sharing Tool?
Proton Securing password sharing tools are one of the top built-in attributes of Proton Pass, which is the leading cloud-based software to enhance the security and safety of your company. Proton has developed and launched this password manager application to allow users to create shared vaults and enjoy end-to-end encryption. Hence, you will be able to improve the security of your company. Besides creating passwords, you can generate emails to use as a credential instead of utilizing personal ones. In this way, you can prevent online hackers and marketers from accessing you. Another fantastic thing about this tool is that it is based in Switzerland and protected by Swiss policy.
Proton Securing Password Sharing Tool Features
Several features of the proton securing password sharing tool can make it the best platform to be used by businesses for protecting their assets and taking growth to an advanced level within the secured environment. In the under-section, we have enlisted some points showcasing the main attributes of this tool
1 – 256-bit AES-GCM Vault Encryption
Unlike the other password-sharing tools, which use the potential of simple algorithms to protect your credentials, this tool implements a strong and quantum-resistant algorithm to make sure that your passwords cannot be cracked with the help of any device. Further, the 256-bit AES-GCM vault encryption prevents anyone from decrypting your credentials. Only you can access the things hidden inside after entering the correct details. Otherwise, you may face challenges if the password is forgotten.
2 – OpenPGP with ECC
Proton securing password sharing tool is encrypted with OpenPGP encryption standard, which is considered a thousand times more secure than the traditional standards. Hence, you can find the safest vault to secure the necessary data of your company and brand. The OpenPGP leverages the power of elliptical curve cryptography. It is currently the fastest and most secured module to make your vault extensively protected and secured. Just grab this tool and save your information into it. In this way, you can have the best outcomes.
3 – Secure Sharing
Next comes the feature for which this tool is famous worldwide. In this highly competitive environment, collaboration is the key to success. The faster communication between different teams of your company, the higher your chances will be to pocket the desired outcomes. Most companies have set up their project management software to manage and organize their tasks. Thus, sharing the password of this software with all employees is necessary. However, this activity is associated with a lot of risks and harms, as online hackers may attack you to steal the details.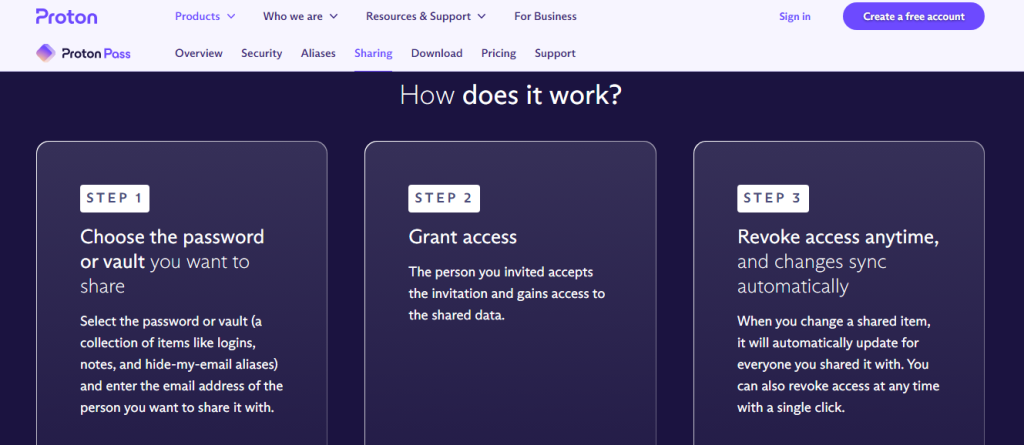 To deal with these situations, you can use the potential of a proton-securing password-sharing tool. Create strong credentials and share them with your workers in a more secure and sound environment. It not only reduces the chances of hacking and stealing but also promises to take your progress to the desired levels to overcome marketing challenges. Hence, you can strengthen your business and make it even more successful.
4 – Platform-agnostic
Most people think the proton securing password sharing tool is available only for desktop or laptop users. Nevertheless, it is a complete myth. The developers have worked hard to launch this tool and have integrated flexible elements, including the theme and interface. Hence, you can use it on any device to secure your details and essential files. Access the application or password manager on any of your devices or multiple devices simultaneously to add the details. All the information will be synchronized on all devices in real-time. Thus, you only need an Internet connection to connect with your account from anywhere to access the login or sign-in details for any account.
5 – Alternative Routing
Another key attribute of this high-end tool is that you can use it in the areas where the government or your internet service provider has banned it. The primary reason is that the Proton Pass is compatible with the Tor browser or Proton VPN to route the connection and achieve the targeted results. You can use the VPN to hide your real location and IP address, which not only enables you to access your password manager but also adds an extra layer of privacy to your account.
6 – Free and Open Source
While most of the software is paid for in this inflated world, the Proton Pass is providing its services for free. You can leverage the potential of a proton-securing password-sharing tool for free on all of your devices to create unlimited passwords. Additionally, this tool enables you to review the source codes and verify the security claims for enhanced privacy. So, just understand the attributes of this brilliant platform and start using its power.
7 – Cloud-Based Access
Lastly, it is essential to note that this password-creating and sharing tool is available as a cloud service. As a result, you can access it over the web to generate stronger credentials. This feature has reduced the requirement of getting a top-quality device to install heavy software. Now, you only need a solid Internet connection to access the password manager.
Final Verdicts
The Proton securing password sharing tool is one of the best tools or software available online to help you achieve your targeted goals and grab the desired outcomes in a more secure environment. Numerous features of this software, like cloud-based availability and sturdy infrastructure, make it the best tool for businesses of all sizes. Additionally, it is an open-source software and can be accessed without paying a single cent. Hence, you can generate stronger passwords and share them with your employees or workers without facing any challenge. Just understand its features and start using it right now.