Online reputation management (ORM) is essential for organizations and people. Your internet reputation may make or destroy you in today's linked society. Effective ORM is crucial for brands and individuals seeking a positive online presence. This dynamic field includes methods to monitor, regulate, and improve your internet reputation. This post will cover critical online reputation management methods to protect and enhance your digital status in a competitive digital market. We will also show you how to do this and take steps to keep your company's internet presence professional. 
What is Online Reputation Management?
ORM integrates digital marketing, public relations, social media management, and SEO to actively shape and maintain a business or organization's public image. internet brand management involves monitoring and maintaining a company's internet presence to preserve consumer trust.
Why is Online Reputation Management Important?
Nowadays, online reputation management is a must. Consider these compelling facts:
Search Engine Dominance:
An impressive 71% of buyers start with a Google search. Therefore, a brand cannot afford to appear untrustworthy or unreliable on SERPs. Customer engagement might be affected by a bad internet reputation.
Reviews' Impact:
Online reviews influence brand perception because 88% of buyers read them. Negative reviews may damage credibility, while positive ones can help.
Trust and Recommendations:
85% of customers trust online reviews as personal recommendations. Virtual word-of-mouth referrals from reviews influence purchases.
B2B Factors:
Company reputation matters in B2B, where advanced, high-value transactions occur. Positive reputations are competitive advantages since possible business partners check them out.
These facts show that online reputation management is a necessity for digital-era businesses.
What is Digital Marketing Reputation Management?
The term "digital marketing reputation management" refers to using digital methods to manage and shape a brand's online reputation. It involves maintaining a tab on and shaping how new and existing clients think about a brand. Companies may boost customer perception, gain trust, and develop their businesses by actively managing their brand reputation in the digital sphere. Digital marketing reputation management includes several key elements:
Owned Media:
This category includes websites, social media accounts, and weblogs. Digital marketing agencies closely monitor user engagement with various channels to ensure the relevance of their content to the target demographic.
Earned Media:
Brand mentions, and reviews on third-party websites, blogs, forums, and apps like TrustPilot, GlassDoor, and Google Business Listings fall under this heading. The information presented on these sites has a significant impact on the purchasing decisions of future customers.
Social Listening:
Social listening assists you in staying current on mentions and discussions of your business on various social media sites. Monitoring user and company-generated online conversations is an integral part of this process.
Sponsored Media:
Sponsored media monitors how other companies use advertising spending to damage or gain ground on your own. Reputational damage can be limited if you recognize negative advertising and respond appropriately.
Digital Marketing Tips For Online Reputation Management: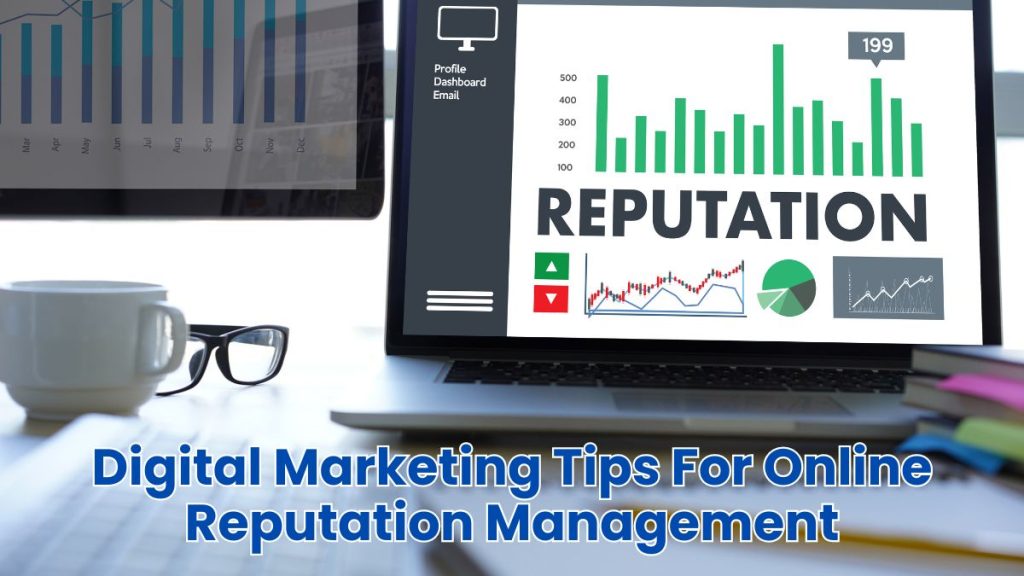 Here are some simple guidelines for managing your online reputation with digital marketing:
1. Proactive Content
Building a solid online identity requires regular, high-quality content production across all owned media platforms. This material must convey your company's ethics, knowledge, and dedication to customer service. Regularly maintain fresh, engaging, and instructive content on your website and social media pages.
2. Monitor Social Media Mentions
Track your brand's social media mentions with a social listening service.
Listen for both the compliments and criticism your brand is receiving.
React promptly and professionally to consumer feedback and complaints.
Participation in the conversation shows that you care about your audience's opinions.
Respond to consumer complaints and questions constructively and encouragingly.
Avoiding problems from growing requires active participation.
3. Promote Positive Reviews
Inspire your happy customers to spread the word by posting positive feedback on Google, Yelp, and other relevant websites. Make it simple for satisfied consumers to tell others about their experience by delivering above-and-beyond service and goods. Give equal attention to positive and negative feedback, and always aim to make things right.
4. Handle Criticism Gracefully
It's impossible to avoid criticism, but how you react to it makes all the difference. Respond to complaints by understanding the reviewer and thinking of ways to improve their experience. It is essential to acknowledge the issue publicly, present an option, and afterward extend an invitation to the consumer for a private meeting to discuss the specifics further. If one possesses genuine concern for their clients, it is possible to rectify any unfavorable circumstance effectively.
5. SEO Optimization
You can ensure that good brand information appears higher in search results by optimizing your internet content for search engines. Make use of keywords and phrases that are pertinent to your brand and highlight its strengths and USPs. If you want to maintain an excellent online reputation, you should periodically review your SEO strategy.
6. Maintain Transparency
The building block of good reputation management is honesty and openness. Always give your customers a straight story while talking to them. In the case of an issue, it is advisable to discuss the matter at hand and provide a comprehensive explanation of the steps undertaken to rectify the situation. Customers place high importance on honesty and are more inclined to support a business that demonstrates transparency and truthfulness in their interactions.
7. Use Influencer Marketing
Influencer marketing is a marketing strategy that leverages the influence of individuals with a substantial and engaged following on social media platforms. Influencers have a knack for creating engaging content. Their posts, stories, and videos generate high levels of interaction, giving your brand exposure to a more engaged audience.
Join partners with industry leaders.
Promote your brand positively with influencers.
Genuine influencer endorsements resonate with their audience.
Use the influencer's large, engaged following to expand your reach.
Choose influencers who share your brand's beliefs.
Ensure that influencer content promotes your brand positively.
8. Stay Informed
It is crucial to actively observe and analyze industry trends, news, and emerging discussions about your brand and the broader industry in which it operates. Being informed enables people to proactively address possible challenges and utilize beneficial situations to enhance their favorable standing.
Final Thoughts:
Managing your internet reputation well is similar to looking after your brand's reputation in traditional marketing. You can maintain a positive internet reputation through regular content creation, attentive customer service, and attentive research. It's beneficial to indicate that you value your consumers' opinions, positive or negative. Collaboration with influential people might help your brand gain positive publicity. If you follow these guidelines, your company will be shown favorably online. Make a good impression with your digital first impression, which is your internet reputation.