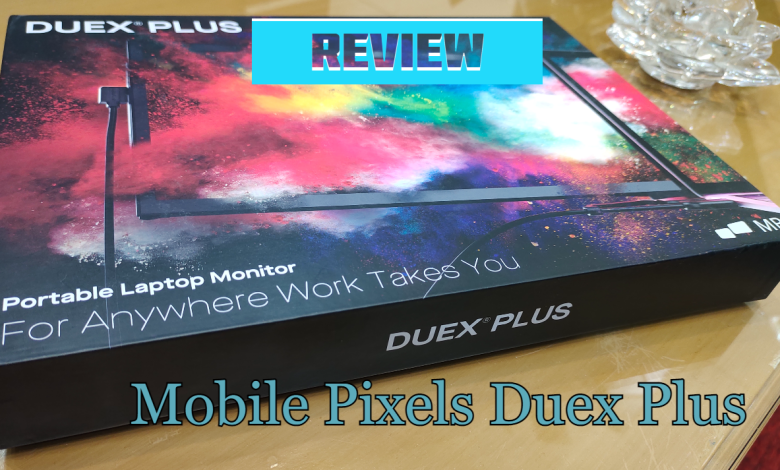 Advanced technology has given modern-day consumers a wide variety of tools and gadgets for getting jobs done more efficiently and effectively. Portable monitors are among these superb gadgets that most of us use in offices. They are designed to extend screen space or convert a smartphone into a computer so you can get more done by having a clutter-free screen even while on the go. Mobile Pixels Duex Plus is one of the best portable monitors available in the market with a great idea, design, and functionality.
Mobile Pixels Duex Plus – Add A Second Screen to your Laptop
The Mobile Pixel DUEX Plus is a portable monitor with a 13.3-inch screen designed to be attached to a laptop and add a secondary screen to extend the screen space for computer users. It is one of the three portable monitors designed by the company Mobile Pixels and is available for $299.99. It has a 13.3 inches full HD screen with 1920×1080 resolution. You can easily mount it to the back of your laptop. It can be used to extend screen space or as a presentation mode where the screen is facing outwards so your colleagues can easily view the presentation. The idea was turned into reality with help of a crowdfunding campaign to give portable monitors a better look, feel, and functionality.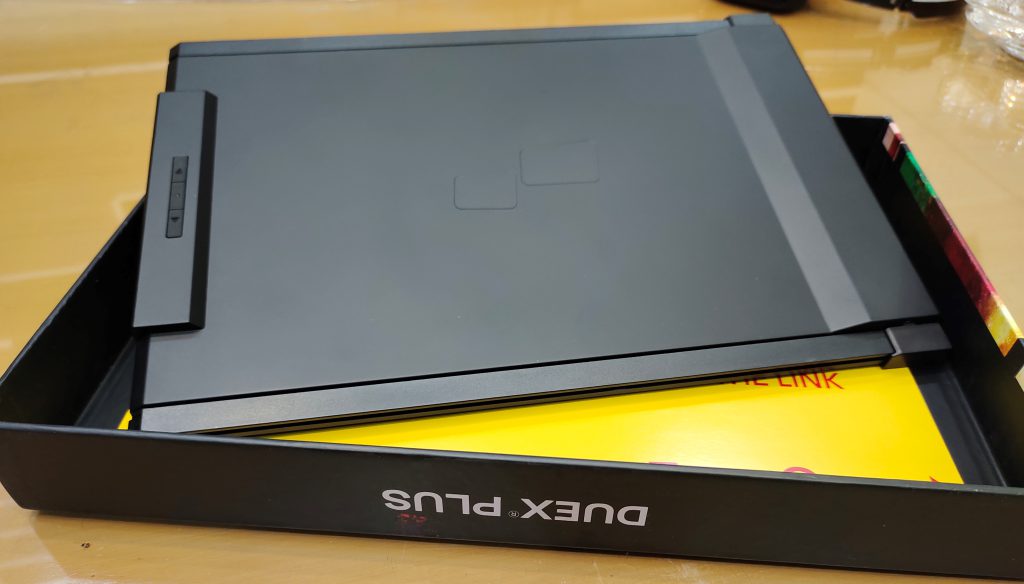 MP Duex Plus Design and Features
The DUEX Plus portable monitor comes with a simple yet appealing design. Its thin profile and light weight make it a perfect secondary screen as compared to the other portable monitors on the market. The device attaches to the back of the laptop with magnets and adhesive stickers. The device is best to use with laptops or notebooks 13 inches to 16 inches. It's easy to slide frame that keeps it attached to your laptop so you don't need to deal with additional hardware or stands. Just slide it to the right and extend your laptop's screen in moments. Then push it back when you are done, keep the laptop in your back and move on. The frame of this portable monitor is made of high-quality plastic material to hold the secondary screen in a safe way.
How to Install and Set Up?
The case of MP DUEX Plus is designed with four adjustable round magnets and adhesive pads to be mounted to the back of a laptop or lid while keeping its back secure from scratches. Just peel off the white tap from the magnets and attach the device to your laptop using the magnets' side. The round magnets sit inside the slot in the frame and have enough room to slide the case right or left as needed. An attachment guide is included in the box that you can use to mount the device to your laptop without facing trouble.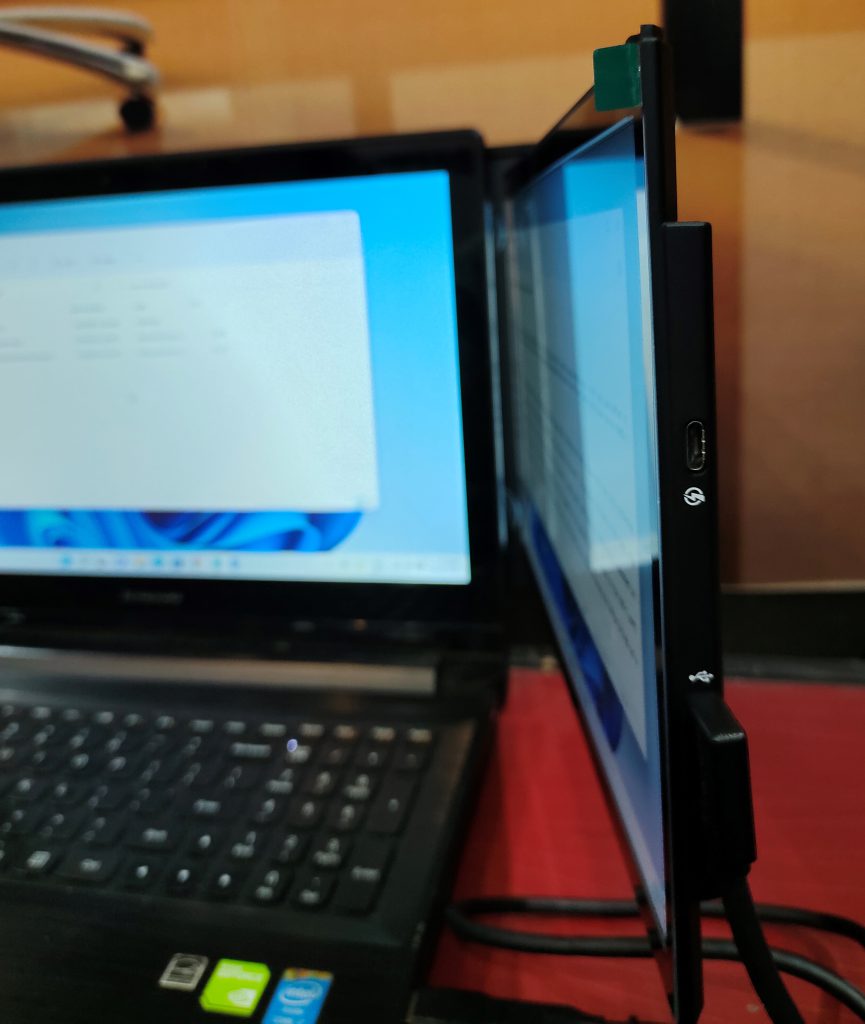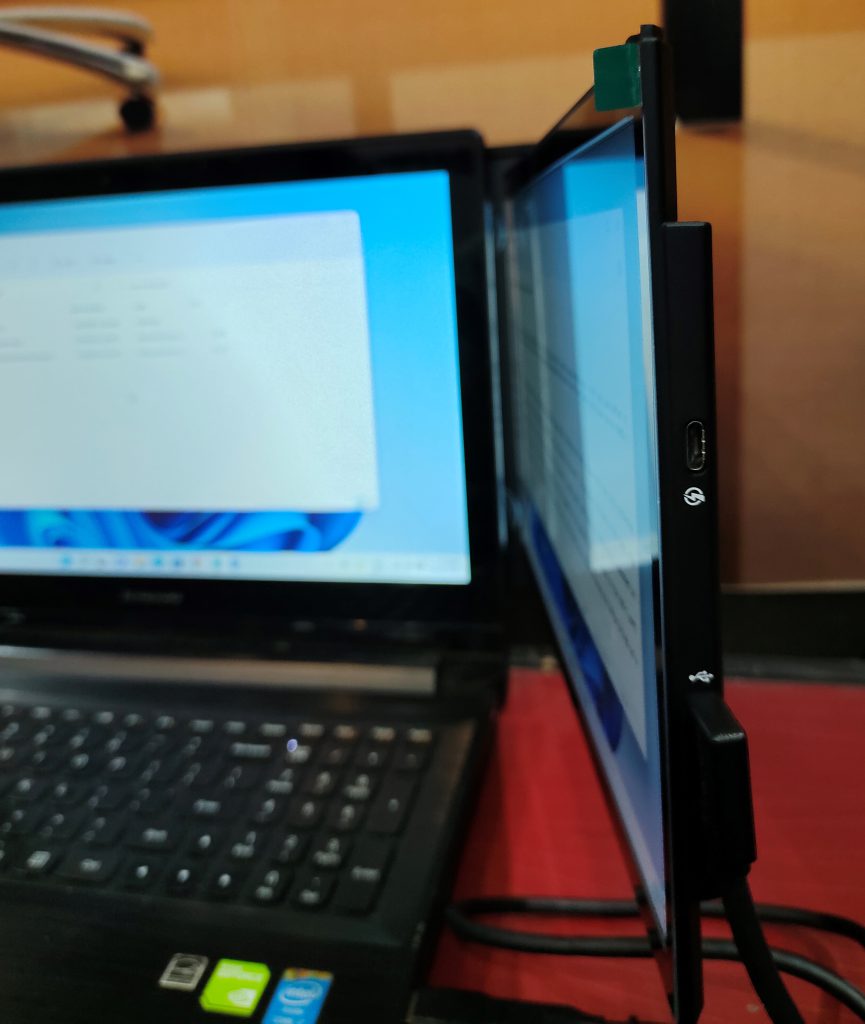 Once attached to the laptop successfully, you can slide the screen out of the frame easy to use it as a secondary screen. You can move the screen towards your eyes or use it as a presentation mode by turning it backward. Now connect this portable monitor with your laptop using a USB-C-to-C cable (that comes with a USB-C-to-A adapter for the computer side). You are all done and ready to use the additional screen. Once turned on, change the display settings of your laptop to an extended display. If you are facing issues in setting up the device, just go to the URL https://www.mobilepixels.us/pages/download-drivers to download and install drivers. You can change the display setting to landscape or portrait in the display setting of the laptop.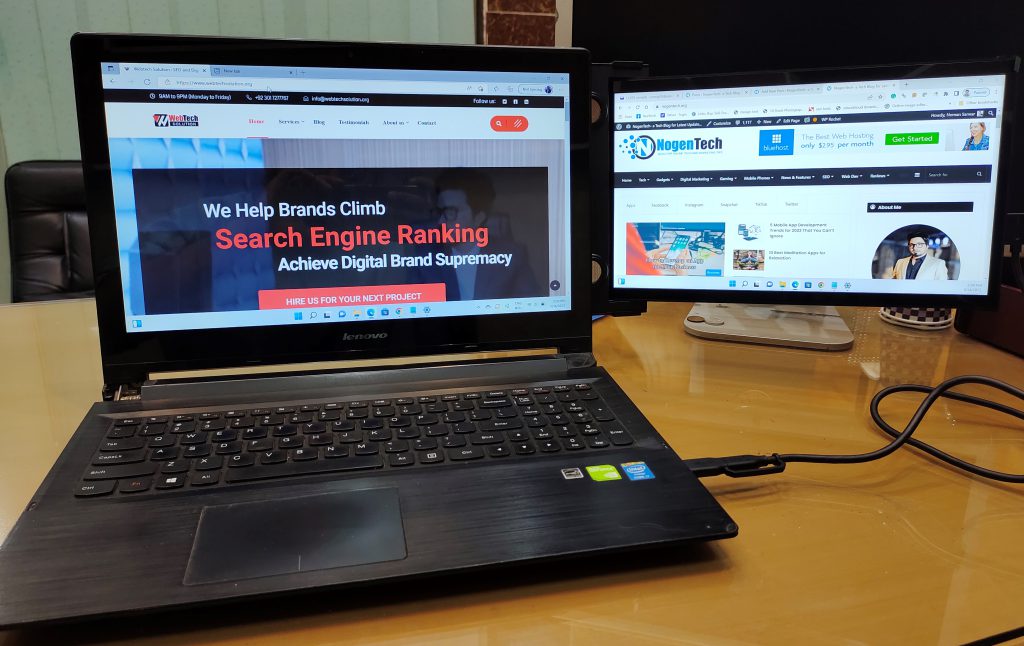 Controls
There are two controls on the back of the panel and near the USB port. You can use these controls to adjust the brightness of the backlight, contrast, and saturation. Just press the button to see an onscreen display and then choose a setting you want to change.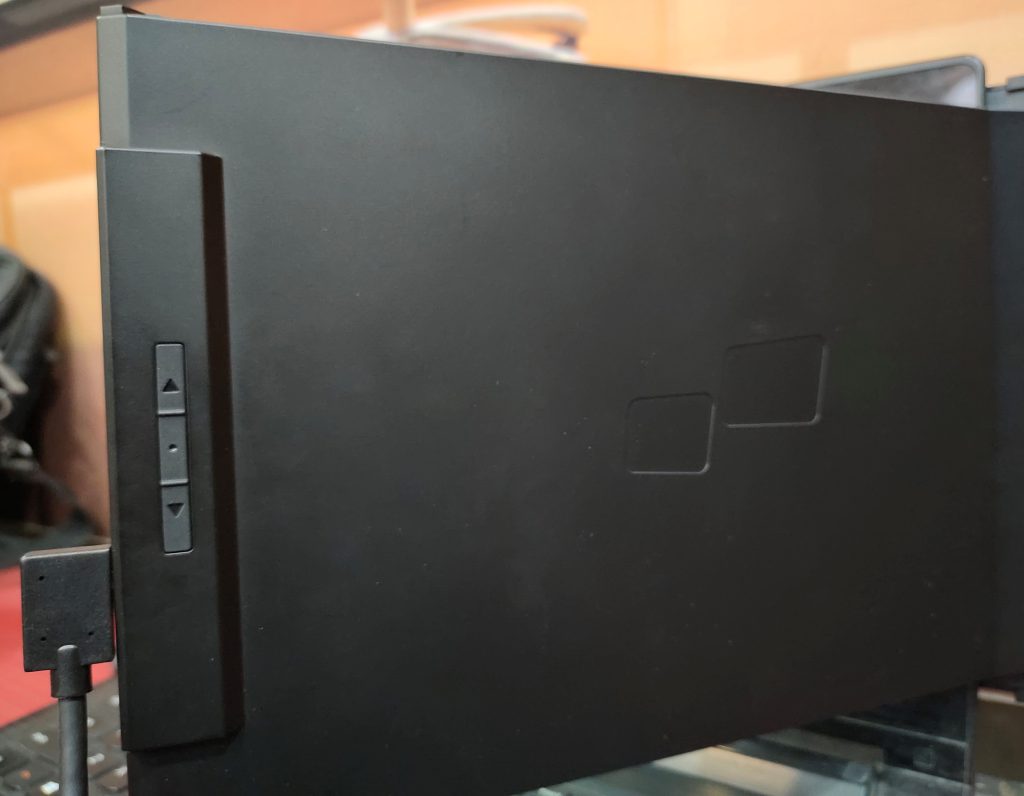 Final Verdict
MP Duex plus is the right choice for you if regularly use a laptop for office work and want to add a second screen without spending money on a heavy and expensive portable monitor. It comes with different configuration modes and is very easy to attach and set up. However, you must make sure your laptop is big enough (13-16 inches) to support its frame size.