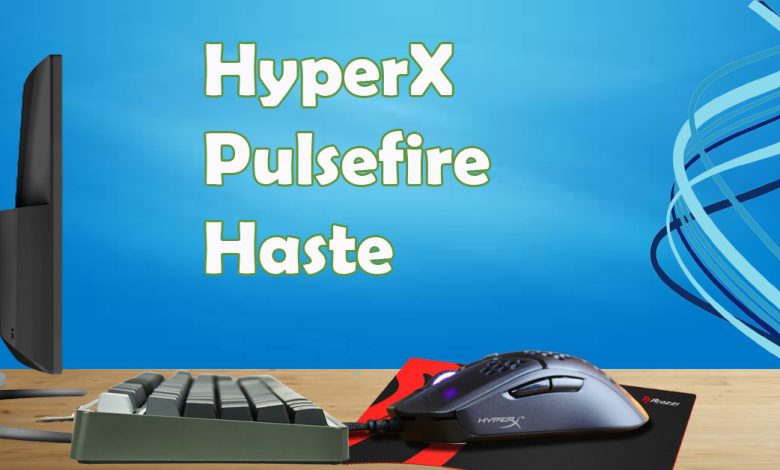 Let me tell you what this product has been so good. It is a newly released mouse by HyperX. The HyperX Pulsefire haste is a lightweight 59-gram gaming mouse. So in your box, you get some paperwork for your manually quick start guide. It gives you replacement feet and then some grip on one or two features on your side.
The mouse is of the same weight as mentioned in the box. It states 59 on the box and 58 to 60 with the cable attached. Then talking about dimensions this Ambi-shaped mouse is right here but the buttons are only on the left side the hump is predominantly in middle. But it just slopes off very gradually in the back rather than just dropping off back there.
HyperX Pulsefire Haste
The HyperX Pulsefire Haste is a simple gaming mouse. It performs everything it claims and does so admirably. Although it lacks some of the more high-end features of a top-tier mouse, it provides just about all you need for the money.
The Pulsefire Haste is a lightweight gaming mouse that weighs in at only 79 grams. It has a Pixart PAW33351 sensor with 16,000 DPI and 400 IPS for precise tracking. The mouse also features Omron switches for durability and a comfortable ergonomic design. HyperX has included its own software with the Pulsefire Haste so you can customize the mouse to your liking. There are six programmable buttons, RGB lighting, and onboard memory so you can take your settings with you.
Design and Shape:
The HyperX Pulsefire Haste has a simple and elegant design. The mouse is made of black plastic with red accents. The body of the mouse is relatively small and should fit most hands comfortably. The top of the mouse is textured for grip, and there are two large thumb buttons on the left side.
The Pulsefire Haste is an ergonomic mouse designed for right-handed gamers. The shape of the mouse fits comfortably in the hand and there are no sharp edges. The thumb buttons are easy to reach and the click buttons have a nice, soft feel.
Grip Width 62 mm
Width 2.6″ (67 mm)
Height 1.5″ (38 mm)
Length 4.9″ (124 mm)
Lightening:
Lights can also be customized, with several display effects (solid, cycle & breathing) to choose from. The color of the wheel is the only other hue on this all-black mouse, and it's beautiful and understated. You're out of luck if you're into something more vibrant.
Performance:
The HyperX Pulsefire Haste is a great performer. The Pixart sensor tracks well and the mouse is very responsive. The buttons are all easy to press and have a nice, soft feel. There is no lag or jitter, and the mouse feels great in use.
Build Quality:
The Pulsefire Haste is a well-built mouse. The plastic feels solid and the mouse is put together nicely. There are no creaks or flexes, and the buttons all have a nice, soft feel.
The wheel doesn't wobble and there are no loose parts or squeaks. The CPI button, on the other hand, may be activated by pressing on the top and bottom sections of the mouse. This can be annoying, but it's not a dealbreaker.
Comfort:
The HyperX Pulsefire Haste is a comfortable mouse. The ergonomic design fits well in the hand and there are no sharp edges. The thumb buttons are easy to reach and the click buttons have a nice, soft feel. The mouse is also lightweight and has a low-profile design, so it's easy to use for long periods of time.
Speed and NGenuity:
The Pulsefire Haste is a fast mouse. HyperX's NGenuity software is easy to use and provides all the necessary customization options. You can create profiles, adjust the DPI, and customize the RGB lighting. There are also options to adjust the click force, polling rate, and lift-off distance. Overall, the software is straightforward and easy to use.
Value:
The HyperX Pulsefire Haste is a great value. It's a well-built mouse with a good sensor and all the features you need for a great gaming experience. It's also very affordable, making it a great option for budget-conscious gamers.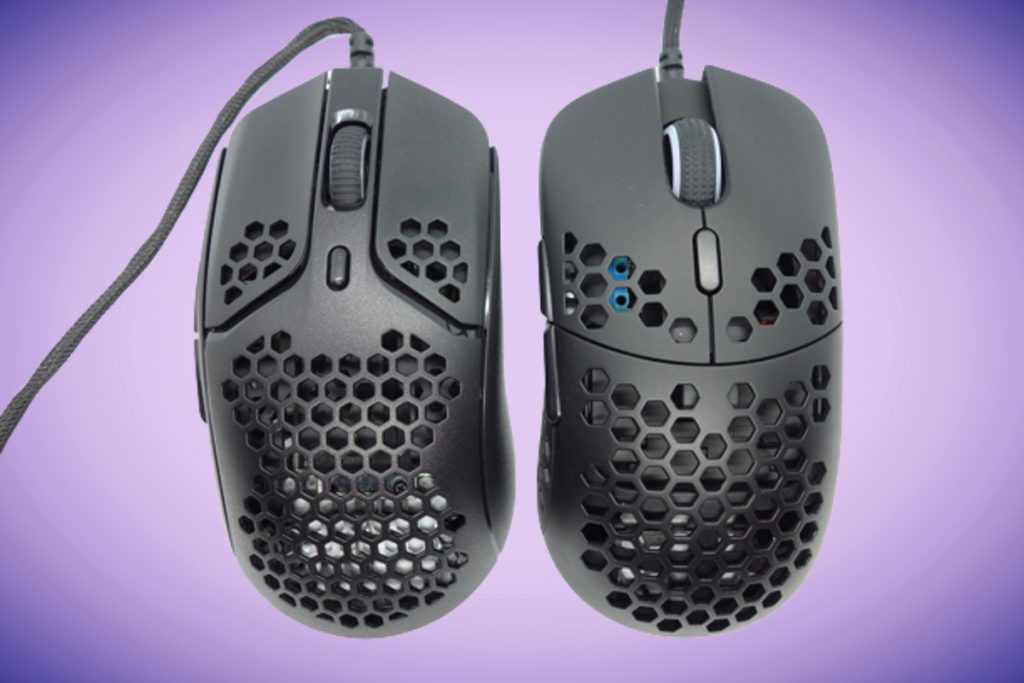 Improvement in HyperX
HyperX has been making some really good improvements to their mice catering more and more to the competitive fps crowd. HyperX Pulsefire Haste is the best yet as there is no mouse that is perfect. But it's up there it's lightweight at about 59 grams. The expected weight ratio is 0.79 to one. So this weight is really good for a mouse's size.
The cable is soft and flexible and the shape is good and safe. Because mice are so good these days. The shape is what you need to know about before you buy.
Best ingredients of HyperX Pulsefire Haste- Gaming Mouse
So there are some nice subtle curves in the buttons. There is a gap between them and shell but it feels good. The holes are noticeable but also good. It's an asymmetrical design with buttons on the left only. There are no holes on the sides which are well-shaped. They flare out a little at the base in a way.
This is good for stability in another way it doesn't give as much grip. I guess the designer of this mouse was trying to find a balance between the two. They did pretty well and the hump is in the middle. So not great for palm grip or claw palm but still can be used in a palm grip.
Qualities in HyperX Pulsefire Haste- Gaming Mouse
At the base four Ptfe feet and some more holes speaking of feet. They include some extras and some grip tape if you look into that.
Now if you look for dimensions that are about 6.06 centimeters at the fingers 12.2 long. And 3.75 high I'd recommend it for hands that are about 20 by centimeters.
The hump is a little too far forward for the palm but may be under 17.5 centimeters.
If you want to otherwise 20 by 10 for fingertip and claw grip. Here it is next to some other mice you have a general idea of the size and it has golden micro.
The switches are rated for 60 million clicks.
Characteristics of HyperX Pulsefire Haste- Gaming Mouse
There are no issues just preferences, it's not an expensive mouse so I guess. We can forgive some issues like this on the wheel. There is also behave the black part getting bigger and smaller as you rotate it.
On this copy, it's not directly centered it still works. But I've seen this a few times before. As always some mice will be good some will be bad hopefully the quality control is there for later. The side buttons feel pretty good too. That's why the buttons are pretty good but could be improved and then everything can in some way.
Usages of HyperX Pulsefire Haste- Gaming Mouse
So they're good and also the buttons feel good while you are playing games. There shouldn't be a problem. Now look to the 3335 Optical sensors which are put through the usual testing and seem to perform quite well. I couldn't get it to spin out with fast flicks. Even in the tilt slam test, one handled it just fine tracks pixel by pixel and smooth movement. It didn't seem to have issues with acceleration and deceleration the lift-off distance is under a DVD.
In the line test, all seems fine so for those wondering. The 3335 is good in-game I didn't have an issue with the overall build quality. It feels built however although this never happened in-game is a tiny concern.
Software of HyperX Pulsefire Haste- Gaming Mouse
The software is nice and simple and can easily change the gradient of the lighting. Or use a couple of others and you can change what the top button does to multimedia. Some other commands 200 to 16,000 dpi in steps of 50 nice clean simples pretty good software. Everything is pretty much right on this. It's a top-tier mouse it just depends if the shape and features are going to suit.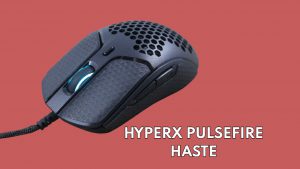 The actual usages of this mouse;
It has the greatest quality and durable product.
The squeezing effect of this mouse in the palm provides fun and you play a lot like call of duty,
No one can creak or flex
There is no side button actuation or anything
This mouse is incredibly solid and also be great build quality.
How HyperX Pulsefire Haste- Gaming Mouse works for you
When pressing and squeezing HyperX Pulsefire Haste, putting in your hand you truly feel a great product. It's kind of like a PDT cap little bit of texture right side buttons perfect placement nice little finger grooves on one and two scroll wheels nice and recessed.
The rubber grip right there and tactile flip of the mouse over big chunky feet are rounded. It also has the best sensor quality.