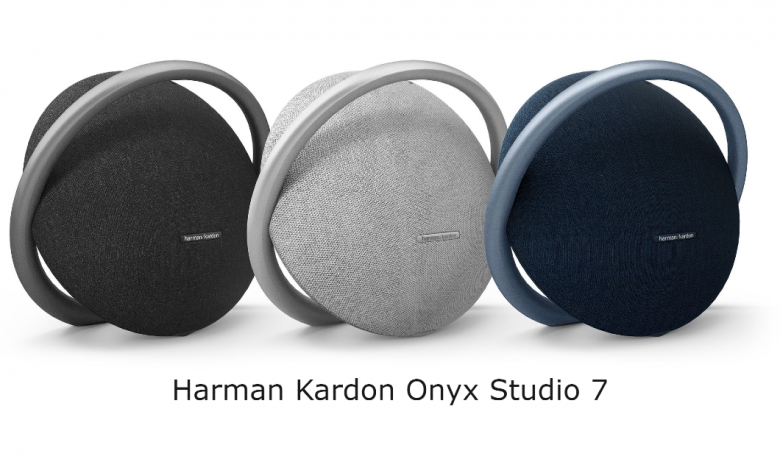 Let's now talk about the new Harman Kardon onyx studio 7. This is portable and has an elegant design and beautiful sounds. You can have a great music experience even on the go. Onyx Studio 7 offers dual tweeters which enhance stereo performance and help create an immersive soundscape.
Elegant design; it features an elegant design and has a sleek aluminum handle for easy portability.
Wireless Bluetooth streaming (pair up to 2 devices); with onyx studio 7 you'll be able to double your playlist and pair up to two wireless Bluetooth devices. If you just want to amp up the music experience.
Wireless dual sounds; you can wirelessly connect two onyx studios, 7 speakers.
The onyx studio(up to 8 hours of playtime); 7 studio has a rechargeable battery and offers up to 8 hours of playtime.
If you unbox the Harman Kardon onyx studio 7, there you have a new onyx studio 7. The quick start guide and documentation and power adapter.
An elegant design and beautiful sound are now available in stores like T. mobile. 
Read Also: Are You Planning to Buy a Portable Bluetooth Speaker? Check These 5 Popular Ones
Characteristics of Harman Kardon Onyx Studio 7
Harmon Kardon onyx studio 7 has a battery-powered huge base it looks amazing, sounds amazing. 
So in which have Ps 2 up close a standard power cable and then is the top has 19 volts.
It has two amps that mean 38 watts are coming out.
So that could have been easily possible via USB type c.
But that's a little bit more flimsy and also technical detail like has perfect specs are.
For example that has 50 watts here inside when you have it in AC mode which is a great 50 hertz to 20 kilohertz.
It is quite heavy with 300 grams. So it's and more than six pounds and eight hours of battery life with standard volume.
Its charging takes five hours which is quite long and it also has Bluetooth 4.2 inside in 2021.
The device should have Bluetooth 5.1 because that's the latest, but it still sounds great. This way we can also still use stereo and if we take a closer look at the device itself.
 It has bottom the aum in, then powers in and service USB type C port which could have been power port.
It can also be connected to Bluetooth or has a good battery life with some blinking going on.
The brand new onyx seven studio speaker sounds amazing. It has a great touch to it.
It looks amazing but the only drawback is it doesn't have the USB  type-c charging possibility. That you have for example with Xtreme 3 which is a little sad but still an amazing speaker for a great price. 
The latest version and design Harman Kardon onyx studio 7;   
If there's one speaker Harman Kardon is known for is their onyx series of speakers. This time they're returning to pay tribute to one of their earliest desires. The onyx studio 7 looks nothing like its predecessors the onyx studio 6.
It takes on the onyx studio 4's design this year that updated the iconic onyx studio 7 with a Saturn planet design aesthetic. The refreshed design language with a solid anodized aluminum ring holding the speaker body unit.
A slight title angle while also adding a grid carrying handle for the speaker that weighs a sheer 3.25kg. When positioned to be angered towards the side at 45 degrees. It gives a very 3D look to the product enabling. it to become great complementary furniture for any style of home interior the entire unit itself is wrapped in a full fabric. This gives us a classy look unlike the onyx studio 6 the new model now loses the ipx7 waterproof capabilities.
Updations
It moves on to the top portion of the speaker is where find all our controls from left to right. Which also has the Bluetooth pairing button the volume buttons as well as the power button in the center. Or towards the right has multifunction play pause button.
A single press on the power button will turn on or off the speaker. And a single press on the Bluetooth button will enable pairing to a new device to play a pause simply press the play pause button once or twice to skip tracks.
There is a missed opportunity with this speaker which is a lack of an app to control the sound signature and potentially various setting of the speaker. The sound signature, fortunately, there is the option to stereo pair another onyx studio 7 for dual wireless sound.
The sound quality of Harman Kardon Onyx Studio 
When moving on the sound quality the onyx studio 7 now adds second transducers to the audio setup. Finally me the output stereo features a front-firing speaker setup of which is a 2 times 25miilimete transducer. And direct the mid-range in the stereo mode where 120-millimeter woofer.
This, in turn, helps the speaker deliver up to 50 watts of RMS and nicely fill-ups a medium-sized room at a mere 30 volumes. Having a frequency range between 50 to 20,000 kilohertz the bass response is deep tight and punchy.
The sound signature was the best and cleanest at its default setting of the box without the need. If looking used of onyx studio 7 as a speakerphone it does not support it.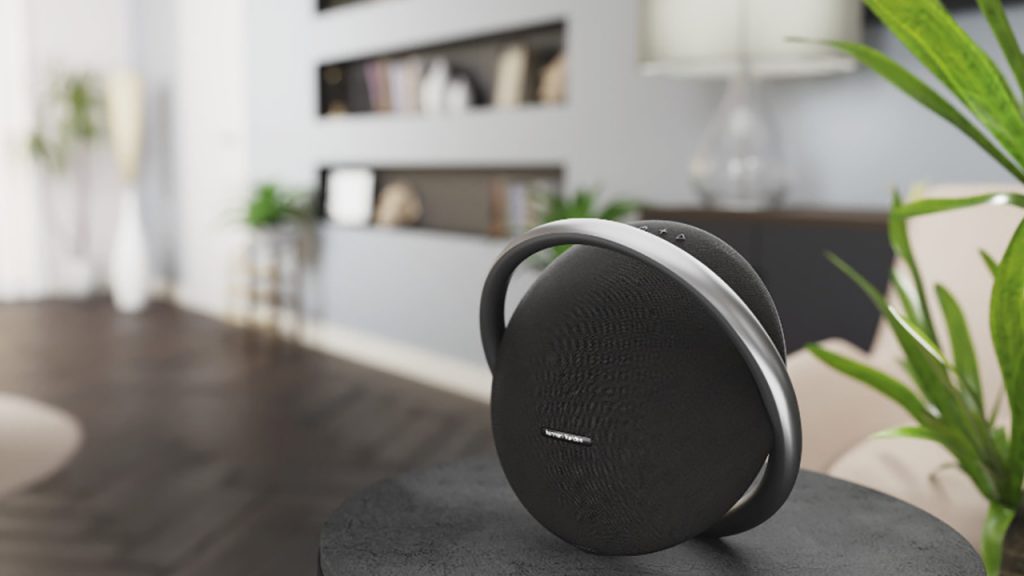 If check out the sound quality to listen to how it sounds then use headphones or in headphones to hear a difference. In terms of connectivity Bluetooth, 4.2 is offered and not Bluetooth 5 unfortunately in late 2021. 
Usage of Harman Kardon Onyx Studio 7
Amancardon did not disclose the audio codecs used in the speaker. The basic SBC NAC is included only as the speaker does have a little latency. When watching movies or videos on both a laptop and a smartphone on the bright side you can connect two Bluetooth devices to the onyx studio 7.
Which has a quality 3.5 millimeter audio in port is available for wide use. The speaker will automatically switch input settings when the cable is connected on the back there is a USB-C port for service use only. Which was a bummer since the speaker could get its power through the USB-C port.