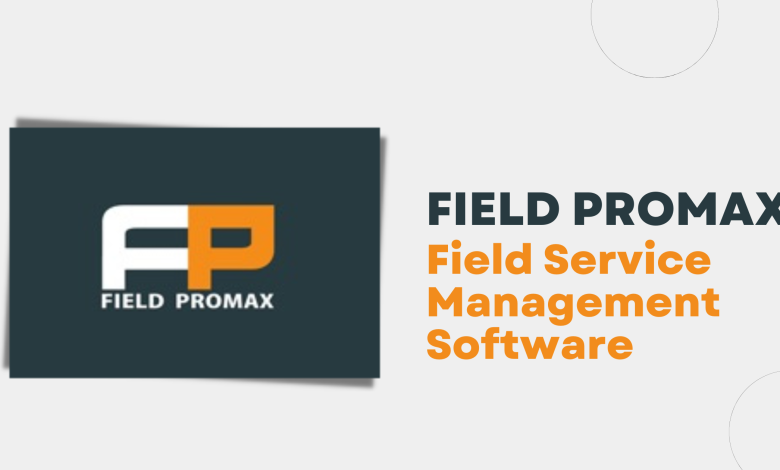 Field Promax is a smart, cloud-based Field service management software that automates and streamlines the processes of service businesses. It is designed to take care of all the administrative and backend tasks, including scheduling, dispatching, creating estimates, monitoring technicians in real-time, asset tracking, customer management, custom reporting, billing, invoicing, online payment tracking, and so on. Besides the software solution, Field Promax also offers an integrated mobile app to enable business owners and managers to take complete control of the operations, and empower field technicians to do their job right on the very first try. If you are looking for something to increase profit and boost employee productivity, Field Promax is the best choice available for you at this moment.
Features Available with Field Promax
Scheduling and dispatching
Work order management
Multiple calendar views
Dashboards
Reports and analytics
Estimates
Time tracking
GPS
Invoicing
Team management
Customer management
Equipment tracking
Multilocation/ department access
Security levels
QuickBooks integration
Automate and Streamline Your Business with Field Promax
Field Promax is powered by advanced technology and the latest field service management features to simplify your business operations. It offers 360-degree support from start to finish of a work order. 
To begin with, the field service management software provides you with a link that you can simply copy-paste to your website as a work order request tab. When a customer clicks on the tab, the link directly takes him to your Field Promax profile where they can ask for a professional appointment, request a quote, or raise an emergency service request. With the complete technician schedule available with the dashboard as well as the multiple calendar views (daily, weekly, monthly, and individual technician's schedule), you can at once confirm the work order based on your employees' availability and expertise required for the job. In case the customers ask for a quote, the system has an integrated estimating feature to provide them with professional-looking, custom estimates. 
Once the customer approves the quote, you can directly turn it into a work order and schedule a technician's visit. Afterward, the software allows you to send notifications to the assigned technician, who can then accept or refuse the job order through the integrated mobile app. The same mechanism also enables you to send email/text alerts to your technicians reminding them of upcoming appointments. While on the job, you can monitor the technician's location as well as your equipment in real time, thanks to the advanced GPS technology. 
The technicians can also access customer information through the app and update job status by sharing documents, images, etc. Furthermore, this app also allows them to create and send invoices directly to the customer and accept payment in the field. The whole system is cloud-based, which means once you have a customer's information, it is saved in the cloud for eternity, and you can use the same data for various stages in the work order. As you can see, all of this can be done within just a few clicks on the smartphone, enabling you to grab as many business opportunities as possible, regardless of where you are or what time is it. 
Boost Your Profit and Enhance Performance with Field Promax
By automating the entire process, you are ditching the traditional paper-based system and embracing digital technology. The biggest risk of the paper-based method is that it leaves room for manual errors, which can lead to revenue leakage. Besides, going paperless is perhaps the smartest way to cut down overhead costs, which is another way to boost your profit
Field Promax is powered by cloud storage, which means all your data is saved and secured in the cloud. Just a click on the computer and you can find the information you are looking for, within moments. This adds more transparency and scalability to your operations. Furthermore, your technicians can also access the necessary customer information even from the field. Equipped with the knowledge, they can perform their job better and increase the first-time fix rates, which is essential for increasing efficiency. 
Field Promax integrates with Intuit QuickBooks, the most popular accounting software today. It supports a seamless two-way integration, which means you can sync all your customer databases on QuickBooks with Field Promax and vice versa. This enables you to use the same data to perform a variety of tasks, such as work order confirmation, sending estimates, managing repeat work orders, generating invoices, and so on. This eliminates the need for redundant data entry and prevents duplicate entry, thus increasing efficiency in your admin tasks. 
These are just some of the highlights that state how Field Promax can turn around your business for good. Once you start using the software, you will be surprised to find out the vast range of advantages it can offer you. 
FAQs
How Much Does Field Promax Cost?
Field Promax offers a variety of plans and deals to suit different types of Field service businesses. It is a perfect choice for companies of any size, be it a large corporation with hundreds of employees or a mom-and-pop shop running the gig with one or two people. 
The basic plan starts from $49 per month. It is available for 2 users with unrestricted access to all its features and capabilities for an unlimited number of customers. Plus, it offers a number of add-ons completely free of cost. The price goes up if you want to add more users to the system. Having said that, it is undoubtedly one of the most pocket-friendly field service software solutions available right now.
Is a Free Trial Available?
Yes. Field Promax offers a 14-day free trial. It also offers a free demo to make you familiar with the product. Throughout the process, you can also expect seamless customer support to help you every step of the way. You don't even require a credit card to sign up for Field Promax.
Is the System Complex?
Field Promax has perhaps the easiest interface among all the field service software available today. Some might say using the mobile app is as easy as sending text messages from your mobile phone. You do not need to be a tech wiz to be able to operate the system. All you need to do is watch a 9-minute video and you are ready to use Field Promax like a pro. Even if you face any difficulty at any stage, you can count on the excellent support staff to guide you through the onboarding process, and beyond. 
The Verdict
Going through the different aspects of Field Promax, it can be safely said that it is hands-down one of the best field service management software available in the market today. It is efficient, simple, easy to use, full of features, and last but not least, surprisingly budget-friendly. No wonder it has gained such popularity among its users in such a short span of time. If anyone is looking for a smart, affordable, and efficient digital tool to automate their field service business and go paperless, Field Promax is highly recommended.