Tech
Honest Careerist Reviews. Are Students Happy with This Tech E-learning Platform?
On the Internet, you can find dozens of positive Careerist reviews. If you want to land a fulfilling and well-paid tech job, consider completing online training through this e-learning platform. Careerist enables you to start a career within a year of applying—even if you lack technical skills. "From healthcare to testing in six months" and "From zero technical background to $100,000"—these are real headlines from graduates' success stories. The graduates of this educational provider have joined over 1,000 tech companies. You can follow suit, regardless of your age and background.
General Overview
This educational project has been around since 2019. Its instructors have worked (and some still work) at such tech giants as Meta, Google, Apple, Intel, and IBM. Careerist tutors boast a combined employment record of over 100 years.
The average tuition fee is $3,500 per person. The high quality of program content and personalized approach to each applicant justifies the price.
Trainees who fail to find employment within one year of graduation qualify for a 100% money-back guarantee if they meet the following criteria:
Completed all training modules without delays
Met all the deadlines for assignments and projects
Followed the job search guidelines and instructions
Unlike many competitors, this service provider focuses on information with high practical value. Trainees benefit from one-on-one mentorship and an internship that prepares them for the real-life labor market.
This e-learning project has its own Job Application Service (JAS) that is exclusively available to Careerist students. This AI-powered solution facilitates the process of looking for job openings. Users can fill in applications with one click and automatically get new openings daily on their dashboards. Careerist's team states that the JAS tool enables professionals to save over 10 hours per week on job hunting.
If you are a sales pro, opinion leader, or content creator, consider becoming an affiliate of the Careerist training program. Drive new customers through the referral program and get paid for your efforts. It is an opportunity to earn rewards while promoting a strong brand.
If you are a business owner or manager, you can hire talented students to do QA testing for you. Hiring students is cheaper than contracting experienced testers. You can be sure Careerist trainees know how to handle all the necessary tools and deliver impressive results.
This e-learning provider is number one in graduates hired annually for US quality assurance roles. Graduates have landed jobs in 40 states and counting.
How to Sign Up and Start Learning
The application process is remarkably simple:
Type your full name, email, and phone number in the fill-in form on site careerist.com
Click "Submit"
Wait for an advisor to reach out about educational opportunities
You do not need to pass a test—it is enough to complete a short interview. Careerist's advisors accept most applicants and help them find the optimal training path.
Feel free to choose from two payment options: pay the full price upfront or split the payment into two parts. The second option may be slightly more affordable, and the payment method does not affect the program's content.
The curriculum features both live and pre-recorded lessons. Tutors give hands-on assignments, homework, and quizzes to groups. They provide valuable feedback and answer questions after classes.
Once classes are complete, you will switch to a 100% remote internship. It emphasizes hands-on experience that is useful for your interviews and LinkedIn profile. Hiring organizations always prefer candidates with experience. Your internship and a portfolio of completed projects should convince the HR manager to choose you—and not someone with only a graduation certificate.
Finally, you can use the Job Application Service (JAS) mentioned above to find and apply for the best career opportunities.
A dedicated mentor helps you write compelling cover letters, enhance your resume, and gain confidence for interviews with potential employers. Trainees rehearse interviews with HR specialists and learn how to answer their questions. You can stay in touch with your mentor even after you sign a contract with a company. Most newly hired employees start with a trial period, and your advisor will help you make the most of your trial.
Selection of Training Programs
Currently, there are six training programs offered. Five of them allow you to acquire new skills, while the sixth improves your employment opportunities.
Sales Engineering
Sales Engineering is one of the most popular programs. You do not need to learn how to code—this program will help you break into the tech industry without technical skills. Sales Engineers explore consumers' pain points and develop solutions to fix these pain points. Thanks to Sales Engineers, employers better understand what customers expect from digital products. As a result, businesses deliver exactly the products the audience needs and increase company profits.
This training program lasts nine weeks. Six are devoted to classes, and the remaining three to the internship. Altogether, it costs $3,500 if you pay the full sum upfront. After graduation, you can expect to earn $100,000 annually, on average.
Manual QA
The abbreviation "QA" stands for "Quality Assurance." Specialists in this field check the functioning of digital products before the products become available to the public. QA Specialists detect bugs and errors and report them to developers. Developers fix the issues and send the product back to testers. When the site or app finally goes live, it should function smoothly for consumers.
Manual QA testing is an easy entry point into the tech industry. Studying for Manual QA takes 15 weeks, with an average of six to eight hours per week. It costs $3,500. Graduates of this program earn $69,000–$105,000, depending on their experience.
QA Automation
The QA Automation training program is designed for people who already know how to manually test digital products. Participants learn the Python programming language, which also comes in handy for Software Development and Data Analysis (making it easier for testers to move into these spheres in the future). By learning automation techniques, participants can upgrade their skills and claim a starting salary of $115,000 annually.
This intense boot camp lasts nearly four months. Tuition starts at $3,500. After you complete the QA Automation training program, you may apply for a mid-level position instead of a junior-level role.
The two programs devoted to automation are consistently in high demand.
Systems Engineering
Professionals in Systems Engineering take care of computer systems for organizations. Their employers choose goals, and the engineers set up hardware and software systems according to these goals. Systems Engineers help teams become more productive.
The Systems Engineering training program takes six months, with an average of six to eight hours per week. Its price is $3,500 if you pay upfront. The minimum starting salary for this occupation is $90,000.
UX Design
Every year, over two million apps hit the market, and each of them needs a top-notch interface. UX Designers make sure digital products look great and are easy to use. They study the behavior of end-users and develop the most efficient solutions based on their employers' business objectives. Simply put, UX Designers decide on the size, color, and location of every clickable button, banner, widget, and all the other elements of a website.
Careerist's UX Design is a new training program launched in 2023. This program will teach you to design in Figma, one of this niche's most popular tools. It takes four months, with an average of eight to ten hours per week. The price is quite reasonable, starting at $3,250.
You can expect to earn around $62,000 annually as a junior specialist in UX Design. When you become a senior-level designer, your annual salary might reach $150,000.
Career Coaching
Career Coaching targets professionals who are already in the tech industry but want to explore new perspectives and earn more money. It costs $19.89 per seven days.
You will be assigned a dedicated mentor when you participate in Career Coaching. They will consult with you on all aspects related to your career development, such as:
Time management for remote staff members
Negotiating salaries
Improving your interview skills
Upgrading your resume
Maintaining your work-life balance
Expanding your network
Mentors stay in touch with trainees through video calls. Your conversations will be well-structured so that you discuss one career advancement step at a time.
Be ready to stay accountable to your coach! Their supervision should motivate you to be more persistent in achieving your goals. You can also rely on Careerist's AI-assisted tool (JAS) to detect top vacancies. According to statistics, this solution helps applicants receive three times as many offers relative to searching on their own. Plus, it accelerates the job search process by 100 percent.
What Students Say about This Platform
In their Careerist reviews, many individuals praise the training program's intense focus on the labor market. Some other service providers discuss too much theory in the curriculum and include information that graduates do not need for their daily responsibilities. At Careerist, you will focus on the knowledge that helps you cope with day-to-day tasks. Mike L. is grateful for the lack of far-fetched academic subjects in the curriculum.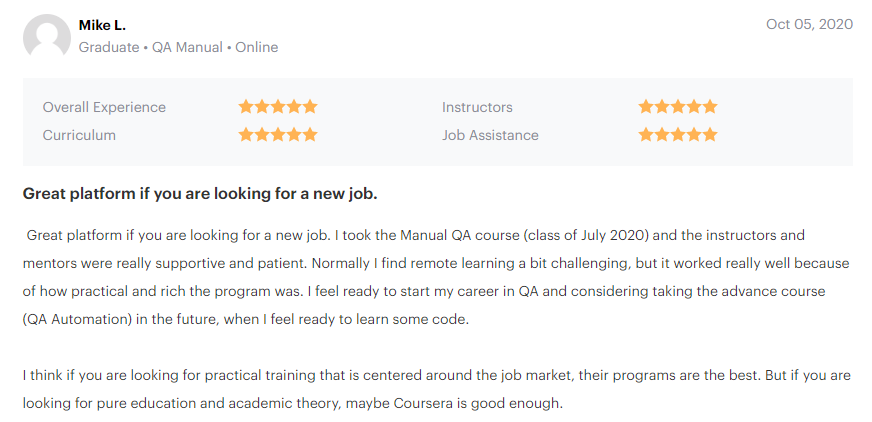 Anastasiia Sokyrka confirms that this educational opportunity was worth every cent she invested. Hundreds of her fellow students agree. Immediately after you learn something in a Careerist training program, you begin to monetize the information.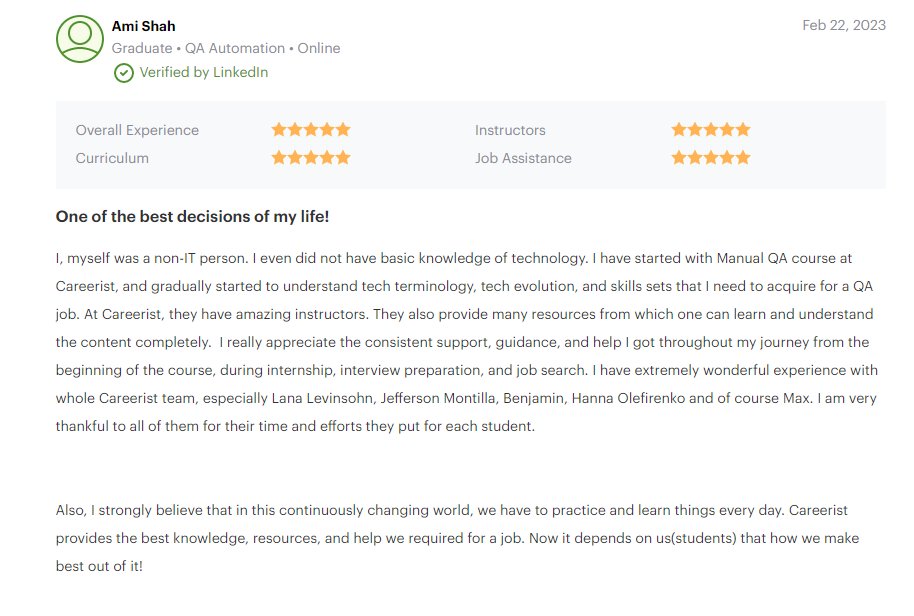 Some graduates openly mention their new employers in their Careerist reviews. Vlad Petrenko was lucky enough to join Intel. Other people avoid revealing the brands that hired them but confess that they are now team members of Silicon Valley companies or international tech giants. These results are common enough that you can expect to repeat their success stories.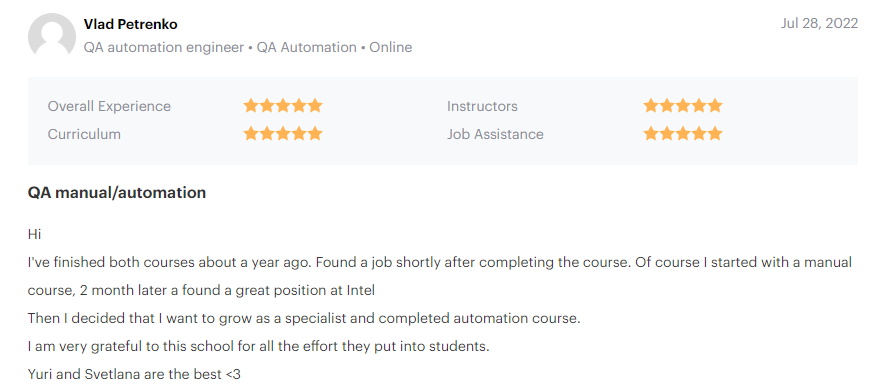 Attentive instructors have become the true heroes of many Careerist reviews. Lorena Austin remembers that her instructors were available 24/7 and always found time to answer trainees' questions. The availability of instructors is an important factor that might accelerate the matchmaking process between trainees and employers. In Lorena's case, she found a job just two weeks after graduation.

Quite a few Careerist reviews name the most helpful members of the team. Ami Shah mentions that every detail felt thoroughly thought-out. She appreciates the team's readiness for ongoing communication. The mentors inspired and supported her at every stage, including the final one—applying for job openings.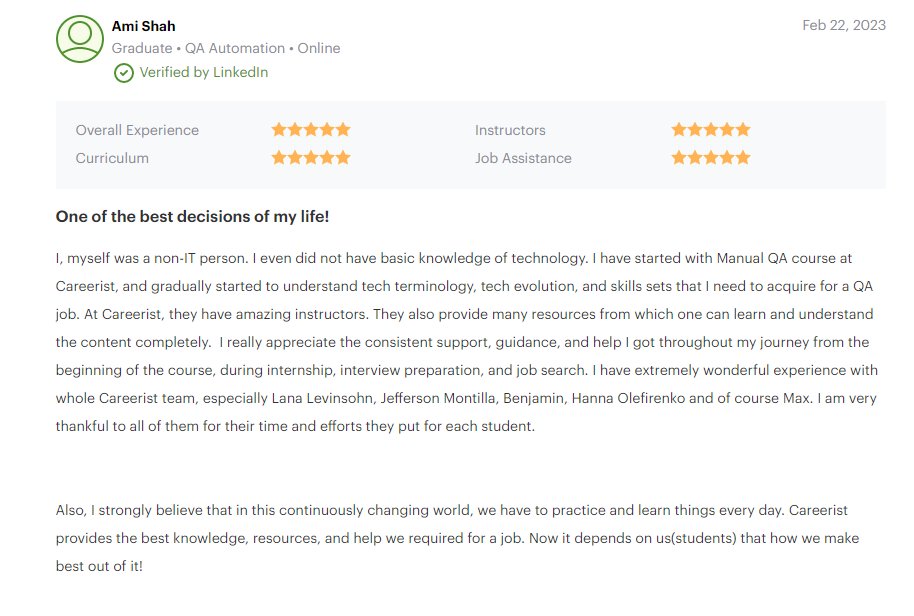 In her Careerist QA review, Inga A. accentuates that the mentors know the labor market inside and out. They handpick the right skills for the curriculum. During the internship, they imitate real-life work experience as meticulously as possible. Even though Inga was initially suspicious, she now feels she made the right choice.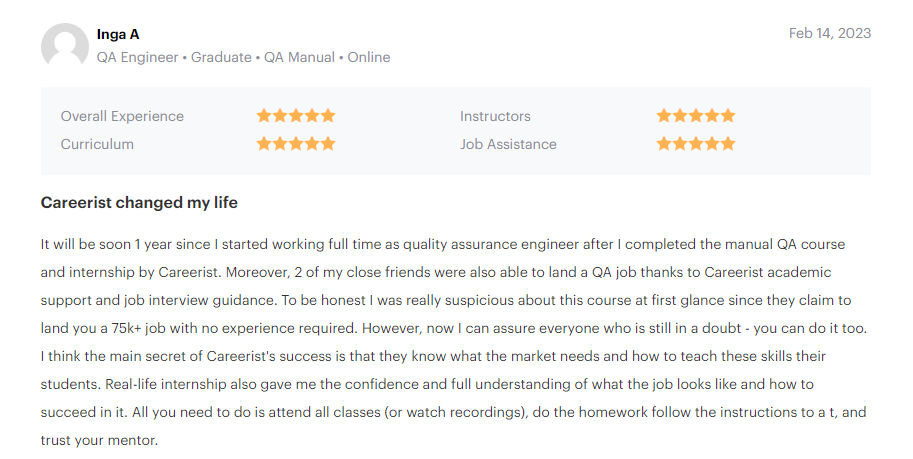 Khadija points out that self-study is essential. Tutors indicate the right educational direction and correct mistakes. It is necessary to review the materials and practice on your own to become a true pro, and this practice is superb preparation for the labor market.

Authors of Careerist reviews often say this company allowed them to change their lives for the better. They talk about their tutors, who were passionate about their occupations and took great care of their students. Tammy Garrett is not the only student who devoted decades of her life to another occupation before changing industries.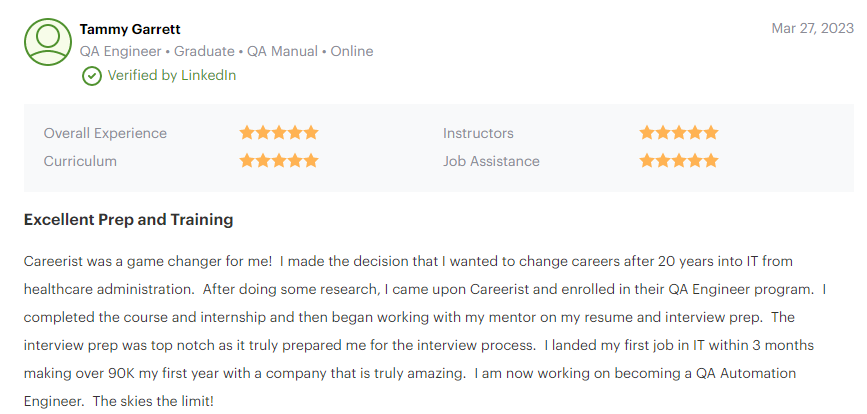 Final Thoughts
Hopefully, this was an informative read that gave you a better understanding of the competitive advantages of this e-learning service provider. If you have questions, feel free to contact the Careerist support crew. They are always ready to assist potential customers and usually reply very quickly!