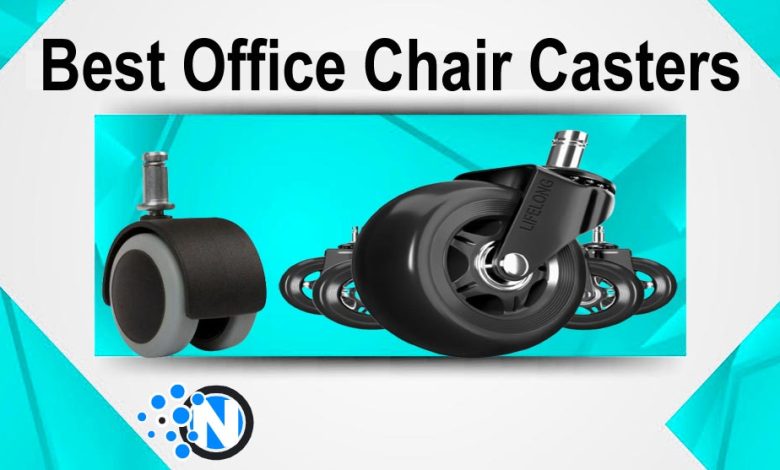 Office chair casters wheels hold great importance when it comes to changing your working position quickly and repeatedly. Sometimes, you may have to pick the file residing just behind you. Gliding the chair to grab it not only saves your time and energy but also ensures hassle-free performance. However, ordinary casters wheels are of no use. The main reason they start producing crappy noise, which might irritate or disturb your office fellows. Therefore, you must consider replacing them. We have developed this comprehensive guide to list the top 6 best office casters available on the market. So, grab the one of your own choice.
Best Office Chair Casters Wheels
After testing several products on multiple criteria, we have extracted the top 6 best office chair casters wheels below. Consider the buying guide, described in the later section, to make a good purchase decision.
1 – Oasis Office Chair Caster Wheels
Oasis office chair casters wheels are made of soft and durable polyurethane material, so they are the best for you on marbled floors. Furthermore, they won't leave any marks or scratches on other materials, like hardwood, tiles, and carpet. Above all, the easy installation procedure without special tools makes it the top pick for office workers. Oasis has designed this product to bear up to 650 lbs, ensuring long and proper usage.
What We Like The Most?
Easy Installation
Lifetime Warranty
Adjustable Size
Highly Durable
Safe For Marble Floor
What Are The Cons?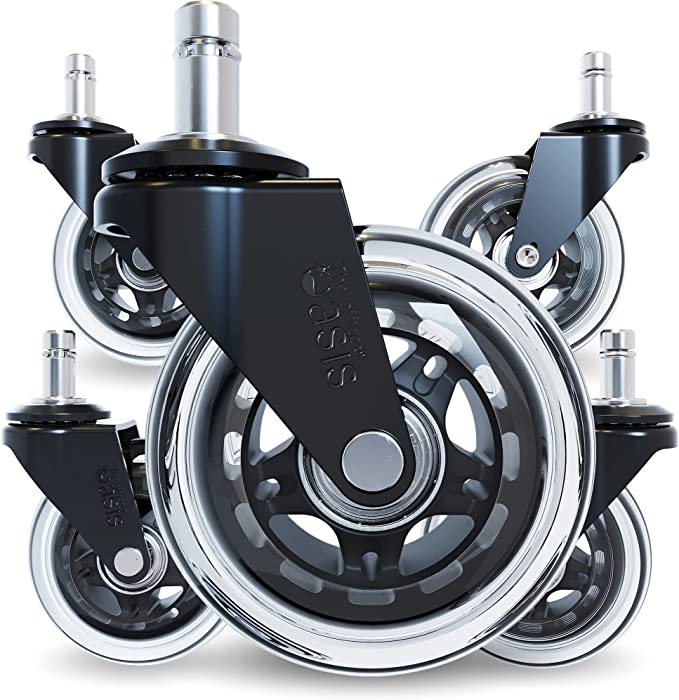 2 – LIFELONG Rubber Chair Casters
With a stem size of 7/16″ x 7/8″, the LIFELONG office chair casters are integrated with an industrial-grade steel body and durable polyurethane construction. Besides, the rubber involvement makes it a safer choice for hardwood and carpet floors. On top, this product features smooth gliding with complete silence. Hence, you can drive around the office to pick up files and other activities without disturbing your colleagues. While, customer support is very efficient in resolving any issue.
What We Like The Most?
Good For Hardwood Floors
Smooth Rolling
Quick Installation
Noiseless Gliding
Industrial-Grade Steel
What Are The Cons?
Not Compatible With IKEA Chairs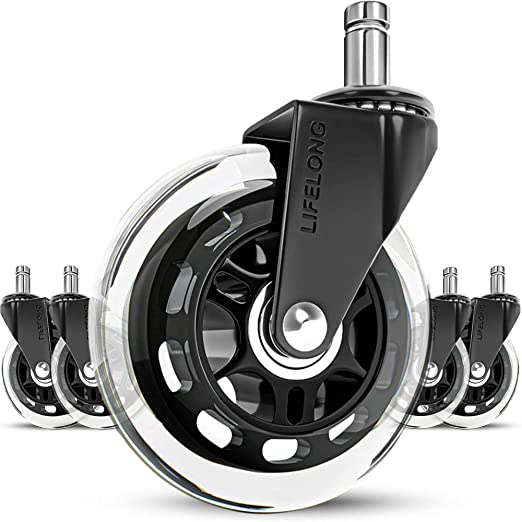 3 – Clever Productions Universal Fit Office Chair Casters Wheels
Thirdly, we have listed Clever Productions' universal fit office chair casters wheels in this rundown for their efficient gliding performance and compatibility with all office chairs. In addition, they are also an ergonomic replacement for the ordinary casters of gaming chairs, desk, and office chairs. Furthermore, you can glide across different types of flooring, including wood, hardwood, carpet, and tiles. Similarly, the precise ball bearing won't make any noise, ensuring an enhanced experience.
What We Like The Most?
Long-Lasting Durability
Smooth Gliding Experience
Perfect For All Floors
Polyurethane Body
Precise Ball-Bearings
What Are The Cons?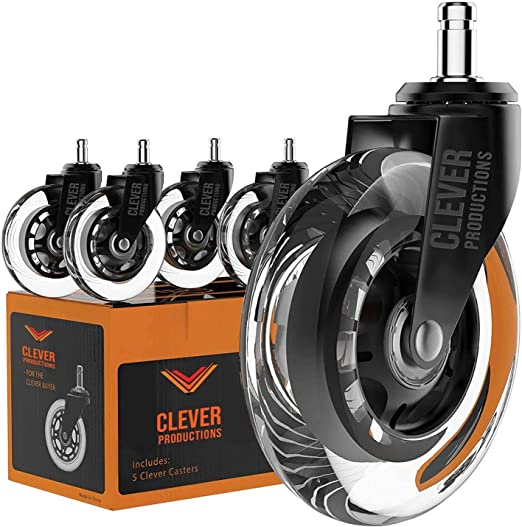 Read More:
4 – Mastery Mart Office Chair Casters Wheels
Unlike the other ordinary products, the Mastery Mart office chair casters possess durable polyurethane and nylon material. Hence, you can use it for longer with complete safety and maintain operational efficiency. In the same way, the double-wheel design also makes it sturdy and heavy-duty. Moreover, this caster ensures seamless movement on every kind of floor. While, the installation procedure will take mere 5 minutes.
What We Like The Most?
No Installation Tools Needed
Double-Wheel Design
Nylon Construction
Much Sturdy And Durable
Safe For All Floors
What Are The Cons?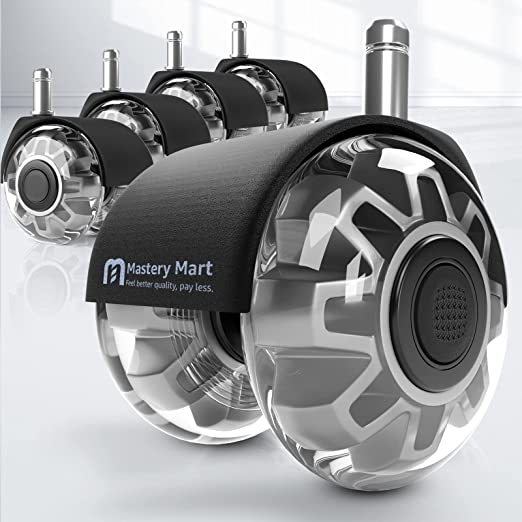 5 – OFFICE OWL Office Chair Casters Wheels
Fifthly, we have listed the OFFICE OWL office chair casters wheel for their ergonomic design and a sturdy body. Whether you have a carpeted floor or marble, it is a perfect purchase option. The polyurethane construction ensures scratch-free gliding and movement. Likewise, the rollerblade-style swivel also guarantees noise-free rotation. Besides, the top-grade steel casters improve their working life by enhancing durability.
What We Like The Most?
Ultra-Durable Construction
Sturdy Body
Bears Up To 650 lbs
Roller-Blade Swivel
No MAT required
What Are The Cons?
Not Good For Long Pile Carpeting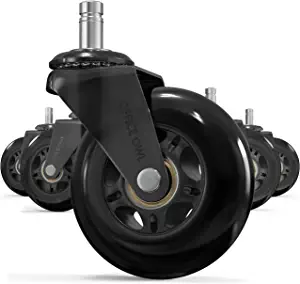 6 – TICONN Office Chair Casters Wheels
Lastly, we have picked the most budget-friendly solution to enable small companies to acquire the benefits of the best office chair casters wheels. TICONN has launched its set of 5 brilliant casters to accompany all kinds of chairs. The 3″ elastic polyurethane casters not only ensure smooth gliding but also make it safe for marbled and carpeted floors. In addition, the carbon-coated ball bearings and steel brackets simultaneously confirm durability and long-term performance.
What We Like The Most?
Rollerblade Wheels
Adjustable Standard Stem Size
Quiet Rotation
Carbon Coated Steel Brackets
Excellent Customer Support
What Are The Cons?
More Slippery On Hardwood Floor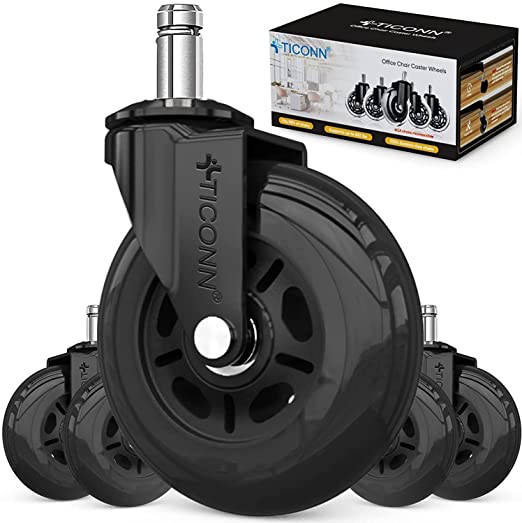 Considerable Factors To Buy Office Chair Casters
We have listed some essential points below that you must seek before purchasing the best office chair casters wheel.
1 – Construction
The body of office chair casters must be made of soft rubber integrated materials, like polyurethane or nylon. It will enhance its performance and looks simultaneously.
2 – Durability
Secondly, you must consider the durability and sturdiness of the product. The steel brackets and carbon coating casters guarantee longer working periods with complete safety.
3 – Floor Compatibility
Also, look for casters compatible with rolling on all kinds of floors, including wood, hardwood, marble, and tiles. Thus, you will be able to enjoy a scratch-free experience.
4 – Budget
It entirely depends on how much you want to spend purchasing the office chair casters. However, you should seek the budget-friendly option to avoid negative consequences.
Final Verdicts
All these are the details about the top 6 best office chair casters wheels. In conclusion, they are essential and considerable office products. Generally, the old and worn-out casters could cause many problems, like unbearable noise, may get broken, and scratches on the floor. To avoid all these, you must consider replacing them on time with new ones. However, look for certain points like durability, construction material, rotational efficiency, and stem length. Also, remember to keep the budget in view. As a result, you can have your hand on the best option available in the market. That's all about this guide. Stay tuned for more information!