Arcade Cabinets are interesting innovations in the gaming world with the help of which you can play your favorite games. These are confined structures with gaming hardware inside and operate with additional components. Moreover, you must put a coin to start the game. With technological advancements, you can now play even multiplayer games besides enjoying offline activities. Considering these advantages, you must look for one for your home or business. In this guide, we have listed the top 8 best arcade cabinets of 2023 after testing them on multiple criteria.
Top 8 Best Arcade Cabinets:
In the under-section, we have listed the top 8 best arcade cabinets of 2023. Have a look at them and grab the one as per your budget.
1 – Arcade1Up NFL Blitz Legends Arcade Cabinet
If you are a National Football League lover and want to enjoy the real experience, the Arcade1Up NFL Blitz Legends arcade cabinets are the best option. Along the edge, the product features 3 NFL game version; NFL BLITZ, NFL BLITZ '99, and NFL BLITZ 2000. Further, four players can compete with each other at once for advanced-level fun. In addition, you can connect different gaming accessories, like joysticks, headphones, and others.
What We Like The Most?
Easy Assembly
Multiplayer Gaming Option
3 Games
Durable Body
High-Resolution
What Are The Cons?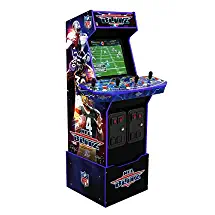 2 – Vilros Tabletop Retro Arcade Cabinet
On the contrary, if you are looking for high-profile arcade cabinets for your children, Vilros Arcade Cabinet has the potential to be the most convenient pick. With the help of USB-C connections and HDMI adapters, you can assemble this gadget to enjoy gaming. Besides, the integrated joystick and 8 buttons are sufficient for enhanced control and gameplay. Above all, the built-in HD monitor ensures maximum resolution for an improved visual experience.
What We Like The Most?
HD Display
Two Connectivity Options
High-Quality Wooden Body
8 Buttons
Internal Speakers
What Are The Cons?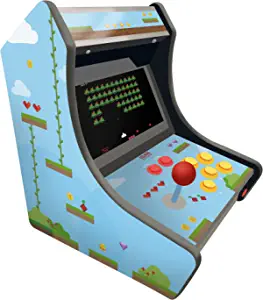 3 – New Wave Video Game Arcade Cabinet
Thirdly, we have placed this product in this list of best arcade cabinets for its high-capacity rechargeable battery and customizable settings menu. New Wave has designed this cabinet, especially for those who love playing the Atari Missile Command game. The CRT FX transparent lens also gives you a fully immersive gaming experience by delivering good picture quality. Moreover, the 2.6 lbs weight enhances its portability, and you can take it anywhere.
What We Like The Most?
CRT FX Lens
Easily Portable
Premium Quality Construction
High-Capacity Rechargeable Battery
Diecast Metal Coin Slot
What Are The Cons?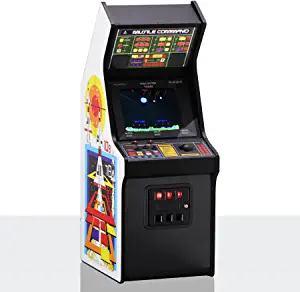 4 – Quarter Official Dig Dug Arcade Cabinet
With no coins required, the Quarter Official arcade cabinets are the best options for your home. You will play the classic Dig Dug game with enhanced control and graphics on this product. As a result, you will be able to rejoice in your past. Moreover, the properly engineered wood construction gives it a classy touch and durability. While the 5-inches TFT screen provides you with memorable gameplay on the tabletop.
What We Like The Most?
Wooden Construction
Durable Body
5-Inches TFT Screen
Integrated USB Cable
Original Game ROM
What Are The Cons?
Problems With Charger Cable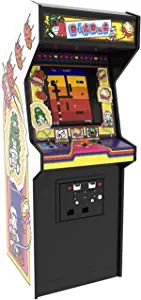 5 – My Arcade Data East Classics Arcade Cabinet
My Arcade Data East Classics Arcade Cabinets are also the best picks for your children, as the removable joystick allows you to connect the direction pad. Furthermore, the glowing coin trap lets you put the coin in the right place to initiate the play. In addition, the 36 classic Data East hit games cause you to have high-quality entertainment with your favorite matches.
What We Like The Most?
Good Design
Excellent For Children
Removable Joystick
External Speakers
Big Game Collection
What Are The Cons?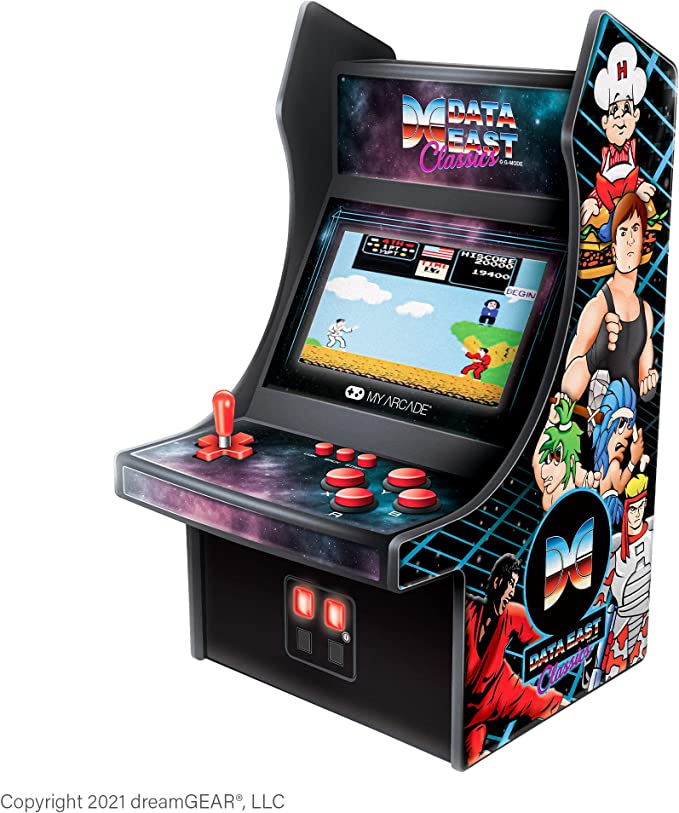 6 – Arcade 1Up Capcom Legacy Edition Arcade Cabinet
Sixthly, the Arcade 1Up Capcom Legacy Edition is present in this rundown of the top 8 arcade cabinets in 2023. In particular, the main reason is powerful processor capable of running 12 heavily loaded games without lagging. In the same way, the high-resolution screen helps you entertain yourself with ultra-HD graphics and artwork. What's more, the built-in controls are too easy to operate to control the gameplay.
What We Like The Most?
Integrated Speakers
Enhanced Built-In Controls
Color-Resolution Display
Compact Design
Adjustable Volume
What Are The Cons?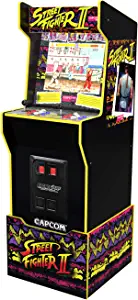 7 – Arcade1Up Jr. PAW Patrol Arcade Cabinet
With oversized buttons, the Arcade1Up Jr. PAW Patrol Arcade Cabinet allows children of age 4 to 8 years to enjoy high-quality games. The 8-inches dimensions improve the visual experience of toddlers. While the micro USB power includes a cord with a plug for easy connectivity. Additionally, you can control the sound quality for a more ergonomic hearing experience and enjoyment.
What We Like The Most?
Perfect Dimensions For Children
8 – Inches Screen
Micro-USB Connectivity
Cord Present
4 – Way Joystick Control
What Are The Cons?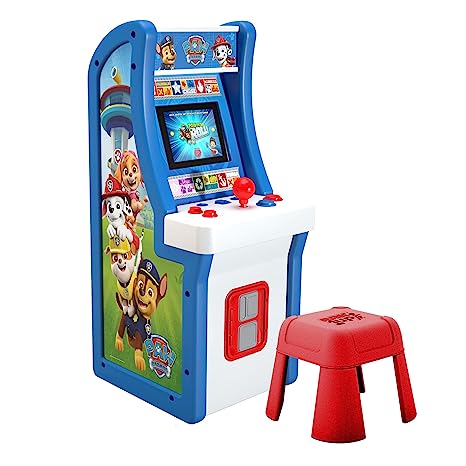 8 – Golden Security Retro Mini Arcade Cabinet
Lastly, we have listed the Golden Retro Mini among the best arcade cabinets of 2023. You can enjoy the best games because of the total 156 options. Whether you love puzzle games, Chess, or open-world tour, this gadget has something for you. Additionally, you can connect it to your TV for extra fun and entertainment. The multiplayer option is available so that you can play with your friends, colleagues, and homies.
What We Like The Most?
Large Gaming Collection
TV Connection Available
Good Customer Service
Good Battery Life
Multiplayer Mode
What Are The Cons?
Buy Now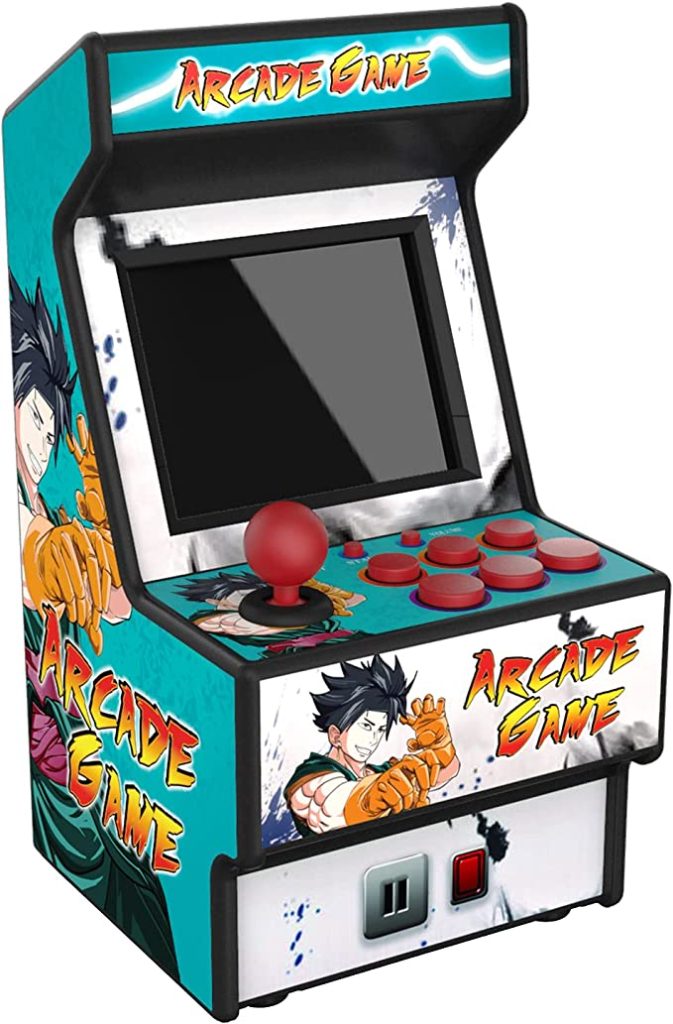 Factors To Consider Before Buying Arcade Cabinets
With so many options available in the market, it becomes challenging to find the best arcade cabinets which will help you enjoy your favorite games. However, testing the products on multiple essential criteria makes it easy to select the good option. We have listed some of these factors which you must consider before heading on toward buying a top gadget.
1 – Screen Size
Firstly, you should look for a product with a larger screen dimension. The screen size should not be too small to affect the gameplay nor too large to disrupt the pixels.
2 – Graphics Quality
Secondly, look for arcade cabinets with high graphics quality, as they will improve your visual experience. Furthermore, A TFT screen enhances the resolution and allows you to have more immersive entertainment.
3 – Durability
Thirdly, the body of arcade cabinets must possess ergonomic designs and durable construction. As a result, you can take advantage of the purchase for a longer period. Additionally, durable products are safer to operate.
4 – Portability
Fourthly, it would be best if you looked for lightweight arcade cabinets. A portable gadget is not only easy to drag but also allows you to lift it up easily and take it upstairs in your gaming arena.
5 – Budget
Lastly, try to have your hand on a budget-friendly gadget. However, it entirely depends on how much you want to spend purchasing arcade cabinets.
Final Verdicts
All these are the details about the top 8 best arcade cabinets of 2023. In conclusion, gaming gadgets are one of the most convenient sources of fun and entertainment. You can play the old games with enhanced controls and graphics to rejoice in your past. Further, you can take your gaming experience to an advanced level. However, consider factors like screen size, durability, portability, and battery life. Also, look for a budget-friendly product. That's all about this guide. Stay tuned for more information!