Amazon
Top 9 Amazon SES Alternatives In 2023
It is better to consider the top Amazon SES alternatives to direct your marketing campaigns further to achieve the ultimate level. The Amazon Simple Email Service is not delivering pacy and required outcomes with the rise in competition. Therefore, replacing it is better to get your email marketing campaigns on the right track to generate maximum revenue. In this era, there is a large number of options available as a replacement for Amazon SES. However, we have researched well and picked the top 9 alternatives that will significantly benefit your business in 2023.
What Are Amazon SES Alternatives?
Amazon SES alternatives are email marketing campaign tools and software that use the machine-learning to automate this hectic task. With their help, businesses are able to generate more customized email messages and design them according to customers' requirements to deliver a more personalized experience. It will result in enhanced brand credibility and revenue.
Considerable Points To Pick Amazon SES Alternatives
There are some essential points to consider before picking Amazon SES alternatives, as your Email marketing campaigns rely on these tools. Some of these points are the following:
1 – Deliverability Rate
Pick the tool that can deliver maximum messages to the users' inboxes to capture enough audience for your business.
2 – Flexibility
Customers access online brands from mobile devices, laptops, and PCs. Therefore, choose the platform that produces flexible messages to enhance the users' experience.
3 – Pricing
Considering your budget is the primary demand to carry out all the other necessary business activities as well besides email marketing.
4 – Marketing Templates
Select the tool that can send customized Email marketing templates as they can grab the public's attention better than ordinary texts.
Top 9 Amazon SES Alternatives In 2023
We have listed the top 9 best Amazon SES alternatives that possess the potential to deliver desired email marketing outcomes in 2023.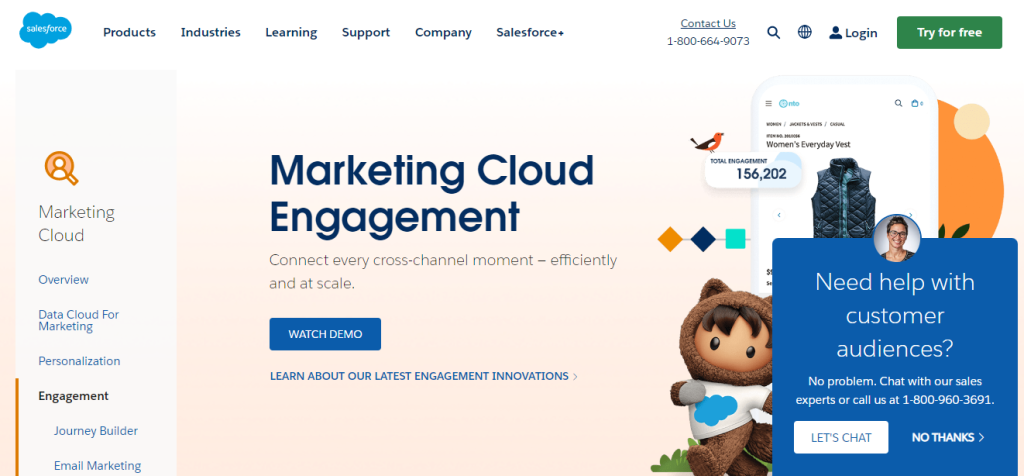 First, the Salesforce Marketing Cloud Engagement platform has outclassed Amazon SES by delivering amazing benefits to businesses of all levels. With the help of Artificial intelligence and automation, it produces Email campaigns that grab the attention of maximum users. Some important attributes are the following.
Generate flexible messages for mobile and PC users
Delivers insights with the help of AI
Design engaging templates
Pricing
The software offers 3 membership subscriptions. The Pro will cost $1,250 annually, while the Corporate membership is $3,750 annually.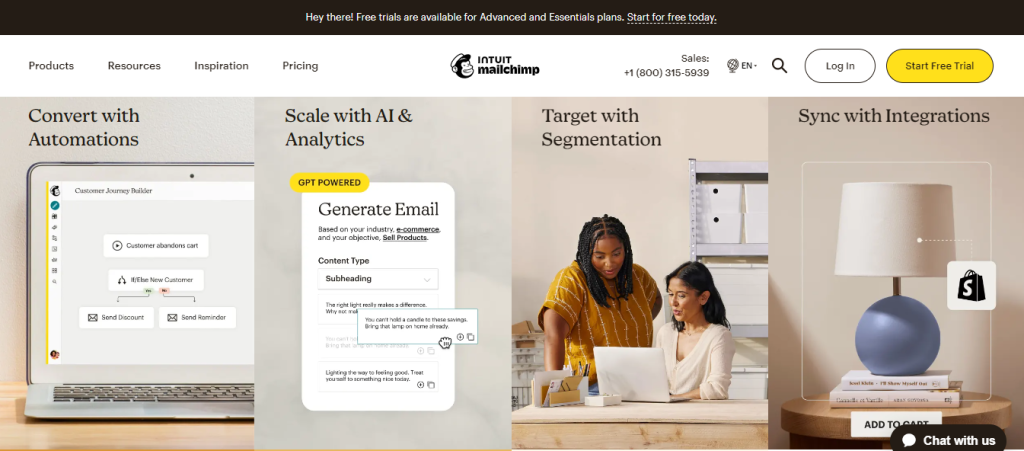 Mailchimp is specially developed for small businesses to evolve their email marketing campaigns so that they can reach potential clients readily. Thus, it is becoming one of the most demandable Amazon SES alternatives. Furthermore, with lucrative templates, Mailchimp has the power to attract the audience conveniently to generate more leads and revenue. In addition, other features are
Insights dashboard to track performance
List segmentation
More personalized emails
Pricing
The basic Mailchimp plan cost $13/month, while the Advanced plan is available for $20/month and Premium for $350/month.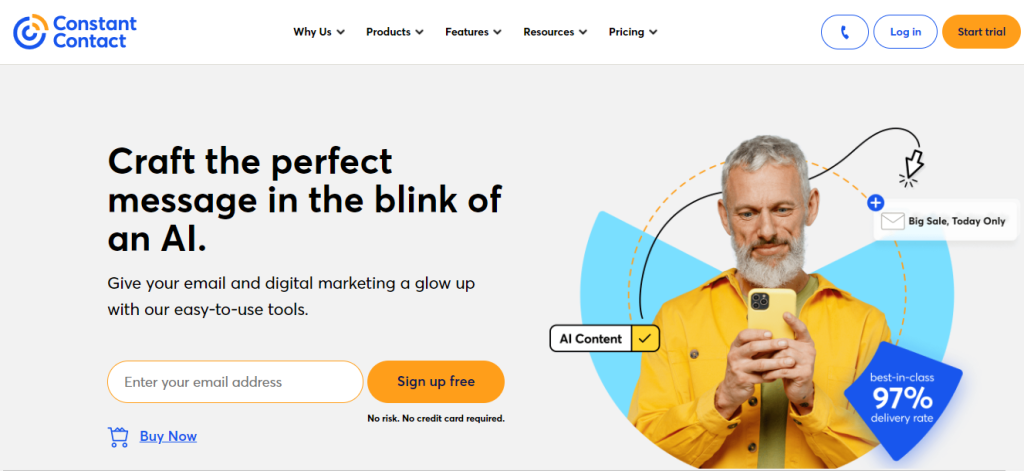 Constant Contact is one of the most dynamic tools to smoothen the Email Marketing of small businesses to grow their scale. It is full of essential benefits. Some of them are mentioned below:
Send targeted emails to the potential audience
Manages the lists of multiple criteria
Provides personalized suggestions
Pricing
Constant Contact offers 3 membership plans, Lite, Standard, and Premium, with starting plan prices at $12/month, $35/month, and $80/month, respectively.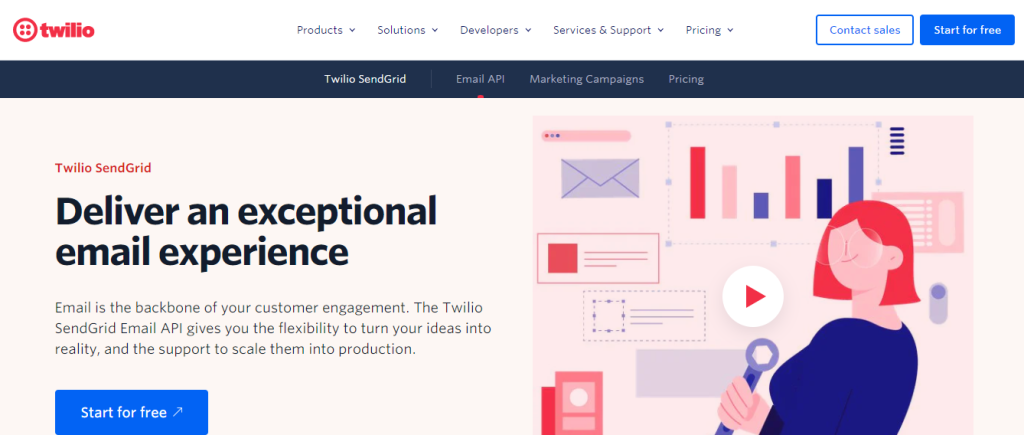 Fourthly, Twilio SendGrid is in the list of top Amazon SES alternatives. This Email marketing platform possesses one of the leading infrastructures to develop segmented email to target the audience through their pain points. Moreover, other features are:
Email scheduling to send automatic messages
Process bulk of messages
Protected IPs for professional campaigns
Pricing
There are several plans with Essential starting from $19.95 per month to Pro for $89.95/per month, while you must send a custom pricing request for a Premier account.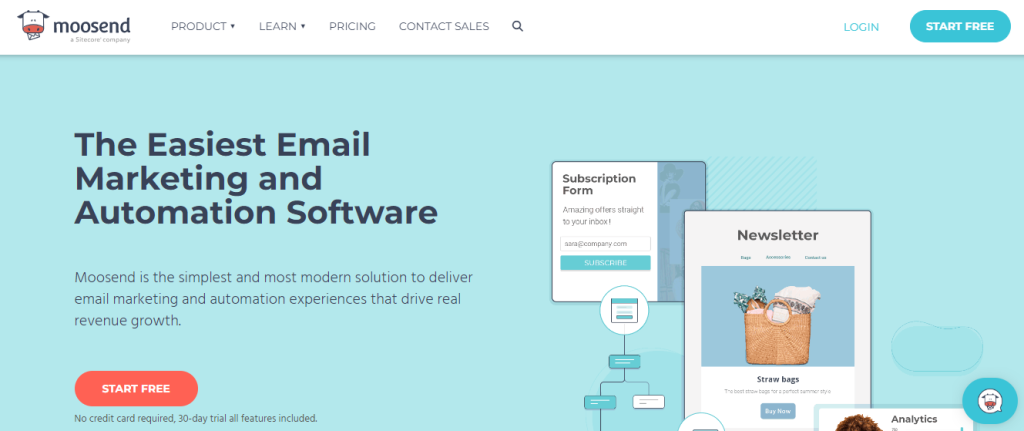 The next tool on our list is Moosend, a widely famous automation software for quality email marketing. Through the help of AI insights, it can automate several steps to accomplish the work on time and generate branded messages. As a result, it readily drives customers toward your business, maximizing revenue growth. Besides, the other benefits of using Moosend are described in the under-section:
Engaging subject line to catch users' attention on first sight
Compelling Email content to enhance customer experience
A/B testing for checking the errors and flaws
Build a complete workflow to streamline the marketing
Well-designed marketing templates
Track customers' activity and generate essential reports
Pricing
Moosend provides 30-day free trials to check the software's credibility and performance. In the case of adopting it, it is available at merely $9/month. However, you should opt Enterprise plan to send messages in bulk.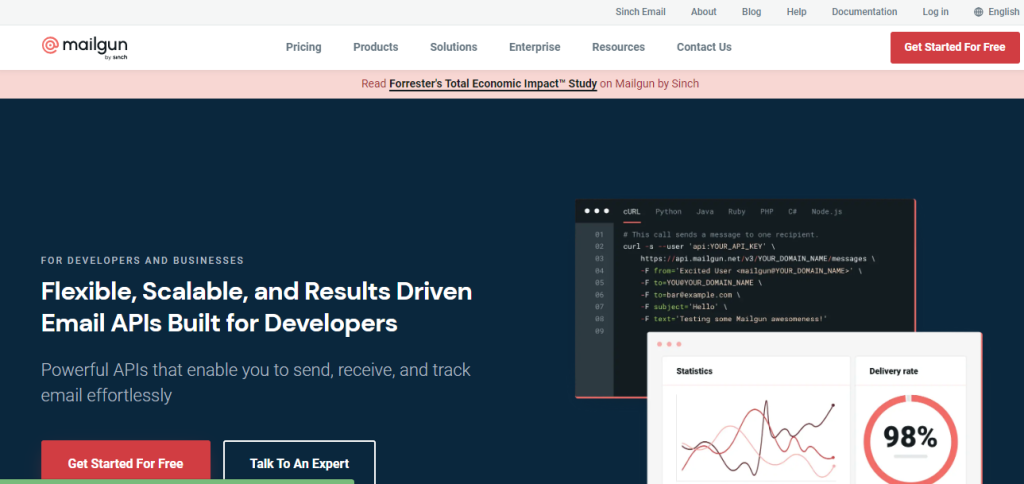 Mailgun is a cloud-based Email service provider that can prove as one of the best Amazon SES alternatives due to the extended capacity of sending, receiving, and tracking emails. It uses inbound storage and routing to qualify the spam filters, sending the messages directly into the users' inboxes. Additionally, it provides the following services:
A/B testing to improve the campaign quality
Automatic reply to the in-coming messages
Enhanced API control to track the messages performance
Pricing
Mailgun has established a comprehensive pricing plan so that brands of every level can acquire its services. Alongside the 1-month free trial, the Foundation plan will cost $35/month, while the Scale account's price is $90/month.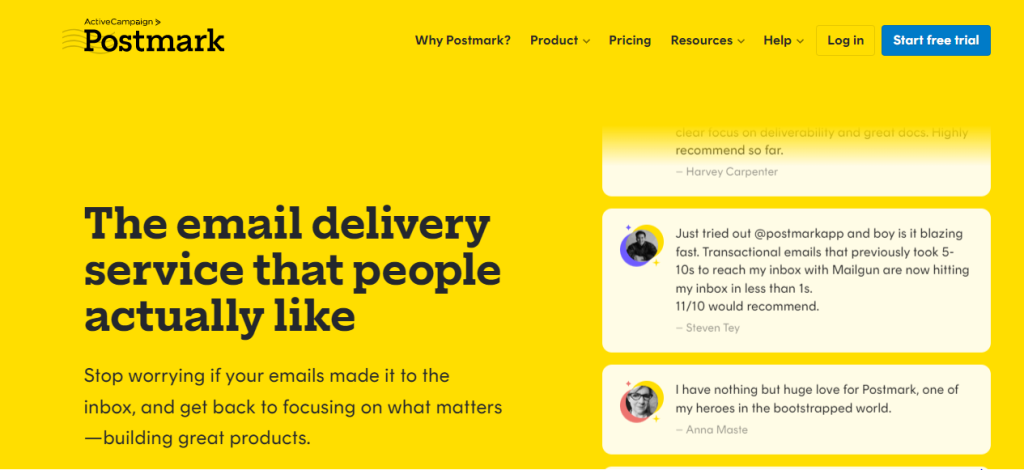 Postmark, another exciting Email marketing platform, is on its way to dominating the marketing field due to the addition of various unique features. Besides sending ordinary text and images, this tool can also send emojis to give an aesthetic look to the message. Some of the other advantages are:
Internationalization support for targeting global audience
Complete insights for easy performance tracking
Quick setup
Pricing
The pricing is based on the number of emails you plan to send monthly. Postmark allows you to send the first 500 messages for free. However, the cost may reach up to $775/month for sending 1,500,000 Emails.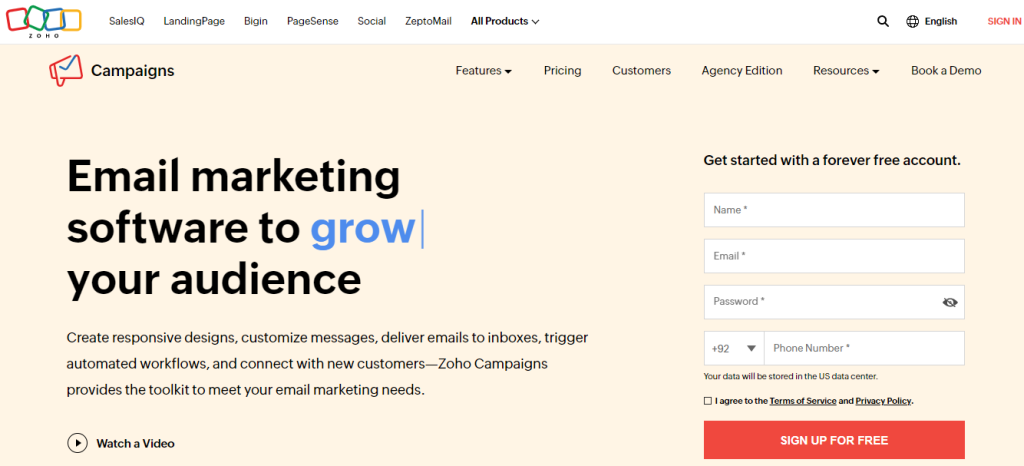 Zoho Campaigns is next among the best Amazon SES Alternatives in this list. With the application of contact management, it helps you to build strong relations with clients by sending more personalized emails. Additionally, it possess below-mentioned attributes
Drag and drop editor to generate personalized emails
Personalized marketing messages for each user
Generate dynamic content to attract more clients
Pricing
After the 14-days free trial, you have to purchase the membership plan. The Standard plan is accessible for $3/month. On the other hand, Professional plan will cost $4.50/month.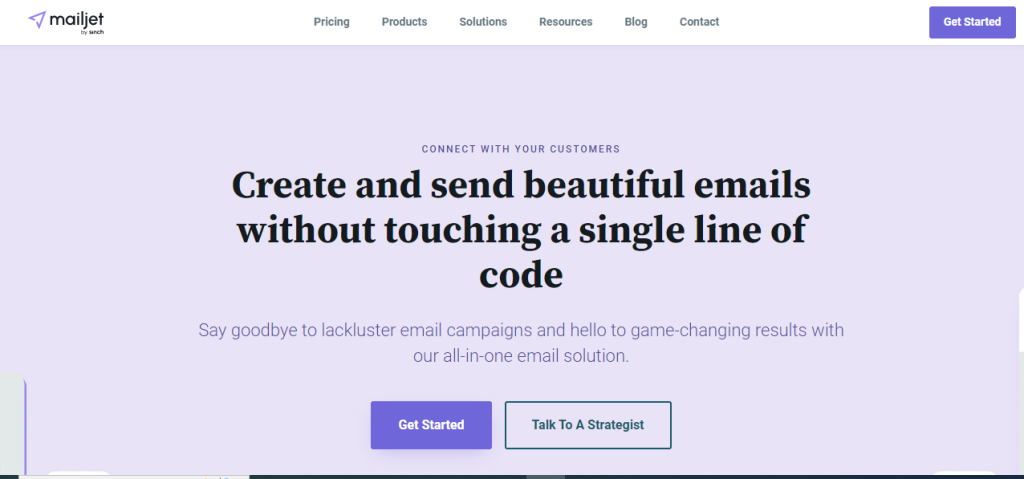 By creating a dedicated space for workers and marketers to generate customized emails from already available templates, Mailjet has listed itself as one of the top Amazon SES alternatives. Besides, there are some other benefits:
Cloud-storage for convenient team work
Build a segmented email list
Track campaign performance by generating real-time insights
Pricing
Multiple subscription plans are available to acquire Mailjet. The Essential plan will cost $15/month, while the Premium for $25/month.
Final Verdicts
All these are the details about the top 9 best Amazon SES alternatives to adopt in 2023. In conclusion, these tools provide a wide range of options and features to generate more powerful messages and target the potential audience precisely to capture their attention and boost sales. Thus, it will increase your brand's credibility, trust score, wealth, and revenue and help you achieve your milestones readily by accomplishing the specific requirements. That's all about this guide. Stay tuned for more information!