Microsoft
Top Alternatives to Microsoft Bookings for Dynamics 365 Users
Microsoft Bookings has integrated seamlessly with the suite of Microsoft for scheduling and appointment booking. Additionally, it features the application of Dynamics 365, which has delivered exceptional perks to the users. However, this platform is not compatible with certain people for certain aspects. These may be pricing structure, feature limitation, or other requirements. Thus, there is a high demand for its replacement options. If you are also looking for one, this guide is for you. After researching the web, we have enlisted the top alternatives to Microsoft Booking you can leverage in 2023 for better performance and benefits.
Best Alternatives to Microsoft Booking
The following section will help you find the detailed features of the top 8 best alternatives of the Microsoft tool for better performance.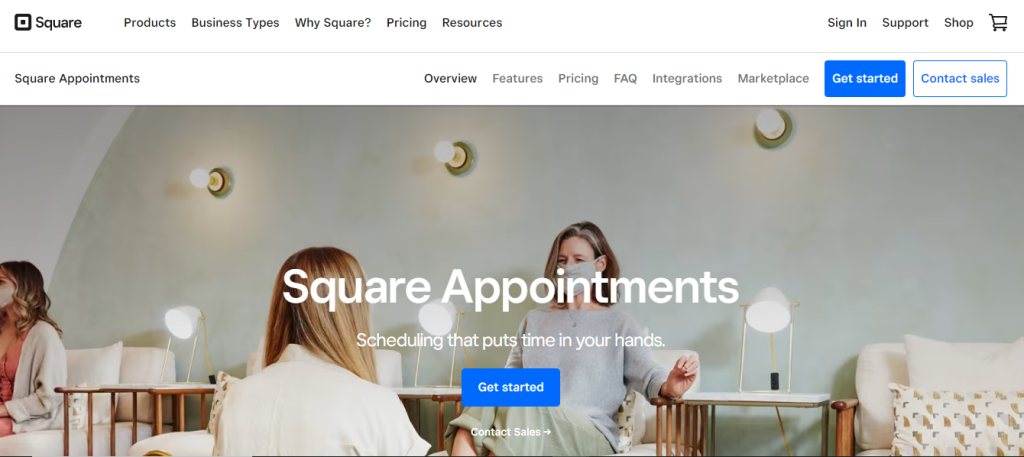 Square Appointments is the top replacement because of its comprehensive scheduling and payment processing solution that can bring immense convenience and seamless operational capabilities. It is one of the best choices for Dynamics 365 users and businesses that look for multiple appointment management within a narrow span. Other features are:
Client database: This platform maintains the database of clients' information and appointment history to maintain transparency.
Point-of-sale integration: Also, you can process payments seamlessly during the booking process, which brings more convenience and comfort.
Online booking: Square Appointments lets customers book appointments and schedule through the official website or social media.
Automated reminders: You will receive automatic reminders through SMS and Emails to minimize the no-shows.
Pricing
Free: $0 per month
Plus: $29 per month
Premium: $69 per month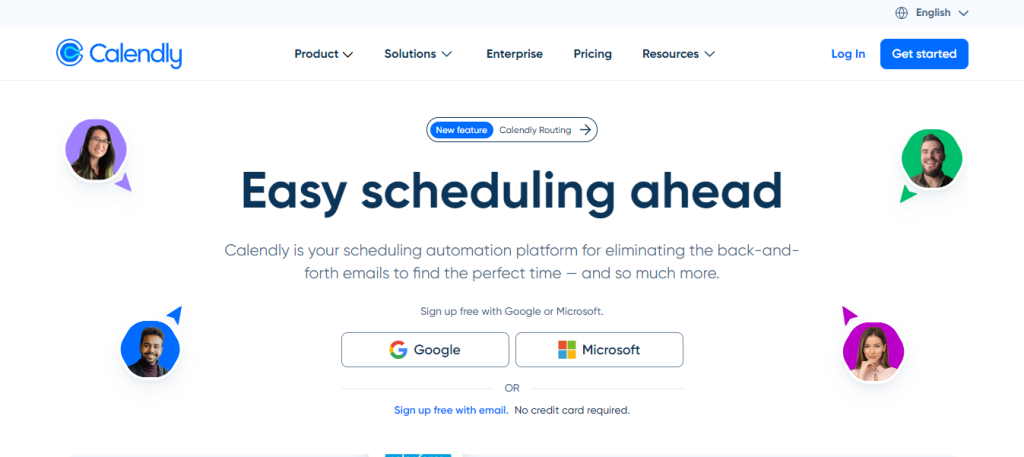 Secondly, we have enlisted Calendly in this rundown on the top alternatives. This online scheduling tool has gained popularity due to its user-friendly interface that allows experienced as well as beginners to operate its different features. Hence, you can schedule your meetings and events. By integrating Dynamic 365, it showcases the following attributes.
Customizable scheduling: You can create scheduling links for different types of appointments according to your preferences and requirements.
Time zone detection: Calendly automatically adjusts the time for different time zones. That's why it is suitable for international businesses.
Integration options: In addition, you can connect it with a variety of calendar platforms such as Outlook and Google Calendar.
Notifications: Lastly, this platform possesses the ability to generate and send reminders to both users and clients.
Pricing
Standard: $10 per month
Team: $16 per month
Enterprising: Custom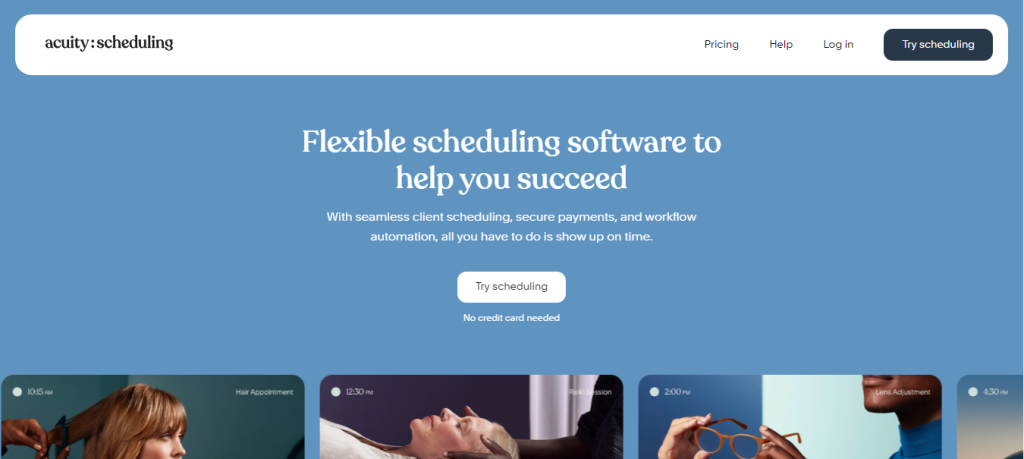 Dynamics 365 users can also own this platform as the top alternative for Microsoft Booking because it can seamlessly integrate different tools to enhance functional capabilities. Also, Acuity Scheduling is one of the greatest tools for businesses that require advanced scheduling and client management. Some other quality characteristics of this platform are:
Customizable intake forms: These forms help you to collect unimportant details regarding the clients during the booking procedure.
Multiple appointment types: Acuity also enables you to create multiple types of appointments and durations that resonate with the preferences of different customers.
Group appointments: Group appointment is getting popular because of their productivity. Thus, clients can book multiple appointments with this platform.
Payment processing: Payment processing is also made a lot easier because of the integration of numerous finance platforms.
Pricing
Emerging: $16 per month
Growing: $27 per month
Powerhouse: $49 per month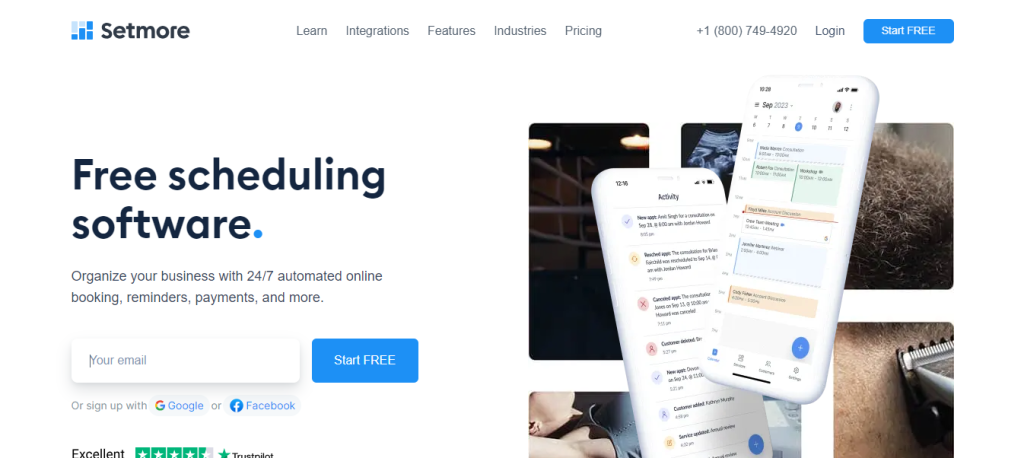 Fourthly, we have Setmore in this rundown, as it is one of the most versatile tools for scheduling the events and appointments of Dynamic 365 users. It is enriched with top-quality features that make it an excellent alternative to Microsoft Bookings. Moreover, you can integrate multiple tools with it. Besides, it exhibits the following characteristics.
Online booking portal: It is one of the most compelling features of the Setmore because it lets you create a branded booking page for clients that acquires their attention and brings sales.
Staff management: Above all, you can manage your staff quite comprehensively by assigning different appointments to different staff members and managing their schedules.
Reminders: Setmore sends numerous reminders in the form of SMS and Emails to awaken the users and let them learn about their upcoming schedule.
Integration: The synchronization with different platforms like Google Calendar, Meet, Spreadsheet, and Docs has improved the functional capability of this brilliant platform to perform numerous functions.
Pricing
A free plan is available to test all the basic features. Nevertheless, if you want to have full access to the premium features, you can acquire the membership according to your preferences. The cost structure is detailed below.
Pro: $5 per month per user
Team: $5 per month per user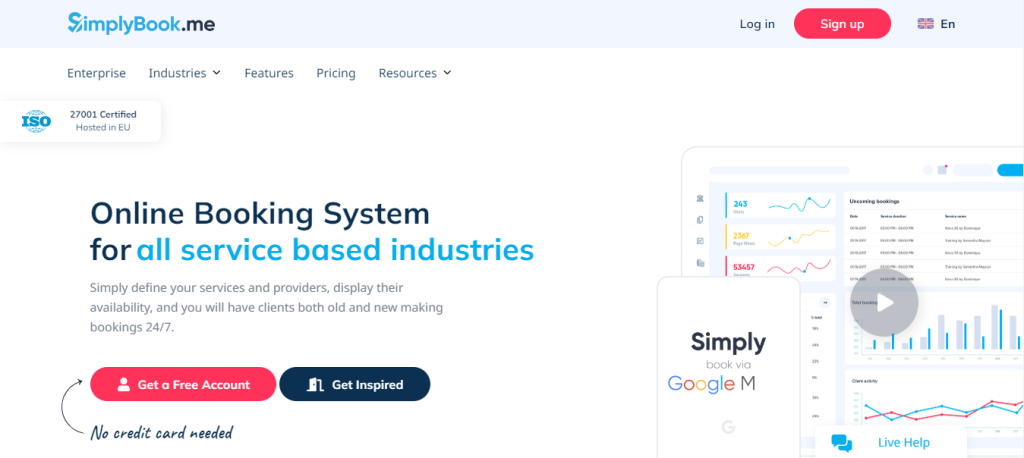 Lastly, we have placed SimplyBook.me among the top alternatives to Microsoft Bookings for Dynamic 365 users. This online tool is highly efficient and suitable for various businesses, from healthcare providers to beauty salons. Above all, it offers a comprehensive pricing structure to allow companies of all levels to leverage the potential of this brilliant website and accomplish its tasks. Some top attributes of this online booking tool are mentioned below.
Multiple booking options: SimplyBook.me has made its worth in this highly competitive landscape by offering clients the comprehensive option to schedule various events. This may include services, classes, and events.
Customizable booking page: It is necessary to match your booking page with the theme and motive of your brand. With this platform, you can have access to different tools to perform this task.
Customer reviews: Lastly, you can allow your clients to leave reviews and ratings after their appointments.
Pricing
Basic: $8.25 per month
Standard: $24.9 per month
Premium: $49.9 per month
Premium Plus: $82.5 per month
Final Verdicts
Microsoft Bookings has revolutionized the world of online booking and scheduling for Dynamic 365 users. However, numerous alternatives to this platform provide more comprehensive features to perform the same operations under a reasonable budget. Also, they provide accessibility to various attributes that can take your experience to another level. The tools listed in this blog are the best ones that can deliver all the desired outcomes without breaking the bank. You only have to understand your requirements and pick the one accordingly.