Software
5 Best Free Image Editing Tools in 2021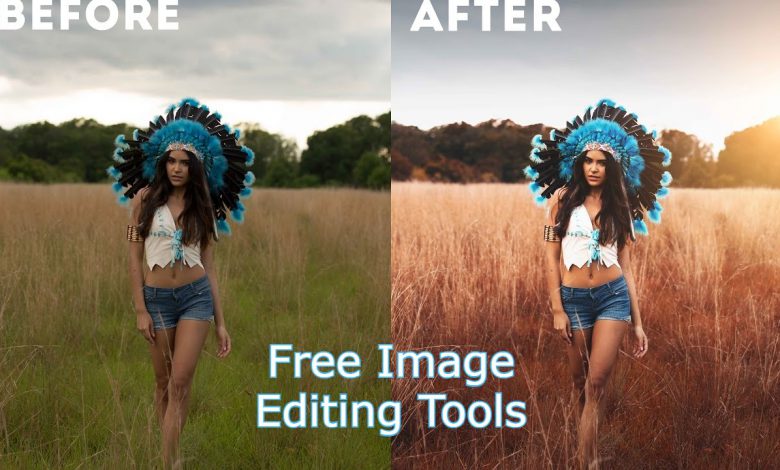 Photo editing is essential for any industry requiring the creation of content. Companies use photos as a marketing tool, and people use them to capture special moments in their lives. As a result, images are now an integral part of businesses, especially in the marketing world.
Free photo editors make it incredibly simple to edit your photographs – from color correction to erasing blemishes and much more. However, for non-photographers and beginners, graphic design software like Photoshop and Lightroom can be pretty intimidating – and that's before considering their cost.
What to Look For in a free photo editor
When you choose a free photo editor, you must analyze your level of experience. However, a simple online tool with standard features is enough if you want to make slight changes to your image.
If you are interested in advanced editing, on the other hand, you want to focus on desktop software, which offers tools like layers and masks, giving you complete control of the process.
In this post, we have compiled a list of some of the best free image editing tools you can consider for your individual needs.
Let's dive right in.
1- Taler
Taler, which was created primarily for social media image editing, is ideal for establishing your brand's presence on social channels. You can browse various professionally designed templates and create content that is already optimized for Instagram and Facebook.
Taler provides customizable fonts and text designs, brand color and logo uploads, and curated templates, so you don't have to start from scratch with your plans. Given that Shopify developed the app, it's unsurprising that it includes designs for online stores and businesses.
Key features:
Customizable social media templates
Outstanding drag-and-drop editor
Text resizing and enhancement tools
Over 17,000 high-resolution images
Emojis, stickers, and shapes are all available for free
A robust collection of overlays and filters
Compatible with iOS and Android
Used For: Creating visually stunning designs for online stores and social media platforms
2- The Canvas Photo Editor
The Canvas Photo Editor is a necessary online photo editing tool for giving your photographs a professional appearance. You'll find every feature essential to edit and create the image you're picturing with your photos.
It features an intuitive interface that enables even the most inexperienced user to work like a pro. Furthermore, due to its user interface, you can open the editor in any browser with one click.
Each editing step is aligned so that you will be guided step by step through the process of utilizing each feature.
Key Features:
Filters for photos – Users can edit their photos using a variety of filters
Resizing images – Users can resize an image to meet their needs, even if the dimensions are changed
Cropping images – Users can crop out portions of an idea that are superfluous
Text addition – Users can add text to an image in a variety of fonts and styles
Stickers – Users can add stickers that have been pre-categorized
Compatible with: iOS and Android
Best for: adding filters and adding text to images
3- Instasize
Instasize is a free online photo editor application that allows you to work with images before sharing them on social media. While the name implies that it's for Instagram, you can use it to share your edited photo on any social media platform.
Various filters are available to improve your images instantly, and you can use layers to add backgrounds to your photographs. Additionally, you can use your smartphone to add text, vintage overlays, and even edit short videos.
If you do not have the image you require, a library of stock images is also available. The premium version includes over 100 filters that are not available in the free version and advanced beauty tools for blemishes, redness, and teeth whitening.
Key Features:
There are over 130 filters organized by color, in this postWe and most precise type
Incorporate vintage overlays
Create a text layer for your photo or video
Automatically resizes narrow images
Numerous backgrounds.
Presets for resizing your image for various social media platforms in a single click
Compatible with: iOS and Android
Best for: Making text layer and versatile background.
4- Fotor
Fotor is a free web-based photo editor that enables users to create designs, collages, and edit photographs without downloading complicated software. The interface is intuitive and straightforward, with tools for managing Instagram campaigns and product images.
Fotor makes it simple to apply photo editing techniques such as filters to your content and remove unwanted distortion. For example, you can eliminate red eyes, create custom borders, and even add text to any photograph. Additionally, there is access to various custom photo effects that are not available in other tools.
Key Features:
Batch processing, resizing, and formatting in a single click
There are over 100 photo effects, 300 custom stickers, and over 30 frames.
Contrast, saturation, and white balance adjustments, among others
Versatile text editor
Collage software for creating unique designs
Compatible with: Web, Mac, Windows, iOS, and Android
Best for: Making quick and creative adjustments to photographs.
5- BeFunky
BeFunky is a free online photo editor that is both user-friendly and intuitive. With a few clicks, it can apply a variety of different effects to an image. One of the most notable features is the 'Cartoonizer,' which instantly converts any photo to a cartoon.
Additionally, there are business-oriented tools. For example, if you need to create brochures or flyers quickly, BeFunky is ideal for creatives.
BeFunky is entirely free to use, but you must pay $4.99 per month to access more advanced tools.
Key Features:
Crope, resize, and remove background
Tools for repairing image flaws
Any photo can be transformed into a cartoon
Backgrounds can be textured or made transparent
There are hundreds of photo effects and filters available
Tool for batch image editing
Compatible with: Web, Mac, Windows, iOS, and Android
Best for: Making collage and graphic designing for the web.
Final Words
Even the clearest images can be converted to works of art using software for photo editing. You may wish to alter or enhance numerous aspects of photographs, including saturation, hue, background, and text.
The best free photo editing software applications are created to simplify your life. With a few simple clicks, you can convert your photos into artwork or brandable assets for use across multiple marketing channels.