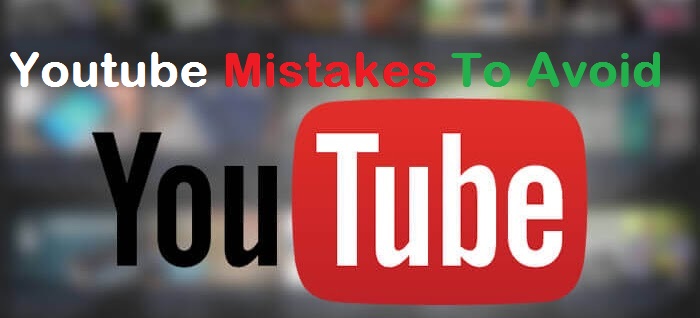 Just like any other online business or earning method, starting a channel on youtube also come with some mistakes that new YouTubers need to avoid in order to get success.
Recognizing the basic youtube mistakes is the very first step in this process so you will be able to avoid them when starting your own channel with an ambition to earn more through the internet.
Below we have listed the major mistakes that new YouTubers need to avoid in order to make their videos stand out from the competitors' work.
Lack of proper plan
It is one of the most important Youtube mistakes to avoid when starting a channel that you start without having a plan.
First of all, you should choose a niche that you can cover easily, do proper keyword research and title selection to get things in your favor.
Also, try to make a goals timeline for your channel and you will be able to track your performance.
Use of copied content
At the start, most of the YouTubers use content from other channels to fill the lists with a big number of videos.
But, it is the most horrible mistake because sooner or later your channel will be banned after getting some copyright strikes.
You should add unique and engaging videos on your channel to grow your channel efficiently without facing any issues.
Uniqueness will help you to cultivate viewership organically without spending lots of bucks on promotion and advertisement.
No use of proper titles, descriptions and SEO tags
SEO is something vital that can help your video to secure a visible position in trending videos list.
Stealing metadata, the keywords, description, and tags from other channels is one of the biggest youtube mistakes to avoid when starting a channel to earn more.
Take your time to be original in your work as well as in how you present your own videos to grab the attention of viewers.
Buying fake views
Slow and steady you will get a lot from your video making efforts. Most of the youtubers buy fake views in order to see ads quickly on the channel, which is the most common mistakes that new YouTubers need to avoid.
According to experts, getting fake views on your videos only blow ups your perceived popularity for a short time, but its results could be worst in future.
Just add quality content on your channel, do proper SEO and stay calm to get views and subscribers as well.
Inconsistency
One most important thing you have good care for is consistency in order to get success while running and managing a youtube channel.
Inconsistency in uploading the content on your channel is the common mistakes that new YouTubers need to avoid because it discourages your viewers often and chances are your will feel an unexpected reduction in subscription list.
If you really want to grow your youtube channel, avoid being inconsistent with your content and build a proper publishing schedule for this purpose.
Lack of social media presence
Social media is one of the great sources to let people know that who you are and what you are doing.
It is very hard to promote a channel alone in youtube, that's why you have to build social media presence for your channel to get massive views from different social media platforms as well.
You must set up a strong presence on social media platforms by creating pages and groups for your channel where you can post updated regarding your channel and videos.