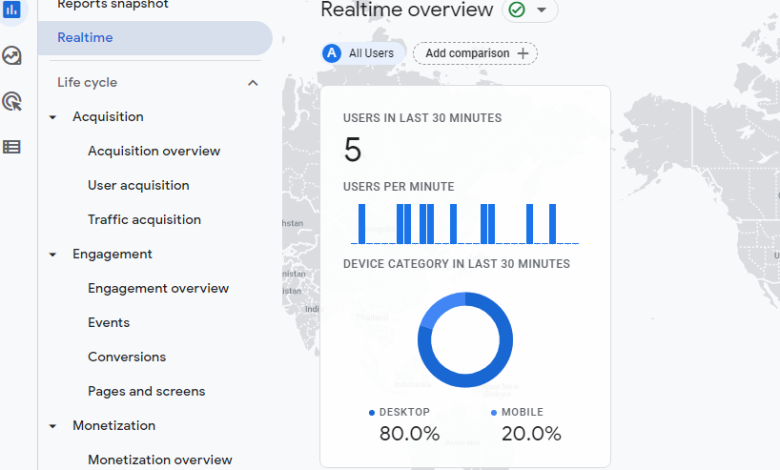 If you are the owner of a business website, you shouldn't forget the web metrics to monitor from Google Analytics. For a business website, it is incredibly important to analyze the metrics of the website and adopt strategies to grow your website to generate higher revenue. Mainly people check the total visits and growth rate of the website, they don't pay attention to other key analytics which is causing the people to get into or exit your website.
Web metrics are the numerical summary of your website performance. All the data which is measured from your website in numerical form is included web metrics. Web metrics can be measured on a daily, weekly, monthly, or yearly basis with analytical tools. For a word press user, it is a relatively straightforward process to gather consider the analytical data of a business website with the aid of different tools. If you are new to web analytics, it may seem to you difficult but the important thing is to track from the basic metrics which gains a sea of numbers, charts, and menu items. Here I will illustrate some important web metrics to monitor the performance of your website.
Number of Visitors
The traffic reaching your website are the visitors coming on your website. These metrics help you in checking the total numbers of visitors who visit your website on daily basis. It is necessary to know about the difference between visitors and visits. If a person opens your website and explores different pages, it will be a visitor either he visits your website one time or two times. These are also called return visitors who visit your site again and again. In case, your website is getting fewer visitors, you need to adopt a strategy to attract visitors. You should create content that can be ranked on Google search. If someone is searching for a product or service could easily find your website on his specific search. You should make your content relevant to your website.

Bounce Rate
When someone lands into your website from a search engine and after a single look they instantly move back and close the website by realizing it is irrelevant to their searches. It is something like buying pineapples he enters a medical store, and after having a critical look he immediately realized that fruits can be bought only from the fruit shop. The ratio of total numbers of bounced visitors on your website is called bounced ratio. This is one of the most important web metrics to monitor the relevancy of the content on your website.
Traffic Source
After understanding about the visitors metric, the second point that comes to mind is that from which source thy come to your website". The traffic may come from other social platforms where you have shared your website link. Traffic sources may be a referral, search, or social traffic. You can also analyze this traffic source metric to check the success and traffic rate of your social campaign. Referral traffic can also come by your website link mentioned on other websites of your niche.

Average Time on Page
This metric usually calculates the average time a visitor, spends on individual pages of the website. The average page will let you know which product is becoming interested among the customers and which product content needs improvement. Keep in mind that it doesn't measure the bounce time. On your eCommerce website, you can analyze through this metric that how people browse certain product pages.
Session Duration
Session metric calculates the total time of a visitor on your website. The metrics give the whole time volume of his stay on your website and exploring different pages of products. This is a gauge to inform you how people are staying on your website. Session duration metrics only calculate the interaction timing of a user. When a visitor just stays on any page and didn't perform any action, it will not be calculated by Google Analytics. The average session duration for business firms is at least two minutes. If your business website is getting less session time, then ensure the quality of informative content and address the common issues, they can face, and tell them how to combat those issues.
Device Source
This device is used to know about the devices where mainly your website is usually opened, like iOS, Android, Tablets, and Laptops. You can use this metric to engage your website better on certain devices. You can use it to optimize the engagement of your website content. You can also know about the browser which is used most by the people to open your business site. This experience of device and browsing will help you to make your website content according to those devices and browsers. Device sources also have great importance when you're creating an ad campaign.

Exit Pages
The pages where your website visitors usually used to exit from the website. These pages may contain some irrelevant or error information, which doesn't fulfill the visitor requirement. . You can determine the weak pages of your website and could make efforts in making these pages attractive and informative which are causing the users to leave. You should try to optimize these pages to prevent the leaving of visitors in the middle of their search.
Final Words
Analyzing the web metrics to monitor the whole ups and downs of the site is important in optimizing your customer's experience, increasing conversations, and prompting good customer relationships. You should use these website metrics for healthy revenue through your business website. You can also go deeper into other metrics of Google analytics. But these are the basic and most effective metrics to understand.