Software
Twitch Turbo- Ads Free Videos Streaming
What is Twitch Turbo?
Twitch is a US-based live streaming site that's live streaming of video games, sports matches, and videos of creative content and real-time streams. You can start streaming on Twitch while using the right tool and software for streaming. The biggest drawback of twitch streaming is ads. This is the most disgusting experience for watching videos on it. But everybody wills to enjoy this sort of stream or recorded video. Hence, Twitch Turbo is the best option to stop these useless interruptions in your videos. Turbo is a paid subscription plan for the user to stop the ads.
Benefits of Twitch Turbo
Twitch Turbo is a way where millions of people came across each other to work together to chat with each other to share experiences and creative ideas. Turbo has many benefits and good opportunities for the user to explore in videos. You can also change your visual settings lie the prime gaming user does.
Ad-Free Viewing
Watching with a Turbo subscription means no interruptions, no mid-rolls no and no display ads of promotion. To generate more revenue, Twitch has allowed streamers to advertise clips using Turbo these ads will no longer be played. Viewers will enjoy long-term access to ads-free videos according to their subscription.
Extended Broadcast Storage
After getting a subscription to Turbo users will be able to save their videos for 60 days instead of 14 days, for streamers, it is quite a unique way to gain more viewers, subscribers and to catch up on their stream. and for viewers, it will be an advantage to use those techniques.
Exclusive Chat Badge
Twitch Turbo provides customized chat features through which users can change username colors in order to differentiate their favorite streamers. While chatting if you see the purple battery with a bolt icon. You'll know that the user is using turbo to watch the videos. The main purpose of the icon is to distinguish between paid and unpaid members. Twitch Prime users have also access to these features.
Expanded Emote Set
There are three basic categories of emotes in both Turbo and Twitch Prime. For example, you can pick monkey emotes or chat and glitch emotes. These emote looks are similar to smiley robots. These emote don't have any effect over channel-specific emotes.
Visual Settings
You can change the visual settings in the same way as prime gaming users. You'll be able to choose the chat color that you wish to apply. You can also change the display name and its colors. There will be many standard colors options, but you can also choose HEX color code shiner.
Customer Support
Twitch provides you fattest customer support after buying the Turbo subscription. The support team answers your all quires as soon as possible. If you are stuck somewhere in the twitch then you should contact the support team. The support team answers your all quires as soon as possible.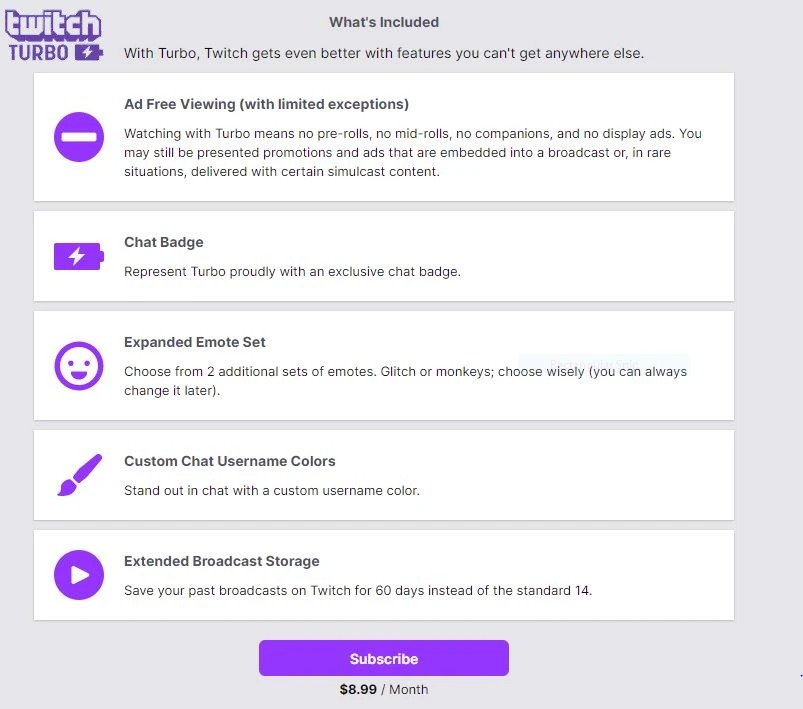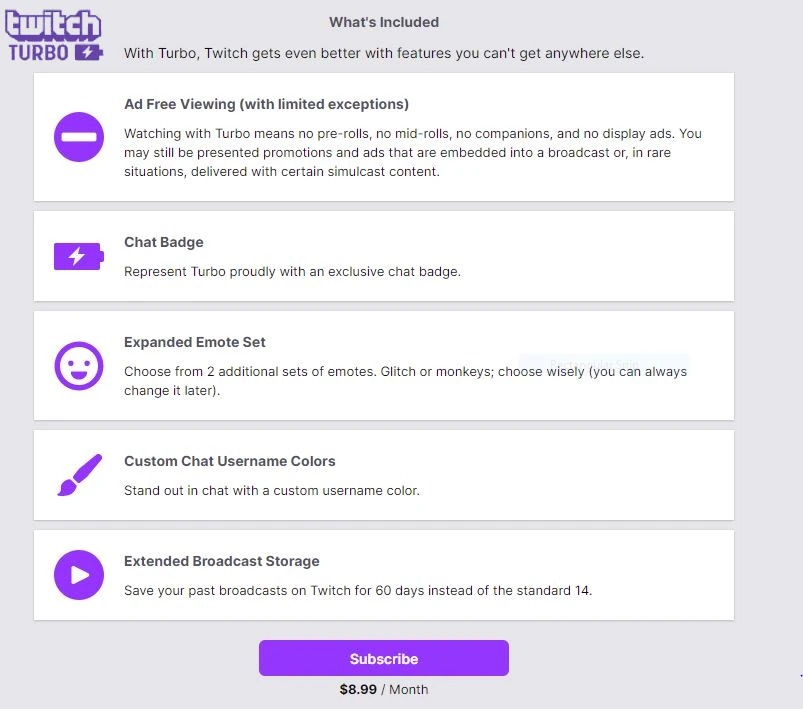 Twitch Turbo VS Prime Gaming
There are many common features between Turbo and Prime Gaming, Twitch Prime is the previous name of Prime Gaming.
Twitch turbo and prime both subscriptions have similar options of visual settings with customized colors of chats and emote.
Prime gaming can be accessed only by getting Amazon Prime Subscriptions. On Turbo subscriptions, Users can watch game streams without any ads. Prime Gaming grant the users an opportunity to subscribe to their favorite channel in a month for free.
The most profitable thing about Prime, is its integration with Amazon Prime, as a result, users get its subscriptions additionally with Turbo
You can subscribe to both at a time without any problem. If you have already a subscription to Twitch Prime, Turbo will not be effective for you. Because all the primary functions of the Turbo are covered by Prime.
Twitch Subscriptions
Similarly, like other social media networks, you can also subscribe to a channel or streamer on Twitch Turbo to see its future videos and activities. When you subscribe to a streamer on turbo it is some kind of financial support to him on your behalf. Mainly Twitch has only monthly subscriptions packages but also gives an automatic renew of subscription for one year. But you can cancel the subscription package at any time you want, Do stop this by simply clicking on 'Don't Renew' on the subscription page.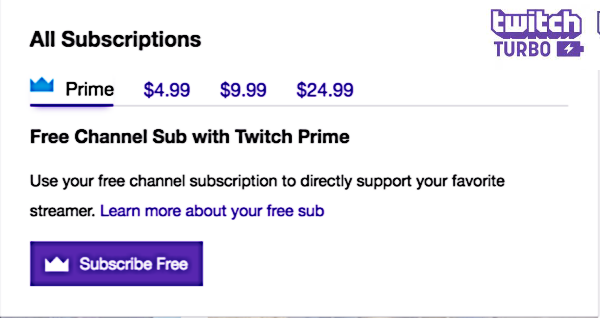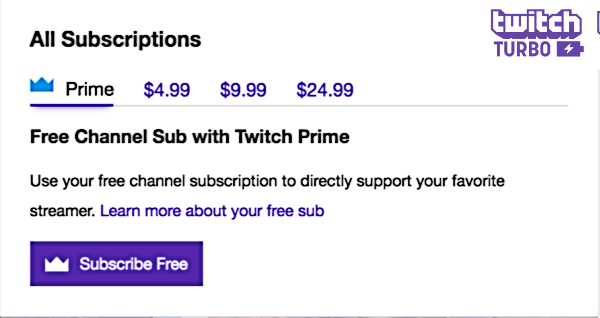 To subscribe to a twitch channel, Open the stream and click the subscribe option at the upper right corner of the video. If the subscribe button doesn't appear it means that your channel is not eligible for a subscription. After proceeding to subscribe option select the tier option according to your need and requirements. You can also turbo gift your membership to the other free viewers. After Subscribing you'll be able to manage your subscription directly by clicking your display picture and then Subscriptions.
Subscription is a paid membership of a specific channel. Turbo has a wide range of payment options for its user, you can pay or receive the amount through credit or debit card, PayPal, Paysafecard, Amazon Pay, etc.
You should not turn on any adblocker if you are already subscribed to Turbo, as a result, the streamer will not generate any revenue from your side. So, if you want to support your streamer then you should use only Twitch Turbo.
What is the worth of Twitch Turbo?
The minimum price for a tier subscription costs US $4.99/month. . This subscription will be for some specific channel that you choose to see and is accessible only on one device. To subscribe to a second channel there will be a separate price. The subscription with an extra one sub emote with all other features rates at the US $9.99/month and with two extra subs emote rates at US $24.99/month.
Conclusion
Twitch Turbo is one of the best ways to watch videos without any ads. Turbo is the best strategy of the company to balance their revenue, and for the user, it's the most convenient method to support their streamer. The article is comprised of all the basic guidelines which a Twitch user wants to know. The users will be able to choose a suitable package after reading the benefits and features.