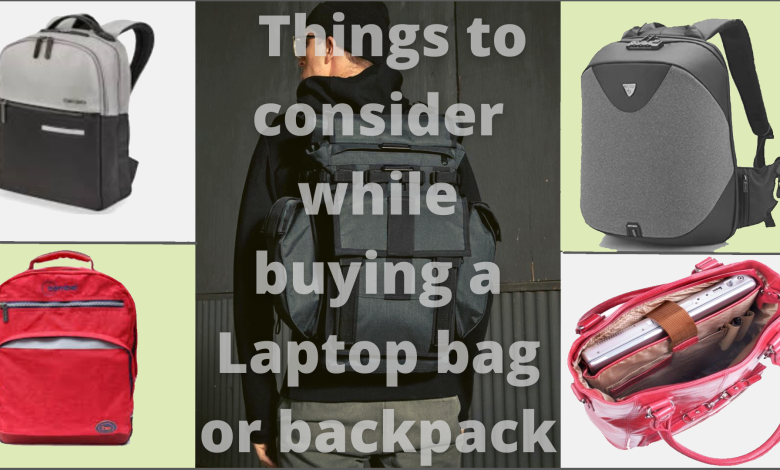 After surviving the Covid-19 pandemic and spending a lot of time at home, you might have forgotten about the luggage items and necessities. For instance, if you are going on a business tour, and you have taken a suitcase. Then you also take the cell phone and your laptop. But one most important thing is a laptop bag or backpack to protect your laptop from shocks and pressure. But as we know that offices are reopening after a great pandemic and lockdown period. Many people face the prospect of working while lugging a laptop and other necessary equipment. They face hindrance and difficulty in displacing the equipment without any damage to them. So a perfect laptop bag or backpack can carry all your accessories and solve your traveling problems. The laptop bags are different from padded briefcases. Many of them include standardized backpacks.
For instance, a good laptop bag or backpack needs enough room to store your laptop, shock-absorbing structure, trendy and stylish in its looks.
How laptop bag makes your traveling easier?
If your professional career takes you to different corners of the globe, then smart luggage carrying your smart accessories is crucial for you. For instance, a laptop bag or backpack alongside a laptop should also contain headphones, charger, USB flash drive, mouse, laptop stand, etc.
Especially when you head directly from the airport to the office or a meeting, making a stay at the hotel specifically for change into appropriate office attire is not a good option. Notwithstanding that looks matter a lot in business, everything in your attire plays a part in your professional look. So, next to your cell phone in your traveling kit, comes the laptop bag and the way you carry it. A bag that shields its contents can keep your tech equipment from becoming useless.
Factors to be considered while making choice: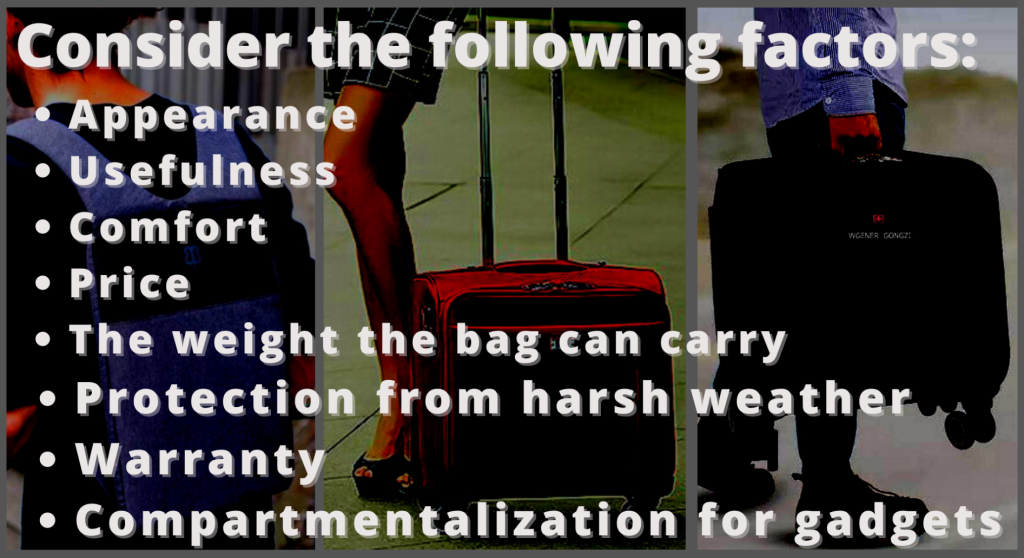 Here we have compiled a list of factors you can consider while buying a laptop bag:
Outlook and appearance
In accordance with your personality and style
The manufacturing material should be good
Easy and comfortable
Protects from harsh weather
Appropriate room for a laptop and other gadgets
Separate sections for different equipment
The weight your bag can carry
Reasonable price
Warranty
How do laptops provide protection?
Most travelers use soft made of quality fabrics to carry their equipment and gadgets from one place to another. Most laptop bag manufacturers use 3 techniques separately or in combination to enhance the shock-absorbing capacity.
THE ELASTIC SLING performs the function of a Shock absorber in a vertical position.
PADDING: considered as the simplest technique for cushioning the stuff. It performs functions by compression. It impacts to absorb some part of the shock.
AIR BLADDER: is also a nicer technique for absorbing maximum part of jolt or force of impact.
Types of laptop bags or backpacks
Here we are enlisting some types of laptop bags and backpacks that you can consider and choose the one that suits you most: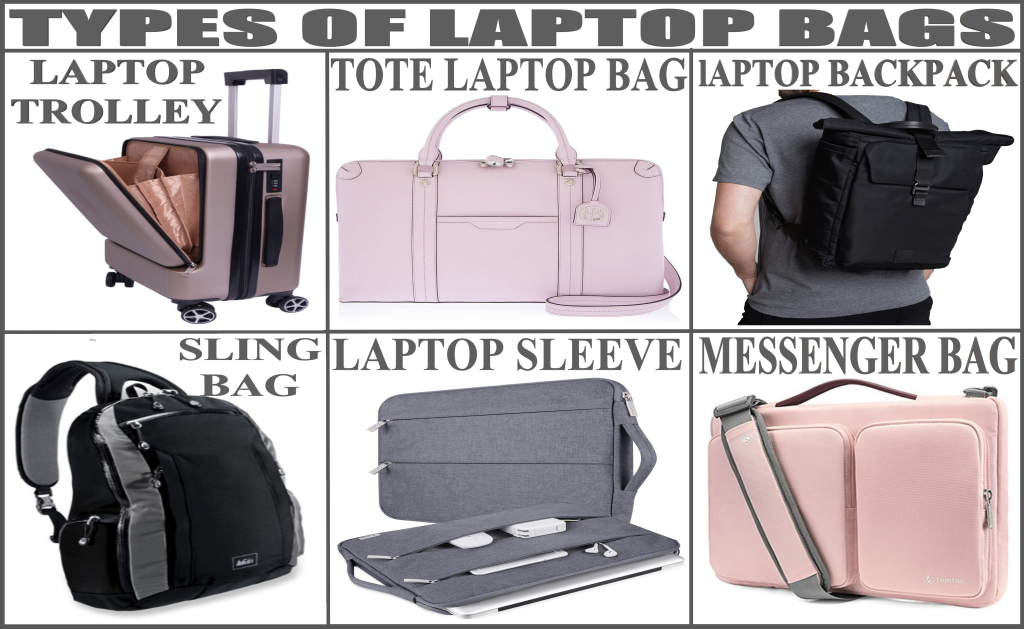 Laptop Backpack
Backpacks are also very important in a person's daily life. The reason is that it can carry a lot of additional stuff alongside your laptop. For instance a tablet, phone, water bottle, charger, flash drive, documents, book, etc. You can carry it to your office, canteen, cafeteria, or a park.
Advantages:
Protects from damage and dirt
Compartmentalization for additional computer accessories
It contains two shoulder straps and distributes the weight evenly to both shoulders.
Ideal to carry during a long walk, cycling or using public transport.
Sling Bags
The sling laptop bags provide better protection to your gadgets because they are padded. If you are a freelancer, or you work mostly in mutual and co-working spaces, we will recommend this bag for you.
Advantages:
Provides safety to your laptops and related stuff.
Keeps your hands free.
Allows you to keep a check directly on your laptop.
Provides customized adjustment of the sling so your laptop can fall only in one direction.
Laptop messenger bag
If you want decency and style in one bag, then the messenger bag is made for you. Its elegant and amazing functional aesthetics make it unique. It has a composed and firm structure. For instance, it includes 2 handlebars and a zipped compartment of rectangular shape for your laptop. For business travel, if you don't want to consider a backpack, then it is the second-best option for you. Some brands also make Velcro slots or zippered slots in the bag to keep other accessories.
Advantages:
3 in one combo: Decent, elegant, and stylish design
Classy aesthetics
Cushions your stuff effectively
Perfect to carry for formal wear.
Laptop Sleeves
You may know it from the name of the Portfolio bag. If you want to keep your at home when not using it, then this compact bag is designed for you. Its unusual compact design of laptop sleeve that can be placed in laptop backpack for extraordinary protection. But keep in mind the size of your laptop while purchasing this. The size of the laptop must be in accordance with your laptop's dimensions because a loose-fitting sleeve can be unsafe and cause damage.
Advantages:
Light in weight compared to other bag types
Available at low price I.e. affordable
Have a large variety of designs
Available with detachable shoulder strap
Ideal for you if you want laptop protection without a big backpack
Tote laptop bag
If you want a laptop bag specifically for women, then the Tote laptop bag is a good one. It is designed just like a huge tote bag. It mostly contains two compartments: the larger one to keep the laptop and the smaller one for other accessories.
Advantages:
You can take it with different ensembles.
Provides a classy combination with any formal outfit.
Perfect for both small and large laptops.
Laptop trolley
It is a perfect efficient combination of a travel trolley and a laptop bag. If you have to walk for a long time and you are tired of carrying weight, then this trolley is designed for you. You can not only place your laptop safely but also other documents just like carry-on luggage. You can also take it as carry-on luggage on your plane and work in the air whenever you want.
Advantage:
Have plenty of space
Keeps your laptop safe
You don't need to lift weight