Apps
The Best Free Apps for Working With Layers
Working with layers is an essential skill in digital design and image editing. Layers allow designers and editors to organize and manipulate various elements of an image independently, providing flexibility and control over the editing process. While several premium applications are available for working with layers, this article will focus on the best free apps that can help you achieve professional results without breaking the bank.
Here is a list of the best free photo masking software where we will tell you about their advantages and disadvantages.
Apps for Working With Layers
1- Luminar Neo
One of the best representatives of applications for masking a photo. It can not be called completely free, but the developers offer a trial period, during which you will be able to assess all the features. This app is perfect for novice users who are still poorly versed in the intricacies of photo editors. It is based on AI technology and will do the lion's share of the work for you. You can expand the capabilities of this application with various useful plug-ins by following this link: https://skylum.com/ai-photo-masking.
2- Krita
Krita is such an advanced and functional drawing and masking images application that you can't believe it's not a commercial product, but an open-source one. This editor has support for layers, a huge number of brushes and tools, and a bunch of different filters and effects.
The app can be used to create digital paintings, sketches, paintings, comics, and even drawn frame-by-frame animation. The interface is easy to customize. Also, Krita works great with graphics tablets, not just on the PC.
3- GIMP
One of the best alternatives, if you want almost as powerful and functional a product as Adobe Photoshop, is GIMP. It is free, and also open source, allowing a huge number of volunteers to work on improving it. Thanks to that, many plugins and scripts are written for GIMP, and it can also work with plugins for Adobe Photoshop. Another good thing about this app is that it has been around since the mid-90s, and over the years there have been a lot of free courses and tutorials on the web.
4- Gravit Designer
Gravit Designer is a pretty powerful and advanced, but free vector graphics editor. With its help, you can easily create icons, logos, banners, and other images. The application has many tools; curves, layers, shapes, selection and transformation of objects text and fonts.
In addition, Gravit Designer has a built-in library of vector objects created by users. You can freely use them in your own works. Another cool feature of the application: you can run it without installing it, directly in your browser using the native Gravit web service.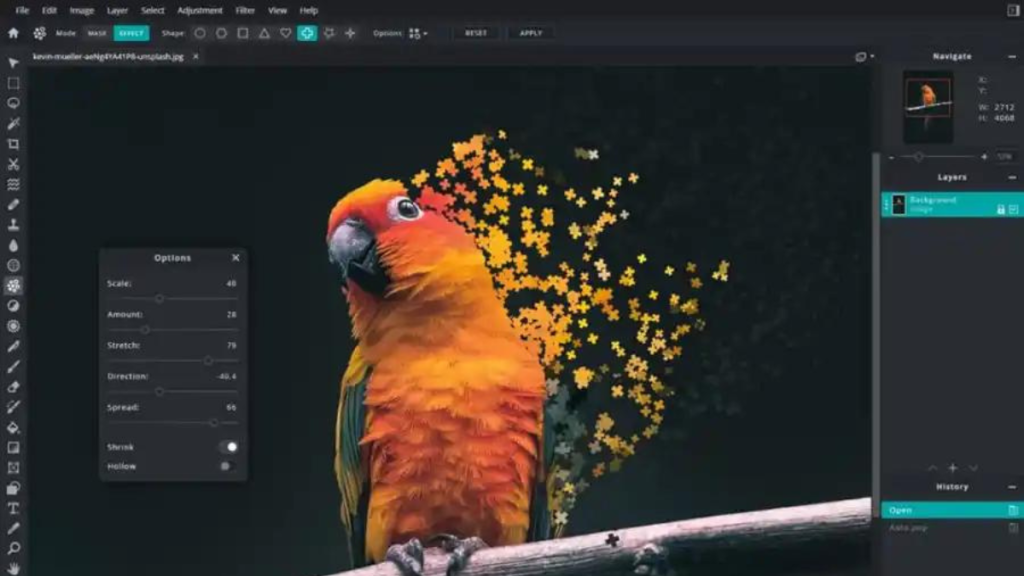 5- MyPaint
A fast, open-source raster editor. The work is built so that you focus on the process of drawing, not wandering through menu items. MyPaint supports graphics tablets and offers a built-in collection of brushes and the ability to create your own.
Other features of the program include an endless canvas, duplication of basic functions with hotkeys, and clear color selection directly under the cursor.
6- Pixlr Editor
Sometimes you have to edit photos on a computer where you don't have the rights to install the software. That's when Pixlr Editor comes to the rescue. It's a web application that works directly in your browser. In addition, it boasts an affinity with the renowned company AutoDesk, which also develops world-renowned 3D design software.
Pixlr Editor supports much of what other free photo editors have. The only thing it lacks is the automation of routine tasks. Nevertheless, it can perform operations on several images simultaneously.
7- Paint.NET
Paint.NET was born as a teaching project by undergraduates at Washington State University and was originally distributed as open-source. The application was created as an alternative to Microsoft Paint, but over time it has evolved into a powerful yet simple editor that solves most amateur and semi-professional tasks.
From the box, Paint.NET supports working with layers, but you need to connect a separate plugin for masks. The application has a large selection of filters and all kinds of tools, but, it must be noted, not as wide as in GIMP. Paint.NET has a simple and intuitive interface and the editor runs fast even on fairly weak computers. Of course, this is not a full-fledged analog of Photoshop, but rather good old Paint on steroids, but for amateur drawing, it is enough.
It is because of its simplicity Paint.NET is well-suited for novice artists. Plus, it is able to work quickly even on low-powered devices. Paint.NET supports working with layers and has a lot of effects. There are tools for blurring, stylizing, sharpening, and noise reduction, and if you want you can enhance its capabilities with plugins.
8- Photopea
Photopea is a powerful web-based image editor that closely resembles Adobe Photoshop in terms of functionality and user interface. It supports working with layers, including adjustment layers, layer masks, and blending modes. Photopea can open and save various file formats, making it a versatile choice for those who prefer online editing or don't want to install heavyweight software on their computers. Its similarity to Photoshop also makes it a suitable alternative for users transitioning from Adobe's software.
9- PhotoScape X
PhotoScape X is a comprehensive photo editing software that includes a variety of tools for working with layers. While the free version of PhotoScape X offers limited layer management features, it still allows users to combine multiple images, adjust layer opacity, and apply blending effects. PhotoScape X's user-friendly interface and additional editing capabilities, such as filters, effects, and collage creation, make it a versatile choice for both beginners and experienced users.
Conclusion
The world of digital design and image editing is made much more accessible and affordable with the availability of free apps that excel in working with layers. Whether you're a professional designer or an enthusiastic beginner, the apps mentioned in this article – GIMP, Krita, Paint.NET, Photopea, Pixlr, and PhotoScape X – offer a wide range of layer management tools and features that rival their premium counterparts. These apps provide the flexibility, control, and creative possibilities needed to achieve professional results without breaking the bank.