Scribd downloader is a specialized way that allows users to easily download documents from Scribd for offline viewing or printing. Scribd is a documents library that has become increasingly popular in recent years. While it is a great resource for finding and sharing documents, there are times when you may want to download a document from Scribd for offline viewing or printing. This can be done using a specialized Scribd tools for downloading. In this article, we will show you how to use a Scribd downloader to save copies of documents from Scribd for offline viewing. We will also provide some tips on how to get the most out of your downloaded documents. Read on to learn more!
What is Scribd?
Scribd is a digital library platform that allows users to publish, share, and read various types of documents, including books, academic papers, magazines, and audiobooks. The platform hosts millions of documents, making it a popular source of information for students, researchers, and readers. Although this paid service offers free access to certain archives, you won't be able to download them unless you upgrade to a premium membership.
However, not all documents on Scribd are free, and users may have to pay for a subscription to access them. Some users may want to download the documents for offline use or to share them with others. This is where Scribd downloader tools come in handy.
What is Scribd Downloader?
Scribd downloaders are tools are software programs or web services that allow users to download Scribd documents without paying for a subscription. These tools work by exploiting a vulnerability in the Scribd website's security, which allows them to retrieve the document's URL and download it as a PDF or other formats. It is worth noting that using Scribd downloader tools may be against the platform's terms of service and could lead to account suspension or legal action.
Best Scribd Downloaders to Download Documents:
Over the internet, there are many resources available that ensure to download of the documents from Scribd. Here are some of the best Scribd downloaders you can use to save documents from Scribd for offline viewing.

Scribd Downloader is an incredibly useful tool for those of us who need to access information quickly and conveniently. It makes saved content easy to share and consume, with just a click of a button. It allows you to download Scribd documents, articles, and books without ever having to leave your home or office. With this amazing tool, you can be sure you're equipped with the knowledge and resources you need no matter where life takes you. From legal documents for work projects to reading material for your daily train ride – this Scribd Downloader has got you covered.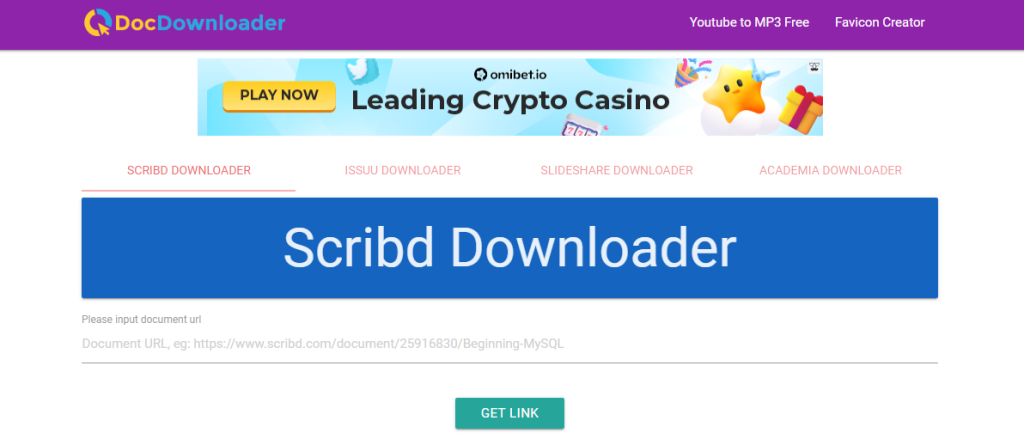 DocDownloader is a powerful Scribd downloader tool that allows you to download documents from Scribd for free with its easy and fast functionality. Users can download the documents in different formats, including PDF, TXT, DOCX, and HTML. This platform is not only limited to downloading Scribd documents, it's also optimized for retrieving materials from academia, Slideshare, and issuu. Docdownloader gives you the amazing ability to quickly and easily access Scribd Documents by providing a Python Module. Writing code with DocDownloader's Python module is an effortless way to download documents from Scribd.

PDF Drive Downloader is another great Scribd downloader tool that allows users to save documents from Scribd for free in different formats. It has a simple interface and offers unlimited downloads. It also provides a preview feature to view the documents before downloading. The tool is completely free and does not require registration or account creation. It gives you a fast, secure, and reliable way to download documents from Scribd.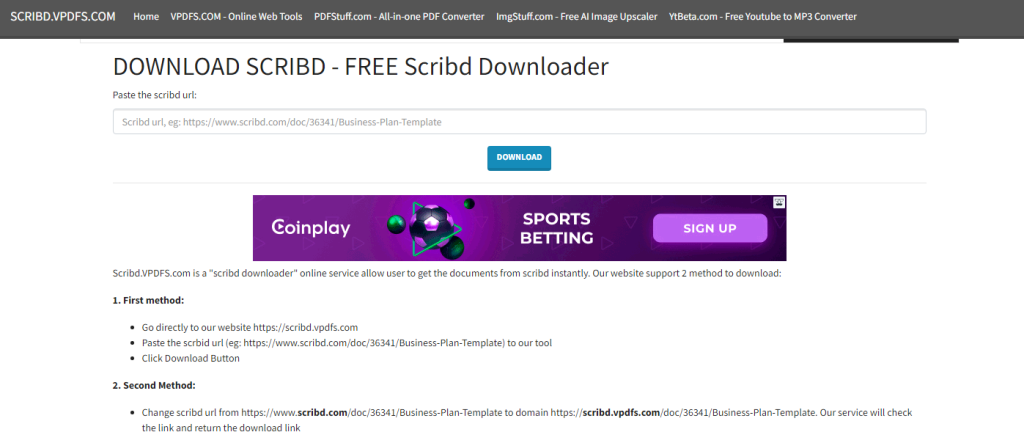 Downscribd is a free Scribd downloader that allows you to download documents from Scribd for free. It supports downloading in different formats. The interface is user-friendly and you don't need to register or create an account to use it. All you need to do is simply enter the document URL and click on "Download". It supports downloading documents in various formats. Scribd Documents can be easily and rapidly downloaded with the two methods available. With these options, you are sure to have your document in no time.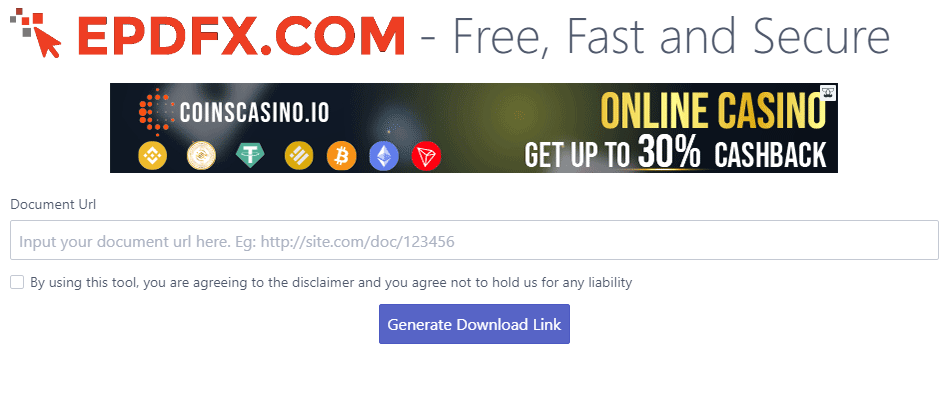 EPDFX is a powerful and convenient tool for quickly and easily downloading documents from the popular document-sharing site Scribd. It enables users to save documents they find useful or interesting, including books, study materials, magazine articles, and more. EPDFX also allows documents to be organized in folders for better management of saved content. With its simple user interface and easy-to-use controls, EPDFX makes it effortless for anyone to save the documents they need without the hassle. It's the perfect solution for anyone who needs quick access to files hosted on Scribd without the difficulty of navigating the website's cumbersome layout.
How to Download Documents from Scribd Downloader:
As in the above section, I had elaborated on many Scribd Downloaders, following steps will be common for any Scribd Downloader:
Visit the website of any Scribd Downloader and paste the URL of your document.
Select the format in which you want to download the document.
Click "Download" and wait for your document to be downloaded in the selected format.
Now the downloading process will start automatically.
You can easily download documents from the popular website with ease. Whether you need a legal document or just some reading material while commuting, these powerful tools are sure to have you covered.
How to Download Scribd Documents from Firefox Browser:
If you are using Firefox as your default browser, then you can also download Scribd documents from the same. Here is how to do it:
Open Firefox and visit Scribd and navigate to the document which you want to download.
Right-click on the page and select "View Page Source".
Now you will see the HTML code of the page, in which you need to find a link beginning with "https://d1.scribdassets" and ending with "pdf?download=1″.
Copy this link and paste it into another browser tab or window.
The document should start downloading automatically.
Use Adds-Ones for downloading from Firefox:
This procedure is a bit tedious and time-consuming, so it is advisable to use add-ons for downloading documents from Scribd. Firefox has many add-ons available that can help you to quickly and easily download documents from Scribd. These add-ons are very easy to install and use, making the entire process effortless.
If you'd like to use the Grease Monkey Add-on in Firefox, all it takes is a simple click on the link provided here.
Download and install this helpful tool
To gain access to Scribd, download its user script onto Grease Monkey by clicking the link here. The process is quick and easy- you'll be able to begin exploring in no time.
Now, open Scribd and easily look for the document you want to purchase. It's that simple.
Taking these simple steps, you can effortlessly download any document from Scribd in a few minutes using Firefox. This is an ideal way to access your desired documents without having to register or an open account on the Scribd platform – it's that easy, and you can start enjoying the documents right away.
Conclusion
Downloading documents from Scribd is now a simple task, thanks to the availability of third-party downloaders, browser add-ons, and user scripts. Anyone can easily access their desired documents without having to register or open an account on the Scribd platform. Using the Scribd Downloader is a great way to have your documents downloaded in just minutes.