Samsung Galaxy S23 is one of the most awaited smartphones until the beginning of the new year. Android and especially Samsung enthusiasts are looking deeply into the release date of this smartphone. This phone will be the latest addition to Samsung's much-loved flagship smartphone series. It is expected to come with It is expected to bring a lot of new features and improvements over its predecessor. The Galaxy S23 is raising expectations of what will be a monumental year for the brand. Its arrival won't take long, so get ready to experience this groundbreaking device. In this detailed post, we'll cover the release date, specs, features, and price of this coming smartphone.
What is Samsung Galaxy S23?
The highly-anticipated Samsung Galaxy S23 is the newest addition to their flagship series, set to surpass its predecessor and make waves in the tech world. Building on what made the Samsung Galaxy S22 so successful, this revolutionary device promises an incredible user experience with its impressive design and advanced features. It is expected to come with a stunning new design, improved camera capabilities, a more powerful processor and stronger battery life. The device will also feature an array of cutting-edge technologies such as 5G, facial recognition security, and advanced AI capabilities.
Samsung Galaxy S23 Release Date:
Samsung has not yet officially announced the release date for their but different resources revealed that it will be announced in February. However, the date prediction is different for every resource. According to the PhoneArena report, it is expected to release on February 17, while Cnet claims it on 1st February
Samsung Galaxy S23 Expected Models:
The Samsung new model will come in three models: the Samsung Galaxy S23, the Samsung Galaxy S 23+, and the Samsung Galaxy S 23 Ultra. Each model is expected to come with a different design and internal specs so that it caters to all kinds of users.
The normal S23 will give customers the essential Galaxy S23 experience in small size and for a low cost. To get more features such as a bigger display, larger battery, and higher specs, consumers should opt for the pricier S23+. For those who want the ultimate Samsung device with all bells and whistles included – that's where you'll find the costly but feature-packed S23 Ultra.
Colors:
Like other Samsung models, the Galaxy S23 will also come in several colors and finishes, including Silver, Black, Blue, Violet, and Gold.
Samsung New Release Specs:
| | | | |
| --- | --- | --- | --- |
| Specs | Galaxy S23 | Galaxy S23 Ultra | Galaxy S23 Plus |
| Display Size | 6.4 inch | 6.8 inch | 6.6 inch |
| RAM | 8GB | 8GB/12GB | 8GB |
| Memory | 128GB/256GB | 512GB/1TB | 256GB/512GB |
| Chip | GEN 2 Snapdragon 8 | GEN 2 Snapdragon 8 | GEN 2 Snapdragon 8 |
| Front Camera | 12MP | 16MP | 14MP |
| Rear Camera | Main 64MP/ Ultrawide 12MP/ 10MP | Main 200MP/ 12MP Ultrawide/ 10MP 3x/ 10MP 10x | Main 64MP/Ultrawide 12MP/10MP 3x |
| Battery | 4000mAh | 5000mAh | 4700mAh |
Samsung Galaxy S23 Features: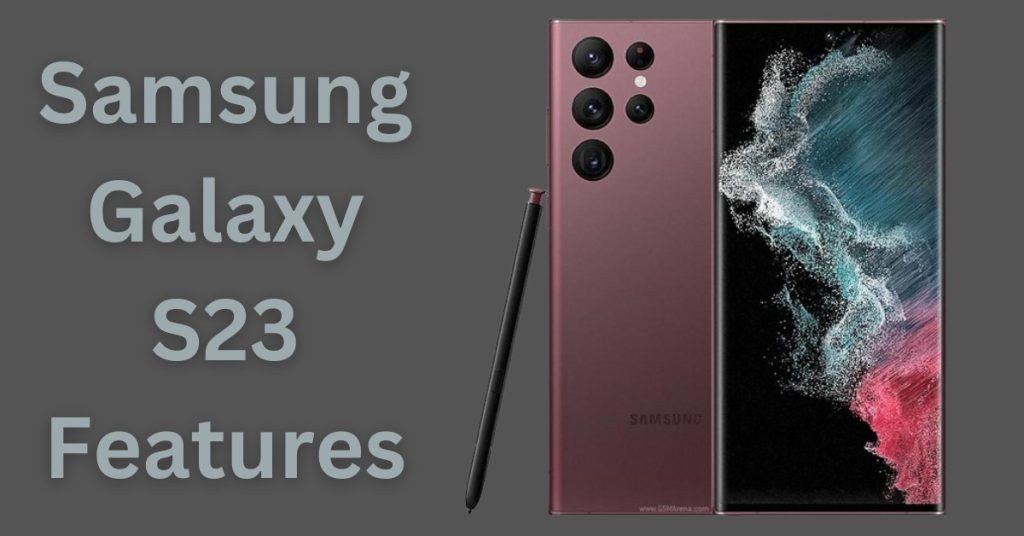 The Samsung Galaxy S23 is expected to come with several exciting features, some of which are discussed below:
Display:
The Samsung Galaxy S23 will feature a 6.4-inch Infinity-O OLED display with an aspect ratio of 19.5:9. It is also expected to have a triple-camera setup on the rear and an in-display fingerprint scanner. The screen will be able to reproduce a 120Hz refresh rate and a resolution of 2044 x 1080 pixels. More than that, the new phone will be HDR 10+ certified and include an Always-on Display.
Rumors suggest that the Galaxy S23 Ultra could feature a quad-edge display, distinct from the curved edges on its predecessor's left and right sides. In other words, this display would also be curved along both the top and bottom borders.
Design:
The Samsung Galaxy S23 will come with a robust build, made of metal and glass. It is expected to be more than 8 mm thick and weigh around 139 grams. Rumor has it that the Galaxy S23 and S23+ will sport a design similar to that of its predecessor, the S22 Ultra. Unlike before, the new models will likely dispense with their rear-located camera island in favor of individual lenses.
It's expected that the S23 and S23+ will have similarities, while the S23 Ultra should be a more luxurious offering. Rumors suggest it'll mirror many of its predecessors, the S22 Ultra; however, some alterations in dimensions may occur.
Camera:
Trying to prognosticate the type of camera hardware that Samsung's upcoming Galaxy S23 will boast can be a difficult task. Nonetheless, we've already acknowledged the high-caliber photo quality boasted by the Galaxy S22 Ultra, so one could assume with reasonable certainty that its successor -the Galaxy S23 Ultra- should perform similarly or better as slight advancements may just be enough for it to retain its title as a top premium flagship phone.
The Samsung Galaxy S23 is expected to come with an improved camera setup. It is anticipated that the device will have a triple-camera setup on the rear, with a 64MP main lens, 12MP ultra-wide angle, and an 8MP telephoto lens. The device will also have a 10MP selfie camera that supports 4K video recording.
The Samsung's Galaxy S23 stands out in comparison to its competitors with three rear lenses, offering more than the two you'll find on the Google Pixel 7 and Apple iPhone 14. The primary and ultrawide sensors likely won't make a huge difference but their telephoto lens provides an impressive zoom capability that sets it apart from other phones.
Battery:
The Samsung Galaxy S23 is expected to come with a battery capacity of 4,000 mAh. That's 250 mAh more than the Samsung Galaxy S22 Ultra but still less than the 5,000 mAh capacity that Apple iPhone 14 is rumored to come with. The large capacity battery and improved power efficiency should enable the device to have improved battery life.
That would be a noteworthy boost, as its architecture is based on the second-gen 4nm process and it integrates both older and newer ARM Cortex core generations. This combination should make everyday tasks incredibly power efficient, unlike other 3GHz Snapdragon 8+ Gen 1 processors that become exceedingly hot with heavy loads such as 3D gaming.
Processor:
The Samsung Galaxy S23 is rumored to come with Qualcomm's latest Snapdragon 8+ Gen 2 processor. This processor is expected to be more powerful than the Snapdragon 8+ Gen 1 processor used in the Samsung Galaxy S22 Ultra.
The new processor will be based on a 3GHz clock speed and is expected to feature an improved architecture. The processor will also come with a 5G modem built-in, so the Galaxy S23 will be up-to-date with the latest network connections. The processor is expected to offer improved performance and power efficiency when compared to its predecessor. This means that the device should be able to run more demanding applications, multitask easier and provide longer battery life. The processor will also be able to support advanced gaming capabilities, such as 4K graphics and VR.
Samsung Galaxy S23 Price:
The Samsung Galaxy S23 is expected to have a starting price of around $1,200 for the base model. This price is slightly higher than the Samsung Galaxy S22 Ultra which cost around $1,000. The price could be higher depending on the exact configuration and market availability. The device is expected to be available in three colors – black, silver, and purple. The higher-end model of the Galaxy S23 Ultra could cost even more with price estimates around the $1,500 mark. However, the exact price of the device is yet to be confirmed.
Conclusion:
All the things included in this article are indications that the new smartphone may prove wrong or right in the future.
The Samsung Galaxy S23 is anticipated to be an impressive flagship device with high-end specs and features. It should boast a triple-camera setup, improved processor, upgraded battery, and 5G modem. As such, it should be able to compete with other premium flagships and the performance should be better than its predecessor. Although the pricing is yet to be revealed, the Galaxy S23 looks set to be a great choice for those looking for an advanced, premium phone.