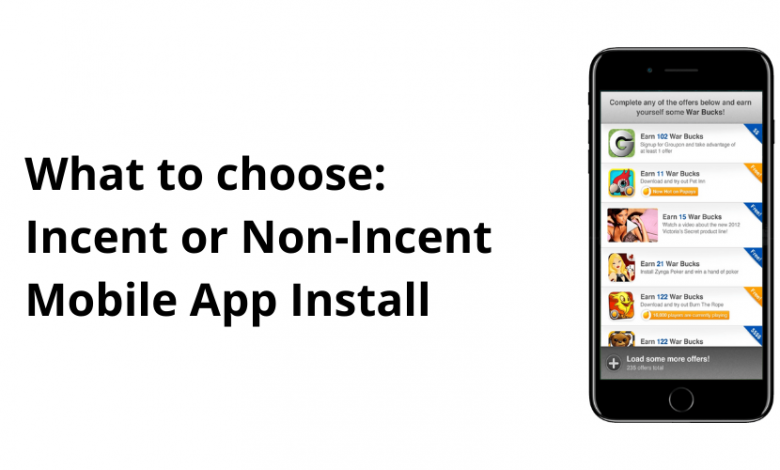 The concept of incentivized traffic for the app–install campaigns is far from new, but there is still much debate in the industry regarding the advantages of comparing rewarded versus non-rewarded campaigns. As an app developer or marketer, you must be baffled asking yourself what is the golden rule? When is sponsored advertising better than non-sponsored?
In this article, you will find some differences between incentivized or non-incentivized app-install campaigns because it will be easy for you to choose better between them.
Also Read:
Incentivized App-Install Campaigns
The incentive model (or sponsorship, reward, or value-sharing) rewards users in exchange for installing apps, watching video advertisements, interacting with apps, registering websites, etc. Rewards are usually virtual currency or in-game items, product/service upgrades, or discounts.
The main advantage of sponsored installations is that a large number of installations can be created quickly. By implementing relatively simple positioning methods, you can quickly reach relevant user groups and increase installs.
Another huge benefit is that they are very profitable because the cost per installation (CPI) of a premium installation is significantly lower than the CPI without a premium.
Non-Incentivized App-Install Campaigns
The non-incentivized app model promotes an app without reward exchange, which means that the interaction with the app is entirely driven by the initial interest in the app, but there is no guarantee that the user will take any additional actions.
The main benefit of non-sponsored installations is the LTV (Lifetime Value) for the average user. Because installations are created by users who have no external benefits from the installation, they are considered some kind of "organic" traffic, and therefore have an authentic interest in the application, and are more likely to keep and use it.
As mentioned earlier, unrewarded installs are much more expensive than paid advertising campaigns, and the return on investment is less clear. So what is better?
Read:
Which is better?
To develop your marketing campaign strategy, you must define clear KPIs (Key Performance Indicators) for your marketing campaigns and determine the traffic source that suits you.
The choice of rewarded or non-rewarded advertising depends on the goal, time frame, and resources allocated to your activity. Many app developers and marketers believe that rewards are a good way to gain downloads and profit exponentially in a short period of time.
Then, they use a lower number of non-reward activities aimed at retaining users, maintaining an active and participating user base, and continuing to gradually "organically" grow. These activities can also be used to re-engage and retain app users who may have lost interest and abandoned them.
As mentioned above, the main benefits of incentive activities are their profitability and the ability to generate a large number of installations in a relatively short period of time. The disadvantage is that users can only install and uninstall their apps to get rewards. Reward traffic is much more expensive and will not produce immediate results. So, by considering all these advantages Incentivized App Install Campaigns are much better.
Read:
Installation Platforms
Incentivized installs are banned by the Apple App Store and not recommended by the Google Play Store as it can manipulate app store metrics such as installs and top lists. However, many organizations still offer recommended installation services for Android apps. Define install promotion campaigns that require users to install apps and take in-app actions that drive multiple user experience metrics (such as daily active users, number of user sessions) and revenue.
These artificially inflated metrics are believed to be effective in improving the app store index and enhancing mobile app developers to raise investment capital. The study also points to poor enforcement of existing Google Play Store policies to prevent this behavior, further motivating the need for closer monitoring of incentive setting campaigns. Google Play may also use suggested actions to identify potential policy violations.