Gaming
How to Play Crazy Roll 3D Game Online?
Crazy Roll 3D is one of the most thrilling online games to challenge your reflexes and coordination skills. In this game, you will go through a series of hurdles and mazes to navigate your ball throughout the course without getting hit by any obstacle. Otherwise, your game will be over. Additionally, many other highly anticipated features make it a top choice for adventure enthusiasts. To enjoy this high-end title, you must visit different online platforms. We have developed this comprehensive guide to help you learn how to play it online effortlessly.
What is Crazy Roll 3D?
Crazy Roll 3D is best known for its interactive interface and challenging hurdles. The gameplay features a player controlling a ball to pass it through various obstacles and 3-dimensional mazes full of traps. In addition, you have to prevent the ball from falling around the edges. Besides, you must collect multiple in-game items, such as coins and power-ups. Such a thrilling experience is enough to test the adventurous skills of a player. You must find something to rejoice in this outstanding title, whether a beginner or an expert. The simple controls and progressively tricky levels keep players engaged and help them upgrade their skills to participate in wide-scale competitions.
How to Play Crazy Roll 3D Online?
Playing Crazy Roll 3D online is not a challenging task. However, you must work strategically to have your hands on this exciting game without making enormous efforts. In the under-section, we have enlisted complete details.
Fulfill the Requirements
The first step to playing Crazy Roll 3D online is to fulfill the essential requirements to access the game over the web. The following are the main requirements you must complete in order to gain access to this brilliant adventure pack.
Computer/Laptop: Firstly, you must possess a good quality computer or laptop to play Crazy Roll 3D. The game files are available online, so you should not purchase a specialized gaming gadget. Generally, the household PC can run this game without facing any glitches or other hurdles.
Internet Connection: Crazy Roll 3D is available online and can be accessed with the help of a strong Internet. Poor connectivity can lead to enormous buffering and spoil the whole experience. On the other hand, a strong network ensures seamless connectivity and reduces glitches, making this game a constant source of entertainment.
Updated Browser: It is viable that you have to reach the game through an Internet browser. However, trying to access the Crazy Roll 3D from an outdated browser will not help you enough to play the game. The reason is that they don't allow all cookies, resulting in cache blockage. Upgrade your existing browser to the latest version to eliminate these issues.
Access the Game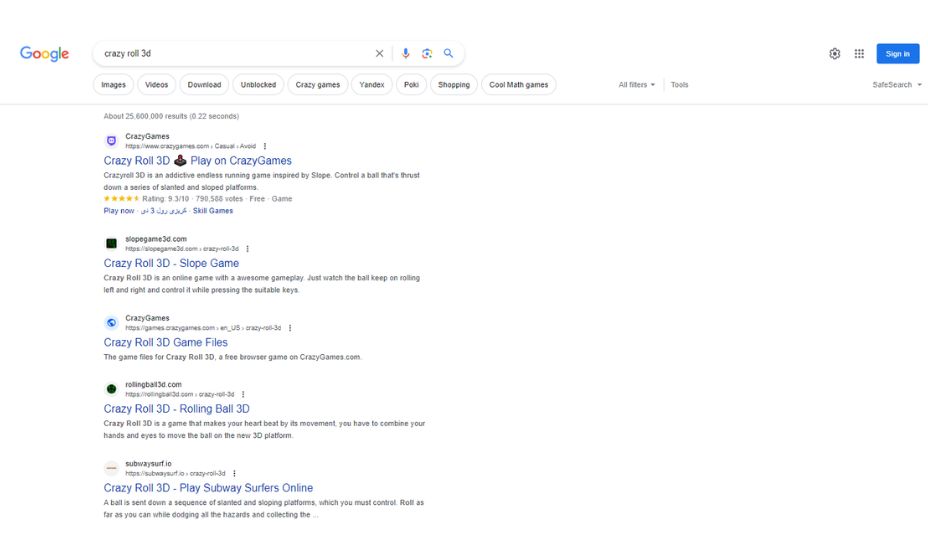 After completing the requirements, you need to find a trusted platform to access Crazy Roll 3D games. Open the updated browser on your laptop or PC after connecting it to an Internet connection. Then, add the game title in the search bar and hit enter. Consequently, you will reach the results page, showing numerous platforms that offer the game. Select the one providing good quality graphics and minimal ads.
Understand the Game Dynamics
After accessing a trustworthy platform, you will be able to play Crazy Roll 3D online. However, you must understand the game dynamics. There is no need for account creation or sign-up. Only access the game file and click the play button. However, you can control the music options if needed.
Features of Crazy Roll 3D
Crazy Roll 3D is trendy for its exciting interface. Moreover, it possesses brilliant features, as described in the following section.
3D Graphics
As the name represents, Crazy Roll 3D features 3-dimensional gameplay graphics that create an immersive gaming environment. Additionally, the perfectly designed mazes and properly placed obstacles add flavor to the game, enhancing the overall experience.
Simple Controls
We previously described that Crazy Roll 3D has simple controls allowing you to perform all the necessary operations without getting proper command of the handling options. Thus, you will be able to progress up to the levels with the help of arrow keys for movement. Conversely, mobile users can tilt their screen or utilize touch options to guide the ball.
Challenging Obstacles
If you are an adventure geek and want to face exceptional challenges on your way to direct the ball, Crazy Ball 3D is the best option to go. It lets you roll the ball through different platforms, like spikes, narrow paths, and rotating barriers. As you reach higher levels, you will come across new challenges.
Collectibles and Power-ups
The developers of Crazy Roll 3D game worked incredibly to grab the players' attention and have introduced several ergonomic attributes to keep them engaged for longer periods. Besides hurdles, the gameplay lets you pocket collectibles and powerups dispersed on the tracks to receive temporary advantages. One of the most important ones is speed boost.
Progressive Difficulty
Most adventure-arcade games do not feature multiple levels, impacting the engagement factor severely. Similarly, gamers can't analyze their performance in a singular gameplay. On the other hand, this game showcases numerous levels that become difficult progressively to ensure continuous engagement.
Engaging Soundtrack
The soundtrack is a feature that most adventure games lack. Nevertheless, Crazy Ball 3D is a complete exception, as it possesses an engaging soundtrack and lets you get lost in an immersive world while moving through tricky tracks and facing challenges.
Final Verdicts
Crazy Roll 3D is an exhilarating game that delivers an immersive gaming experience with its high-end features and challenging gameplay. The 3D graphics, alongside collectibles, play a crucial role in enhancing the players' engagement and improving their skill level. Moreover, the accessible controls allow beginners and experts to guide the ball through different tracks and obstacles to complete the level. Additionally, the game gets tough, progressively adding more flavor to this high-end title and pumping you to excel in your skills for different competitions.