Tech
How to Repair Damaged PDF Files for Dropbox Users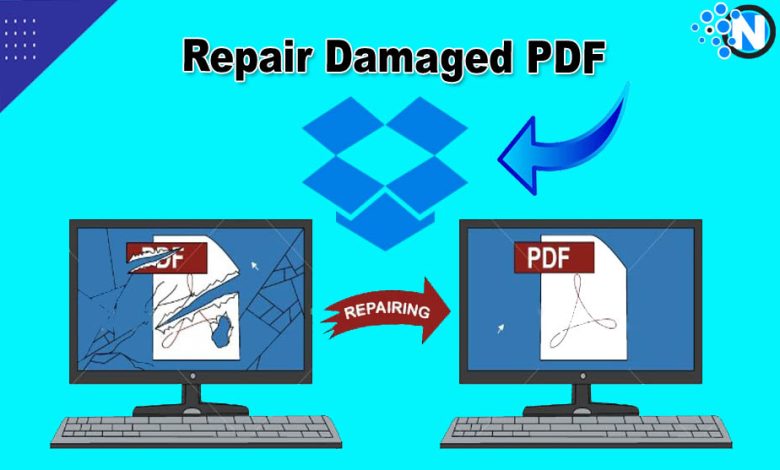 Dropbox users face the daily risk of losing crucial information and valuable memories while operating and sharing their files via the cloud-based service. In addition, data corruption is becoming a real challenge for users who do not know how to get their damaged files repaired quickly and painlessly in just a few clicks using https://pdf.recoverytoolbox.com/online/ – for any device and operating system (Android, iOS, macOS, Windows) and https://pdf.recoverytoolbox.com/ – for Windows only.
What May Cause Corruption on My PDF in Dropbox?
In most cases, it is rather challenging to determine why the files containing crucial data become damaged.
It could be due to various reasons ranging from:
Error syncing data in a folder on a local device and Dropbox storage
The error occurs due to incorrect synchronization of PDF files between a computer, tablet, or phone and the Dropbox service due to connection failures, time settings failures, or incorrect checksum verification. As a result, only damaged PDF files remain on the Dropbox service and the user's device. Unfortunately, it is tough to track when and why this happened.
Autosave mode
Autosave is a feature, which protects data in case of a PDF reader program or system crash, power outage, or sudden termination of the program. It only makes a temporary safety cache file while a file is open. As soon as it is closed under normal circumstances, the Autosave temporary file is deleted, but sometimes files are not saved correctly due to the autosave mode malfunction.
Opening the same file with different software
Every software you use to open a PDF file performs a few minimal adjustments so that the file will fit the software's user interface. However, if you continuously open the same file with different applications, it may eventually undergo significant changes and become corrupted.
Hard Disk problems
Faulty hard disks cause a major significance to loss of files or the way they get corrupted. A slight crash causes some data to be inadvertently lost. For example, your Dropbox PDF file would be damaged and unopenable if the missing data were a file component. So make sure not to have a faulty disk before operating PDFs.
The encoding used by e-mail service providers
E-mail service providers occasionally encrypt large files, including PDFs. As a result, sending and receiving e-mails will happen more quickly. However, they are not decoded on the receiving end, making them appear corrupt. Sending large PDF files zipped is recommended to prevent such a failure.
The mixed page orientation in a saved file
a PDF file may have its page orientation hidden somewhere in its depths. For example, when opened, the PDF is viewed as 210 x 297 with the portrait orientation. But, somewhere in the file, the orientation is landscape. The mixed page orientation may ruin the file while saving.
Unstable power supply and an unreliable internet connection
Many errors could arise when downloading a PDF file. An unreliable internet connection is one of these mistakes. It might also be the result of a concurrently occurring download being interrupted. To reduce these dangers, ensure you have a steady connection before downloading any files.
Five Best Ways to Repair Damaged/Corrupted PDFs in Dropbox
Try alternative PDF Reader applications: If Adobe Reader fails to open the file, it is quite possible that the application you are using to access the file is not working. Therefore, we advise you to try alternative PDF reader applications like Foxit Reader.

Update Adobe Reader: Make sure that your Reader is up-to-date. If an update is available, install it and check the installation files.
Restore a previous file version: Windows has a built-in feature to back up different file versions in case the latest version of the file gets corrupted or damaged.
Use the free online PDF repair tool: There are many online PDF repair tools that you can go for to repair your files. However, the file size is usually limited, and the file version is not to be changed. Take a look at PDF2GO, for instance.
Use Recovery Toolbox: When the four primary methods do not help, we recommend using professional data recovery software such as Recovery Toolbox for PDF, which has various advantages over every other software associated with it.
The reason why you should go for it includes:
All operating system compatibility, ideal on most hardware, including phones
No file size limit with full support for restoring PDF files of all versions and sizes.
Full support of PDF files recovery of all versions and sizes
An intelligent proprietary core leveraging the power of advanced document analysis and fixed methods
Ability to fix some logical errors caused by bugs in popular PDF generation tools
Saving recovered data into a new, properly formatted, and compacted PDF file
Supports output recovered data to compressed or non-compressed PDF files
A compact installation file that requires no additional components
Full fixing compatibility with all major versions of Windows, including Windows 8 and Windows 10
Pre-Viewer for all types of .pdf files with an incorrect structure
PDF Viewer Tool
Displays and repairs a .pdf file from Adobe Acrobat
Online service for recovering PDF files with minimum action required.
Read Also: How to Combine or Merge Files into Single PDF
How to repair a PDF File Damaged by Dropbox
Option 1:
Download the software Recovery Toolbox for PDF:
https://pdf.recoverytoolbox.com/
Install Recovery Toolbox for PDF on your PC
Purchase and activate the license for Recovery Toolbox for PDF fixer for US$39
Select the damaged document on the first working page of the PDF fixer.

Start the analysis of why the damaged PDF file won't open with Adobe Acrobat by clicking Next
Select the version of the PDF document and save the Adobe document with the recovered data.
Choose if you would like to compress data in the recovered PDF document.
Choose the name to save the recovered document.
Complete saving repaired PDF data to a new document.
Option 2:
Open the page https://pdf.recoverytoolbox.com/online/ in any browser and on any device (9 languages supported).
Select a PDF corrupt file.
Enter your e-mail address – the program will send you an e-mail with a notification about the recovery result in case the browser closes, or the online connection is interrupted.
Click Next Step.
Upload your document with the invalid format to the service, and the PDF recovery process online will analyze the contents of the Adobe Acrobat document. All correct information from the Adobe Acrobat document will be saved to a new file. The online service does not fix corrupt PDF files but creates a copy, extracting the maximum data from the document if the PDF is invalid format.
See what the service recovered when a PDF cannot be opened. On the preview page, information is available on how many and which objects were restored and saved. It is also possible to view a gallery of screenshots of the recovered PDF file that won't open.
Complete the payment for the online service of PDF file recovery for as low as US$10 /1Gb.
Download the recovered Adobe Acrobat document and open it in Adobe Reader or another PDF reader.
Do not miss out on Free Options from Recovery Toolbox
How to Open a Corrupted PDF File for Free
Recovery Toolbox for PDF allows you to open a damaged PDF file of an Adobe Acrobat/Adobe Reader document and display a list of objects and data found in the damaged Dropbox PDF file on the program page. Further, it is possible to export the recovered data from an open PDF file to a new *.pdf file, which you can then work with Adobe Acrobat/Adobe Reader or another program.
How to Restore a Dropbox PDF Document
To restore a damaged PDF document, you can use the last backup or the last stable copy of the .pdf file or try to use Recovery Toolbox for PDF. With a high probability, Recovery Toolbox for PDF can restore data from *.pdf files to their original state before corruption. To test this statement, it is necessary to:
Download, install, and run the DEMO version of Recovery Toolbox for PDF.
Select a damaged .pdf file from your Dropbox folder.
Run the analysis of the damaged PDF file.
Review the list of recovered objects in the program.
Select a version for a new PDF file.
Select the name for the PDF file for exporting the recovered data.
Export recovered data to a new PDF document—available in the full version.
How to Fix a Dropbox PDF Document
If you need to quickly fix the PDF file of a damaged Adobe Acrobat/Adobe Reader document, Recovery Toolbox for PDF will allow you to do this in a couple of clicks. You can fix PDF files by copying and repairing data from a damaged .pdf file into a new Adobe Acrobat/Adobe Reader document. The tool does not fix or modify the existing PDF file. Instead, all data is transferred to a new revised PDF file.
Recovery Toolbox is a Varna (Bulgaria)-based software developer, ISV vendor, and distributor company operating globally since 2003. Our multinational team of software engineers specializes in developing and introducing easy-to-use practical tools for data recovery, repair, and backup. Over the past 20 years, more than 100 thousand customers have endorsed Recovery Toolbox's data care solutions tailored to the needs of end-users and enterprises. We offer industry-leading online data recovery/repair technology and offline data recovery software to repair a wide range of corrupted and damaged files. Being an ISDEF member, we have made every effort to provide users with innovative, value-added data recovery software products, making us one of the world's most trusted data care companies.
There may be more than 2.5 trillion PDF documents in existence, according to Phil Ydens, VP of Engineering at Adobe Document Cloud. This number is growing daily as more organizations, institutions of higher learning, and individuals are adopting PDF as a reliable, platform-independent method of transmitting information for numerous programs. With a plethora of choices to benefit from, Recovery Toolbox for PDF offers industry-leading solutions and online tools for PDF recovery for you to keep and share your best memories via Dropbox safely and with peace of mind.
Source: https://pdf.recoverytoolbox.com/