Gaming
GTA 5 PS5 – Facts and Enhancements Upgrades
GTA 5 PS5 is the most advanced version of the renowned open-world game Grand Theft Auto 5. Since its release, it has taken the world by resonating with gamers' interests and requirements. It is one of the top-selling brands in the market, even though it was launched for Xbox 360 in 2013. In 2022, the developers announced the PS5 version of GTA 5, packed with enormous features and outstanding elements for improved visuals. Resultantly, it is more interesting than the original version. We have developed this guide to inform you about the important facts and enhancement upgrades of GTA 5 on PS5.
What is GTA 5 PS5?
GTA 5 PS5 is the latest and most upgraded version of the famous Grand Theft Auto V specifically launched to run on PlayStation 5 console. The developers have made enormous modifications to the infrastructure to improve visual fidelity with 4K resolution and ray tracing technology. Further, they have lightened the components to reduce loading time and enhance the audio. Additionally, the expanded wildlife guarantees delivering an immersive experience. GTA Online, the multiplayer component, also benefits from improved graphics, providing upgraded fun and entertainment. If you are fond of this open-world game series, you must try this remastered version.
Read More: Dimensions of Virtual Reality Gaming in 2023
GTA 5 PS5 Facts and Enhancements Upgrades
After comparing the Xbox version with the GTA 5 PS5 release, we have enlisted this latest version's facts and enhancements upgrades. If you have already tried the previous edition, this guide will help you understand the difference.
1 – Enhanced Visuals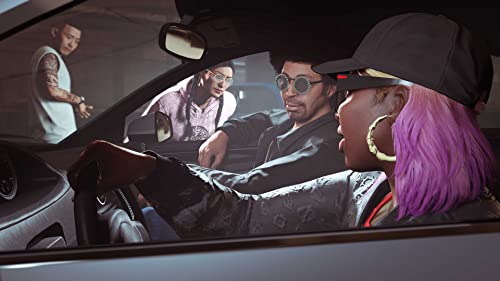 The most significant improvement in the GTA 5 PS5 is its enhanced visuals. On PlayStation 5, the game can run at native 4K resolution, allowing for sharper textures and providing a more detailed environment. As a result, you can watch every aspect of the gaming landscape and play it more perfectly. The enhanced character models also give you a realistic experience alongside higher frame rates.
2 – Ray Tracing Technology
GTA 5 PS5 incorporates ray tracing technology to improve the lighting, shadows, and reflections. Consequently, it delivers a heightened sense of realism. Ray tracing technology is best famous for simulating the light's behavior more accurately. Hence, you can enjoy scenes more close to reality and dynamically lifelike. Whether it is the reflection on the wet streets or sunlight, ray tracing adds a new layer of visual fidelity to the game.
3 – Faster Loading Times
Running high-end games is quite challenging if your device is not leashed with the most advanced and compatible components. However, there is no such issue in the case of PlayStation 5. Its ultra-fast SSD (Solid State Drive) reduces the loading time of GTA 5 PS5, making it drastically easy to operate without any glitches. This seamless gameplay further enhances the immersive experience, keeping players engaged and immersed in the game's world.
4 – Improved Audio
GTA 5 PS5 also features improved audio because of the console's advanced audio capabilities and DualSense controller features. With the help of 3D audio technology, you can have a more spatial audio experience. In addition, the DualSense controller's haptic feedback and adaptive triggers help you feel the sensation of different surfaces under the feet, including the weapon's recoil, the rumble of the vehicle's engine, and a new dimension to gameplay.
5 – Expanded Wildlife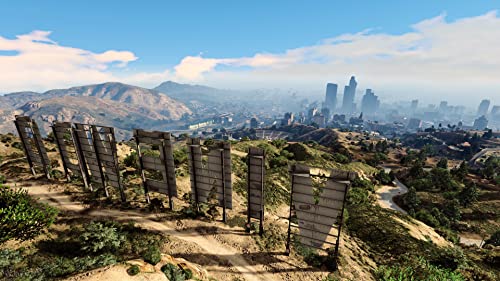 Unlike the parent version, which exhibits only the basic parts and landscapes, GTA 5 PS5 shows expanded wildlife and environment. Thus, you can enjoy bustling city streets and serene countryside alongside lush landscapes. It will improve your visuals and help you have a virtual overview of the featured country or city. Above all, the increased details in buildings, vehicles, and foliage add depth to the surroundings making exploration more rewarding.
6 – Exclusive Content
It is wrong if you consider getting the same sort of missions and action plays in GTA 5 PS5 as in the first version. The developers have worked hard not only to improve the visuals but also to add exclusive content for the players to enjoy an immersive experience. New cars, buildings, and spaces fulfill the interest of both returning and new players. Besides, the technical improvements due to the integration of AI have delivered upgraded physics and weather effects to make the gaming environment more realistic.
7 – Seamless Online Experience
Playing Grand Theft Auto 5 online with friends, relatives, or other family members is every gamer's dream. It not only boosts their confidence but also enhances the interaction among them. Players can expect improved graphics and performance in the online modes. It ensures a seamless transition between the single-player and multiplayer experiences. The more players you can add to the online session of GTA 5 PS5, the more chaotic and exhilarating gameplay moments you can enjoy, along with exploring new opportunities for social interaction.
8 – Free Upgrade for Existing Players
Another interesting fact about the GTA on PS5 is that it is totally free for existing users. If you have the PlayStation 4 version of this highly anticipated open-world game, you need not invest in it again to upgrade it to PlayStation 5. Instead, you can add the same version on your console to enjoy improved visuals and new features. Rockstar's this move has proved its commitment to its user base.
9 – Anticipating the Future of GTA 6
GTA 5 PS5 has impressed the world with its enhanced visuals and upgraded experience. These improvements have given a clue about the quality and immersive pattern of the highly anticipated GTA 6 game, which is likely to take full advantage of the next-generation hardware.
How Much is GTA 5 on PS5?
As detailed previously, GTA 5 PS5 is the most advanced version of the Grand Theft Auto 5 game. Packed with top-quality features and new vehicles alongside buildings and dynamic weather, Rockstar has increased its prices compared to the previous editions. You can get GTA 5 on PS5 for $39.99.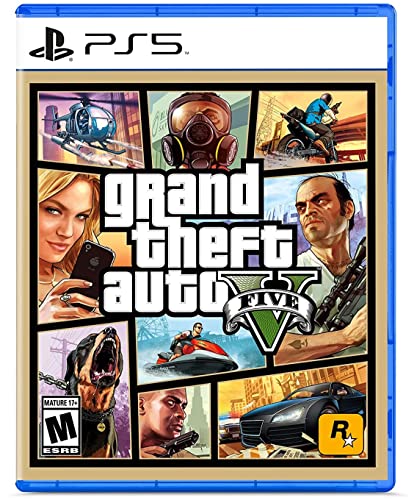 Final Verdicts
GTA 5 PS5 represents an outstanding evolution of this highly loved and remarkable open-world game. The combination of technological upgrades and visual enhancements allows new and existing users to find exceptional things to appreciate. The stunning visuals, immersive audio and improved gameplay are sufficient to take this world by storm. This version of Grand Theft Auto 5 for PlayStation 5 has set new standards and criteria for remastered editions. Also, this game may serve as a bridge to clarify the development and release of GTA 6.
Frequently Asked Questions:
After researching the Internet, we have created the list of following FAQs, mostly asked by the gamers of GTA 5 PS5.
1 – Can You Play GTA 5 on PS5 With PS4 Players?
GTA 5 players on PS5 can only connect with other PS5 players for multiplayer entertainment and enjoyment. However, if you have installed the PS4 version of GTA 5 on your PS5 console, you can connect with the PS4 players to enjoy this magnificent open-world gaming.
2 – If I Migrate GTA 5 on PS5, Will I lose Everything on PS4?
Yes, migrating GTA 5 on PS5 from PS4 or Xbox 360 will cause you to lose everything, including data, performance and saved games. There are minimal chances that you can recover your data if it is stored in cloud platforms.
3 – How Much is GTA 5 on PS5?
GTA 5 PS5 is the latest and the most expensive version of the Grand Theft Auto series. You can own this game for $39.99 for your PlayStation 5.