Computer
Functions And Types Of Computer Desk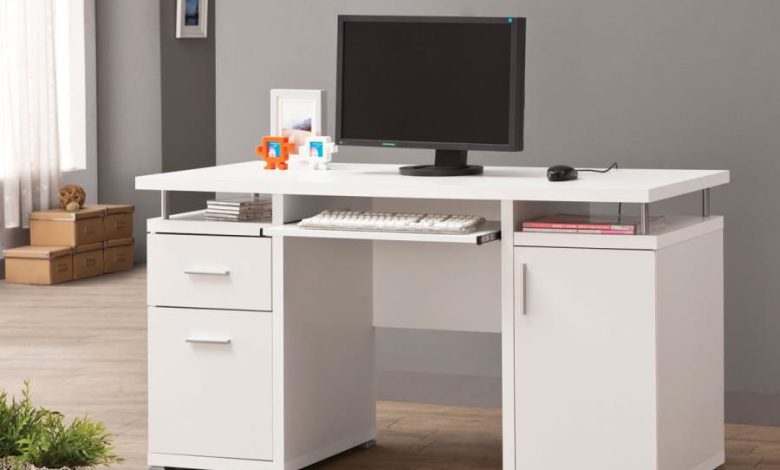 Computer desks are strategically designed furniture pieces, used to provide a comfortable as well as an aesthetic workstation for the working class. It also is a thing which keeps your computer safe. Computer desks come with several compartments which can be used to store many other things, apart from just the computer. Computer desks do come in several colors, but the white computer desk is generally the most in-demand.
Reasons for choosing White Computer Desk
A Computer desk is also known as a Workstation because it usually has a lot of space for keeping your notebooks and writing. The adjustable keyboard makes it more convenient for people, who want to use the desk for purposes other than using the computer. White Computer Desks, is generally preferred because it creates a professional as well as a no-nonsense environment. Colors do make a huge impact on the minds of the user. It is for this reason that, all offices around the world have white computer desks, and not desks of other colors.

Not just in offices, but schools, colleges, universities, and almost every other institution generally do have white computer desks. It is or the fact that, apart from creating the professional environment, the white color helps people concentrate on the work for which they have sat before the computer. Apart from that, having white computer desks is easier to clean and maintain. Thus reducing the monthly maintenance costs.

However, everything that we get in life, comes with its share of pros and cons. As mentioned before, offices usually have white computer desks installed, but since they are offices, bright lights are fitted everywhere for a good working environment. These bright lights, when reflected against the white computer desks, emit a very bright reflection which causes disturbances in the eyes of many people there. These disturbances often are the causes of distraction in the workplace. Another negative point may be that, since the advent of computers, white computer desks have become so common that people now are looking for an alternative color. There is no doubt on the fact that white computer desks are indeed the best choice for almost everyone, but with modernization occurring at such a rapid pace now, even a useful product needs to be altered at certain intervals. Markets have already started to come up with good and appealing alterations to the white computer desk which is in rising demand in the market.
What Is A Computer Desk?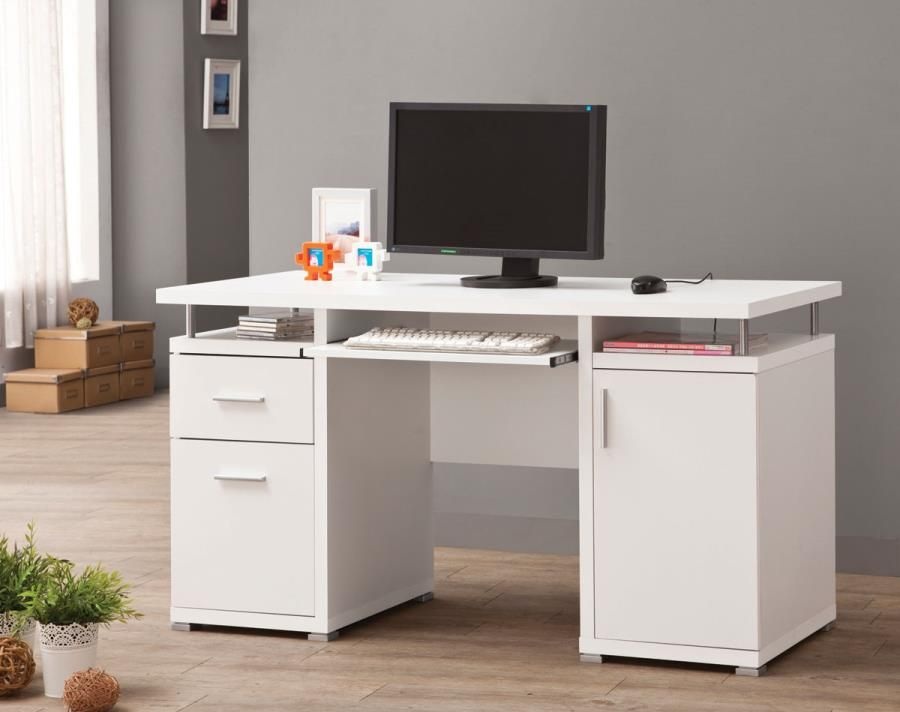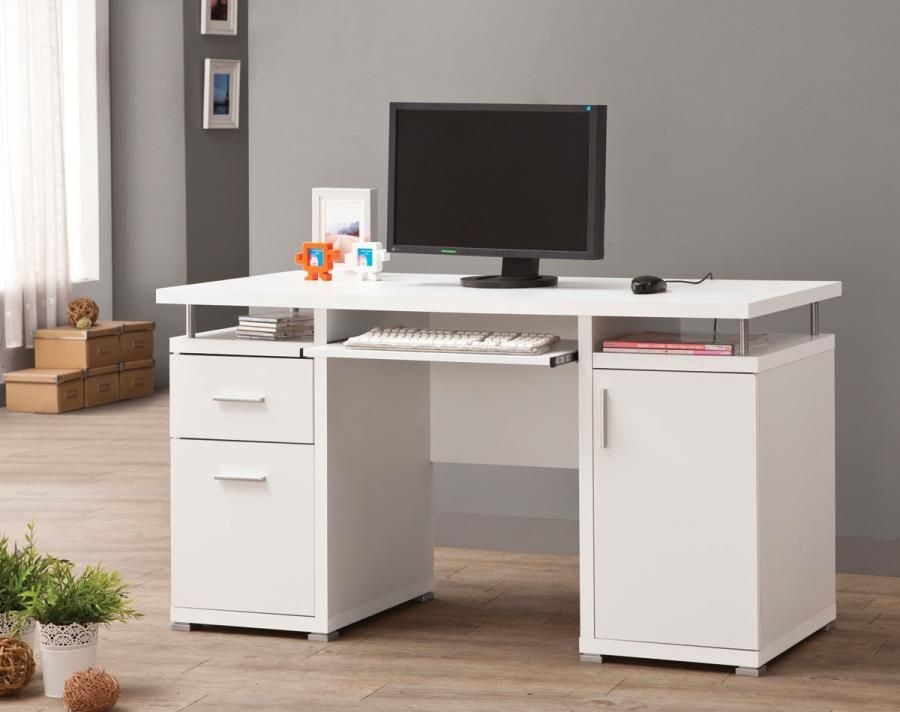 A variant of the Ergonomic desk, a computer desk is generally a wooden structure, where a PC is kept secure. Apart from the monitor shelf, several holes are punched for the routing cables to go through. The cables are required to connect all the parts of the computer, as well as to connect the main chord with the switchboard for the power supply.
The most common variant of the home computer desk is known as the Armoire Desk. Reasons for it being the most in-demand is because of its uses other than holding the computer. Armoire desk is like a large cabinet, usually with a door. It has multiple sections, making it a storehouse. With a proper writing table, numerous compartments on the top and bottom floors, and ample space for your computer as well as its other related products such as keyboard, mouse pad, monitor, printer, and speakers, this is perfect home equipment.
As for the office goers, the Cubicle Desk is the perfect computer desk. And it's these desks which are generally the white computer desks. A cubicle desk is a workstation, which is partly closed. It has a partition, to ensure your co-worker is not peeping into your work. As its office, a certain amount of secrecy needs to be maintained among employees as well. Another reason for the partitions is that an open workplace would quite certainly result in gossips thus wasting productivity time. With the partitions in place, the concentration level remains to the fullest, therefore resulting in a good amount at the end of the day. These cubicle desks usually have more compartments, as compared to the home computer desks. This is natural, as office goers have more papers as well as files to maintain. The cubicles often have space for a desk phone, for internal as well as external communication. Cubicles, unlike home desks, do not have an internal lighting system. This is because offices anyways have bright fluorescent lights which keep the entire office area bright.
What is an Ergonomic Desk?
The Ergonomic Desk is a modern computer desk with numerous adjustable features, making it look compact but very useful. This desk gives proper comfort to the user. The significantly large desktop height allows people to work comfortably even while standing. The origin of the ergonomic desk dates back to the time of World War 2. Research has proven that, due to its structure, work done on ergonomic desks is always better in comparison with other desks. And it gets even better if the desk is a white computer desk. As mentioned before, the white, clean desk adds to the concentration level, resulting in better productivity at work. Having said this, the ergonomic desk will go best with the ergonomic chair. Because the type of chair you are sitting in also plays a vital role in your productivity. Wrong postures lead to lower concentration levels and eventually backaches and other diseases.
Health and Safety
Some researches have proven that the proper placement of the computer desks has been instrumental in boosting the happiness levels of the workers. The happiness eventually leads to better work being executed. And this process grows three folds if the designated desks are white computer desks. As mentioned above, the concept of a white computer desk may be an age-old concept, but there is no taking away from the fact that there is a big reason for it being popular for such a long time.