Software
Best File Manager Software for Windows 2023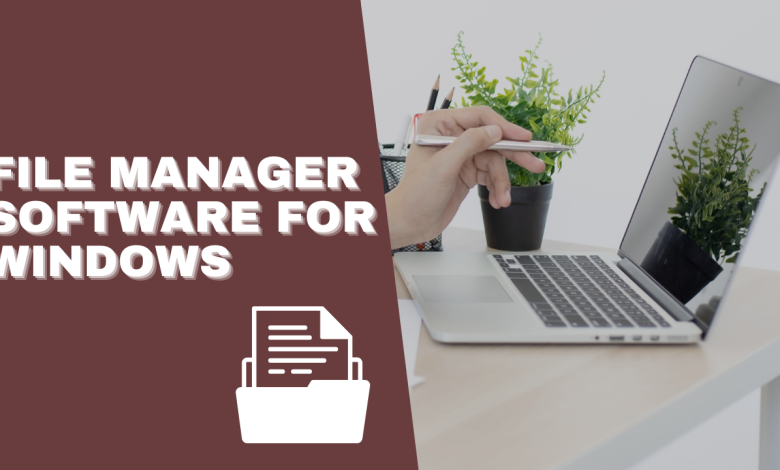 Microsoft Windows OS has an in-built File Explorer to manage and transfer files on your system. But with the dramatic change in computer windows, the Explorer remained flawless and lacked the necessary features. Fortunately, some third-party software offers fascinating features that can manage your file faster and more intuitively. With the advancement in document management and online storage, these file managers can replace file explorer as they are secure, straightforward, and user-friendly. In-built file explorer does not have features that can help you manage files and folders.
Best File Manager Software for Windows 2023
Below is a curated list of third-party file managers software for Windows that provides an easy way to organize your files and folders with modern features.
Total Commander
Directory Opus
Xplorer2
XYplorer
Q-Dir
1- Total Commander
Total Commander is the most popular file manager that has been around for a long time. The software comes up with a friendly user interface that provides greater compatibility. It is regularly updated with modern technological developments to support multiple cloud storage tools and the latest apps and features included in Windows 10. You can substitute file explorer and transfer a large volume of files using FTP. You can also set a speed limit to prevent another process in the meantime.
The software is compatible with Windows 3.1, 95, 98, ME, NT, 200, Vista, 7, 8, 8.1, and 10. The flexibility allows you to use the classic UI and the dual-pane UI layout. It provides various plug-ins to expand its features. The software is a shareware tool that is free, well-designed, uncluttered, but highly powerful. It is equipped with quick, fully-featured, robust utility and great thumbnail and image preview support.
Features
Uncluttered and straightforward database
Customizable keywords shortcuts
Expanding via plug-ins
Text strings
Image sorting by size
Music metadata editing
Batch remaining
Archiving tool
Supports cloud storage
Pricing
Free: free trial for 30 days
Perpetual license: $44 for a lifetime purchase
Benefits
Highly customizable
Includes nice extra tools
Built-in interface
Plug-ins available
Time proven
File compare
Excellent for large files and set file transfer limits
Dual and single pane
Portable and installable versions
Drawbacks
Not user-friendly for beginners
A quite plain interface
Dated look and feel
Customizable is a bit difficult to apply
2- Directory Opus
Directory Opus is rated high in the best file manager tools for windows. It is your go-to as it is slightly offering a more modern feel. You do not require any prior scripting knowledge to use the software. It has a highly customizable interface that helps to configure each element. Multi-threading feature includes in the tool that can be valuable when doing multiple tasks simultaneously. The software supports all major formats of files like ZIP, 7-zip and RAR. It allows you to transfer files using the FTP client feature and allows batch renaming of files.
The capacities and features are not relatively high, yet it permits you to save exceptionally definite and complex searches to run concurrently. You can edit integrated metadata that helps you to keep macros, while there is also a built-in tool that provides file compression. It shows compatibility with windows vista, XP, 7, 8, 10 and 11. You can customize keyboard shortcuts that you can open using the windows + key. It offers two versions, light and pro, to manage your files. The premium version of the platform is the direct replacement of the windows file explorer.
Features
Dual pane support
File preview
Integrated search
Folder size
Archive support (ZIP, RAR, etc.)
Assignment of comments to files
Edit metadata
Flat view
Batch file moving/copying
Tagging
File conversion
Duplicate file finder
File synchronization and backup
Pricing
Demo: free trial for 60 days
Light license: $50
Pro license: $90
Pro dual: $129
Pro-five: $249
Benefits
Best metadata image data preview
Metadata text preview
Video preview
Allows EPS/PDF thumbnail previewer
Extremely customizable
Rich extension support using JS
Dockable widget support
Manual sorting
Drawbacks
Expensive
Limited user support
Only for windows
It can be intimidating to novice/inexperienced users
Restrictive license
Limited to only two views
3- Xplorer2
Xplorer2 is one of a kind with a Pro version that is the perfect replacement for the file explorer. It is undoubtedly the most modernized file manager that allows the flexibility to select either a ribbon-style UI or a better menu bar. You can use various features such as multi-language support, video documentation, and dual panes. The platform shows compatibility with windows 95, 98, XP, NT, Vista, 2000, 7, 8, 10, and 11.
It provides a fast search option and various functions that can be very productive when dealing with files. Additionally, it permits simple expansion of tabs and subdirectories, empowering mass renaming of records. You can also use colour coding to arrange documents on your PC.
Features
Dual panes and folder tabs
Clean, minimalistic, customizable UI
Seamless handling of virtual folders
Preview documents, images, music, etc.
Filtering duplicate files
Folder comparison and synchronization
Execute text commands
Advance NFT support
Robust file system
Colour coding with Unicode and text encoding aware
Exporting file data
Pricing
Demo: 21 days free trial
Buy pro: $29.95
Buy ultimate: $49.95
Benefits
Portability
No installation required
Optimized performance
Includes normal installer
Customer support
Simple hard links
Breadcrumbs (even in XP)
Selected file recall
Double click level-up
Utilitarian and Minimalistic
Favourite list
Drawbacks
Stagnating rate of development
Un-evolved
Distracting prompts
4- XYplorer
XYplorer is the best-paid file manager that supports various windows versions. You can use it as a tabbed file manager that you can use on your PC. The platform has highly profound and extensive functionalities. You can customize the interface with many capabilities in the menu bar. Duplicating documents is a lot simpler because of the optional double window. Besides, the software has a directory panel for getting to record file folders and is streamlined with powerful file backup features.
You can use FTP and other network drives using it. You can also automate repeatable tasks to enhance easiness. It shows compatibility with windows XP, Vista, 8, 8.1, 10, 11, Server 2008, 2012, 2016, and 2019. XYplorer does not affect your RAM because it is lightweight software. It has multiple features that support Zip support and offers synchronization that supports FTP and other networks. Like a portion of the recently referred file managers, it helps a single tick-see of pictures, videos, docs, and sound. Furthermore, the platform is continually chipping away on adding more features.
Features
Tabbing
Folder size
Dual pane support
Tagging
Duplicate file finder
Custom menus
It prevents accidental moves to the folder tree
Batch rename files
Batch processing
File tagging
Flat view
Pricing
Free trial: 30-day free trial
Standard pro license: $39.95 per user
Lifetime Pro license: $79.95 per user
Benefits
Extremely configurable
Very reliable and portable
Lifetime license available
Frequent and regular updates
Numerous filtering/sorting/highlights methods
Scriptable
Thumbnail view
Logs plenty of actions for undo/redo
Extensible metadata
Drawbacks
No working high-dpi support
Sometimes unresponsive
No themes and plug-in support
It does not support windows libraries
5- Q-Dir
Q-Dir is another file manager that is featured packed for windows. The best recommendation is to search for a simple, lightweight, duplicative and improved version. It is developer friendly that is pronounced in windows 11. The name Q-Dir is Quad Explorer, which provides four file panes with tabs in one window instead of a dual-pane, making file management more suitable. You can use the tool to control drives, folders and system storage. The advantage of the app is that it is free of cost and easy to use.
It is the best software for users who spend most of their time moving files daily. The platform shows compatibility with windows 7, 8.1, 10, 11, and windows servers 2012, 2019, and 2022. You can select a file to drag and drop and approach Q-view. The main thing about the app is that it picks up native icons of Windows 11. In addition, the interface is user-friendly with the HQ screen, and you can use the screen magnifier to maximize the screen icons. Installing it to run from the desktop or any memory storage device is unnecessary.
Features
Customizable
Preview filter settings
Drag n drop
File management in 4-windows with tabs
Folder size with extra information
Colo filter for files and folders
The classic and modern address bar
Directory structure with visible tree branches
Print when you see in explorer views
Based on the MS windows OS file manager
Full Unicode support
Pricing
Free: Freeware
Benefits
Highly manageable with four windows
Portable
It does not affect RAM
Use multiple tabs in every window
Highly customizable
Allows you to use your favourite feature
Drawbacks
Sometimes shows bugs
No search