Instagram
Clever Ways to Promote Your Blog on Instagram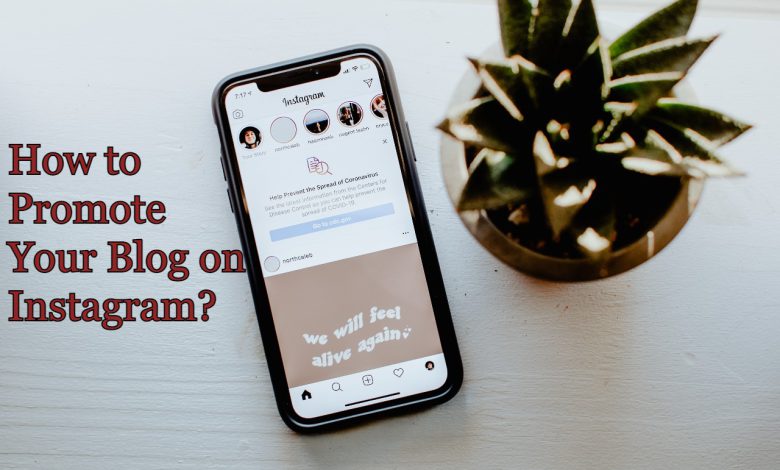 Instagram is not just a great place for teens and adults to share interesting visuals and selfies, but brands & businesses are also leveraging Instagram to stay connected with their audience. As it is a social media site full of community-building features and has a huge audience, it could be the best place to promote your blog and drive more traffic. Instagram has a huge potential to present your blog content in front of a broader audience that might be interested in reading the stuff you publish on your blog. Constantly sharing your blog post links on your IG profile can effectively grow the number of readers for your blog.
8 Best Ways to Promote Your Blog on Instagram
Whether it is your personal blog or a blog attached to a business website, below are some effective ways to promote your blog on Instagram to get more eyeballs on your content.
Post Interesting and Engaging Content
Posting anything on a personal Instagram profile is a good idea to gain more followers. But when you want to promote your blog on your IG profile, you should create and publish content that is relevant to your blog and deliver great value to the readers. However, you can also use relevant memes, videos, and images to hook your audience and keep them visiting your Instagram profile and blog as well.
If it is a niche blog that you want to promote on Instagram, you should be sharing the most relevant, informative, and high-quality content like industry news, trending topics, and expert ideas to drive blog traffic. Using the featured images of your blog posts as Instagram posts is also a great idea to give your users an idea that what your blog is about. Or you can create unique IG posts using applications like Canva.
Share Blog Post Teasers in Instagram Reels
According to the stats, about 70% of users view IG stories daily. This makes sense to share blog post teasers in IG reels to let your users know what articles you will be writing on your blog in days to come. This will not only generate audience interest in your blog but will also keep them curious about topics you want to cover. Instagram stories are one of the best ways to promote your blog content on Instagram and hook your users. You can also create short videos of already published blog posts to give new users a quick idea about your tone and writing style.
Be a Thought Leader and an Active Follower
The best way to increase engagement on your IG profile is to engage with followers and follow the pages of other fellow bloggers in the industry. sharing the latest industry news and trends with your followers makes you an industry leader and being an active follower helps you stay on top of industry news and updates. When people start engaging with your posts, they are more likely to read your blogs as well to get more interesting and useful stuff on a regular basis. Whenever you see a post relevant to your industry or blog, engage and try to build strong relationships with like-minded people. This will help you develop a strong network of fellow bloggers and industry experts.
Use Branded and Industry Relevant Hashtags Creatively
In this era of social media, brands and companies start their own hashtags to create a buzz and get their content in front of more social media users. This is the best way to encourage users for creating and sharing relevant content using branded hashtags. You can also create your own hashtag or use other trending hashtags in your Instagram posts to get your blog link in front of more people engaging with the same hashtags. Using relevant and trending hashtags in your posts enables you to get more eyeballs on your IG posts and blog as well. You can also start a contest around your branded hashtag to increase reach and engagement on your profile.
Consistency is the Key
To reap the advantages of Instagram for driving blog traffic, you should keep posting useful, interesting and quality content on a regular basis. Most bloggers publish posts regularly at the beginning but they end up posting every now and then. This reduces the reach of profile and blog readers as well. This is the reason, to maintain consistency when it comes to posting on Instagram with the intention to gain more blog readers. Come up with amazing and interesting Instagram post ideas to keep your feed fresh with informative, problem-solving, and entertaining content. Creating an Instagram content calendar is also a great idea to maintain consistency.
Add Blog Link in Bio
As Instagram allows you to add just one link in your bio, you can add your blog URL there to encourage followers and new users to visit your blog. You can also switch the link whenever you want. This means you can add a new link to your bio whenever you publish a new blog post. However, you can also use a social media reference landing page solution like Linktree to add multiple links there, and then you can share them all in your Instagram bio using a single link.
Call-to-actions in IG Posts & Stories
Adding your blog link in a post or reel is one thing. You can drive more blog traffic using Instagram by adding a clear call to action in all your IG posts and stories whenever you share a blog post link. It is one of the best and simple ways to encourage users to click through the link and visit your blog.
Always use High Quality and Professional Looking Visuals
When you create an Instagram post, make sure the image or video you are using is of high quality. Using traditional stock photos as IG posts is a thing of the past. You should create something unique and interesting to hook your IG followers and keep them engaged. There are so many mobile apps available that help you create high-quality and professional-looking Instagram posts, reels, and stories within minutes. You can use drag-and-drop templates to create your own images, and videos that you can edit with no editing skills and expertise.