Alternatives
Best WeTransfer Alternatives to Share Large Files in 2023
WeTransfer has been the top choice to save and share large files over the web. During online tenure, you have to send and receive multiple files continuously. Some are small enough to be transferred by Bluetooth or social channels. On the other hand, you will face difficulty sending some files through these platforms. As a result, you have to upload them to third-party software, like WeTransfer, to share them conveniently. However, some users don't like WeTransfers' interface and pricing plan for several reasons. That's why we come up with its top alternatives to share large files in 2023.
What Is WeTransfer?
WeTransfer is more likely a cloud storage platform where you can upload files to share them with anyone. It can store images, videos, audio, and other media. Many users are utilizing this platform's benefits for its ergonomic attributes and cost-effective subscription plans. It was developed in 2009, and since then, it served as the top choice for businesses and industries to store their larger data effortlessly and collaborate with the staff members for efficient and time-keeping work.
Best WeTransfer Alternatives In 2023
Although WeTransfer has dominated the business world, it contains certain flaws which may irritate some people, becoming the cause of frustration. Therefore, we have listed the best WeTransfer alternatives in this guide, which you should consider owning to share large files in 2023. Some offer free versions, while others work only on a subscription basis.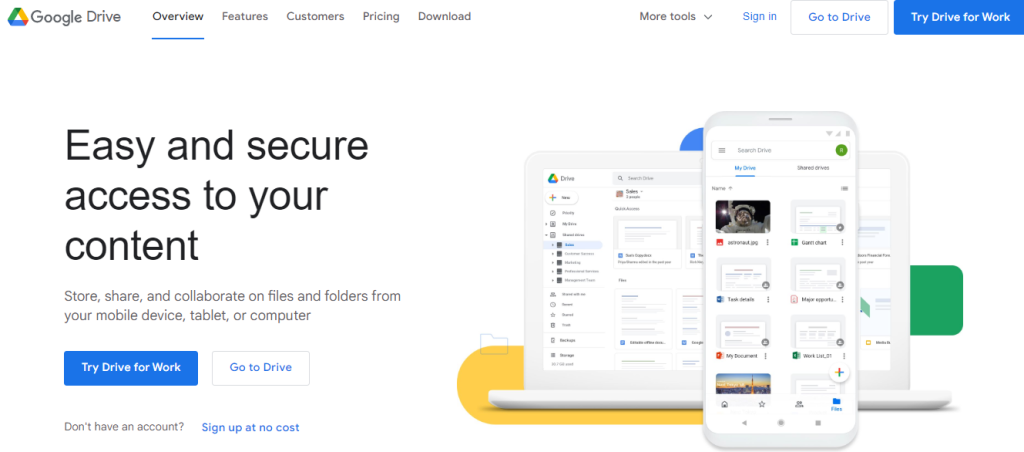 Google Drive is the best alternative to WeTransfer, launched by Google in 2012. Every user with a Gmail account can get free 15GB storage space where he can upload essential files directly from his device. Further, he can create a shareable link to send to any person or team member for the purpose of collaboration. Some other features are the following.
Offline Use: Google Drive also lets you access files during offline activity.
Third-Party Apps: You can also integrate third-party apps with this platform.
Enhanced Security: Above all, Google Drive keeps your data safe for a longer period.
Pricing
Besides the free plan, three other memberships are also available for businesses of different sizes.
Basic: $209 per month (100 GB)
Standard: $339 per month (200 GB)
Premium: $1,049 per month (2 TB)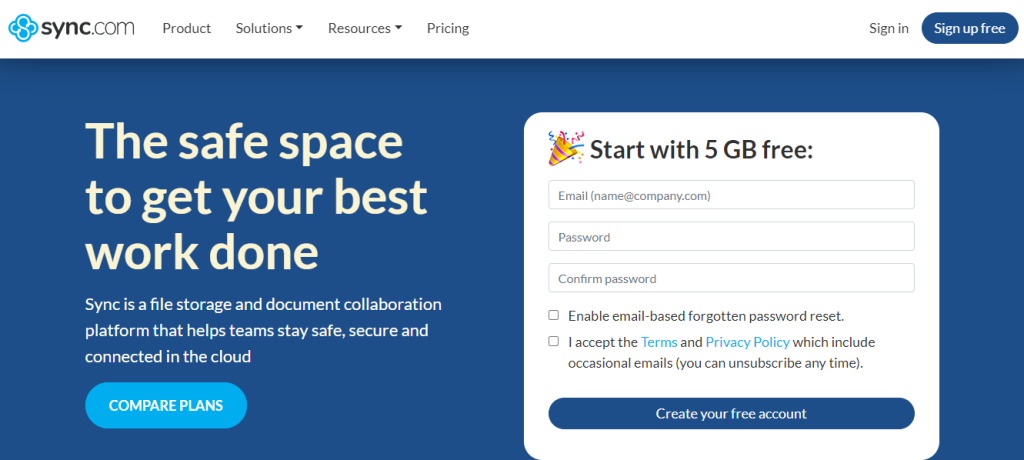 Secondly, Sync is present in the list of best WeTransfer alternatives. It is a highly efficient cloud-storage platform with exceptional security to keep your data safe during online work. Additionally, you can easily upload your files and create accessible links to share them with numerous users. One notable benefit is that you can open the links on any device, including Android and iOS mobiles. Other exclusive attributes are mentioned below.
Automatic Backup: This tool automatically backups the data for an extended time.
Activity Tracking: You can easily identify which user has opened the files.
Drag & Drop Upload: You can upload the file by dragging them directly instead of searching the whole device.
Pricing
Sync features three membership plans based on the data it can store. You can pick any of them as per requirement.
Team Standard: $6/month per user
Team Unlimited: $15/month per user
Enterprise: Custom Prices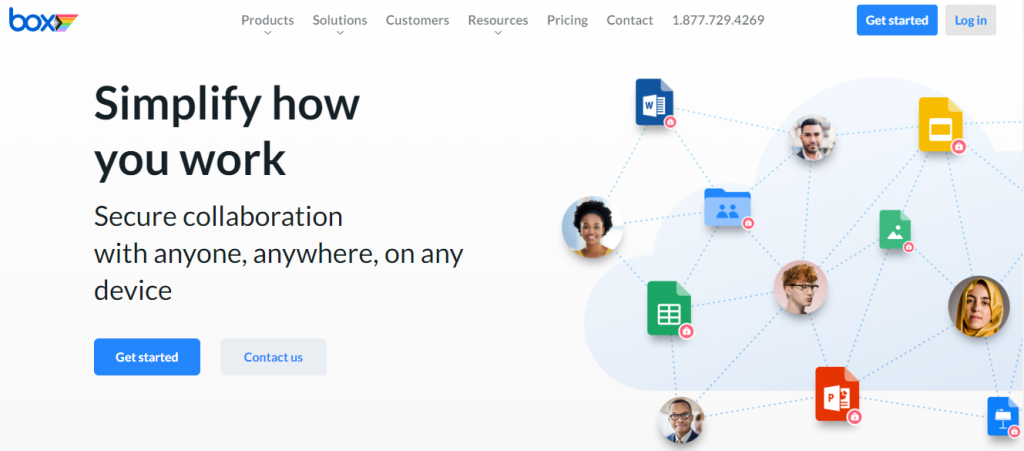 The box allows you to store a large amount of data for enhanced collaboration among the team members by easy sharing methods. Further, it helps you integrate numerous applications and tools such as Microsoft Office, IBM, Google WorkSpace, Oracle, Adobe, and others. Hence, it enables you to manage your staff and upload important documents. Additionally, it includes,
Admin Console: It helps you manage the staff activities inside this software.
Data Privacy: Enhanced encryption status won't let anyone steal your data.
Easy Sharing: A single button press can generate shareable links.
Pricing
Box offers four subscription plans which you can sign up for according to your company's requirements.
Business: $15/month per user
Business Plus: $25/month per user
Enterprise: $35/month per user
Enterprise Plus: Custom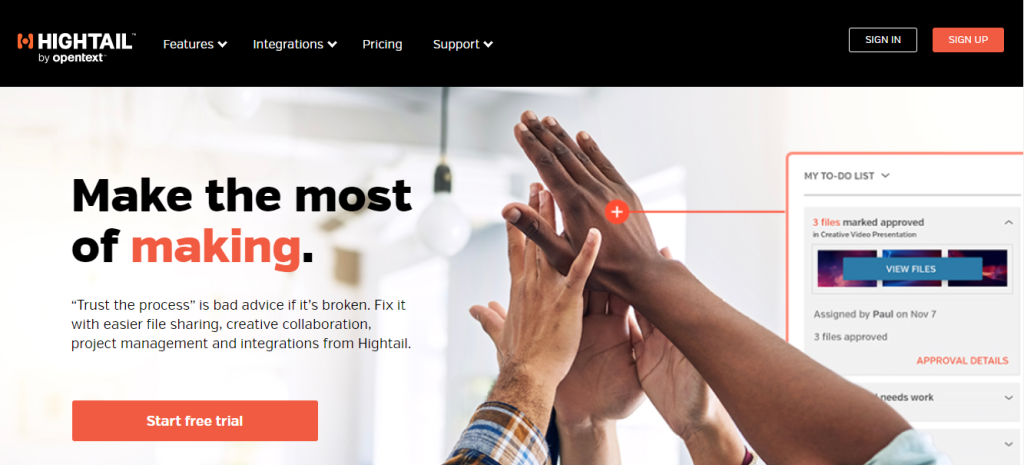 Sending and sharing a file becomes a lot easier with the help of Hightail, one of the quickest and most secure cloud platforms. Besides, it allows you to integrate the plugins and third-party tools for effective functioning. Further, the collaborative dashboard helps you learn about the users' activities and opening ratios. Other features include the following.
Project Management: You can assign tasks to your team members with the help of built-in management tools.
Alerts: You will get notifications and alert messages whenever a new file is uploaded.
Access Controls: You can manage which user will access the files.
Pricing
Hightail is popular for its exclusive, cost-effective subscription offers. Moreover, it also offers a free version in which you can store 2 GB of data.
Pro: $12/month
Teams: $24/month per user
Business: $36/month per user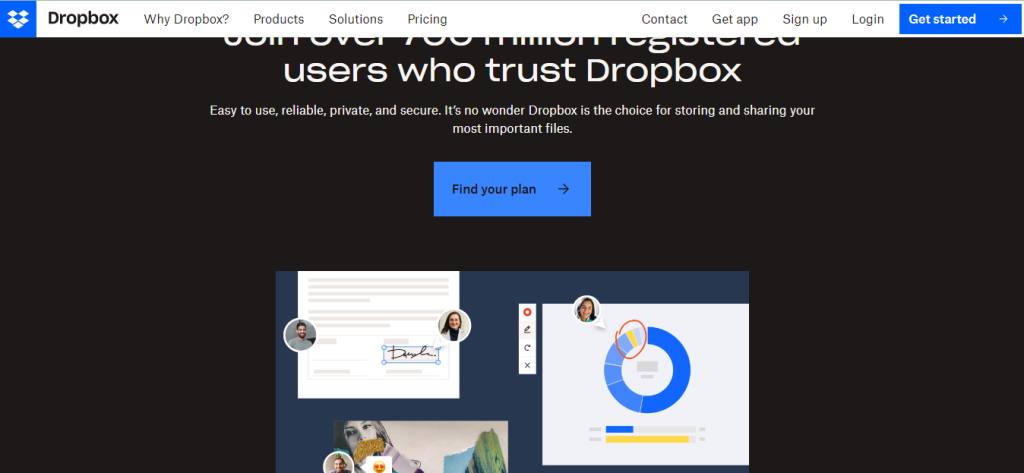 Lastly, we have listed Dropbox among the best WeTransfer alternatives. It is a place where you can store all your memories or company data and access them even after years. Furthermore, the easy-to-use interface allows you to upload and share information quickly and painlessly. Some other characteristics of Dropbox are,
Productivity Tools: This cloud storage comes with pre-installed productivity tools for efficient working.
Customized Access: You can customize the permission to allow only a few members to access the files.
Store All Files: Unlike the other tools, you can upload all kinds of multimedia and other files in Dropbox.
Pricing
The Dropbox subscription plans are listed in the under-section.
Plus: $9.99 per month (1 User)
Family: $16.99 per month (6 Users)
Professional: $16.58 per month (1 User)
Final Verdicts
All these are the details about the best WeTransfer alternatives you should consider to share large files in 2023. In conclusion, you may have to send and receive several files daily to share essential thoughts and data with team members. You must consider hiring one to get ergonomic and compelling benefits. WeTransfer is one of them, but some users have found it irritating. Thus, we have listed its top replacements that guarantee the same results under a considerable budget. That's all about this guide. Stay tuned for more updates.