Business
10 Best VoIP Providers That Will Help Small Businesses Thrive
Voice over Internet Protocol (VoIP) services has become an essential tool for small businesses around the world. Offering clear audio and reliable video, VoIP makes conversations easier than ever before, allowing entrepreneurs to connect with employees, partners, and customers from anywhere at any time. But with so many options on the market today, it can be difficult to decide which VoIP provider is best for your business. To help you figure out which solution will benefit your company the most, we've rounded up a list of 10 VoIP providers that won't break your budget but still provide comprehensive solutions. Keep reading to find out more about each one.
Importance VoIP Providers for Small Businesses.
VoIP providers are important for small businesses because they offer a way to communicate with customers and employees using voice and video communication. This can save the business time and money, as well as improve customer service. VoIP services are often more reliable than traditional telephone providers because they use the internet to send and receive audio data. The right VoIP provider can help keep a company competitive in its market.
RingCentral: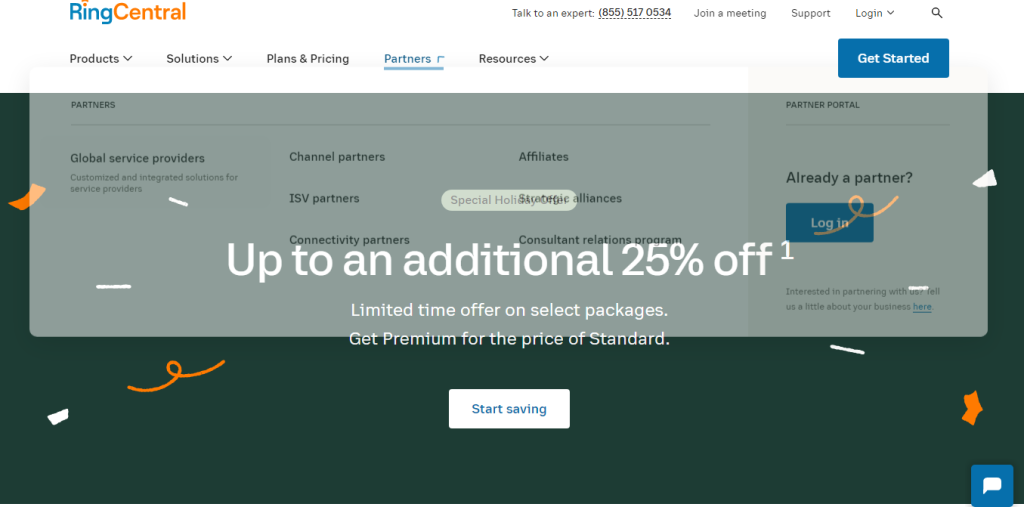 RingCentral is one of the most popular VoIP providers for small businesses due to its extensive features and robust customer support. It offers a variety of plans that range from basic services to enterprise solutions, so you can find the right option for your business size. Plus, its global reach means you won't have to worry about limited coverage when talking with international customers or partners.
Core Features:
Robust customer support
Custom greetings and voicemail
Customer Receptionist
custom hold music
Variety of plans
Global reach
With video conferencing, up to 100 or 200 people can join your virtual meeting – the number of participants depends on your plan.
Vonage: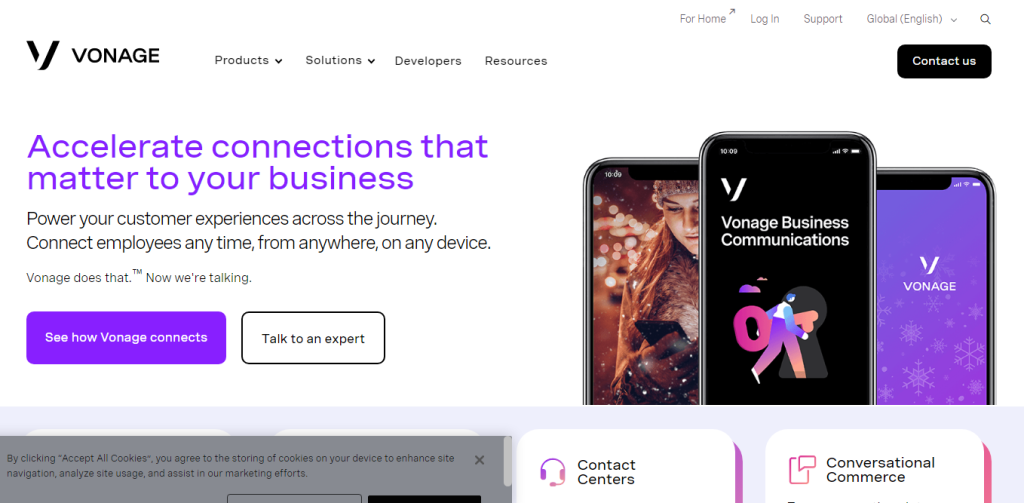 Vonage is another popular VoIP provider for small businesses. It offers a range of features, from basic calling and texting to more advanced features like call forwarding and voicemail transcription. Its global reach means you can make calls all over the world without worrying about limited coverage or roaming fees. With every plan, you can make endless calls, send SMS messages, and team messaging. You will have unrestricted access to the Vonage app center as well as VoIP's desktop and mobile apps.
Core Features:
Unlimited calling, messaging, and SMS
Call forwarding
Voicemail transcription
Team messaging
Global reach around 40 countries
Desktop and mobile app access
Vonage App Center
99.99% uptime
8×8: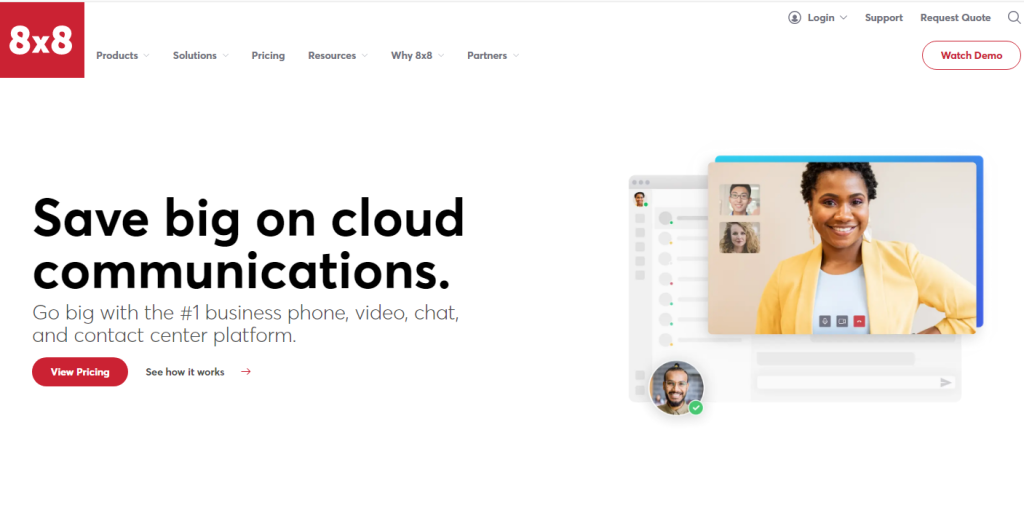 8×8 is a great VoIP provider for small businesses looking for an easy-to-use cloud phone system. It comes with no hardware and offers unlimited calling, messaging and collaboration in one convenient package. It also comes with several advanced features such as voicemail transcription, call recording, auto attendant and web conferencing. 8×8's plans are designed to fit any budget, so you can find an option that works for your business size.
Core Features:
Unlimited calling, messaging and collaboration
Voicemail transcription
Call-flow designer
Huge number of integrations
More features than most VoIP providers
No hardware setup required
Affordable plans to fit any budget.
Nextiva: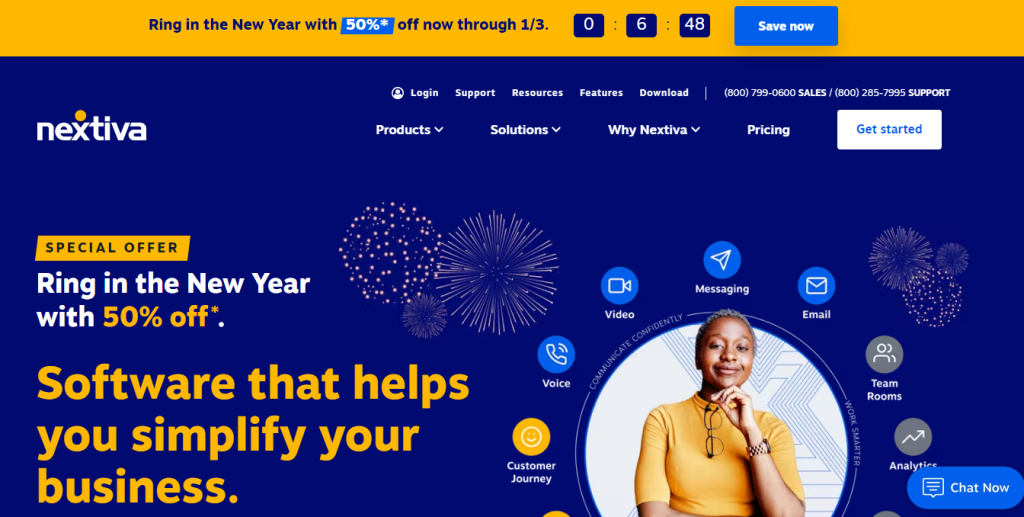 From small businesses to large-scale organizations, Nextiva offers an exceptional and comprehensive unified communication system. Its plans are engineered for scalability, so you can upgrade at any time. If you are intending to open a call center, reach out to the company and they can equip you with VoIP technology for your convenience. Nextiva's customer support is also top-notch, so you can get the help you need right away.
Core Features:
Unlimited calling, messaging and collaboration
Historical and live call data
Scalable plans for growing
24/7 live support
Sells and leases phones
Zoom Phone: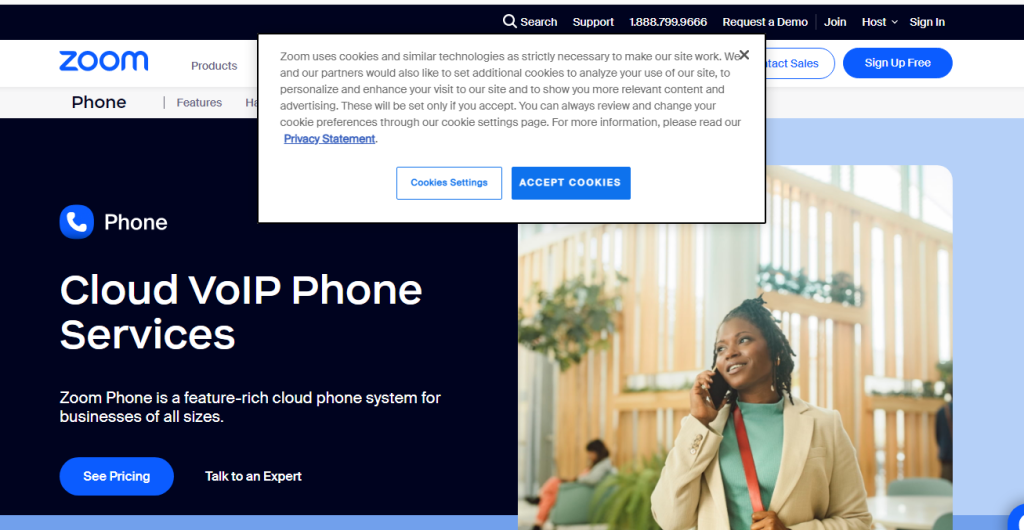 If you're looking for an all-in-one solution, Zoom Phone offers VoIP calling and video conferencing. Zoom is not merely a video conferencing platform for individual conversations, but also offers its own business VoIP service known as Zoom Phone. This solution stands out amongst the competition in terms of both affordability and quality. It provides HD-quality audio, local and toll-free numbers with international coverage, call routing and auto attendant features, as well as team collaboration tools. It also has an affordable pricing structure and requires no hardware setup.
Core Features:
HD-quality audio
Local & toll-free numbers with international coverage
Call routing and auto attendant features
Team collaboration tools
No hardware setup required
Affordable pricing structure.
CallHippo: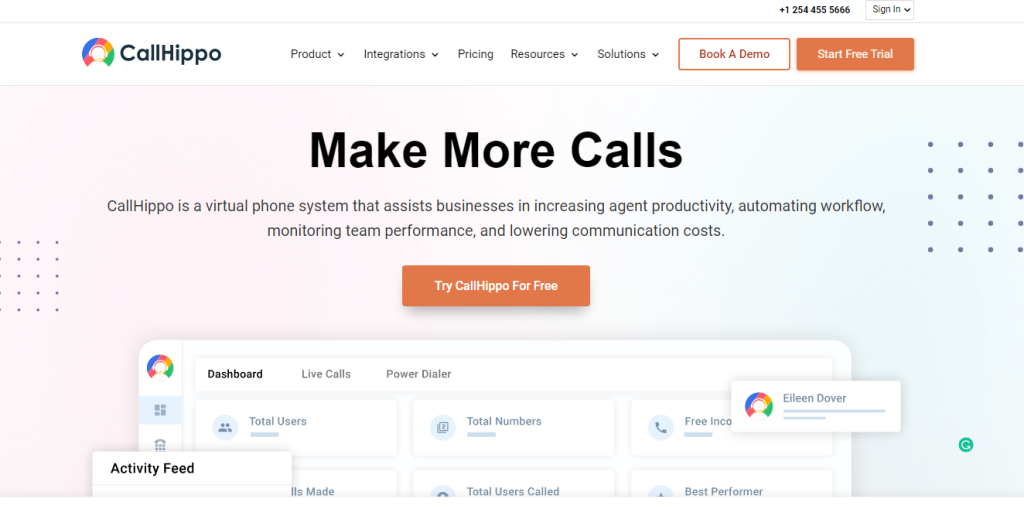 CallHippo is a VoIP provider that offers a wide range of features for small and large businesses. It enables you to acquire a local number quickly and make overseas calls in over 190 countries. What's more, it even informs the perfect time of day that is most ideal for customers depending on their native country – making sure your business operations run smoothly. Thousands of businesses, from Amazon to Shopify, have made the switch to this reliable and innovative business phone system. With over 5,000 brands already utilizing it, join them today in experiencing its seamless communication capabilities.
Core Features:
Easy video conferences
Local & international numbers
User-friendly call management setup
Sets up in fewer than 3 minutes
Call tracking & recording
Ooma: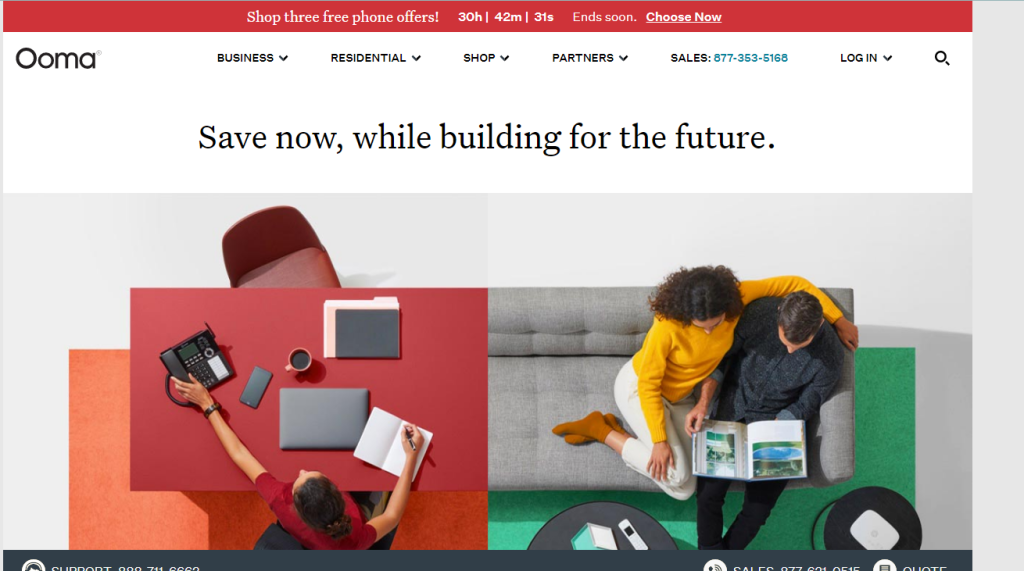 Ooma is another great VoIP provider for businesses. It offers a comprehensive suite of features specifically designed to meet the needs of any business, from small businesses to large enterprises. The service offers unparalleled pricing transparency, which is not commonplace in the VoIP industry. To take advantage of this unique opportunity to get an incredible deal on Voice over Internet Protocol services, be sure to complete our price comparison questionnaire today.
Core Features:
Unlimited calling and messaging
Advanced features such as call recording and auto attendant
Cost transparency with predetermined packages tailored to fit your business needs
Integration with popular applications such as Salesforce and Google Suite
Minimal hardware setup required
No contracts and no obligations
Grasshopper: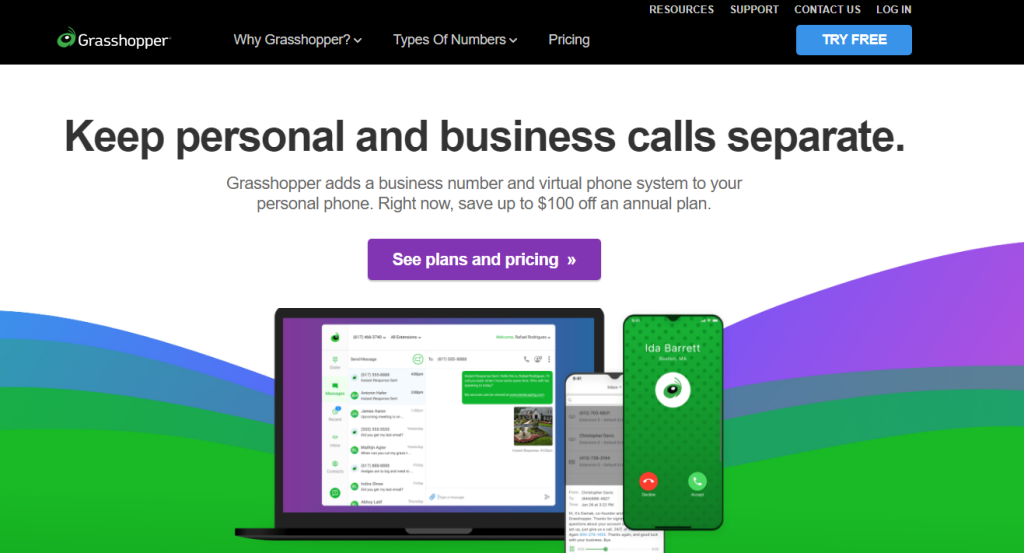 For entrepreneurs and freelancers, Grasshopper is an affordable VoIP provider that allows you to stay connected on the go. It offers a virtual phone system that forwards calls to any device, so you can receive and make calls from anywhere. Grasshopper is easy to set up and comes with all the features you need for efficient communication, including a toll-free number and call forwarding. The service offers great customer support and competitive pricing plans to get you started.
Core Features:
Toll-free number and call forwarding
Easy setup
Virtual receptionist
Integration with popular applications such as Slack & Salesforce
Live customer support
Competitive pricing plans.
Conclusion:
It's no secret that VoIP services are the way of the future. With dozens of providers to choose from, it can be hard to make the right decision. But with a little research, you'll find the perfect VoIP provider that fits your business needs. The providers mentioned in this article are all great options, each offering unique features and competitive pricing plans. So make sure to compare your options and find the perfect fit.