Gaming
Top 6 Wireless Controllers For PC Gaming
Wireless controllers are an incredible addition to gaming gadgets that will take your experience to the next level. With their help, you can conveniently enjoy your favorite games by sitting on a comfortable sofa or bed instead of sticking to a chair. Furthermore, the controllers designed especially for PC gaming are highly compatible with different operating systems to ensure a seamless experience. Besides, the technological advancement has made numerous companies launch their products in the market, making it difficult to select the top one. In this guide, we will provide details about the 6 best options you should buy in 2023.
Top 6 Best Wireless Controllers For PC Gaming
In the under-section, we have listed the top 6 best wireless controllers for PC gaming that will take your experience and enjoyment to the next level.
1 – EasySMX Wireless Gaming Controller
With the help of non-slippery grips, the EasySMX wireless controller effortlessly provides you with a comprehensive gaming session. In addition, the ergonomic design and 4 programmable keys allow fully immersive gameplay for ultimate entertainment. Further, the long connectivity range of 10m lets you play your favorite games on different operating systems. The embedded Lithium battery helps you enjoy long gaming sessions
What We Like The Most?
2 In 1 Connectivity Mode
Highly Compatible
4 Programmable Keys
Ergonomic Design
Asymmetrical Linear Motor
What Are The Cons?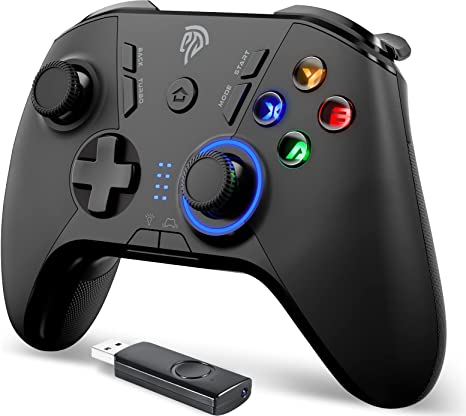 2 – Forty4 Wireless Gaming Controller
Secondly, we have listed the Forty4 wireless controller for PC gaming. With 2.4GHz wireless technology and long transmission distance, it can deliver exceptional-quality performance to gamers. Besides, it is widely compatible with several operating systems and Playstations alongside MAC. Further, the wired and wireless technology helps you use it even after the battery drains out. The directional keys and M buttons ensure a complete gaming experience.
What We Like The Most?
Complete Keys Set
Wide Compatibility Range
2.4 GHz Wireless Connectivity
Better Frequency
Wired Mode Present
What Are The Cons?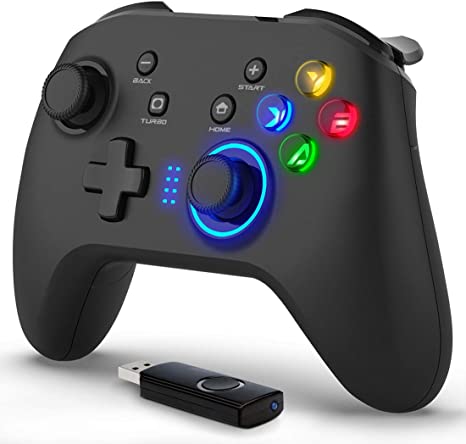 3 – MSI Force GC30V2 Wireless Gaming Controller
Thirdly, the MSI Force wireless controller for PC gaming can be effortlessly connected to different operating systems like Windows 7, 8, 10, and 11. Besides, you can also have fun with this controller on your PS 4. Furthermore, the ergonomic design offers convenient handling during long sessions. The buttons are very comfortable and easy to press for improved functioning.
What We Like The Most?
Excellent Compatibility
Comfortable Buttons
Budget-Friendly
Dual Vibration Motors
Multiple Colors Available
What Are The Cons?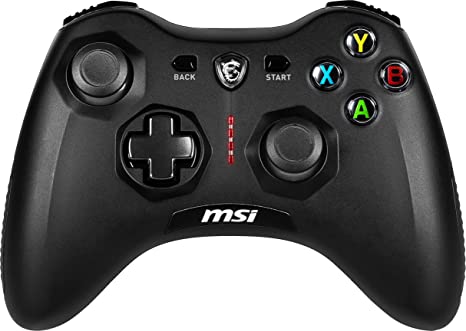 4 – W&O Wireless Controller
W&O has designed this product especially for gaming lovers, as the beautifully crafted design perfectly fits it into your hands. Additionally, the wider compatibility range allows you to connect it with different Microsoft Windows versions and PlayStation. The 2.4 GHz wireless connectivity technology not only provides you with a long connectivity range but also improves sensitivity and performance.
What We Like The Most?
Additional Buttons
Excellent Sensitivity
Long Connectivity Range
Crafted Design
Durable
What Are The Cons?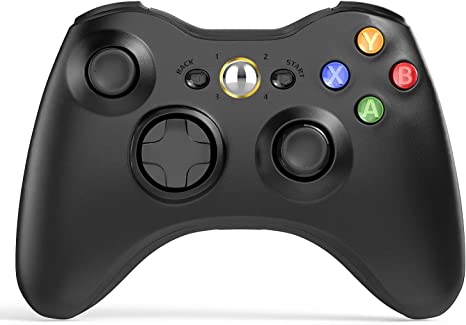 5 – DOYOKY Wireless Game Controller
With 3 connectivity options, DOYOKY wireless controller allows you to connect the product to your PC through Bluetooth, 2.4G wireless technology, and wire. In addition, the colorful RGB LED lights produce an immersive glow that looks incredibly fascinating and gives a pleasant look. Moreover, the 4 M buttons carry out all the desired operations.
What We Like The Most?
Multiple Connectivity Options
Bluetooth Supported
4 M Buttons
Adjustable Dual Vibration
Colorful RGB LED Lights
What Are The Cons?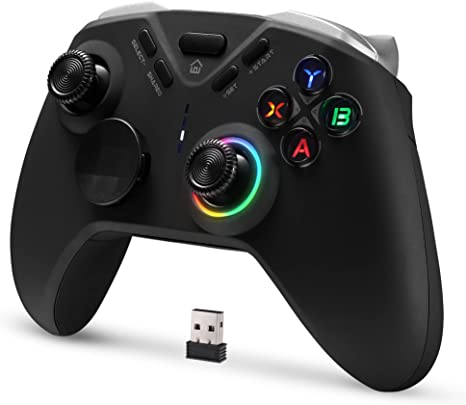 6 – FANDRAGON Wireless Gaming Controller
The most budget-friendly wireless controller for PC gaming features a long connection range thanks to the 2.4G wireless technology. Furthermore, the incredible design is a perfect fit for your hands to enjoy long sessions. With a complete button set, you can enjoy full gameplay without any extra effort. Besides, the power-saving mode saves the battery for long-term usage.
What We Like The Most?
Power Saving Mode
Long Battery Life
Extremely Budget-Friendly
10-Meter Connectivity
High-Quality Design
What Are The Cons?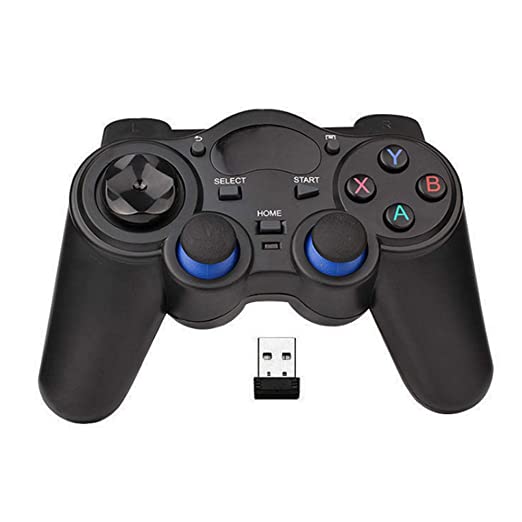 Factors To Consider Before Buying Wireless Controllers
With an enormous range of choices available for gamers, it is not easy to pick the best wireless gaming controller. Therefore, we have listed some important considerable points in the under-section, which you should consider before making a purchase decision.
1 – Weight
Firstly, the weight of the controller should not be much as it will make it difficult to handle for a longer time, spoiling your gaming sessions. Thus, an ideal product should be lightweight for easy handling.
2 – Design
Second, the design of a wireless controller is also one of the most essential points to look for. Some companies have made widely budget-friendly products but possess a poor-quality manufacturing structure. Thus, it is difficult to hold them conveniently, and you couldn't be able to enjoy the games properly. As a result, you should always look for an ergonomically designed controller for an enhanced experience.
3 – Buttons
The number of buttons also affects the purchase decision regarding gameplay. Moreover, a perfectly designed product with a complete switch set will be an exceptional addition to your gaming accessories.
4 – Range
Fourthly, the range must be long to keep a stable connection for a complete experience. Additionally, a wireless controller with a narrow connectivity range is nothing but a waste of money.
5 – Battery
The battery life must be prolonged to prevent frequent charging or changing. Further, a rechargeable product could be the unmatchable choice.
6 – Compatibility
Lastly, the wireless controller must be compatible to several operating systems. As a result, gamers with old Windows versions can also enjoy their favorite games.
Final Verdicts
All these are the details about the top 6 best wireless controllers for PC gaming. In conclusion, these innovative products will deliver a pro-class experience and help you enjoy your favorite games more ergonomically. However, you must consider some essential points, like battery, design, and connectivity. Furthermore, the products listed in this guide are tested frequently on all these criteria and proven to be the best available picks in the market. Thus, purchase the one according to your budget. That's all about this guide. Stay tuned for more information!