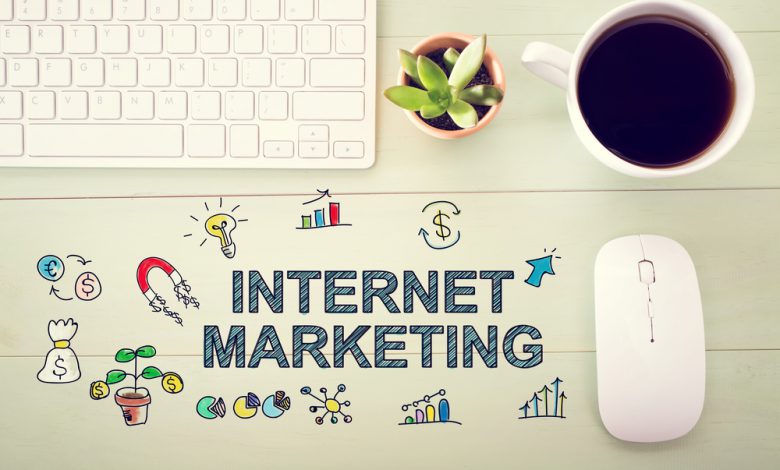 Internet marketing is the practice of online sources to advertise services and goods. Delivery brands can employ various tools to market products or services; they can leverage blogging, social media marketing, pay-per-click, content marketing, direct marketing, etc. Successful advertising translates well for increasing traffic on the website; it helps to increase return on investment (ROI).
Most customers are turning towards the internet to make effective buying decisions. It makes internet marketing more critical than ever before. Studies show that to carry out product research and preliminary prices, customers turn to research on social media and mobile internet, helping customers to make final purchase decisions.
What is Internet Marketing?
Internet marketing is an effective campaign used to promote business products and services online through digital platforms. It can include the use of multiple tools, content delivery platforms, online system, like:
Website content & design;
Email marketing;
Social media;
Blogging;
Video or podcasting;
Online ads;
Sponsorships & paid promotions.
While the primary purpose of marketing is to sell goods and services or advertise over the internet, it is not the only reason why many businesses perform internet marketing. Delivery brands can market online to deliver their message about their brand online. It is an effective way to define a target market, develop long-term relations, identify marketing segment needs & wants, and build authority within the business sector.
Image: (Source)
Pew Research Center points that internet usage by U.S. adults has increased by 5% in the last years. It also represents that 3 in 10 Americans go online constantly. Most brands are tapping into an advantage that the digital world provides. It plays a significant role, especially when it comes to making shopping decisions.
Image: (Source)
5 Benefits of Internet Marketing for Online Delivery Business
The number of smartphone users globally surpasses around three billion. It is estimated to grow by a hundred million in the next few years further. The United States (U.S.), India, as well as China are the most significant smartphone users; it combines 1.46 billion users. The smartphone penetration rate is lower than 70% in highly populated countries. Hence it becomes essential for internet marketing as it helps them to reach a high customer base in less time.
Image: (Source)
Through affordable and regular customized communication can help you to develop relationships with clients and prospects. It serves as a stark contrast to mass marketing, a tactic that is slow going extinct.
Internet marketing has become popular nowadays among delivery brands globally. After discovering a wide range of benefits of the internet or digital marketing in promoting products and services online, it has become one of the leading methods for business promotion.
Unlike mass marketing, effective piques the audience's interest by different means, including newspapers, print media, radio spots, and internet marketing, enabling delivery brands to nurture a personal relationship with the customers globally. With internet marketing, delivery brands can deliver content to customers through cost-effective and personalized interaction channels.
Delivery brands can leverage various benefits of marketing campaigns; it helps them attract more customers and grow their business in no time. Check the top benefits of internet marketing right here:
Convenience & Quick Service
The incredible convenience of online is one of the most significant benefits of internet marketing. It offers easy accessibility to customers with the internet and helps to reach markets globally. Because of an effective campaign, purchasing goods and services has reduced the transportation cost.
For importers, the marketing campaign has offered huge benefits as it means that they can order online right from the comfort of their home. Delivery brands can use free online tools to download digital products with just a few mouse clicks. An effective campaign is best for brands as it provides customers a comfortable and better shopping experience. Convenience plays a crucial role in making a purchasing decision.
Build Relationships
The internet plays a crucial role, especially when it comes to improving customer retention and developing relationships. You can send a follow-up email to confirm transactions and thank customers. You can build a relationship on the right foot when customers visit your grocery delivery mobile app or website. You can navigate them and help to provide a personal touch with special offers customized for them. You can build a sense of digital community by inviting customers to submit product reviews for the things they purchase through an app or website.
Reach More People
You can overcome all barriers through the right marketing campaign. Without tying up with the local stores, you can't sell products in different parts; this can widen your targeted market significantly. However, without opening the distribution network in other countries, you can't build an export brand.
To achieve success and make specific products or services comply, you can enlist the help of localized services. However, you will experience that expertly crafted internet promotion can open a new world of opportunity for your delivery business. It would help if you took the right time to build a plan and coordinate with online marketing efforts. However, web-savvy customers can spot the brand with a disorganized online presence.
Increase Customer Loyalty with Frequent Interaction
Every brand knows that it's challenging to attract and convert new customers than to retain an existing one. It's challenging to build a loyal customer base, but it's worth your efforts. It is excellent to finalize a sale with consumers; however, it's better to retain customers after-sales.
A customer retained makes a purchase and will recommend your brand to others, ensuring to increase your business sales. In the United States (U.S.) alone, more than 40% of online shopping revenue is generated from repeat customers; they make 8% of site visits. 
Image: (Source)
To keep consumers returning to your brand, you need to stay in touch with them, and online marketing is the best way. Some proven method includes:
Personalized email offers;
Social media engagement;
Provide discounts.
Generate a Consistent Lead Pipeline
The primary purpose of internet marketing is to create a "sales funnel." It is a system for generating continuous leads and making sales. In a simple sense, it's an effective way for turning traffic into business enthusiasts. Sales funnel will help improve customers' journey, according to Taboola's study.
Image: (Source)
You can also create a sales funnel to generate leads. Let's explain it with an example; before building an online sales funnel, a delivery brand must rely on different locations and billboards to create charges for their brand product or service. But when the brand starts using the digital offer to develop a consistent lead pipeline. 
With this approach, the delivery brand can generate more leads predictably and systematically. Additionally, as customers submit their mail addresses for free order benefits, brands can use them during their email marketing campaign.
It Doesn't End Here!
Listed above are very few benefits that delivery brands can leverage through internet marketing. The top use of this marketing is cost-effectiveness; with a modest investment, it helps you reach a large customer base through different digital channels. No matter which size of the delivery brand you have, you can get benefited by investing in an online marketing campaign.
It helps customers to gain better access to your delivery brand. Internet marketing helps with more exciting leads that are looking for your brand. Today, an increased number of customers are purchasing products online. As a result, more delivery brands resort to one or another marketing campaign, helping to connect with customers and promote their product or services online. It sets them apart from the competitors and helps to increase profit margins in no time.