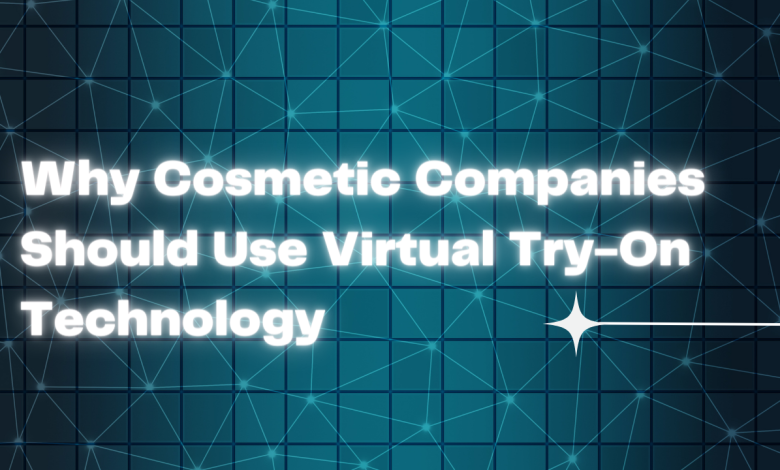 With the rapidly evolving market and the latest scientific advancements, many technologies are improving and becoming available for widespread use. AR is no exception, offering cosmetics and retail companies another channel of interaction with potential customers and an increase in conversions, loyalty, and consumer satisfaction. Let's understand how it works and why brands needed to install a virtual makeup try-on plugin on their website yesterday.
What Is a Virtual Try-On technology?
Augmented reality technology changes the approach to customer interaction, reduces possible risks with the help of a visual product presentation, and makes it possible to find the perfect cosmetics for the customers' needs, particularities, interests, and desires. But how does it work?
The virtual try-on feature is an AR and often AI-powered technology that allows an app to detect and analyze customers' faces, locating the areas where products should be applied.
Try-before-you-buy in the beauty industry is somewhat similar to Snapchat and Instagram filters. Many of them allow you to apply makeup in real-time with the camera and try various looks using the entire color palette without requiring the skills of a makeup artist and the added expense of cosmetics and tools. However, virtual try-on technology is a times improved version of such filters.
When a customer tries on a particular shade of a cosmetic product, the high-end GVTOs analyze their skin color, age, and individual characteristics. It looks as if the customer was just looking in the mirror, testing cosmetic novelties from the comfort of their home. That's why installing smart mirrors in offline retail stores has recently become a trend. A technology that was initially used for enhancing consumers' engagement led the beauty industry to enter the metaverse combining digital experience with a physical purchase. 
In recent years, most companies in the cosmetics market have implemented AR technology in their online sales channels, and the results are astonishing.
Virtual Try-On Success Cases
The use of AR in the beauty industry proves its effectiveness. According to surveys, the average increase in conversion rates and average basket size for online purchases with AR ranges from 350 to 400%. 
Taobao and Tmall Alibaba have adopted virtual try-on technology. After six months of use, conversion rates quadrupled. L'Oreal has also improved its virtual try-on experience. The company actually admits its ambition of becoming the tech beauty leader in the industry. Not only does it offer its consumers a personalized customer journey but also works on developing IoT beauty devices. The Garnier case showed that AR-powered VTO helped to increase e-commerce sales by 49%. 
Dior, Chanel, Benefit Cosmetics, MAC, and Bobby Brown have all demonstrated mind-blowing sales and customer engagement results after adopting the virtual try-on technology.
Benefits of Adopting Virtual Try-On in Beauty Companies
More than 40% of shoppers responded that not being able to try the product for themselves stops them from shopping online. It would seem that such statistics are already enough to digitize your products and implement VTO as well. However, studies and statistics indicate that there are even more reasons and advantages to leveraging AR and AI. 
A person, not Target Audience
According to a survey by Slideshare, over 80% of consumers are more likely to purchase from a company offering personalized products and shopping experiences. People want brands to treat them like individuals, not statistical figures. Virtual try-on offers a tailored approach. 
Reduced Return Rates
It's astonishing, but buyers return up to 30% of products purchased online. Their expectations and reality don't match, resulting in a decreasing satisfaction level. VTOs help makeup users find perfect items through smart analysis. Some services like Banuba, for example, even enhance the video and image quality, so a low-end camera won't be a problem. You can try it out on the company website. Besides, its solution is AI-powered, offering replacements based on clients' preferences and needs if the initial product didn't match.
Enhanced Average Order Value and Conversion Rate
The virtual try-on allows users to experiment and sample new looks. A feature that many try for the sake of interest or fun leads to spontaneous but conscious purchases that are sure to please. The convenience of the service to try absolutely any product and review the image from every angle and in every light opens up new online shopping opportunities for consumers. And 71% of buyers said they would buy more if an AR interaction were available. It protects them from ordering a cat in a poke based only on reviews and photos. Besides, many makeup users hesitate to try more expensive brands or cosmetics of bizarre shades. With virtual try-on, there are no limits to their desires. 
Today's shoppers are more likely to be puzzled or disappointed if they don't get a chance to test makeup online. It is important to understand that brands certainly set the trends, but customers and their behavior force companies to adapt and give them what they want and how they want it. Pretty soon, e-commerce without a virtual try-on option will become obsolete and lose even the most loyal customers.