Affiliate marketing is the most popular business strategy in this modern world to earn quick money. In this working approach, you will earn a commission for promoting the products and services of third parties across different platforms. However, the extensive rise in the competition has made it quite challenging for the individuals to succeed in this field. Therefore, you must keep tracking your performance to determine the necessary flaws. By working accordingly, you can bring more success to your journey. In the under-section, we have elaborated on the essential tips for tracking analytics in affiliate marketing.
Importance of Analytics
Analytics are crucial in every industry, and affiliate marketing is no exception. It gives you insights into your business performance and other critical metrics. Further, you can analyze upcoming trends and customer behavior in the existing ones. Hence, leveraging them into your working model allows you to direct your growth more productively to get ahead of the competitors. If you promote third-party products on different platforms and your website, tracking analytics can help you learn about the sales you are generating within a specific period. Further, it facilitates data-driven decision-making to enhance competitiveness by bringing agility and adaptability to your business working model. Thus, you will reach the ultimate level of success.
Tips For Tracking Analytics in Affiliate Marketing
In the under-section, we have provided all the details and essential tips for tracking analytics in affiliate marketing without making much effort.
Choose the Right Tracking Software
Technology has delivered enormous benefits in this fast-paced world by providing you with several tools and software. Hence, you can automate your routine tasks with their help. Similarly, numerous tracking software are in the market, allowing you to track your performance precisely and effectively. However, you must assess their features to determine which will work best for you. Consider your requirements as well as your budget before deciding on an option. The top available tools are Post Affiliate Pro, AffiliateWP, and HasOffers.
Implement Conversion Tracking
Next, you must implement conversion tracking because measuring the effectiveness of your marketing campaigns and efforts is necessary. Most software lets you set up conversion tracking by implementing the codes or pixels on your websites. As a result, when someone purchases a product, these codes will submit the reports to the respective software's interface. From there, you can learn about the sales or sign-ups received. Furthermore, you can track your customers' complete journey to detect potential anomalies in the channel as well.
Monitor Traffic Sources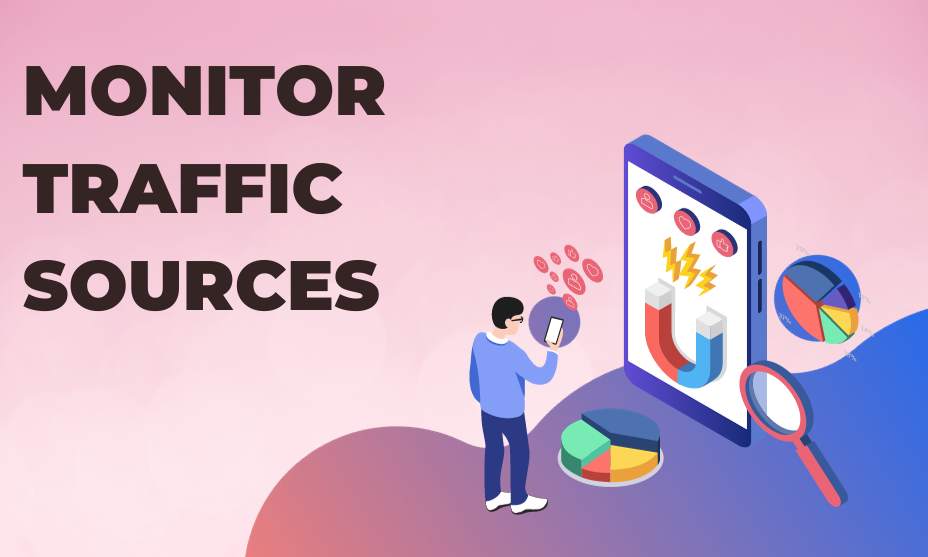 Thirdly, you must monitor your traffic sources to determine which campaigns effectively improve your business efficiency. Hence, by adopting the proper measures, you can reduce expenses and spend money on a single platform to generate quality sales. One of the best strategies is to segment the traffic sources into categories, such as organic, referral, paid, and social. As a result, you will have insights into whether to spend money on paid sources.
Analyze Click-Through Rates
Before heading toward the details, you must understand what CTR is. Click-through rate measures the percentage of people who click your link after viewing it on your site or other marketing platforms. It is a fundamental metric in affiliate marketing and helps you learn if your campaigns are engaging. If your CTR is too low, you must reconsider the visual perspective of your site or images. Moreover, you can rewrite your content to make it compelling for more ergonomic benefits.
Track Earnings Per Click
Earnings per click is a relatively new crucial metric that gives details about the earned commission on clicking the links. Although many known platforms, like Amazon, eBay, and Clickbank, do not pay any commission in the form of EPC, some have launched this to increase their customer base. Therefore, you must monitor this factor if you promote products from such a platform. EPC also delivers the same results as CTR, enabling you to optimize your marketing efforts according to the latest requirements.
Utilize Sub-ID
Numerous affiliate platforms also understand the importance of tracking analytics. That's why they provide sub-IDs or other relevant tracking parameters to add to your affiliate links. As a result, you and the actual owner can both learn about the potential sales. Additionally, it delivers insights about the searchable keywords. Hence, by adding them to your articles, you can rank at the top of competitors and receive more organic sales. Thus, you can cut your expenses by stopping spending money on paid channels.
Regularly Review Analytics Reports
Next, you must regularly review the analytics report of your affiliate marketing campaigns to see if your efforts are working correctly. Moreover, by understanding the dynamics of affiliate marketing, you can bring adaptability to your strategy to accommodate new changes. In this way, you can get more benefits. Above all, tracking analytics helps you learn about new trends and customers' preferences. Thus, you can direct your marketing campaigns to set up a platform for all the desired outcomes in terms of improved sales numbers and revenue.
Stay Compliant with Regulations
Due to increased marketing competition and the ultimate rise in fraud, affiliate marketing is subjected to various rules and regulations. You must stay compliant with them, especially regarding disclosures and advertising standards. Otherwise, you may face legal consequences and other negative impacts. By following the proper regulatory measures, you will not only ensure the business's legality but also meet your client's requirements effectively and effortlessly.
Final Verdicts
Tracking analytics in affiliate marketing is necessary for success in this highly competitive online landscape. However, you must be precise to perform this activity for maximum outcomes. Affiliate marketers can optimize their campaigns by choosing the right tracking software and implementing conversion tracking. Similarly, monitoring traffic sources and analyzing key metrics like CTR and EPC let you make informed decisions for more productive outcomes. Additionally, you can use sub-IDs to ensure that your affiliate marketing efforts remain effective and adaptable. Thus, you will take your journey to an advanced level with maximum revenue in your pockets.