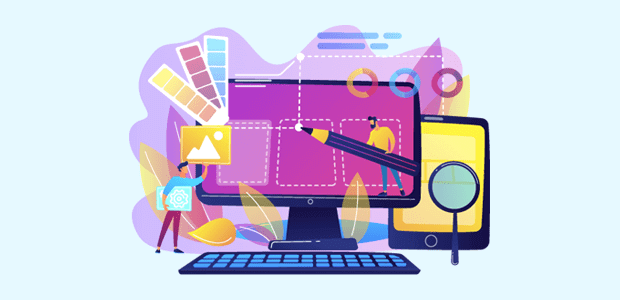 Like in other professions, web designing has also tools that bring new concepts. There are many apps available on the internet, but there are some that are useless. The best web design software makes it easy for you to create your own customized website, either by providing a coding platform or a drag and drop interface.
It is used to be the case that the only option to code a website directing, using HTML and CSS and even JavaScript. However, these days the drag and drop editors have become more commonplace, making it easier for everyone to create their own website according to their needs.  In this article, you will find the best web designing software that will help you to design your own website.
Also Read:
Dreamweaver
Adobe Dreamweaver is a commercial app for web development that is available for Mac and Windows operating systems. This site customizing tool is all set of tools and options that include syntax highlighting and very smart Code Hinting, a built-in FTP client, project management and workflow options that make teamwork effortless, and Live View which displays you a preview of your source code. Dreamweaver integrates with other famous Adobe products such as photoshop, which permits you to share smart objects for quick and easy upgrading and editing of graphics elements.
Nova
Nova is the latest and enhanced version of the web development app for the Mac OS X operating system. This web designing tool decreases the number of applications you need to develop websites and to enhance your group's workflow. Nova's one-window web development philosophy uses a tabbed interface for text editing, file transfers, SVN, CSS, and even "Books" which embeds web books that are searchable.
Read:
Photoshop
Adobe Photoshop is a very famous commercial graphics editor available for the Mac and Windows operating systems.  Created for professional photographers and designers, it is the best app for operating images and creating web graphics. 
Photoshop has all the important tools and options you want like filters that mechanically add effects to your images or a selected section of your image, extensibility, and automation with Brushes, Actions, and Scripting, and workflow improvement features like Layer Comps and the Revert option.
Wix
Wix is more a website creator than a coding platform, but it is one of the most famous online website creators that are providing a wide range of plans and products. Its free version has limited storage space of 500MB and bandwidth, but move up to the most famous plan and there are no Wix advertisements.
A great collection of more than 500 templates get the design process off to a quick start. The drag and drop editor provides you all types of tools and features to explore an image editor, video backgrounds, animations, social buttons, an integrated site blog, and just about everything can be tweaked, tuned, and restyled.
Web Flow
Web flow is a cloud-based service that has been created specifically to permit people with no coding understanding to get started with web design. Aside from being truly cross-platform, as it's web-based, Webflow highlighted the knowledge of smart carelessness.
In the first instance, this means a crisp drag and drop interface allowing you to drop components such as text and images seamlessly onto a page using one of the freely available templates. Webflow provides a free affirmation of its features via the website, and you can also subscribe for a free Starter package which allows you to create up to two projects.
Read:
Bluefish
Bluefish is the smallest web design tool trending today. The tiny installer takes only a few moments to set up. While the interface is text-only, it's clearly designed with novices in mind as it employs clear-cut toolbars, user-customizable menus, and syntax highlighting.
Bluefish has a great search function, permitting you to find text across multiple projects. The tool also has no trouble juggling hundreds of documents at the same time. Although Bluefish supports working with remote files, the varied and useful dialogs and wizards don't currently support direct upload of web pages via FTP.
Google Web Designer
Google Web Designer is a free webpage designing tool that makes building interactive and engaging HTML5-based designs simple. Even better, the tool makes sure your designs (and motion graphics) will run and show on any device, from desktops to smartphones. You can also edit HTML, CSS, and JavaScript directly with Google Web Designer.
Firefox Developer Edition is a kind of Firefox exactly for web developers. As a developer, you have access to all their DevTools. This webpage design tool's many features include Inspecting and debugging, creating and designing with CSS Grid, HTML inspector, style editor among many other tools to provide the greatest assistance with your web development needs.
Website redesigns require a serious investment of time and resources, so it makes sense to consider why you should redesign your website. Without web design software, though, you can easily build a website that won't perform as expected. That's why wireframing, prototyping, and coding is beneficial and you can use the tools above to get that done.