Barcode Scanners are useful gadgets for every store, shop, warehouse, and industry. Technological development has made it incredibly easy for shop owners to keep a record of their products and items. In this way, they can calculate their sales and generated revenue. Barcode is the most convenient way to save the items' descriptions and prices. Each product is given a unique tag corresponding to the saved code in a PC or laptop. The transmitted information is counted as a sale whenever a scanner scans the barcode. That's why; you should possess this high-end device for your store. Read this guide to find the top 6 best choices available.
Top 6 Best Barcode Scanners
After sorting the web completely, we have listed the top 6 barcode scanners below to buy in 2023. All of them are tested on multiple criteria to ensure hassle-free functioning.
1 – Tera Pro Wireless Barcode Scanner
With the help of a lithium battery, the Tera Pro barcode scanner can give you long functional activity after a complete charge. Further, the multiple connectivity options, like USB, Bluetooth, and wireless, makes it one of the best barcode scanner currently available in the market. Moreover, two alert options indicate complete scanning through vibration and sound. Besides, the gadget is highly compatible with Windows 7, 8, 10, and 11 operating systems.
What We Like The Most?
Multiple Connectivity Options
Dust Proof
Highly Compatible
Ergonomic Design
Durable Construction
What Are The Cons?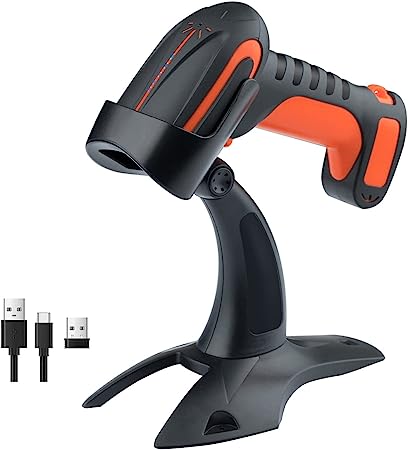 2 – ScanAvenger Wireless Barcode Scanner
The ScanAvenger is the next product in our list of the top 6 best barcode scanners, as no software is needed to install or make it compatible with your PC. Moreover, the 3-in-1 connectivity technology improves its performance and enables it to use for maximum operations. Furthermore, the lithium-ion battery has extended its working life. While the laser can scan the barcodes more swiftly and efficiently from a long distance.
What We Like The Most?
Beautiful Composition
Long Scanning Range
3-in-1 Connectivity Options
No Software Needed
Lightning Connectors
What Are The Cons?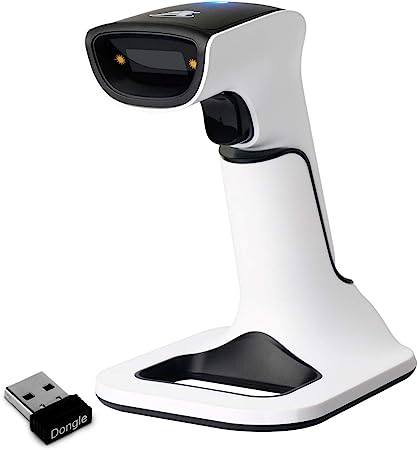 3 – NADAMOO Wireless Barcode Scanner
Thirdly, the NADAMOO is present in this rundown of best barcode scanners for its exceptional 2600 mAH battery. After a full charge, it can run continuously for 30 days with 2000 daily scans. Additionally, the lightweight body is easy to lift and carry. As a result, you can take it anywhere, like the store room, to scan the codes and determine the product numbers. The long-range wireless connectivity accompanies this attribute, enhancing its performance.
What We Like The Most?
Storage Mode Present
Longest Battery Life
Lightweight Body
Budget-Friendly
Two Paring Modes
What Are The Cons?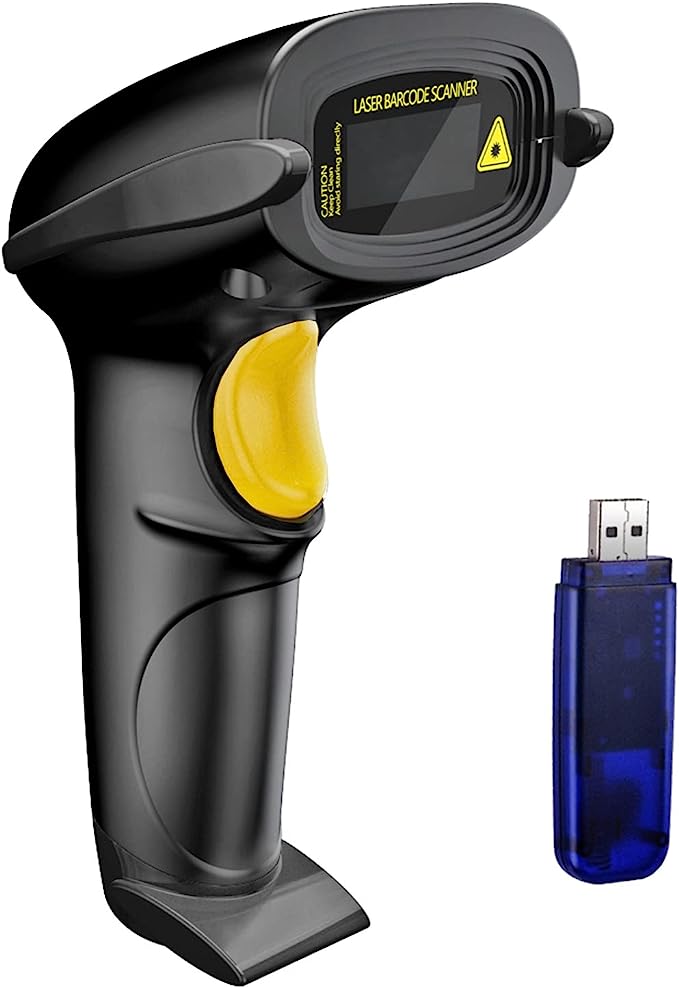 4 – NETUM Barcode Scanner
One of the most famous tech brands, NETUM, has launched its product with some exclusive features. Therefore, we have picked it among the best barcode scanners. With the help of Bluetooth technology, you can connect it to your mobiles (Android or iOS), computers, laptops, and Macbooks. Furthermore, the CCD sensor Engine Support scans and reads the barcodes speedily, generating the codes and transferring the data to the connected devices
What We Like The Most?
CCD Sensor Engine Support
Easy Connectivity
iOS Compatible
HID and SPP Mode
Healthy Battery Life
What Are The Cons?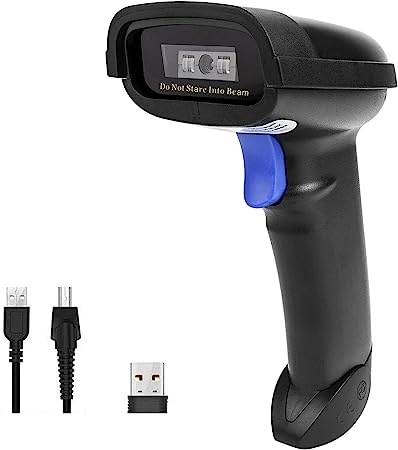 5 – NADAMOO CCD Reader Barcode Scanner
The ergonomic design and perfectly crafted body have made this product not only a perfect choice for your store but also for your industry. In addition, the enhanced compatibility allows it to connect to different operating systems and mobile devices. Besides all these attributes, the product is extremely lightweight, making it among the top barcode scanners. Moreover, two working modes are present. Utilizing the storage mode, you can store the data of around 100,000 barcodes.
What We Like The Most?
Can Save 100,000 Scans
Portable
Classy design
Auto-Sensing Mode
Long Range Connectivity
What Are The Cons?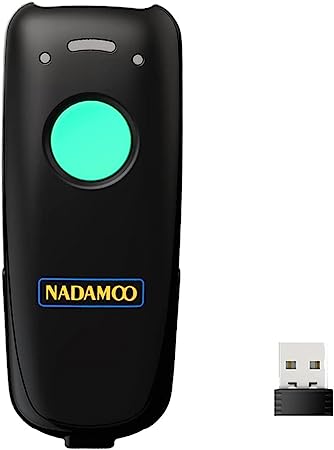 6 – Symcode Wireless Barcode Scanner
Symcode has designed these barcode scanners to scan 300 lines per inch. With the help of 2.4G wireless technology, you can connect it to your computer to capture barcode data. Beyond all, the USB and Bluetooth connectivity also improves its working domain. On the other hand, the enhanced compatibility lets you operate it with Windows 7, 8, 10, and 11. You can put this product on the stand for convenient scanning.
What We Like The Most?
2.4G Wireless Technology
Multiple Configuration Options
200m Transmissible Distance
Ideal For Warehouse
300 Lines/Inch Scan Rate
What Are The Cons?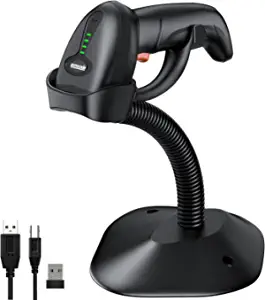 Buying Guide
Consider the following factors before buying barcode scanners. In this way, you will have your hand on the best available option.
1 – Scan Rate
Firstly, you should consider the scan rate of the product. If you run a large warehouse or industry, you should pick a product with a large scan rate per inch. Resultantly, you can perform the work faster.
2 – Connectivity
Secondly, you should look for the wireless connectivity option in barcode scanners, as the wire limits the performance and functioning domain.
3 – Compatibility
Thirdly, look for a product that features a wide range of compatibility with different operating systems, like Windows 7, 8, 10, and 11.
4 – Battery Life
Fourthly, battery life is also an important factor to look for. Choose the barcode scanner that can run long after a complete charge for seamless performance.
5 – Budget
Lastly, you should buy the best budget pick. In this way, you can enjoy ergonomic functioning without putting extra load on the economic domain.
Final Verdicts
All these are the details about the top 6 barcode scanners to buy in 2023. In conclusion, technological advancement has enabled numerous companies to launch their products. As a result, it becomes difficult for one to grab the best option for a store or a warehouse. However, you can pick the one by considering some essential factors, like company size, scan rate, connectivity, and compatibility. Besides, you must view your budget for the more ergonomic pick. The gadgets listed above in this guide comply with all these criteria. That's all about this guide. Stay tuned for more information!