Business
Tips to Renegotiate a Contract Effectively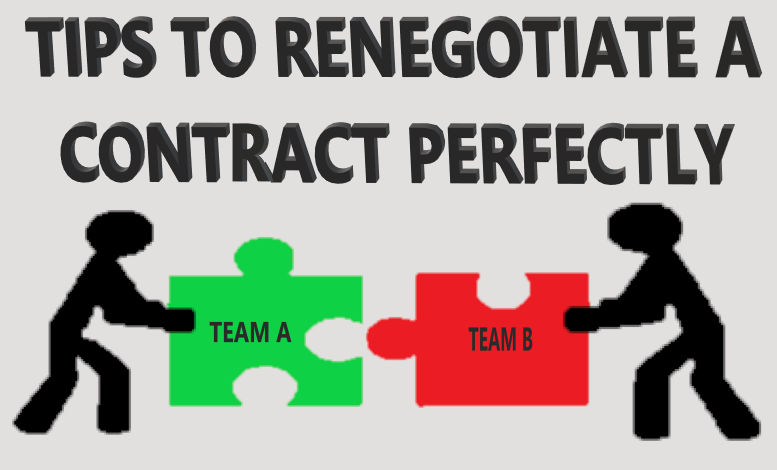 Mostly after breaking or canceling a contract, the parties avoid going back to the table to renegotiate it. Although at first, it's the top priority of every contractor to make the contract with compatible conditions for both parties. But we all know that life is unpredictable. And we are not certain about our steps and decisions at any moment. There is always a chance that things can go wrong. Decisions need to be modified. The terms in contracts are needed to be changed. Renegotiations are to be done for further progress in work. It is impossible to trade under worse trading conditions. For instance, deals made in contracts at certain times may not work in changed conditions. 
Read Also:
How to Scale Digital Business Transformation
So, if you are also dealing with the lopsided deal and you have to suffer greatly with time. Certainly, in unfavorable circumstances, your first step should be to tell the other party about these inequities. And you can ask for renegotiations to make the environment comfortable again. In this way, you can back up your demands with persuasive evidence. Here we have gathered some useful tips renegotiate a contract: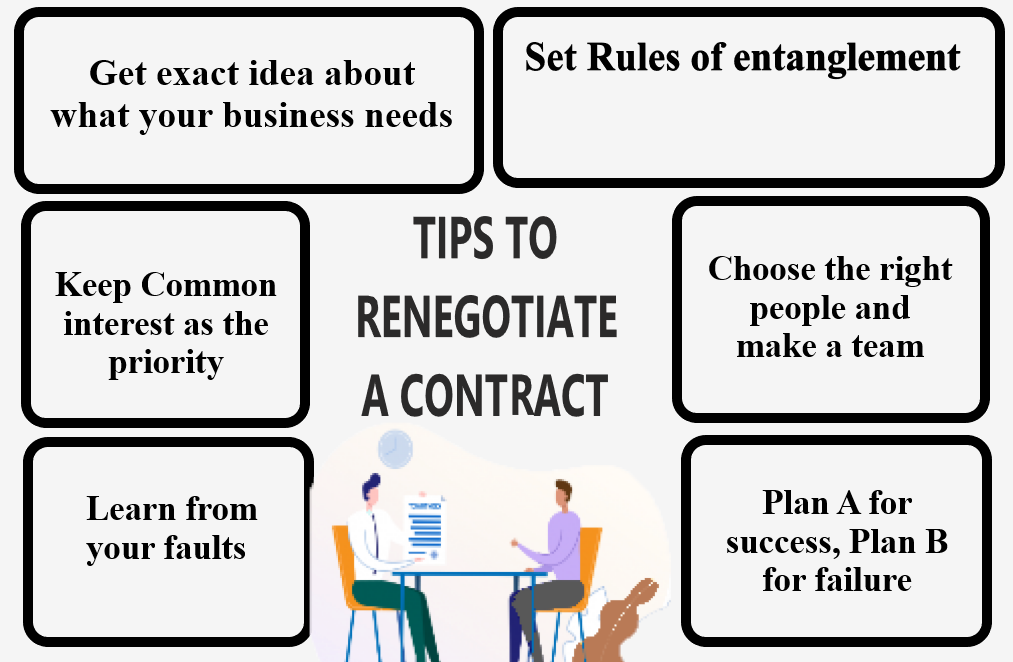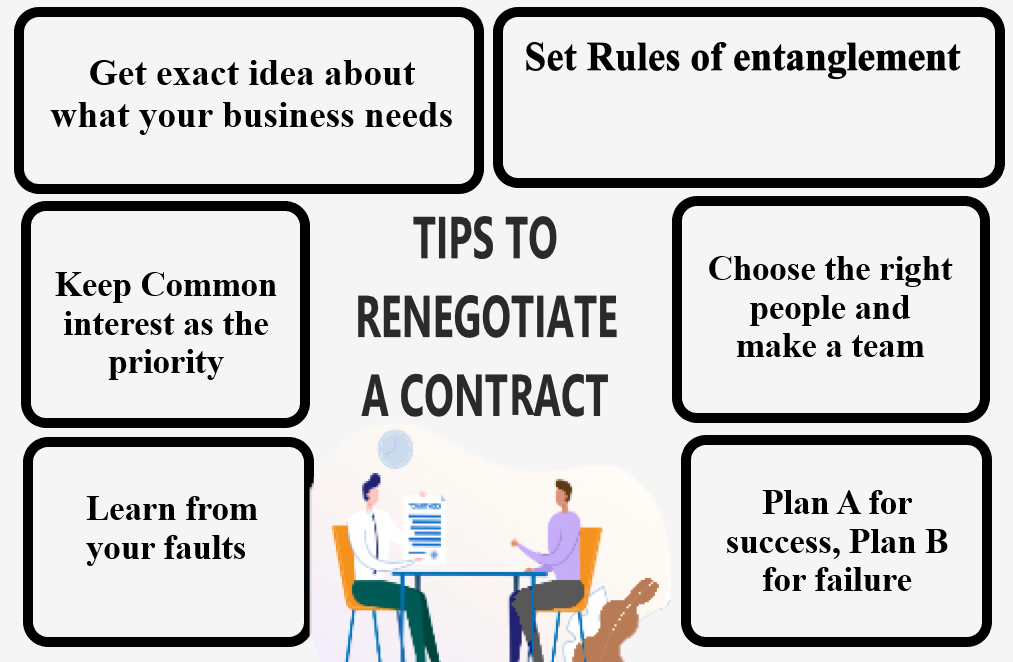 Get an Idea About What your Business needs
Most contracts don't meet a perfect ending because people don't understand the true direction of the business. They must make the incarnations only based on what their business doesn't need. Instead, they should focus on what do they need. So, before the start of the process of renegotiation starts practically, your team should have a clear perspective. This should be an idea about the optimal outcomes regarding the needs of the business as a whole. It needs consistency, concentration, and a certain time to think about the various elements. So, we can renegotiate the contract successfully by keeping sure of what we have to achieve in the future and what the other party is looking for. Only then common interests can be achieved. Set up the confirmed goals and strive to find a way to achieve them.
Set Rules of Entanglement
Well, the ultimate objective is to make the most suitable negotiations to grow your business. But it does not mean to leave your comfort zone completely or to keep your counterparts on the back foot. The terms may be antagonistic to your instincts. But still to alter the stability of the other party would be severely counter-productive. So, keep the common interests of your sides in mind, and prepare a framework according to the circumstances to achieve the best results even in the worst circumstances. It can be done by keeping an eye on every minute detail. Go through every kith and kin, be specific, and observe to get true vibes of what exactly going to happen. Before initiating to renegotiate a contract, set out fair rules with the other party, involving all people related to that contract. Keep a disciplined approach and avoid delays during the process. In this way, you can forge the relationship according to your needs. So, for good collaboration, it is crucial to set rules and directions of the path before renegotiation.
Keep Common Interest as the Priority
If you have decided to modify the contract, both parties need to work properly on this. The number one thing to be considered is to keep your perspective in mind. Because there is a possibility that even if you are uncomfortable, the other side may be satisfied with the contract conditions. So, it is necessary to tell them what better results can they get after renegotiation that cannot be achieved in the current situation. Because, in business, no one wants to change a thing if is not profitable. So, when the other party asks what is in the renegotiated contract for them, be prepared to answer them honestly. Since renewing the deal in the mid of the contract is needed. You also need to take a view and make a clear concept of the future lie you want to live. Then, choose a path to achieve that life. And to walk on that path, you need partners. Make a contract, if it goes wrong, renegotiate the contract and keep the objectives of other people in mind also.
Choose the Right People and Make a Team
Selection of the right people for your people is very important especially when you are making a team. So, take a long-term view of the type of life you want. Prepare your team to make renegotiations to achieve future goals. The team should be broadminded, it should represent not only your interests but also the interests of other people. A good team works in the interests of the other party without ignoring its concerns. Experience shows that a perfect team should contain members from the account team, service management, and governance people. The teams need to preserve a very effective.
Plan A for success, Plan B for failure
You want to sign a contract, make efforts to achieve the best results. For instance, you are reading this article to get better ideas and tips to renew your old contract. The renegotiations can be made by understanding the thing You have to prepare for the challenges and come up with better ideas to cope with them. Of course, the top priority is to achieve the best results. But makes a plan B in case of failure or not getting the right results. It is necessary because it is not only a cake of pieces, but a lot of people are dependent on this contract for their income. It is the reason for employment for many people. So, to renegotiate a contract, one must keep both sides of the picture in mind. Integrity is a very important element, sometimes goals cannot be achieved from the path you think. Hence. always prepare for one alternate method or pathway to walk on.
Learn from Your Faults
There is no doubt that you need to renegotiate a contract because it didn't work correctly in the past. It means there was some negligence in the design of the contract, some faulty planning was done. So, before sitting at the table to renegotiate, take a keen observation of the past journey. Seek your mistakes, learn from them. And make a better policy next time. It will not only increase your experience but also make you more creative. Discuss the gaps and faults with the other team. Listen to their point of view. And then go on the table to make renegotiation. The fact is that, whenever something goes wrong in business, the people involved mostly like to blame the economy, instead of taking the original contract. So, collaboration and collective efforts are essential for the ultimate success plan. Keep an option to sustain the contract if it goes wrong. Take your time to think about what exactly goes wrong in your policy.